Historically, men have not been great at talking openly about their health, or seeking treatment. It's this problem that Manual, a London-based healthtech startup says is hoping to solve, as it announces a $30m Series A round, after quadrupling its revenues in 2020.
The round included existing investors Cherry Ventures and Felix Capital, as well as new US-based backers Sonoma Brands, Waldencast, and FJ Labs.
Manual offers men personalised treatments and ongoing care, based on a blood test and remote consultation, for conditions ranging from sexual health and skincare, to hair loss and heart problems.
"Men generally do not open up about their health and we're trying to be a driving force behind that," says founder and chief executive George Pallis.
What men want
Manual is part of a small but growing list of startups trying to modernise the way men look after themselves. Others in this space include US-based Hims (which trades at a reached a $2.4bn valuation after listing this year via a SPAC) and Numan, another London-founded startup, which raised a £10m Series A round last year.
What's notable about all of these companies is that when you visit their websites, two health issues are clearly placed front and centre of their services: erectile dysfunction and hair loss.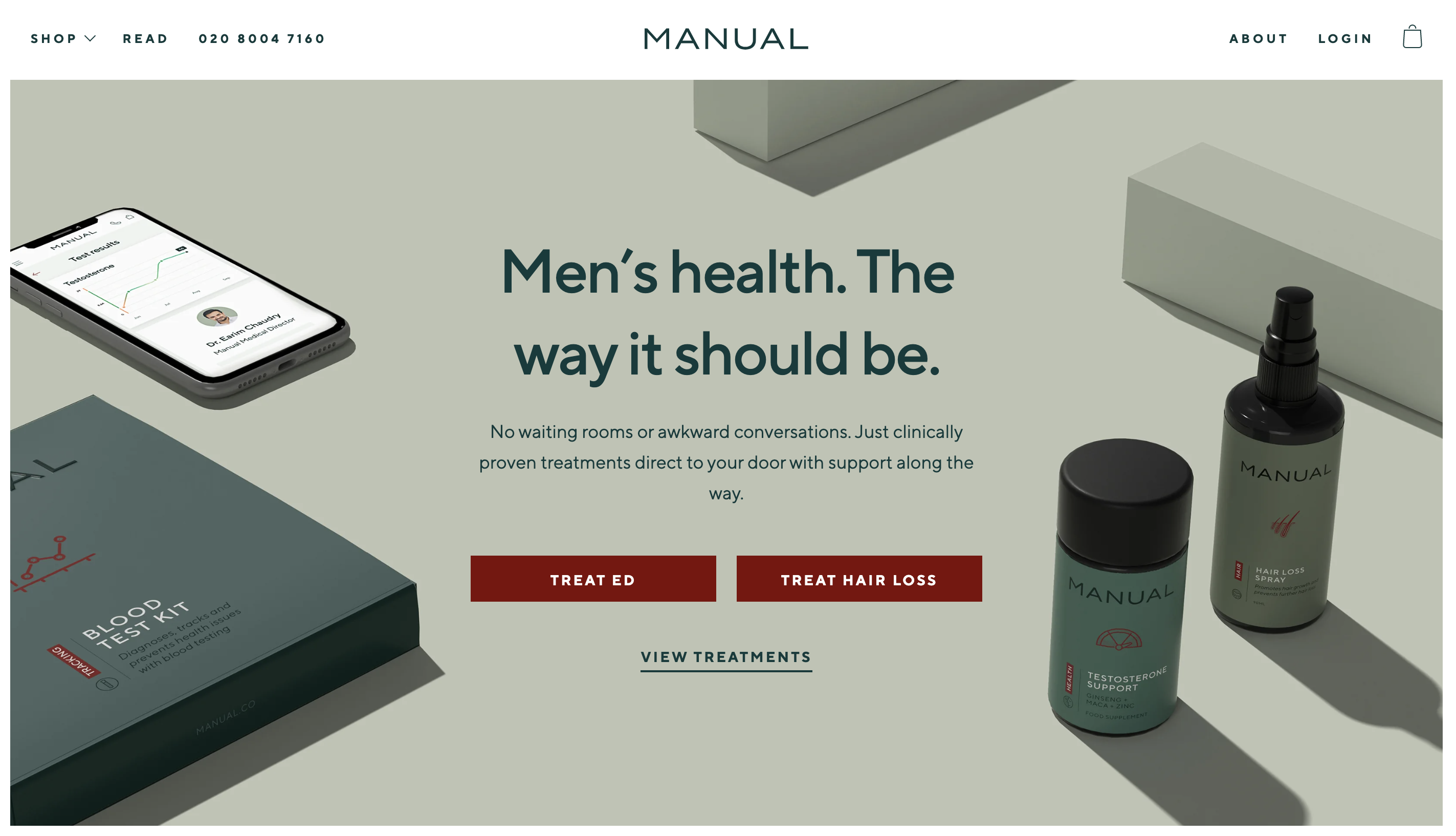 "They're a big problem for men, very stigmatised and two of the first categories we tackled," says Pallis.
It's perhaps no surprise that these two issues are front and centre for leading men's health startups. Erectile dysfunction and balding are heavily entangled with societal standards around masculinity, and when men stop living up to those standards the experience can feel shameful.
But this, according to Pallis, is just the sharp end of a much wider problem.
"9 out of 10 men don't look after their health unless they absolutely have to," he says, pointing to a report from the UK's National Pharmacy Association. "We want to build a holistic destination for men's health, and a community."
He also says that sexual health treatments now make up less than half of Manual's orders.
The three Cs
Pallis is aware that changing a widespread reluctance around engaging in men's healthcare won't be easy. Manual now runs a Facebook page for customers and non-customers, as a forum to discuss men's health issues, and produces regular events and blogs with the intent of demystifying taboo issues.
"I think content, conversations and community are very important," he explains. "It's quite a tough problem to crack."
Pallis is also hoping that Manual's healthcare service will help men think of healthcare as more of an ongoing process, rather than a troubleshooting exercise when major issues pop up.
"Moving from reactive to proactive is what we're tackling as a platform," he says. "We want people to come to us from the diagnostic perspective and talk about it. Discuss with us. Ask the experts. Give us some data to understand more about your health and then let's see what's best for you."
This data comes from a home blood testing kit which Manual recommends as part of its diagnostic and consultation process. This is combined with questionnaire answers, to create ongoing health plans suited to each individual, prescribing a combination of treatments and supplements, as well as access to advice from healthcare professionals. 
Pallis says healthcare subscriptions tend to range between £30-£150 per order.
Expansion plans
Manual's fresh funding round will be used to improve and expand the startup's product and services, with plans to make hires in both the medical and tech teams. Pallis is also hoping to expand internationally, after a successful launch in Brazil earlier this year.
"One of the countries we really liked was Brazil. Regulation has evolved there during the Covid-19 crisis. We launched there a couple of months ago and it's going really well," he explains.
Decisions on international launches will be heavily influenced by the state of telehealth regulation in different territories, with many countries still lagging behind on allowing prescriptions and medical consultations online.
And as the healthtech sector experiences a Covid-assisted growth spurt, Pallis hopes that Manual will be well placed to take advantage of increasing telehealth adoption. Whether men will be persuaded to open up more, about their most intimate healthcare issues, will be the harder nut to crack.