While the life of a makeup artist, photographer or model might look glamorous, most will assure you the day-to-day is not. Administrative tasks like booking appointments or chasing payments can eat into these creator's time. And when you're a creator, time is money. 
A whole industry of companies providing infrastructure to make the business side of being a creator easier — from monetising to scheduling — has emerged in recent years: a category known as creator economy startups. 
The latest to raise VC cash is UK-based Contact, which just bagged £3m. The company was founded by 25-year-old fashion designer, model and entrepreneur Reuben Selby in 2020. The software platform offers a suite of booking, scheduling, communications and, most importantly, payment tools to help creatives take control over their products and services — and ultimately, become the CEO of their own brands.
The round was led by Vancouver-based VC firm Rhino Ventures. Participating in the round is Contact adviser and actress Maisie Williams (who is Selby's partner in life too!), Founders Fund, who led Contact's seed round, and a handful of angel investors such as the cofounders of US clip-selling startup Cameo and Depop founder Simon Beckermann.
While the creator economy startup scene in Europe hasn't been as large as the US, there have been a few notable raises in the past year. Germany's Passionfroot — a no-code tool helping creators keep track of their projects, clients and cash flow — raised a €3m pre-seed round last December. And Superjoi — founded by Europeans but based in the US — also raised last month to give creators a platform to monetise projects. 
Pippa Lamb, an advisor and investor in Contact, says that "the creator economy is going through a seismic shift and Contact is playing a critical role to put creatives back into the driving seat, helping them manage and own their work more directly."
Streamlining interactions
Selby says Contact was born out of his frustration with the fragmented process of booking and paying talent. Currently, brands search for talent via a website, and then have to find an email for the creative's agent, write up a brief, and send it round to everyone who needs to know about it on email. 
"As a creator, you're lucky if you receive all of your booking requests in one email, as often they'll all be on a separate thread. It's confusing," says Williams, joining the call from her hotel room in Paris, where she's on set for a new film.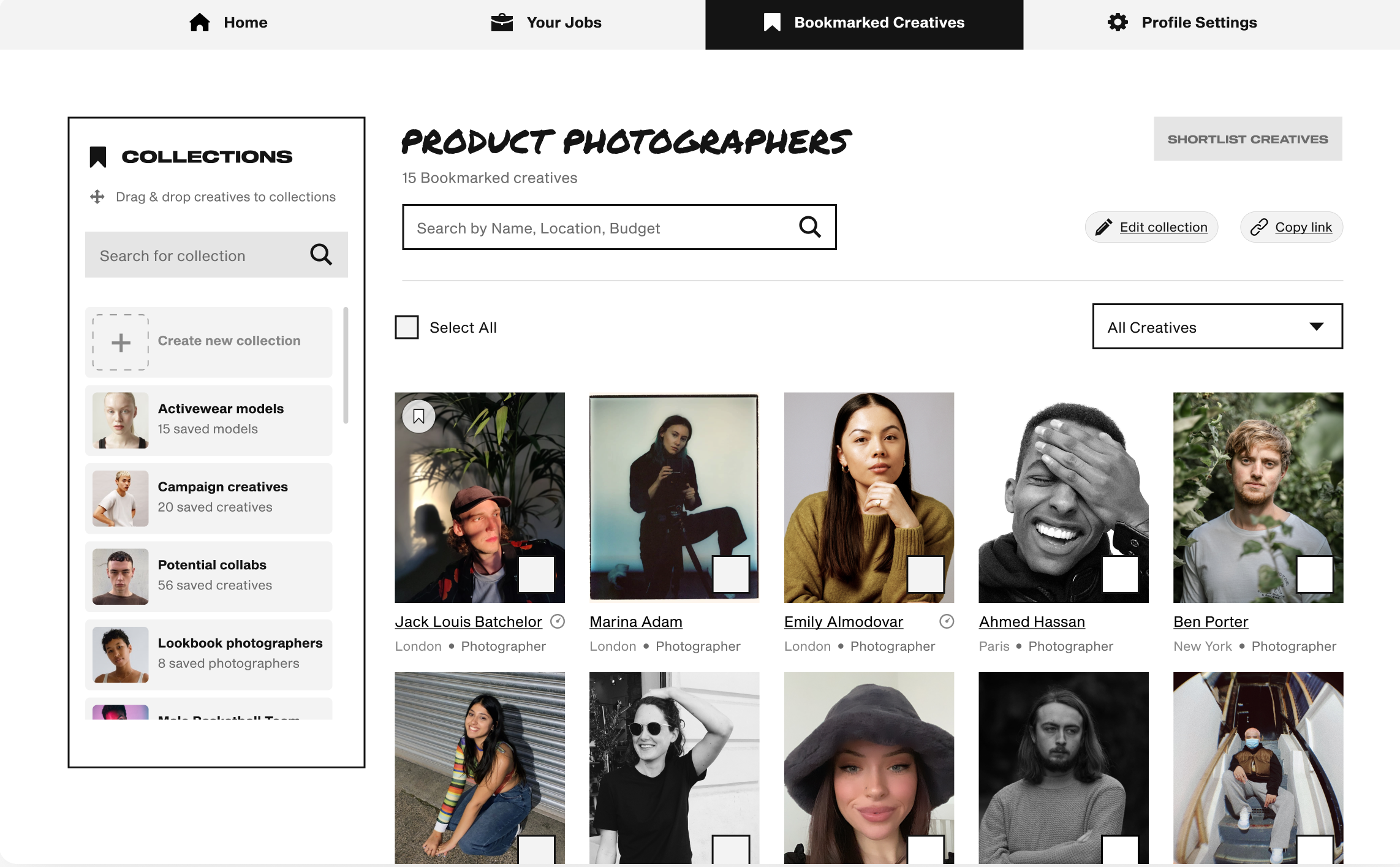 Selby hopes that by reducing the amount of time and effort creatives spend wading through emails — and having multiple interactions with multiple people across multiple touchpoints — creatives will be able to live "freer and more expressive lives".
"It's also the difference between making your passion a viable job for the rest of your life versus struggling to make ends meet," adds Williams.
So far, Contact has onboarded 1,000 creatives and 2,000 brands and businesses. Right now, the company represents models, hair and makeup artists and photographers but they plan to roll the platform out to videographers and stylists in due course. 
Raising the bar
Another creator headache Contact wants to solve: getting paid on time, and fairly. 
"When I was doing my photography work, I was working with some really big names — who you would expect to pay on time — but who paid late, or sometimes not at all," says Selby. (Contact has a feature in the pipeline to pay every creator immediately after a job, so they don't have to worry about cash flow.)
He says that many creatives like to work with agencies who can barter with brands and negotiate on pricing, whereas negotiating is harder as an individual. 
We don't just connect two parties and say 'figure it out, we're not involved

anymore'
That's why Contact has an operations team which vets every job, ensuring the brand is credible — and which keeps an eye on market rates to ensure creatives are paid a fair amount. The team is also on hand to speak to talent if they have queries, and to offer support in tricky situations.
"We offer a similar level of support to what an agency might in that way; we're not super hands-off," says Selby. "We don't just connect two parties and say 'figure it out, we're not involved anymore'."
Focusing on talent
But Contact isn't out to replace traditional talent agencies; it wants to work with them as partners. 
The hope is that the platform will relieve agents of their bookkeeping responsibilities — managing artist's schedules, accepting or rejecting bookings, handling information — so that they can dedicate more time to the artists. 
"There will always be a desire for a personal connection with your agent or manager: someone who can give you personalised advice for your career," says Williams. "But right now, there's a lot of schedule handling that isn't fulfilled with that (agent) relationship, and a lot of information gets lost."
An artist agent shouldn't have to do all these things that technology can do quite

simply.
"An artist agent shouldn't have to do all these things that technology can do quite simply," she adds.
Contact doesn't charge creatives commission. Instead, it charges businesses a 20% booking fee, which is a standard agency fee in the industry, according to Selby. Contact then splits that fee down the middle, offering half of it to agencies it works with. 
"So basically, any time that talent books onto Contact, we pay the agent 10%. And they don't have to do anything other than be there for their talent," says Selby.
Future plans
Contact currently has a team of 35, and it is rapidly trying to hire engineers which it admits are incredibly tough to find. 
Williams says that the team has "already splintered into focusing on the different areas of the product" so Contact is focusing on building out these teams in order to scale the company: whether that is in product development, new audiences, or new cities.
Selby speculates that, since the creator economy is huge in the US, Contact will eventually expand to the "obvious" cities of Los Angeles and New York. But for now, the company is interested in growing slowly: "Building out the playbook within Europe and then replicating it elsewhere."