Every time this article is loaded on someone's laptop, phone or tablet, roughly 1.8g of CO2 emissions are generated.
We don't often think about our internet habits in this way. Back in 2006 — when 'Save trees. Print only when necessary' email signatures were still all the rage — just 17.5% of the world's population was online. Today, that figure stands at nearly 60%, and the carbon footprint of our virtual worlds has ballooned exponentially thanks to TikTok videos, Netflix binges, Spotify streaming and Instagram scrolling. According to the BBC, It's now estimated that the internet and gadgets and systems that support it account for 3.7% of global greenhouse gas emissions, on par with the aviation industry. 
Europe's 'clean UXers' — a small but growing group of designers, developers and grassroots campaigners — want to change this.
Meet Europe's low-impact website designers
In 2006, the Green Web Foundation, a Dutch database of renewable-powered web-hosting companies, launched. Six years later, the Sustainable Web Design manual was published and three years after that, SustainableUX, an online-only global conference, kicked off. 
Also in 2016, Tom Greenwood started pivoting his WordPress agency, Wholegrain Digital, to become a sustainable website maker. The lightbulb moment came while applying for B Corp status: if companies calculated the carbon footprints of physical goods, why not their websites too? The agency has since helped the likes of laundry brand Ecover and drinks seller One Water strip out unnecessary code and cut their websites' emissions by up to 80%. 
But it wasn't until this summer that sustainable coding hit the headlines, when Danish clothing company Organic Basics launched a low-impact version of its website. It says the online store, which has totally cut data-guzzling images and autoplay videos, reduces carbon emissions by 70%. If customers want to see the clothes they're interested in buying, they have to actively request to see the images. 
Jesper Fogh, Organic Basics' head of technology, came up with the idea after plugging the brand's URL into the Website Carbon Calculator (a tool Greenwood created in 2018).
How big is the problem of website energy use? Basically, nobody

knows.
Web design gone granola
When it comes to the web's data consumption, uncompressed images and messy code may not be the obvious culprits. Gaming (which uses 40-150MB of data per hour), TV streaming (3GB per hour), Zoom calls (up to 1,000g CO2 per hour) and — most concerningly — cryptocurrency mining all hog energy at far more alarming rates.
Creating a low-carbon website is a comparatively easier problem to solve. It doesn't require specialist skills, and managerial buy-in is easier because these sites 'vibe' sustainability, often ending up using a similar muted colour palette that emits less light (for example, Ecomersh, a sustainable brand marketplace, and Organic Basics' websites both feature creams and dark green). With products marketed as sustainable seeing sales grow 5.6x faster than those that aren't, no wonder bosses are willing to give it a go.
Indeed, Greenwood says Organic Basics' site (which landed coverage in Vogue) has created a ripple effect which has even benefitted his business, and he's since been fielding clean UX questions daily. "We're a drop in the ocean in terms of what we do for our clients," Greenwood argues. "But that's the same for every industry. It's everybody together added up that has a big impact." 
"The long-term plan is to gather those learnings and figure out how we can use this on our main website," Fogh says, adding that conversion rates aren't as strong on the low-impact website. "It comes with a cost in terms of actually selling our products."
Switching to off-grid energy supplies could create a more immediate impact. In 2018, former tech journalist Kris De Decker launched a solar-powered website, powered by a photovoltaic system on his Barcelona balcony. Too many cloudy days, and the website goes offline.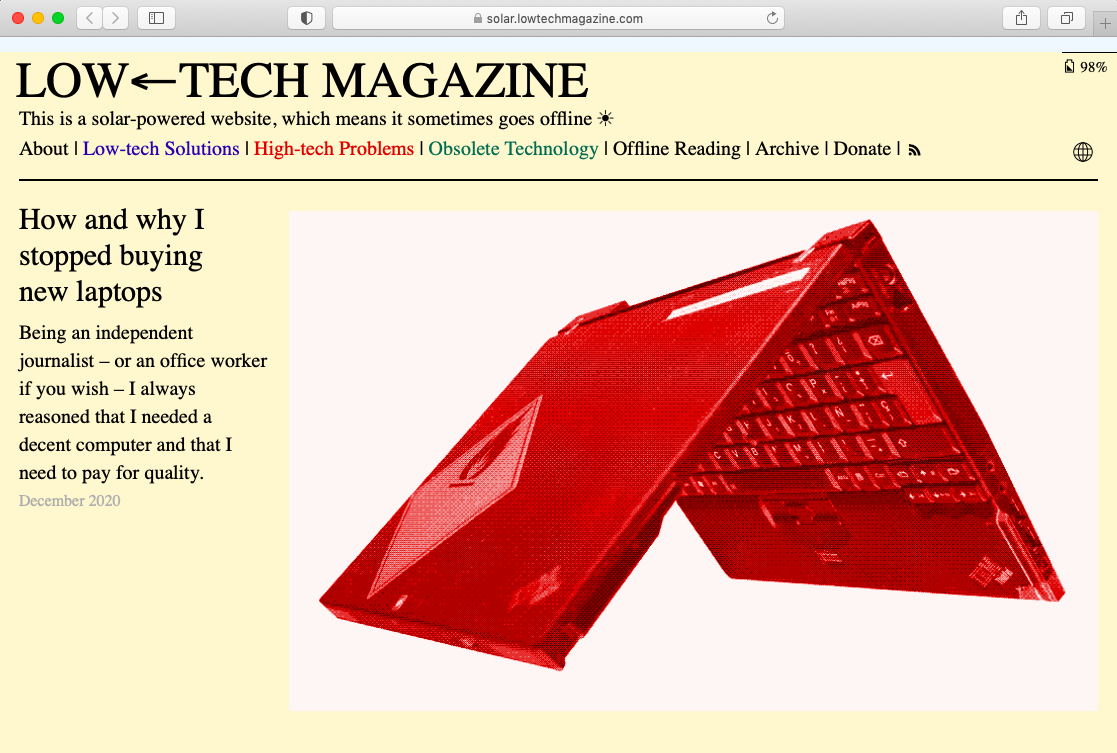 "How big is the problem of website energy use? Basically, nobody knows," De Decker says. "The problem with the internet is that [even as] it becomes more energy efficient, because the bit rate of the content keeps increasing, it doesn't bring energy savings. It just keeps growing." He argues that rather than individual developers pioneering solutions, platforms like Shopify and Wordpress need to get more involved in the challenge.  
For now, Fogh has made his code available on GitHub where, as well as on the SustainableUX and ClimateAction.tech Slack groups, sustainability-minded developers can often be found. Can their numbers multiply quickly enough to make 'green' websites the norm?