VC investment into European climate tech firms has reached $8bn this year so far, growing seven times since 2016. That also makes it the fastest growing region for climate tech in the world. 
That's according to new data produced by Dealroom and London & Partners in a report released today looking at climate tech investment trends since the Paris Agreement.
The UK, and specifically London, was the largest recipient of investment and had the biggest deals and most startups created.
So which London-based climate tech startups got the most dosh this year so far, how many are headquartered in the capital and how do they weigh up against other European tech hubs?
London is having a record year, but Stockholm is still Europe's climate tech capital 
Climate tech investment in London has already hit $1.1bn this year so far, almost half of its total investment since 2016 ($2.4bn). London-based firms accounted for over 70% of UK funding into climate tech over this period. This opens the possibility for the city to beat its climate tech VC investment record of $1.2bn in 2020.
However, Stockholm is the European city that's raised the most climate tech investment, beating larger tech hubs like London and Paris. The Swedish capital has raised $5.4bn between 2016 and now, particularly boosted by battery scaleup Northvolt's massive rounds. 
That said, London leads the way when it comes to other metrics like the total value of its climate tech startups ($28bn, against Stockholm's tally of $18bn). Key drivers in that figure are the exits of electric vehicle startup Arrival and secondhand fashion app Depop.
Which London startups have raised the most?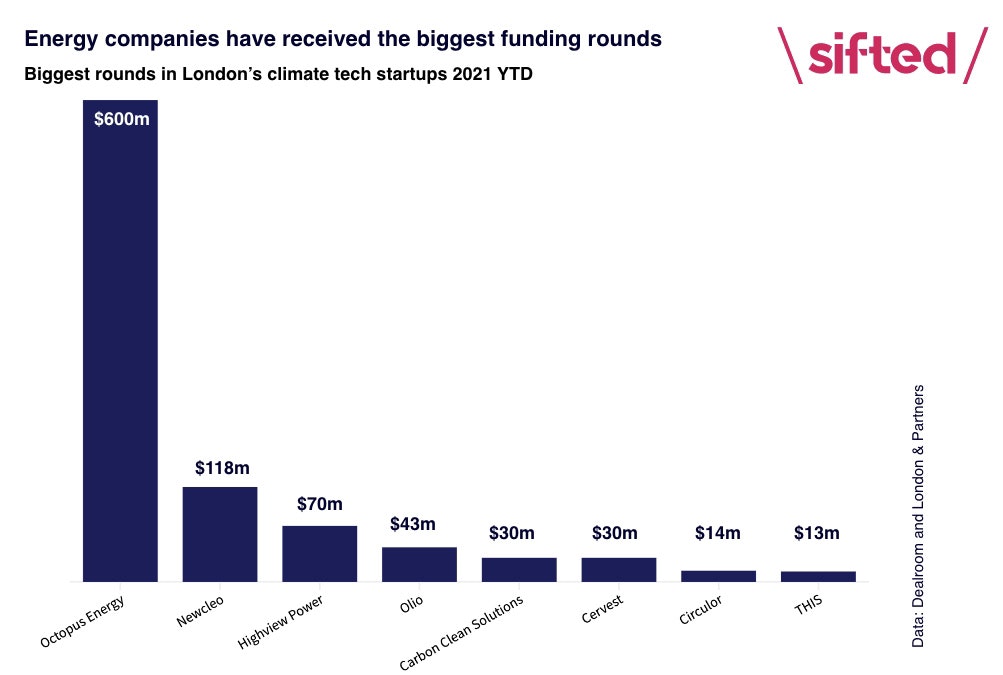 The three biggest funding rounds into London-based climate tech startups were all part of the energy sector.
Sifted Newsletters
Climate Tech
Every Thursday
The green transition is underway — meet the startups driving it.
First up is clean energy provider Octopus Energy, sitting at the top of the podium with a $600m growth equity round in September. Nuclear energy startup Newcleo lands second place with a $118m early VC round, followed by cold energy storage company Highview Power, which raised $70 in growth equity in February.
Other notable sectors include food, with food-sharing app Olio and THIS, as well as climate software solutions like Cervest and Circulor.
How many climate tech startups are there?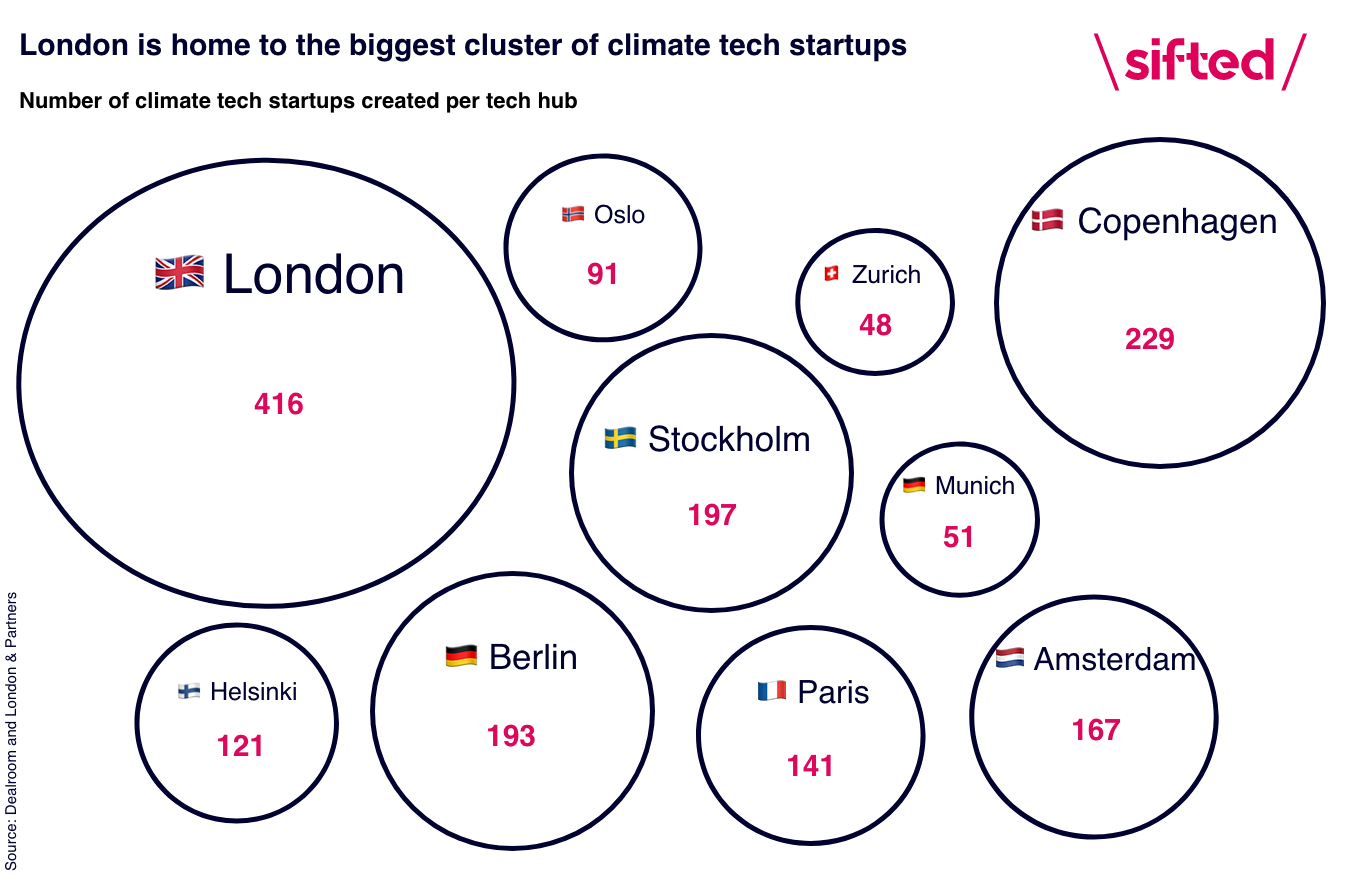 London leads other European tech hubs when it comes to the number of climate companies founded, with 416 in the capital.
Some of the newer startups founded in London in the past year include B2B carbon offsets Abatable (which landed a spot on Y Combinator's spring/summer cohort this year), carbon negative lift-sharing app Skoot and climate risk analytics platform Climate X.
Copenhagen, Stockholm and Berlin were other tech hubs found to have a bulky climate tech startup army, placing second, third and fourth respectively. Oslo, Munich and Zurich lag slightly behind, placing eighth, ninth and tenth.
London's VCs are raising serious capital for climate tech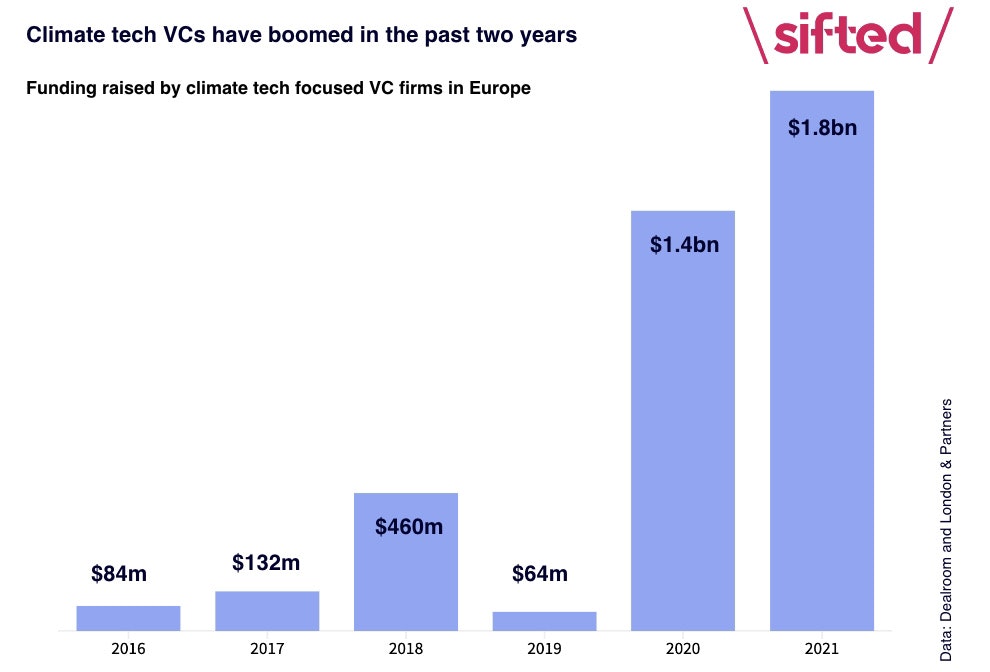 London-based VCs have raised $1.2bn for climate tech startups this year so far, an all-time record. These come from two VCs — a $900m fund from Lightrock in July and $312m fund from 2150, which it closed earlier this month.
VCs in other cities have also been raising climate tech funds. Larger fund closes include the $200m fund from Zurich-based Blue Horizon, a $138m impact fund from Stockholm-based VC Norrsken and an €87m fund from Swedish climate-focused VC Pale Blue Dot.