It is the battle of the test flights. Today both Lilium and Volocopter set out to prove that their electric urban vehicles can fly as promised.
It is part of a race to convince regulators, city authorities — and most importantly the public — that they really can achieve their ambitious plans to provide urban air taxi services in cities within the next few years.
German startup Volocopter held a successful 3-minute proof of concept flight for its electrically-powered, 18-rotor passenger drone along Marina Bay in Singapore.
https://vimeo.com/367971929
The Volocopter, which looks a bit like a helicopter but quieter because it is electric, is designed to carry around 200kg — the equivalent of two people and their luggage — at 110km per hour.
No one was allowed on board this first test flight except the pilot but Volocopter said it was in talks with Singapore officials to begin commercial services as early as 2021. Dubai is the other contender for Volocopter's commercial debut; the company had a manned test flight there in 2017.
Volocopter also unveiled a prototype VoloPort, the world's first air taxi 'vertiport', built in the downtown Marina Bay area by UK-based startup Skyports.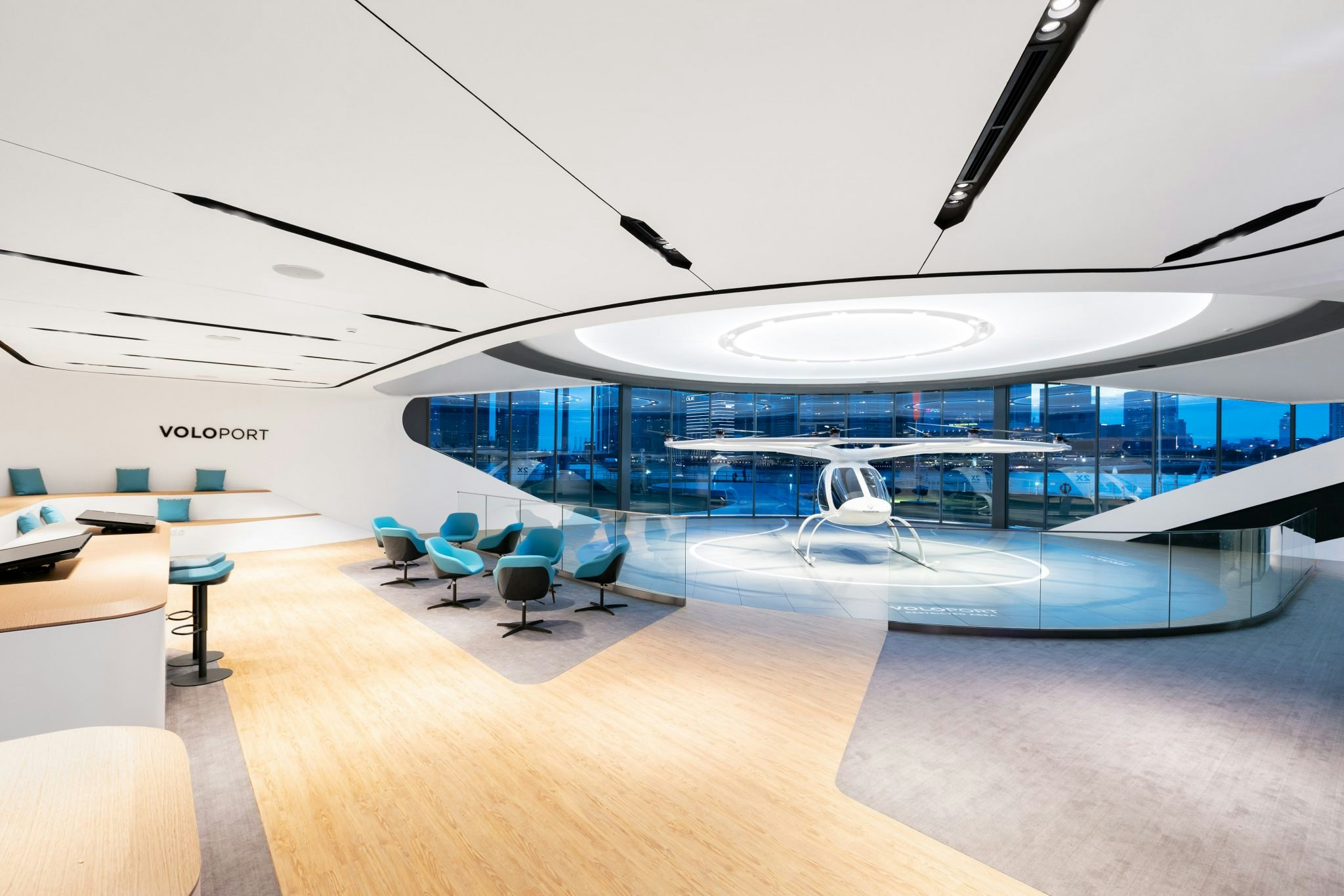 Not to be upstaged, Lilium also released footage of its electric jet's vertical lift off and transition to flying forwards. Lilium has already released footage of the first test flight in May but this only involved the jet rising up and hovering before landing.
https://vimeo.com/366202210
Moving to flying forward — by swivelling the electric engines — is the most complicated manoeuvre for the aircraft and a signature move for Lilium. Because the jet mainly flies like a conventional aeroplane, using the lift created by two sets of wings, it is more efficient than many of its competitors and will eventually be able to travel 300km in one hour.
Sifted Newsletters
Sifted Newsletter
3x a week
We tell you what's happening across startup Europe — and why it matters.
This puts it in a slightly different category to Volocopter, which is ideally suited for shorter inner-city hops.
Lilium — as you might expect — believes that the market for connecting cities and regions is bigger than that for a vehicle allowing you to skip a few streets of city traffic.
Remo Gerber, Lilium's chief operating officer, told Sifted: "There are very rare examples of where, within a city, it is going to be a huge advantage to fly from one rooftop to another. We believe the use case will be to connect London to Birmingham or Brighton."
Lilium, which employs more than 350 people at its base in Munich, also says it has completed construction of its first manufacturing facility and started work on a second, much larger plant. The company plans to produce hundreds of jets a year by the time it starts commercial services in 2025.
According to Techcrunch Lilium is rumoured to be in talks to raise a new funding round of up to $500m from investors.  So far it has raised more than $100m from its very deep-pocketed investors, which include Chinese internet conglomerate Tencent and Niklas Zennstrom's Atomico. Gerber told Sifted: "Sure, eventually we will do more fundraising, that is absolutely clear." But said that no funding announcement was imminent.
Lilium is also continuing to beef up its senior management team. Its most recent hire, announced today, is Airbus veteran Yves Yemsi. He will join the team as chief program and procurement officer, having worked as head of program quality for the Airbus A350 aircraft.