European pet insurance companies have attracted record funding amounts this year. You might wonder how much insurance we really need for pets — but VC investors say there's still room for newcomers.
European startups selling insurance products for our canine and feline best friends have brought in €328m in investment this year to date — nearly three times the amount raised last year and representing some 8% of all the funding raised by insurance startups. A large chunk of that went to British pet insurer Bought By Many in June when it raised $350m. But deal sizes overall have been going up over the past few years. In 2020, European pet insurance startups raised €129m.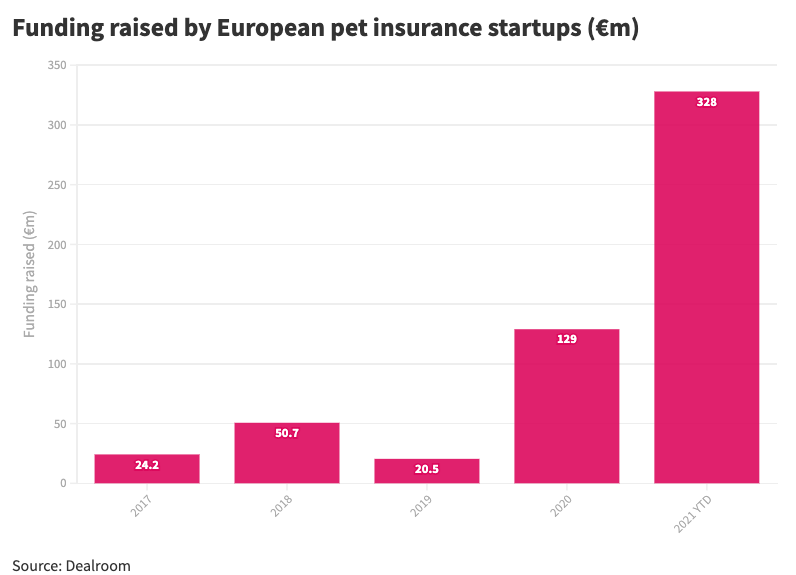 Malin Posern, partner at Passion Capital, says that given the boom in pet ownership during the pandemic and the growing range of healthcare options for pets, there is still market share to be won.
"You can see the dynamic between insurance and pet medical care. There is a lot more availability of healthcare services but these are expensive and it increases the propensity of people to insure their pets," says Posern.
The newest entrant into the fray is Swedish startup Lassie, which just raised a €2m seed round led by Wolt-investor Inventure with participation from Passion.
Lassie has its own particular twist — a focus on preventative healthcare and discounts for customers who engage with Lassie's content. If, for example, you read Lassie's articles about the foods — like chocolate — that are dangerous for dogs, you could get money off your next premium.
"40% of injuries are based on preventable stomach injuries," says Posern. If Lassie can educate its customers it can make big savings in payouts, hence here is a big focus on content and community.

It is similar to the shift happening in human health insurance.
"We have seen a shift to preventive health for humans a couple of years ago with startups like Yulife, Alan and Vitality in life insurance and in the US companies like Hims have built businesses at scale by focusing on preventive health. Now it's time to take better care of our pets too," says Lassie CEO Hedda Båverud Olsson.
Sifted Newsletters
Sifted Newsletter
3x a week
We tell you what's happening across startup Europe — and why it matters.
Pet insurance is an area where incumbent insurers have struggled, in part because the structure of claims is very different from other markets. Most claims happen in the first year of a pet's life.
It is also a market that lacks precise information — for example, many incumbent insurers will lump mixed-breed dogs into one single category, says Posern, although the health needs of different breed mixes might be different. This is the kind of data that Lassie is building up in order to give itself an edge in the market — and make its premium-to-payout ratios look healthier too.