Six months ago, Northern Data made a big move. 
It spent €365m buying a company called Decentric, acquiring tens of thousands of high-powered servers that could be used to "mine" millions of euros worth of cryptocurrencies.
The deal propelled the little-known German company into a whole new league, in a stroke making it Europe's largest crypto miner.
In an industry dominated by big US miners such as Core Scientific, Marathon and Riot, suddenly there was a European force on the scene. 
"It turned us into a very significant player overnight," says Christopher Yoshida, the company's president. 
The deal comes at a tumultuous time for the crypto market, with the price of bitcoin falling from a high of $65k in November last year to a low of $35k in January. The last few days have seen the price bounce higher to a little above $40k. 
Northern Data now has 390 petaflops and 13 terahashes (for the uninitiated, that means 13 trillion operations a second) of processing power at its sites in Norway, Sweden, the Netherlands and Germany — powered almost entirely by renewable energy (a rare thing in this sector).
It's wild the amount of crypto we are beginning to throw off every

month
That computing power can be used for straight cloud computing operations, a business area the company is already in and looking to expand into further. It also, according to its latest update in January, means that Northern Data can mine around 5,254 ether and 236 bitcoin per month — which have a combined value of more than €20m (at today's prices at least). 
"It's wild the amount of crypto we are beginning to throw off every month," says Yoshida. 

What is mining?
Crypto miners operate vast buildings filled with computers that solve complex problems in exchange for "rewards" from the network in the form of crypto coins.
It's a cutthroat, painstaking and technical process. The cost of the hardware is significant. The power consumption is epic. And the business of finding land with a power source big enough for both the processing and for cooling the machines is tough. 
But for those that get it right, and are believers that the crypto craze will continue, it feels like the California gold rush: a once-in-a-lifetime opportunity to extract an enormous amount of value from essentially nothing.
It really feels like this is just the beginning for this world... Every day you can see more use cases for

crypto
"I left my successful career in finance to feel like I was at the beginning of something, to be able to have a hand in building something meaningful… and it really feels like this is just the beginning for this world," says Yoshida, who joined the company last July. "Every day you can see more use cases for crypto."
Renewables 
One of the central criticisms of the whole crypto sector is that it consumes vast quantities of energy.
Crypto now accounts for 0.6% of the world's total energy consumption and burns more electricity annually than Norway, according to data from the Cambridge Bitcoin Electricity Consumption Index.
On top of that, mines are set up in places where power is cheap, which often means it's generated by hydrocarbons such as coal. 
Yoshida says that this part of the industry has to change. "People are using coal… I am sorry, what decade is this? That is not the way forward. Apart from anything else, my wife would throw my clothes out on the street if I did that."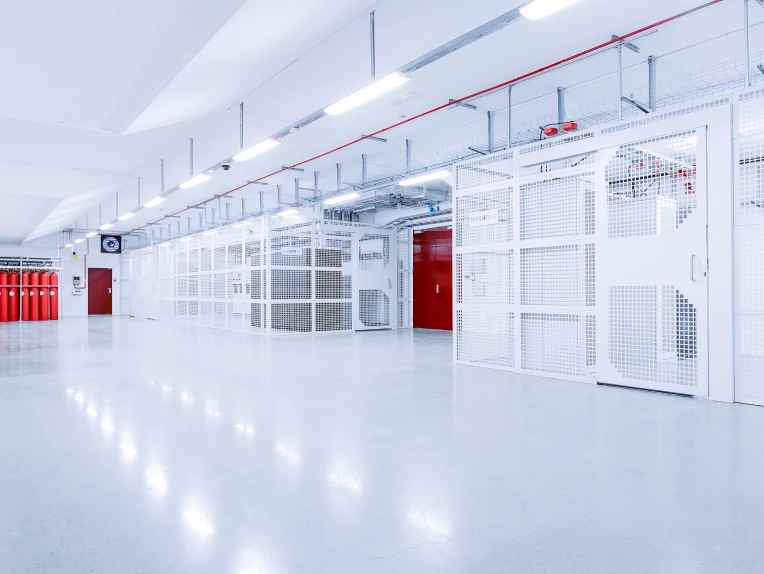 Northern Data, for its part, is unique among miners in that 100% of its power comes from carbon-neutral energy sources, with a majority deriving from renewables.
"We're proud that we are a carbon-focused company evolving into green cloud computing services… that's important to us," says Yoshida.
Christian Angermayer, an early investor in the company along with Galaxy Digital founder Mike Novogratz, says that the "early pivot to clean energy only showed that crypto mining and environmental protection are not at war with each other."
Into the cloud
Northern Data may be a "green" crypto mining operation, but that does not stop it from suffering from the same uncertainty and regulatory pressure as the rest of the industry. 
Last year China banned crypto mining and other countries have followed suit. In January, the top EU financial regulator renewed calls for a bloc-wide "ban" on the main form of crypto mining (known as "proof of work").
At the same time, crypto prices are volatile and the industry ever-changing. The second-biggest currency, ether (minted by the company Ethereum), has been preparing to move to a new "proof of stake" model which will change the game for many miners. 
But Northern Data has a long-term plan to be more than a miner, using the money from crypto mining to build the infrastructure for a significant cloud computing operation — entering a much more stable space dominated by Amazon, Microsoft and Google.
Very shortly we will be a cloud computing company with a crypto mining

arm
"At the moment we are a crypto mining company with a cloud computing arm, but very shortly we will be a cloud computing company with a crypto mining arm," Yoshida says. 
"Every day we pour our ancillary margin into building a cloud computing platform being run in high-quality data centres and ultimately build a more balanced business that is less reliant on the price of crypto or regulation or anything else."
He says that Europe needs big voices in the cloud computing space, which is dominated by American tech companies. "Europe is so under-invested in this space, it needs to do better."
Crypto also needs some rules, he adds. "At Goldman and Morgan Stanley, you can't just wire yourself a million dollars because it doesn't work like that. You would have to call someone. Once approved it will still take time, perhaps even days. But in crypto, in theory you could send money instantly to anywhere in the world and that's pretty crazy." Yoshida previously worked at Deutsche Bank and Morgan Stanley. 
"The biggest thing that's going on right now is the professionalisation of the industry… that's in regards to everything, but certainly security."
We're like the early oil companies taking this powerful stuff out of the

ground
Still, it doesn't seem like it'll be a dull space to be in anytime soon. There are more and more use cases for crypto every day — for example in remittances and in digital art — and it feels like Northern Data is one of those at the forefront of a new financial world. 
"We're like the early oil companies taking this powerful stuff out of the ground," says Yoshida.
And at the same time, he says he is excited about building the infrastructure — along with the CEO Aroosh Thillainathan — for a cloud computing giant which can become a European champion over time.
"Our hardware can be used for artificial intelligence, rendering media and self-driving cars — as well as scientific and engineering endeavours… this is all a huge growth area."