Late last year, a little-known company called Lanistar burst onto the scene.
A mass Instagram campaign in December saw social-media flooded with ads for a new spending card, claiming to be the "world's most secure".
Days later, Lanistar was issued a warning by the UK regulator, the FCA, which said: "This firm [Lanistar] is not authorised by us and is targeting people in the UK… Some firms act without our authorisation and some knowingly run investment scams".
The caution was quickly taken down as Lanistar scrambled to explain they were simply building a pre-launch waiting list rather than offering financial services. But the backlash prompted early payment partners to quietly pull back and spooked the advertising authorities into reviewing Lanistar's marketing campaign. 
Now, Lanistar is battling internal problems, Sifted has learned.
The company — funded by family members — is facing launch setbacks, widespread layoffs, and staff complaining of missed wages.
Delays and late wages
Seeking to build on the momentum of its social-media blitz, Lanistar originally circled January as its launch date. But the launch has now been pushed back to at least April, the company confirmed to Sifted.
This prompted Lanistar to let go at least 40 staff members across December and January, according to people inside the company. The layoffs were largely concentrated in Macedonia, where Lanistar set up a pre-launch customer support hub in late summer last year.
Then, Lanistar's team in Macedonia — including those still employed by the firm — began flagging that their December wages had not been paid on time, documented in Slack messages and emails seen by Sifted. Macedonia law dictates that salary payments are completed before the 15th of the following month, a deadline which went two weeks overdue.
The messages below show management's repeated reassurances that salaries would instead be paid on the 21st January, before committing to the 25th. This did not happen. Local bank complications, as well as Covid, were blamed internally for the holdup.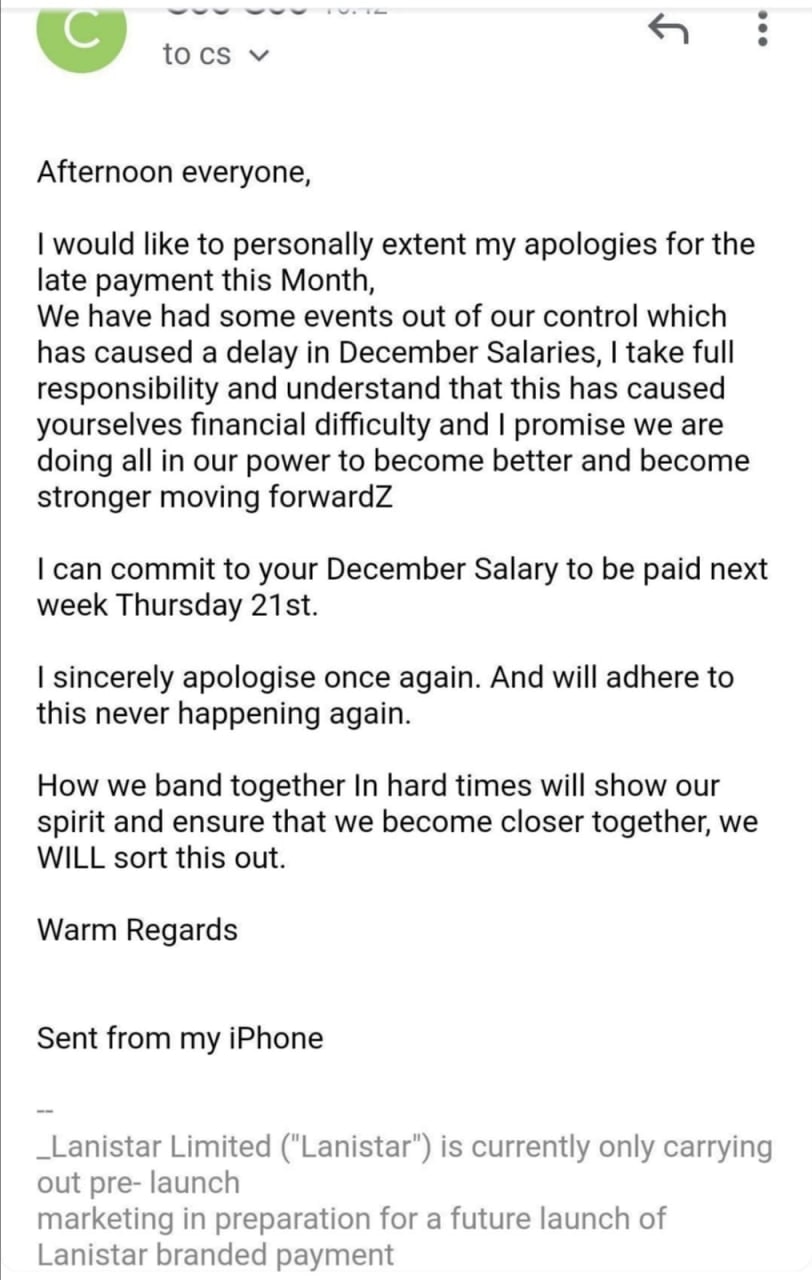 "It is unbearable," one employee wrote in a Slack message, seen by Sifted, while others still employed by Lanistar considered quitting over the debacle. Another staff member who spoke anonymously to Sifted said: "I need that money for bills."
Late on Friday night, and after repeated emails to management from Sifted, local contacts confirmed that several employees had finally begun to receive their wages. The attention is now on their January salaries, which are due to be paid this week.
For its part, a spokesperson for Lanistar told Sifted: "As with many businesses, the surge in the global Coronavirus pandemic has forced us to push back our launch plans by a few months, thus keeping our team safe and adhering to government lockdown restrictions. In some cases, this has led to a temporary reduction in headcount in our customer services team, but we are confident all staff have been remunerated correctly as we have moved to a new HR platform."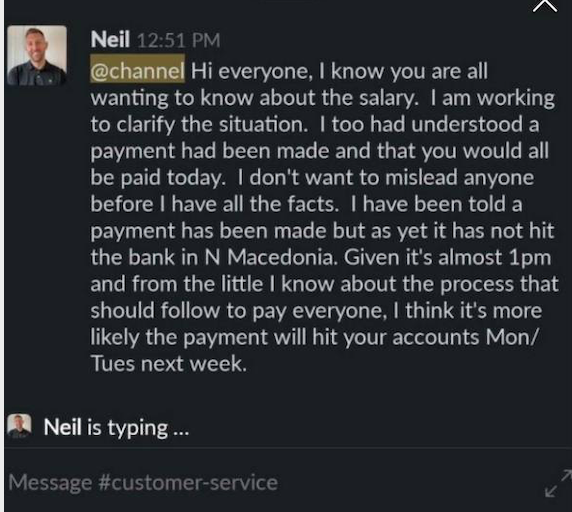 Customer support...without customers
Lanistar's decision to roll back its 60-person customer service hub makes sense, given the delayed launch date. Yet it had operated for months without any live product to 'support'.
Employees told Sifted that, as a result, work was "extremely slow," handling sparse queries about how to register for a card, who Lanistar was, tech issues, and requests for accounts to be deleted. "We were all awaiting January since we were told work would pick up then...That's when the early birds would get their cards," one said.
The customer support team also handled complaints from some of Lanistar's 3000+ influencers, with one message seen by Sifted accusing the company of mishandling their contract. It's unclear how much Lanistar spent on its influencer campaign.
More recently, support staff say prospective customers have also started raising questions. Lanistar said it received 200,000 downloads in December after its social media blitz, prompting sign-ups to input their name, home address, and other pieces of personal information.
Users were told they would eventually receive an access code,  leaving them confused when it still hadn't arrived weeks later. "Customers started asking for the [access] code," one staff member told Sifted. 
To add to the confusion, the answers that staff were told to give were inconsistent, according to one employee: "[Sometimes] we answered cards [and codes] are coming in Mid March...For other questions, we answered 1of March."
A promising start
Lanistar's Macedonia-based employees tell Sifted they were initially enthused about the company. "We never doubted the company at all. It was up until a few weeks ago that we really started getting curious," one told Sifted.
Indeed, even press scrutiny about the company's financial and regulatory status was largely dismissed. "We were told that [the FCA warning] was a mistake... We were told that they were going to be FCA-certified through their partners before the card launch."
The person added: "We were told it's to create hype, and then in January there would be a lot of people using our cards."
Lanistar also bolstered credibility in hires like Caroline Finch, former Emirates HR partner, and Neil Long, who worked at King — the creators of Candy Crush. Lanistar also announced ties with Mastercard, as well as partnerships with other well-known financial providers like GPS, Paypoint, and Jumio.
But the tide internally now seems to be turning.
Staff interviewed by Sifted said that morale at the company was lower than it had been for months. Some are organising a response on messaging apps.
This also follows historic complaints to HR from within the customer services team. Documents seen by Sifted highlight concerns about "unprofessional" managers and strained office dynamics.
Lanistar did not respond to questions about the validity of these HR complaints.