Jacob Nathan's startup, Epoch Biodesign, raised a chunky $11m seed round earlier this year. The synthetic biology company is developing plastic-eating enzymes, which could help breakdown hard-to-recycle plastics.
With the VC dollars in his pocket, Nathan had a new problem to solve: he needed a scientific lab space to rent — a task that quickly proved challenging. "There is just nowhere to go," he says. 
Epoch ended up renting a traditional office building in central London and converting it into a lab space itself. It's a far more costly option than renting an existing lab, Nathan says, and used up a portion of the capital Epoch had raised.
"If the UK wants to hang on to its companies and give them an ecosystem in which to scale and grow, we need the space for them. It's really important," Nathan says.
In Oxford and Cambridge, the main clusters of biotech in the UK, demand for lab space is vastly outweighing the free space available. 
Data from Bidwells, an estate agent specialised in labs, shows that in June 2022 there were companies looking for a combined 1.2m sq metres worth of lab space in Cambridge — with none whatsoever available. Oxford was similar, with just over 800k sq metres required, and 18k sq metres available.
The pandemic-fuelled biotech surge
The squeeze on space in the cities has got worse since the pandemic, says Martin-Immanuel Bittner, CEO of Arctoris, an Oxford-based startup that automates drug discovery. 
The coronavirus pandemic accelerated the UK's biotech ecosystem, Bittner says, but the facilities didn't increase to catch up with demand. Funding into UK biotech hit a record £2.8bn in 2021, according to the UK BioIndustry Association, an increase of more than 1,000% since 2012.
"In Oxford, it is difficult to get lab space both within the city centre and the surrounding life sciences parks," he says. 
"Some companies will not be able to secure lab space as quickly as they would like, and operations will be slowed down as a result."
Losing money and time are not the only implications of the lab space squeeze. It's meaning some founders stick around in university labs longer than they otherwise would, Nathan says. 
"People are limited to working out of corners of academic labs, which has implications on IP ownership, depending on the university." The longer a startup stays in a university, the more rights to the intellectual property the university tends to ask for.
In Oxford, Bidwells estimates that there are 17m sq metres of space in research institutes and universities — compared to 1m in commercial space.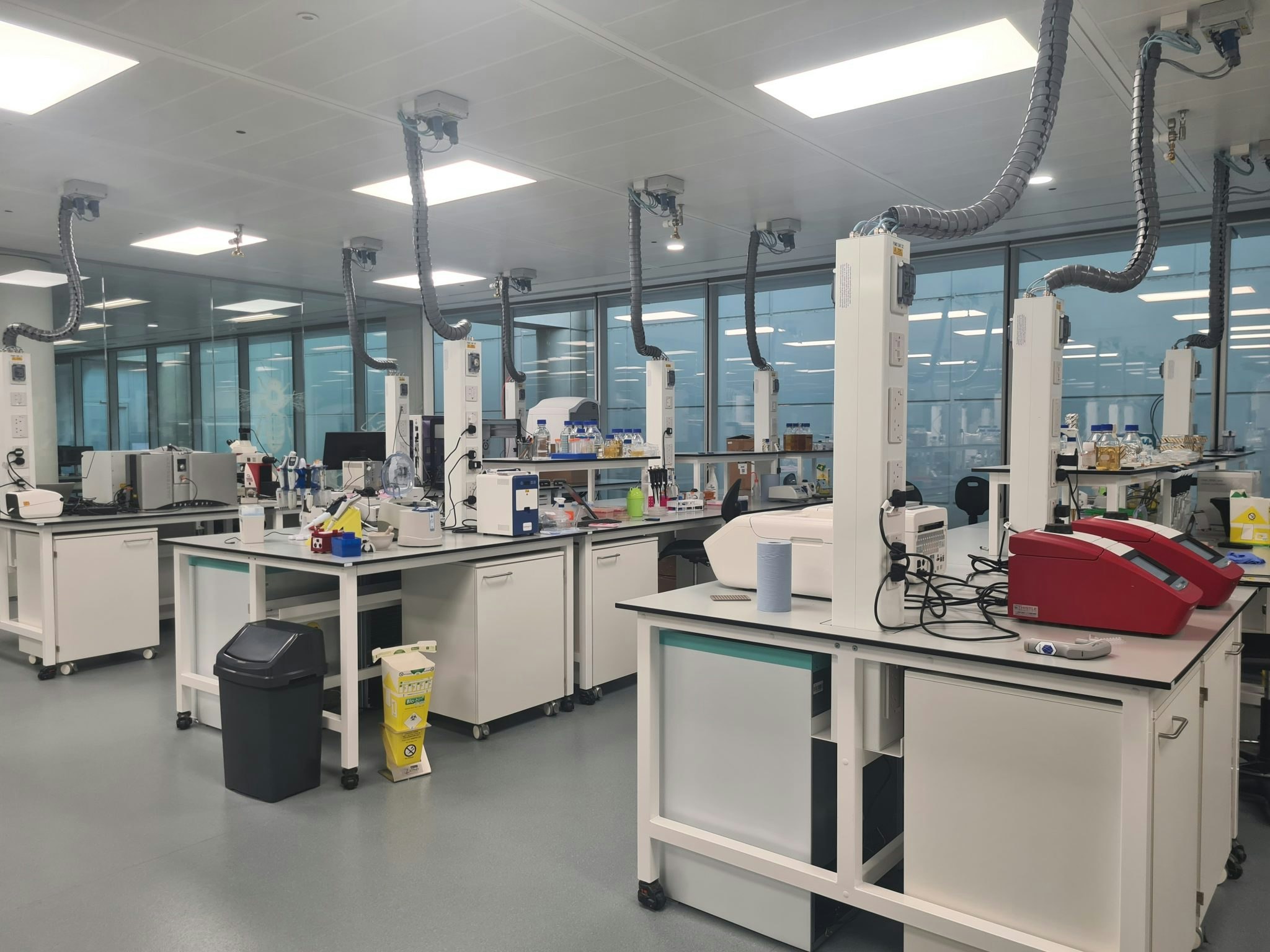 The real estate opportunity
The skyrocketing demand for lab space is attracting private developers to build new lab facilities, says Daniel Hajjar, managing principal at HOK, the architecture firm that designed Epoch's new facilities. 
"One of the challenges that London continues to face is providing lab space that is affordable, and that can actually see the companies grow from a young startup to a much more developed entity," Hajjar tells Sifted. 
Building lab facilities has about a 20% to 25% uplift compared to building office spaces, according to Hajjar. (This goes for level 2 containment labs, the most common type in biology research; laboratories with higher security measures can cost much more to build.) 
In London's Canary Wharf, a 750k sq ft lab is under construction, set to be the largest commercial lab space in Europe. That said, it won't open until 2026.
So what's the solution?
The UK government is building labs, but very slowly at the moment, Hajjar says, and there's a need for a broader strategy. UKRI, the country's research and innovation wing, pledged £213m in early 2021 to build new labs and upgrade existing ones. Funding is allocated regionally, through eight research councils that form the UKRI. 
"I think we need a country-wide strategy. Otherwise we could face a situation where there's a glut on the market for a while because developers have continued building and there might not be enough uptake," Hajjar says.
Nathan agrees the government could be doing a lot more to facilitate the building of new labs, as well as real estate investors. Post-pandemic, the way we use office space is changing, and real estate investors should take the opportunity to turn more space into labs, he says. 
In the current situation, Nathan says the UK is forcing founders to head overseas unless something improves — taking with them advances in things like genomics, cell and gene therapies, as well as synthetic biology and its wide ranging applications for food supply and the environment.
"We are at risk of losing some of these companies to the states or to Europe, if there's nowhere to actually put them," Nathan says.
Freya Pratty is a reporter at Sifted. She tweets from @FPratty and writes Sifted's climate tech newsletter — you can sign up here. 
Clara Rodríguez Fernández is Sifted's deeptech correspondent, based in Berlin. Follow her on LinkedIn here.