Back in 2014, Johannes Schildt wasn't all that sure that he wanted to be operationally involved in starting a new company. At the age of 26, he was already the chief executive at his second ecommerce startup and had just lost a close relative and friend.
"I was already running my second startup and was going through trauma at the time. I was also aware how much effort it takes to start a company," Schildt says.
But he's now happy solving "real issues" as the CEO of Kry, the largest privately owned healthtech startup in Europe.
Since its launch in 2016, the digital health provider has held 5m digital care sessions with patients, raised a whopping €489m and launched in Norway, the UK, France and Germany. At its last fundraise of $300m last year, Kry (which is known as Livi in the UK and France) saw its valuation rise to $2bn.
But when I meet Schildt for brunch, his success as a founder is not the topic of conversation.
Instead, he keeps his focus on me. It takes 20 minutes to put a stop to a never-ending flow of questions about my family, my interest in startups and healthtech and my job as a journalist. When I remind him of the purpose of our brunch, which is more like lunch in this case, he looks perplexed. When I tell him I'll need to take some photos, he looks horrified.
"But I have dog hairs all over," he says, looking down at his jumper, where I spot a few hairs from his Romanian street dog.
Not an easy journey
To launch a startup in Sweden is pretty easy. But to set up a company that will overturn and redefine healthcare is anything but simple.
Kry didn't start off as a healthcare provider. In the beginning, it helped care centres introduce video consultations to their patients. However, the care providers were awfully slow to adapt to new technology and Kry soon pivoted from a B2B technology platform to a healthcare provider itself.
Its offer — the opportunity to see a doctor within half an hour, instead of waiting a week or more to get an appointment at the local healthcare centre — was met with delight from many patients, especially the digitally savvy.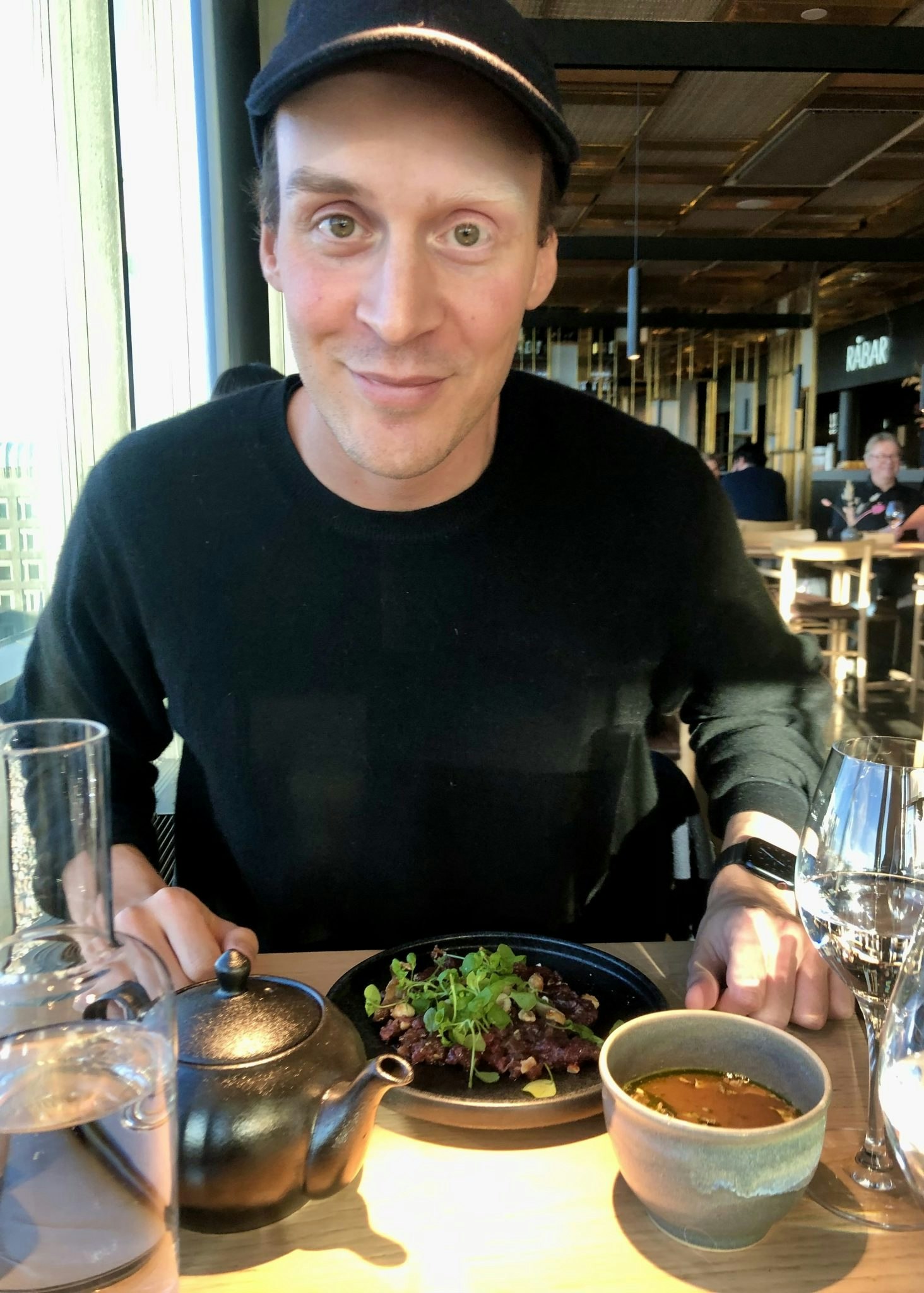 Others saw the new solution as a problem for larger society. Should the Swedish healthcare system pay for people to see a doctor on a whim? During the week's wait to see a doctor, many minor illnesses like colds or rashes could disappear by themselves. With startups like Kry, anyone with some kind of digital know-how could get help the same day.
That stance has always perplexed Schildt: "Why shouldn't we have a system which is patient-orientated?"
Antibacterial gel
When we enter our brunch spot — TAK, a Swedish-Japanese fusion restaurant on the top floor of a building in central Stockholm — Schildt steps away to find some antibacterial gel. With omicron spreading like mad we're all used to fistbumping in gloves instead of hugging, and antibacterial gel is standard.
But, as it turns out, Schildt is actually a long-term user of it: "When in high school, I always had a bottle of antibacterial gel on me."
In his youth, Schildt was often ill with tonsillitis and other infections and he got scared of falling sick. So, aside from an addiction to antibacterial gel, he also became a regular at his doctor's clinic.
"It was just such a hassle to get a doctor appointment, so as soon as I got any sign of getting ill I would try to get an appointment in case it got bad," he says.
So when, over a beer years later, serial entrepreneur Fredrik Jung-Abbou told him about an idea he had to offer doctor appointments via video, Schildt got excited.
"I pointed at the table in front of him and said: we have to do this."
The duck pond of Stockholm
It wasn't that he knew Jung-Abbou very well — he had been introduced by another tech founder, Henrik Torstensson of healthy eating app Lifesum. But the Stockholm tech scene is a bit of a duck pond — after swimming in it for a while, everyone knows everyone.
Case in point: Instagram stories have shown the founders of Kry, scooter startup Voi, edtech business Sana Labs and others stand-up paddleboarding out in the archipelago on summer evenings.
Jung-Abbou has previously told me that, as well as paddleboarding, Schildt is very good at number crunching and that he is one of the reasons why Kry has been so successful in raising money. Schildt never acknowledges this but with early investors such as Accel, Creandum, Index Ventures and Project A, I'm convinced.
Schildt is also great at keeping the conversation flowing and an hour after we sat down he's still nibbling at his tartar starter. We only have 15 minutes left on the clock and I'm getting a bit worried about being able to finish our main and dessert in time for my next interview.
The white eyebrow
I jump in with the question that most people probably want to ask Schildt but are too embarrassed to: why are his left eyebrow and eyelashes white?
As it turns out, they haven't always been.
As a child Schildt's eyebrows were the same colour. There's even evidence on the internet — in 1997 Schildt and his sister acted in the television series "Glappet", a series his film director father produced which is still available on public television in Sweden.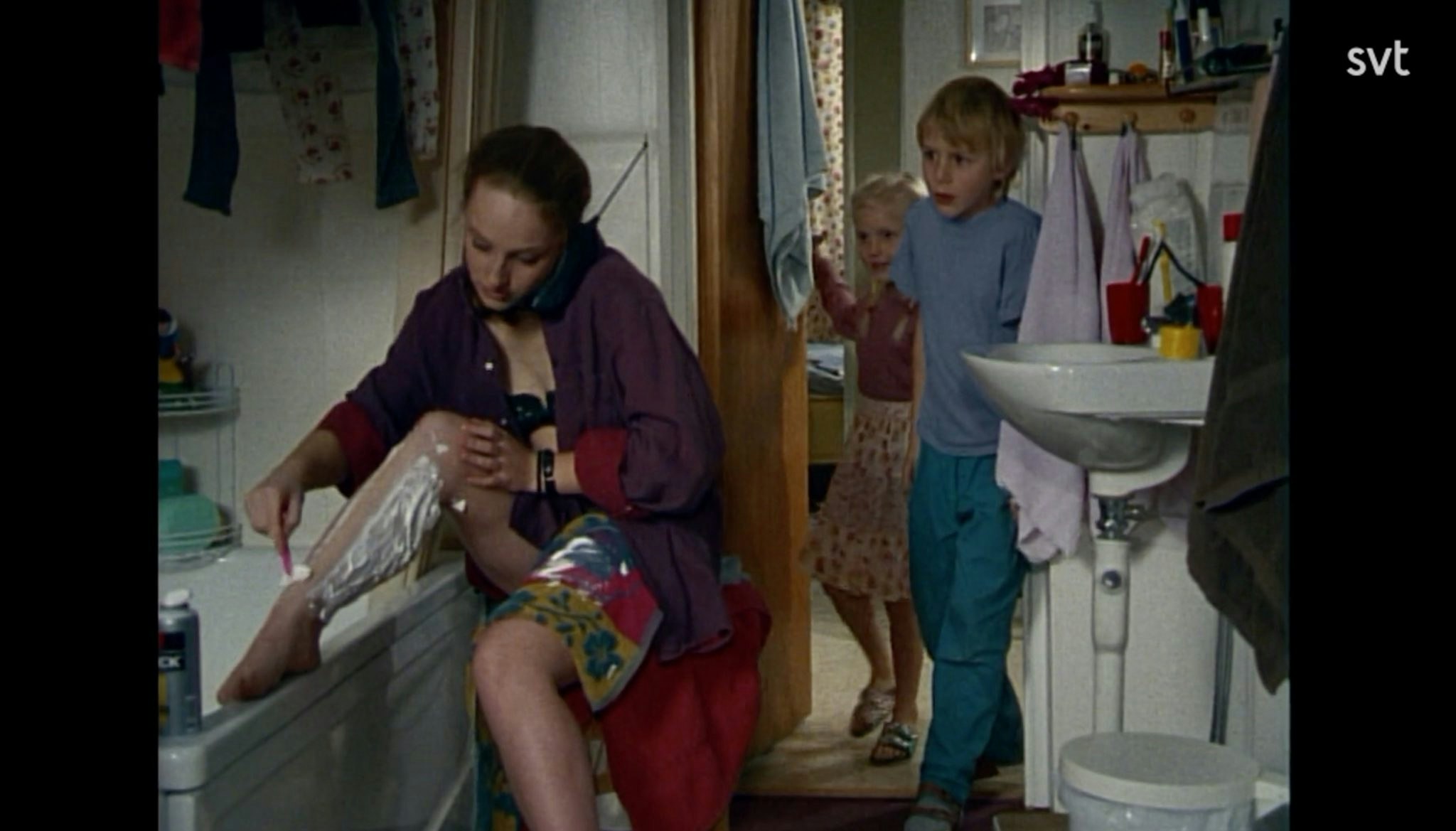 "Somebody told me that I am probably the only tech CEO with an IMDB site," Schildt says quietly for no one to overhear.
Neither he nor his sister continued on the acting path, but Schildt believes there are parallels between making movies and starting a company.
"What I like about starting companies is the creative side of things. In a way that is similar to setting up a play or making a film —  in both cases you start with kind of a blank sheet and building it all up as you go," he says.
And even if he hasn't picked it for his own career, his long-term girlfriend is a filmmaker, just like his father.
But what about the white eyebrow?
As it turns out, Schildt has vitiligo, a condition characterised by depigmentation of the skin, occurring in patches.
"It first happened in my early 20s when a few of the hairs in my eyebrow turned white. My girlfriend at the time said that I was just turning old," Schildt says. "Then the rest of the eyebrow and my eyelashes turned white."
At first, Schildt considered dyeing them but instead got used to his new look. Today, he doesn't mind it at all.
"Actually, there are very few people that ask me about this."
Splitting dessert
When we've finally finished our mains, the crème brûlée arrives, which was part of the lunch set that Schildt picked. By this time, I've had to postpone my 2 o'clock for half an hour and Schildt has also sent his apologies for being late to his next appointment.
He is adamant that we should share the dessert and asks for another plate. While I'm shovelling my part of the dessert into my mouth, he only picks at his.
When the bill arrives, he asks if FT will pay for it. I don't know if Schildt, like many others, understands how Sifted and the FT differentiate and I decide not to get into the details. Instead, I take a photo of the bill and say it's part of the deal — he picks the restaurant and we pay.
"I didn't pick this restaurant!" he exclaims. "Now everyone will think I'm one of those startup founders that only go to fancy restaurants."
As it turns out, his assistant is to blame for the choice of restaurant. We decided to go for a hot dog next time to level it out.