When Pfizer launched Viagra in 1998, it had one of the fastest ever prescription uptakes of any medication. It's the type of meteoric rise Munich and Berlin-based Kranus Health is hoping to echo with its own erectile dysfunction treatment, a digital therapy app. And early signs are looking positive.
Kranus had the most prescriptions after the first five months of launch than any other startup on Germany's DiGA scheme — which means the app can be given to patients by doctors for free and the healthcare system foots the bill.
That traction has just helped it raise a $6.5m Series A, in a round led by French healthtech-focused VC Karista.
According to some reports, one in three men suffer from erectile dysfunction, but only half of them will get help. It's what makes digital therapy — that can be done discreetly from somewhere a user feels at ease — so well suited to treating the issue, adds founder and CEO Jens Nörtershäuser. 
Despite this, there are scant remote and app-based treatments for men's sexual health problems available in Europe. Kranus compatriot Wellster raised $20m in January — although will use most of that money to launch a femtech platform alongside its established men's sexual health offering — and UK-based Numan raised $40m in debt and equity in February. 
How Kranus Health treats erectile dysfunction without pills
What sets Kranus apart from startups like Numan and Wellster is that its treatment for erectile dysfunction doesn't rely on pills like Viagra. 
The therapy can be combined with pills, but at its core is a 12-week app-based treatment plan that mixes pelvic floor and cardiovascular exercises with sexual therapy and mindfulness exercises. 
The personalised course takes into account things like weight, age and physical ability, and its algorithm continuously adapts the plan according to feedback from the patient.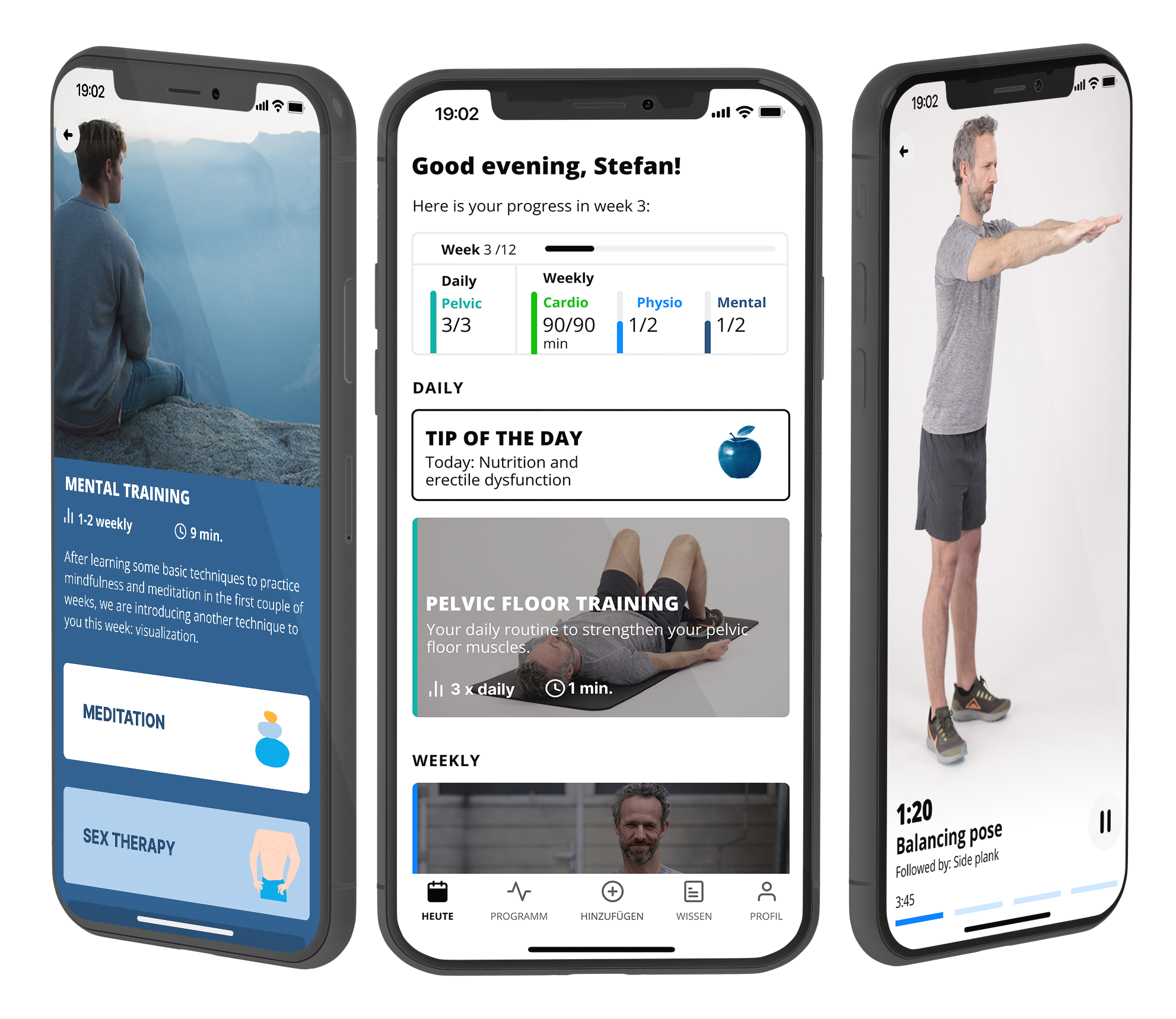 While US-based Regimen offers a similar course of digital therapy to treat erectile dysfunction, according to Nörtershäuser there are no other startups that do it in Europe. 
He says this treatment targets the root causes of the problem — not just the symptoms — and clinical trials have found it to be just as effective as the little blue pill.
"Kranus is a new type of therapy class," he adds, and this means a "lot of work" needs to be put into making people feel comfortable using the product. 
It's especially important considering the average age of patients is 52 — a demographic less likely to be used to using digital and app-based tools. While the treatment is entirely app-based, Nörtershäuser adds, before the start of the therapy a patient support team is on hand to help and guide new users through the platform.
The importance of DiGA
"[Getting approved on DiGA] was crucial to raising the Series A round," Nörtershäuser tells Sifted. "The process enables us to make money, so it was very important for growth."
Approval on DiGA means that startups gain immediate access to a market of 73m Germans, becoming an ever more attractive proposition for investors overnight. 
Last week, gut health startup Cara Care raised $7m just months after launching on DiGA. So far, 33 digital health companies have become available to be prescribed by the public healthcare system in Germany via the programme. 
But not everyone is convinced that the scheme has brought the results it promised two years on from launch.
Nonetheless, many European countries are looking to follow in Germany's footsteps. Last year Belgium and France announced plans to introduce similar programmes to reimburse digital health apps as part of public healthcare, and a number of others are looking to follow suit.
Kranus Health plans to expand in a downturn
While much of Startup Europe is becoming more cautious and dialling back on expansion plans amid global economic uncertainty, Nörtershäuser isn't overly concerned.
"Healthcare and patient needs do not change with an economic crisis," he tells Sifted. Kranus will push ahead with its plans to double its headcount to at least 100 this year, and in 2023 has set its sights on moving into other geographies.
"We founded Kranus to be an international company," says Nörtershäuser. "We want to repeat the success of Pfizer's Viagra, and we can only do that if we win every large country in the world."
Nothing is set in stone yet, he adds, and whereabouts the startup expands to next year very much depends on how regulations develop, but Nörtershäuser already has his eye on a couple of countries.
"We find the US very exciting because it's such a big market," he adds. "But also France, being one of the earlier followers of the DiGA law."