It's the end of an era today as Jack Ma steps down from Alibaba, the $460bn Chinese online marketplace he founded and has steered for the last two decades.
Reams have been written about his wider legacy. But those hoping to redefine the e-commerce space in Europe such as Wallapop or Glovo — as Ma did in Asia — may be able to learn lessons from the great businessman.
Here are six pieces of advice:
1. Don't play the Americans at their own game
In the early 2000s the still-new Alibaba was battling with US giant eBay to win over the Chinese market. Alibaba did not have the size or the money but it did have local market knowledge which it used to its advantage — eventually winning out.
"eBay may be a shark in the ocean, but I am a crocodile in the Yangtze River. If we fight in the ocean, we lose—but if we fight in the river, we win," Ma said.
Read the full story about how here.
2. The money is in small businesses
"Nobody makes money catching whales, people make money catching shrimps," Ma once said about Alibaba's approach. "So we serve small business."
3. Automate everything.
Alibaba's ability to scale as it did, was — in no small part — down to the company's decision to invest early in powerful technology that could process large amounts of data, and act as a powerful mind.
"To become a smart business, your firm must enable as many operating decisions as possible to be made by machines fueled by live data rather than by humans supported by their own data analysis," Alibaba's strategy chief Ming Zeng once wrote.
Jack Ma offered up vast amounts of equity to his staff. Around the company's initial public offering in 2014, Fortune calculated that Alibaba has granted its employees what amounts to
$250,000 in stock per person
.
5. Being an e-commerce founder is about people and customers, nothing else
Ma earlier this year in Paris said: "I know nothing about technology, I know nothing about marketing, I know nothing about (the legal) stuff. I only know about people."
Sifted Newsletters
Sifted Newsletter
3x a week
We tell you what's happening across startup Europe — and why it matters.
Who are Europe's e-commerce giants?
Across cities like London and Berlin, there are e-commerce startups that have reached unicorn valuations and are working to follow in Ma's footsteps with multinational recognition. These include: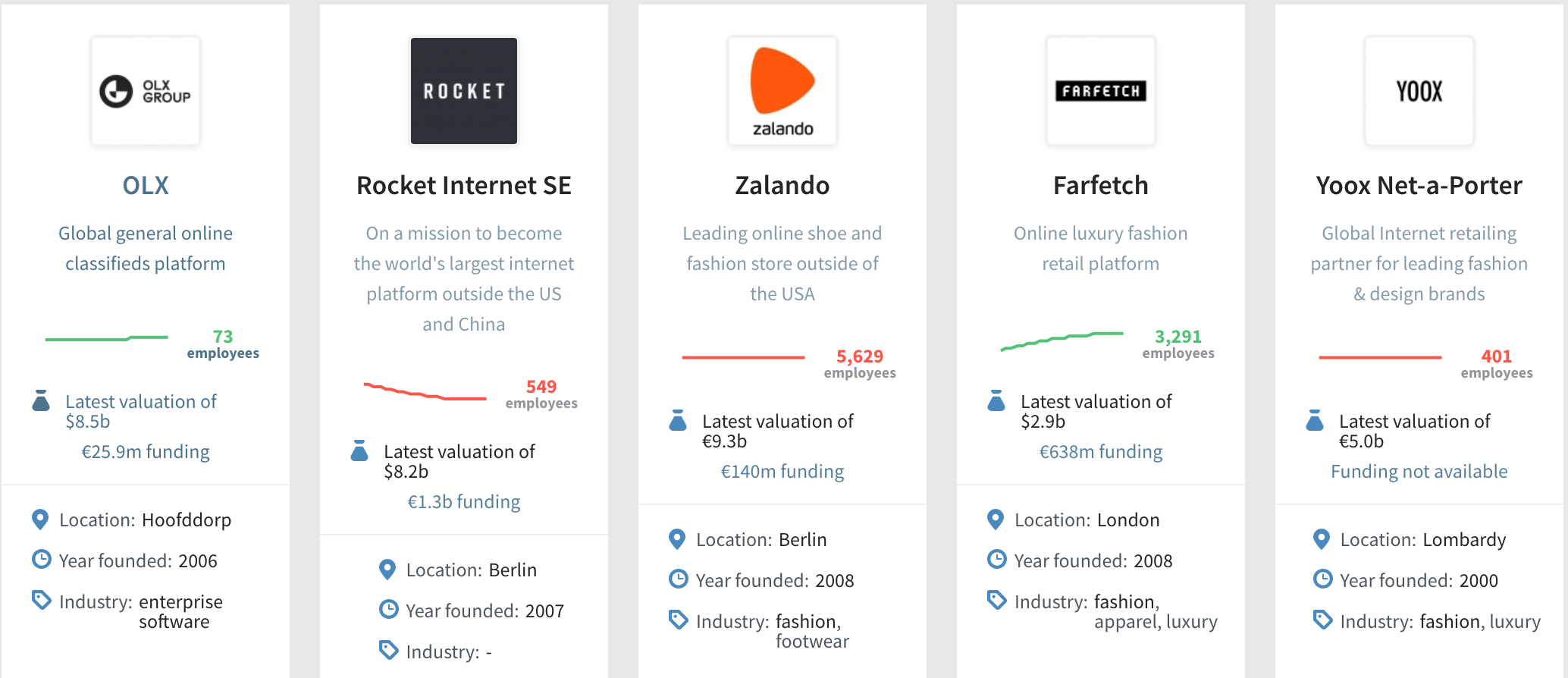 One tier down, there are the more specialised platform such as Düsseldorf-based Springlane; essentially an online Ikea dedicated to kitchen purchases, which recently raised €10m.
There is also France's Happytal, which offers gift deliveries to those in hospital, and Netherland-based Crisp which is an online-only organic, local grocery store.
And don't forget the little guys, such as Lithuania-based Ziticity, which is working to offer 45-minute package deliveries across the continent.