Israel's high concentration of startups per capita has earned it the title of "the startup nation". As of now, the country — which has a population of almost 9m — has developed 97 unicorns. In comparison, the UK has 43. 
Israel's startup ecosystem has seen exponential growth over the past decade, but how did this tiny country catapult to the top of global rankings? And how is it faring in a troubled market?
We turned to the experts and crunched the data to dive into Israel's booming tech sector. 
There are almost 100 Israeli-founded unicorns right now
According to Techaviv, a global Israeli startup founders club, there are almost 100 Israeli-founded private tech companies valued at over $1bn. 
For Georgie Davies, growth investor at VC firm Sapphire Ventures, this boom in unicorns — and soonicorns — is partly due to Israel's history. 
Until the 90s, Israel's main source of tech funding came from military, defence and large aerospace R&D funding. Israel's military intelligence agency, Unit 8200, for example, provides graduates with access to new technology and over 1,000 startups have been founded by former members to date. 
The change in recent decades, says Davies, is largely due to the rapid increase of investment into Big Tech which has allowed them to broaden focus; Israel is now home to 270 multinational corporations including Google, Apple, Facebook and Microsoft, which between them have established over 350 R&D facilities. 
"There was a lot of technology innovation in Israel, but it was mostly focused on military and other cyber sectors," says Michal Tsur, founder of video SaaS startup Kaltura. "But that drove fast growth." 
Maxim Melamedov, CEO of cloud optimisation startup Zesty, agrees, adding that successful startups have attracted attention from media, talent and investors.   
The tech scene has developed a lot and attracted a lot of

attention
"We have a few iconic companies that are based out of Israel and still remain local," he tells Sifted. "The tech scene has developed a lot and attracted a lot of attention." 
Andreas Weiskam, cofounder and partner of Sapphire Ventures, says that while innovation has stayed local, the mindset of Israeli startups is typically global. Because the country is small, instead of expanding into new markets at a later stage, they have to build this into their business plan from day one.
"The Israeli market is so small, it's basically just a laboratory when you think about it," he says. "So automatically the companies being started in Israel look beyond Israel."
VC funding surpassed $10bn in 2021
According to Dealroom, VC funding into Israel has been steadily increasing over the past decade — reaching $10bn in 2021. 
While 20 years ago Israeli entrepreneurs might have exited early so as not to risk too much capital, more investment in the region has allowed for more growth.  
"What we've seen in the last few years is that we're growing up a bit," says Hani Goldstein, founder of gifting platform Snappy. "Companies are not only started and then exit after a very short time, but instead they get to an advanced growth stage and scale and become real public companies that have sustainable growth for the future." 
Weiskam adds that because the ecosystem is maturing, founders are starting their second or third companies and are bringing knowledge and ambition to those projects.  
"With entrepreneurs now not being first time entrepreneurs, but second time, third time or repeat entrepreneurs, your ambitions get bigger and you go for the larger outcomes versus selling early," he says. 
Deal value was up in the first half of 2022 
While the investment pace may slow during the second half of this year due to the tech slowdown, Pitchbook data has shown that the first half of 2022 saw Israeli companies secure €5.4bn in deal value, up from €4.2bn in deal value in the second half of 2021. 
Israel remains to have a thriving ecosystem with a very high density of funders and a consistently impressive roster of startups being

born
"It's undeniable that the market has changed and it's hard to predict what the next few months are going to bring," says Davies. "But Israel remains to have a thriving ecosystem with a very high density of funders and a consistently impressive roster of startups being born." 
Goldstein agrees, adding that investments are still happening (particularly at early stage), but investors are more cautious and diligent. 
"The whole world is in the same place in terms of impact, where there's a bit of uncertainty from the market," she says. "I think transactions are still happening, they're just more meaningful, digging more into the businesses to see that the numbers are there and the multiples make sense." 
The soonicorn spotlight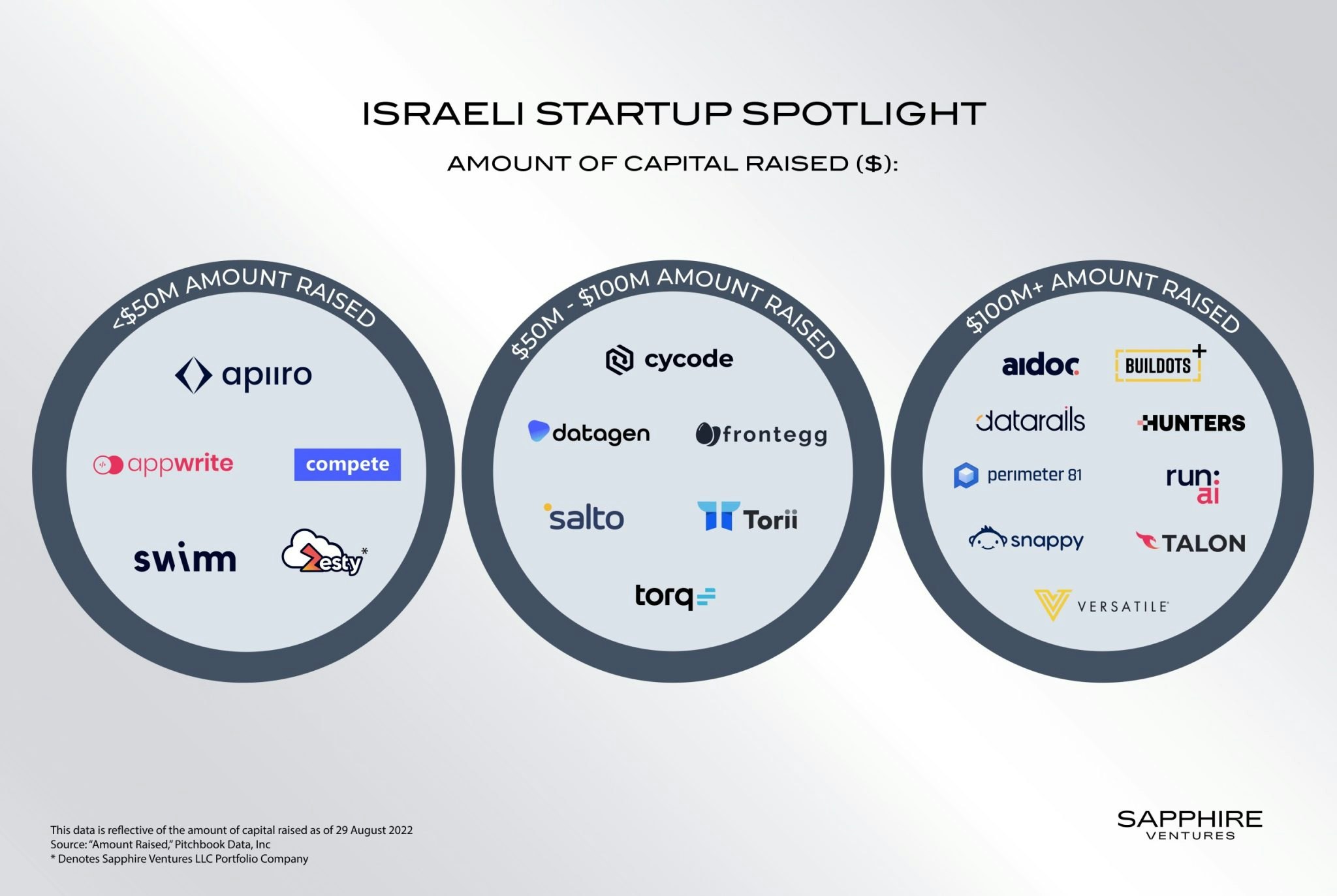 In the Israeli startup spotlight above, Sapphire Ventures zoomed in on the B2B sectors that it believes are leading the Israeli startup ecosystem and mapped startups that have a valuation under $1bn. It found 20 of the most interesting startups that it believes are on track to become "companies of consequence".
According to Davies, Israel is a hotspot for cybersecurity and AI startups in particular. Goldstein agrees. 
"Fintech, security, there are lots of successful companies," she says. "If you compare to other countries, probably security is the biggest thing you could see Israel standing out for."
Tsur adds that due to connections with military R&D, deeptech has penetrated a lot of sectors.
If you compare to other countries, probably security is the biggest thing you could see Israel standing out

for
"There was a lot of deeptech that's found itself into many industries, so it found itself into fintech, into retail technology and into healthcare, so many sectors," she says.  
Melamedov says Israel is also becoming more interested in impact sectors, such as climate tech. 
"I would say that green energy is up and coming and foodtech is up and coming," he says. "As humanity we need to take care of the planet that we live on and we see that there is a trend now of companies that are creating alternative sources of energy or food."
The tech ecosystem in Israeli has close ties with the US
For Amit Rapaport, founder of HR data platform Compete, the close ties between the US and Israeli tech ecosystems has been part of Israel's development. 
"Creating those collaborations and partnerships with the US business ecosystem has helped us to bring the edge and develop a hotspot," she says. 
According to Techaviv, just 40.2% Israeli unicorns are still headquartered in Israel, while 24.7% are based in Silicon Valley and 19.6% are based in New York. However, Weiskam says this may be changing.   
"Typically Israeli entrepreneurs would look at the east coast or the west coast of the US for moving after the Series A or B to build the company further," he says. "Now that's not necessarily the case and Europe is an option, an alternative as well." 
Rapaport says the Israeli startup ecosystem is still very young, so could grow in any direction. 
"Generally speaking the culture in Israel drives you to think outside the box, not take no as an answer and just aim for the targets you want to achieve," she says. "I would say stay tuned, we've just started in Israel."   
*Disclaimer: Nothing presented within this article is intended to constitute investment advice, and under no circumstances should any information provided herein be used or considered as an offer to sell or a solicitation of an offer to buy an interest in any investment fund managed by Sapphire Ventures ("Sapphire"). Information provided reflects Sapphires' views as of a time, whereby such views are subject to change at any point and Sapphire shall not be obligated to provide notice of any change. Companies mentioned in this article are a representative sample of portfolio companies in which Sapphire has invested in which the author believes such companies fit the objective criteria stated in commentary, which do not reflect all investments made by Sapphire. A complete alphabetical list of Sapphire's investments made by its direct growth and sports investing strategies is available here. No assumptions should be made that investments listed above were or will be profitable. Due to various risks and uncertainties, actual events, results or the actual experience may differ materially from those reflected or contemplated in these statements. Nothing contained in this article may be relied upon as a guarantee or assurance as to the future success of any particular company. Past performance is not indicative of future results.