So you're an early-stage startup and you've just raised capital from investors. Congratulations! Now you can finally get your company to the next level.
But wait: don't forget your investors just because the money is in the bank. What's the point of having great investors if they're not a part of helping you achieve your next milestones? 
Obviously, you could just do the bare minimum — report on KPIs and progress and that's it. However, especially at early stages, your early supporters can be a powerful resource. Make them feel included and engaged so you can call on them when it really matters.
Doing that requires a great investor communication playbook. So far, we've raised over €2m from more than 20 angels — a conscious choice by us to have so many — so we needed a clear strategy to help us keep in touch with them all efficiently. It's also a way to represent our brand; we're building a super-platform for grassroots football in Europe, so our playbook also includes fun, team spirit and football-related perks.
We want to share our playbook with other founders so here's a peek.
Even before working together
Even before we work together, we share a well-structured data room to show how we work. We also share a Notion page with details about what it means to work with us as an investor. It's important that we set clear expectations early on for both sides. We want potential investors to understand that backing an early-stage startup is risky, but has great upside potential — and that all angels are important to us. 
This document lays out: 
How much we are raising; 
Agreements like a convertible loan contract;
A timeline for closing the round;
Details about how we report to investors;
Clear guidelines on how angels can support us through introductions, skills or even just a quick "ok" or "I can't help with this one" so we can get fast responses when we ask for help from the group. We clearly state that WhatsApp is our preferred method of feedback and communication.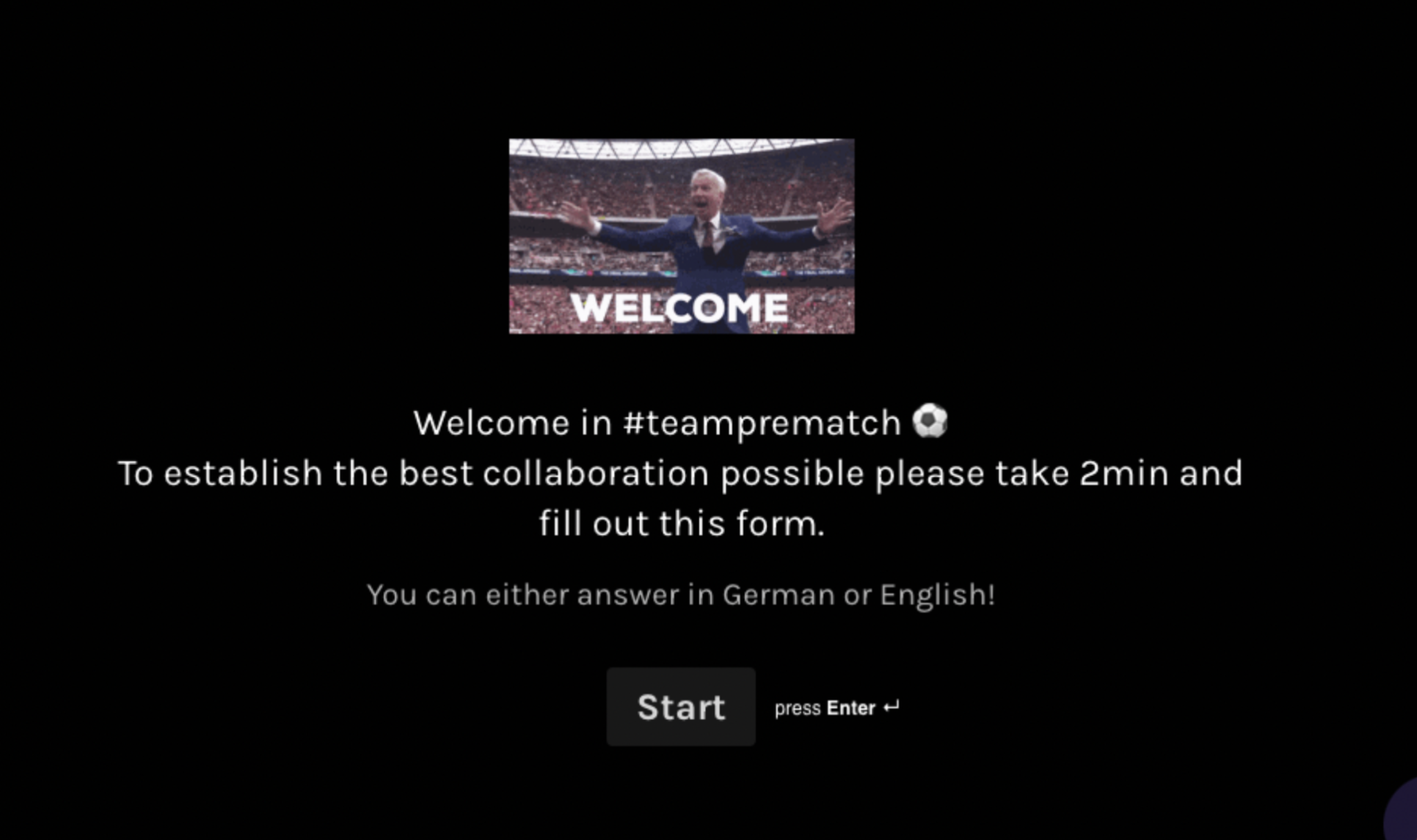 Onboarding
Once an investor has committed, we also make sure that they have a great onboarding experience. Startups think a lot about employee onboarding — why isn't a process for investors the default? 
We have a Typeform in which we ask them for their personal information and details on how much they would like to be involved. After that, we add them to our investor WhatsApp group. 
Reporting
Every four weeks, we send an update to our investors with different levels of detail. We communicate through email (a short version), video (10-minute, mid-length version) and Notion (a detailed, long-form version). We send different formats to enable every individual to follow the progress and make it easy to interact. Reporting should never be a one-sided communication! 
In this regular communication we are very clear about what asks we have. That could be for example: 
Experience in influencer marketing;
Best practices/documentation templates for app dev onboarding;
Sparring with experienced mobile product managers on workflow best practices.
Communication
We communicate with our angels in between regular reports using the WhatsApp group. We send short-term needs and importantly, only we (the founders) can post. That means angels aren't overwhelmed with random pings on their phone; if we are messaging the group, they know they should pay attention. 
We are always trying to connect people in our angel network as this added value has a direct impact of the level of engagement of the

investors
To understand how happy investors are with us, our reporting and to capture additional suggestions, we send out a Typeform survey semi-annually. We ask them: 
How do you feel about our progress? 
How do you feel about our communication? 
What do you think we can improve? 
Questions 1 and 2 in particular are strong indicators of the sentiment of our investors. 
Finally, we are always trying to connect people in our angel network as this added value has a direct impact of the level of engagement of the investors. 
Small presents that delight
We also prepare some small presents to delight our angels. When we onboard investors, for example, everyone gets a physical player card sent to them with a handwritten note from the founders.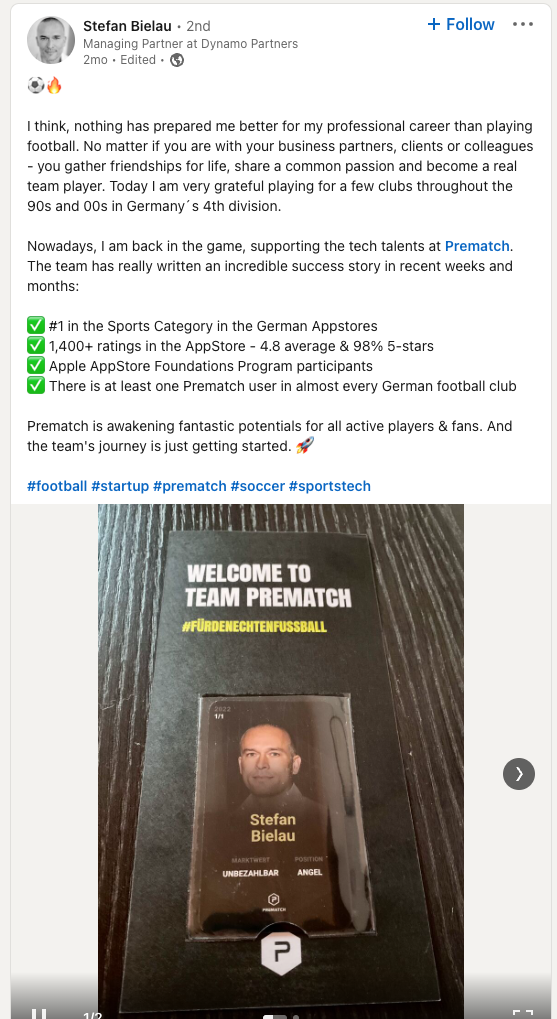 And for Christmas, we sent investors a jersey. We even turned this into a LinkedIn campaign by asking the angels to post on LinkedIn — generating over 300k impressions.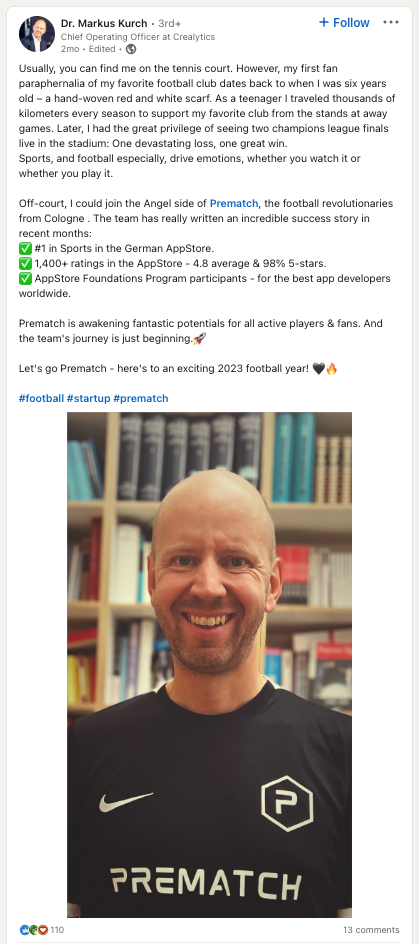 It's not about big things, but the right gestures. 
Events
Whenever we're visiting another city or a larger event, we reach out to our investors. We had four events in 2022 — two in Cologne and two in Berlin. It was great for our team and our angels to spend time in a relaxed atmosphere, get to know each other better and celebrate our successes together. 
And of course, we wouldn't be a football startup if we didn't actually play some football. Last year, we hosted a Prematch vs investors football match. Our team won 11-7 — we'll let Sifted readers know how much this affected long-term investor happiness as soon as the tears have dried…  
Other times we tap our angels
Our angel investors play an integral role in our success. The nice thing is that interests are aligned — both sides benefit from our success. Things like introductions to other entrepreneurs or experts who can support us on a specific topic are a huge help.
We also use our angels to amplify some proud moments for us, like when we became the number one app in Germany. We had a coordinated campaign with our angels to share the news on LinkedIn (Example 1, Example 2) and increase awareness. And finally, there might be specific questions we know one angel can answer.