It's been a blockbuster year for startups in the DACH region of Germany, Austria and Switzerland.
Investment into startups hit record highs. Several new unicorns were minted and six cities made it to the top 20 European tech hubs by capital invested in the State of European Tech report: Berlin, Munich, Zurich, Mainz, Dusseldorf and Vienna. 
To dig a little deeper into what happened in 2020, here are the top takeaways of the new report from VC firms Frontline Ventures and SpeedInvest: 
VC investment hit a record level of investment in Q2 2020
VCs have not shied away from investing into DACH startups this year, despite Covid. The region even saw a record high of quarterly investment in April-June — at $2.6bn — almost double that of Q1 2020 and Q4 2019. It was still strong in Q3 as well. 
When Covid hit in March, valuations dropped. But VCs kept investing into startups. As valuations were lower than usual, they ended up buying cheaper and getting more value for their money.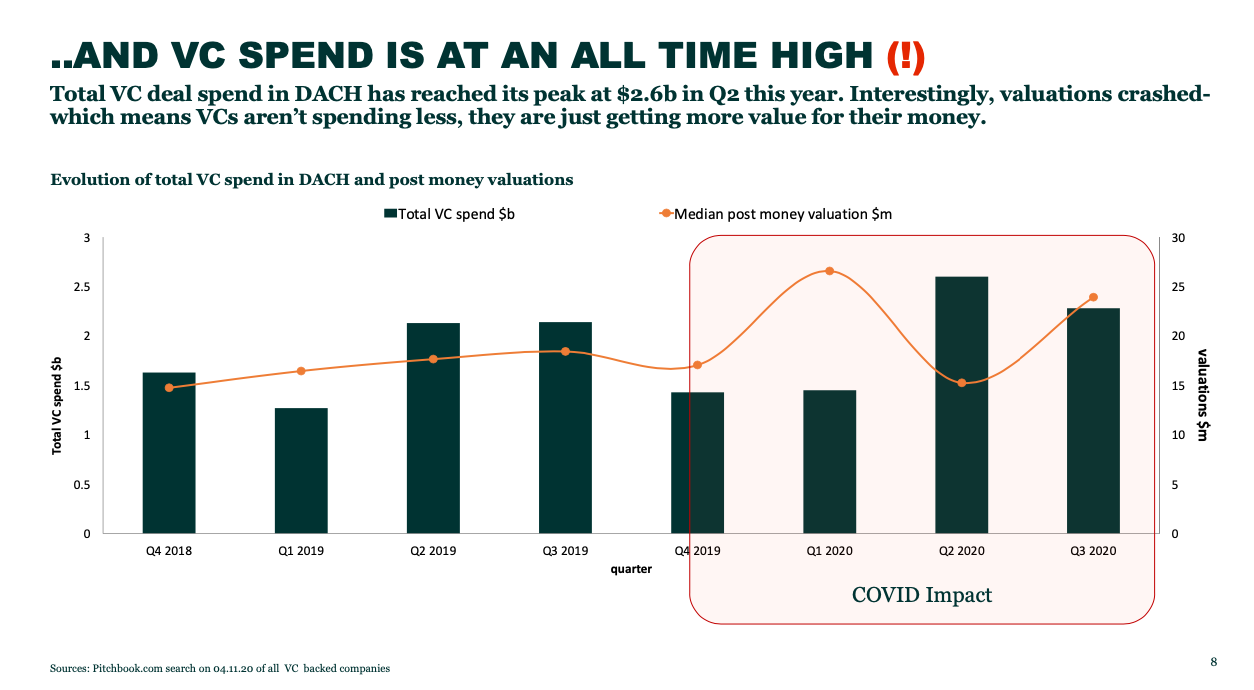 DACH VCs have secured $2.35bn so far in 2020
Local VCs have raised $2.35bn so far in 2020 — a 25% increase from 2019. 
Nine of the VC funds crossed the $100m mark. Lakestar, HV Capital and Future Energy Ventures had the biggest slices of the pie and landed $678m, $600m and €250m respectively. 
A growing number of DACH VCs count unicorns in their portfolio or have exited companies at +$1bn valuations, such as Point Nine, which has backed UK neobank Revolut, Spanish software Typeform and German food delivery company Delivery Hero. The VC firm raised its fifth fund of €99,999,999.99 in September.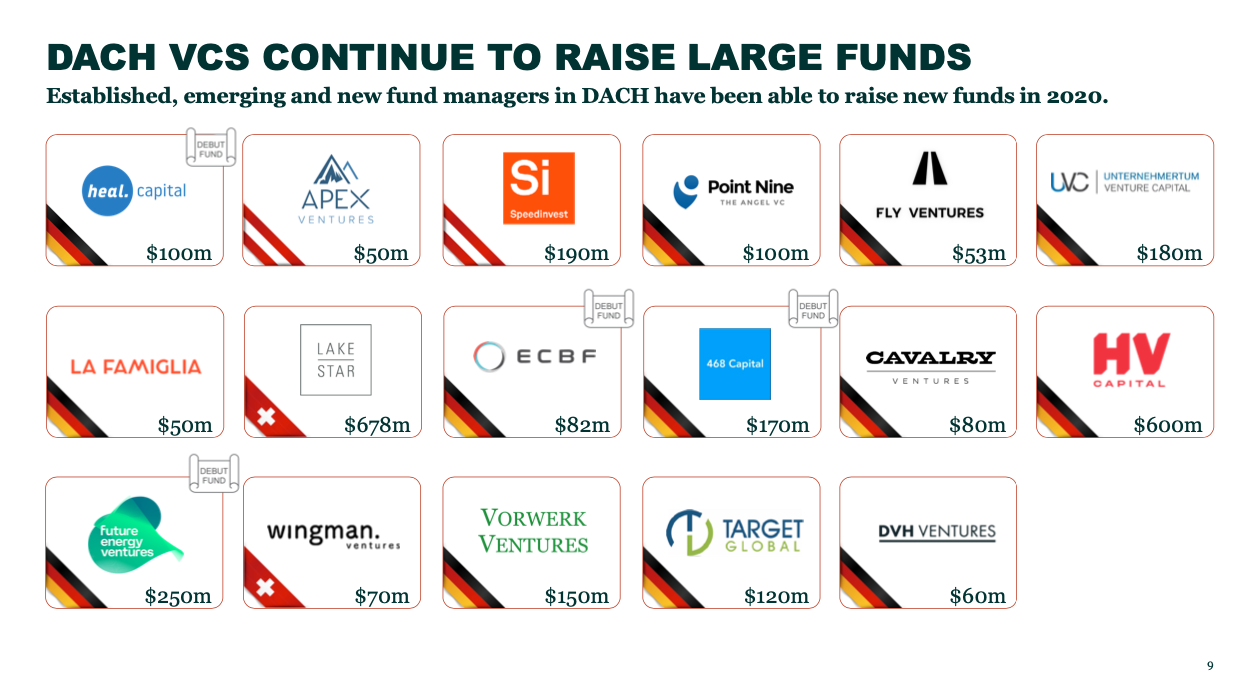 But, this stream of investment might slow down, the report says: "Corporate VCs will act more carefully as their corporate backers deal with COVID aftermath."
Local and European funds dominate investment at seed while the US and China step in at the later stages
Local VC funds were fueling investment into seed-stage startups, but growth capital continued to stem mainly from international investors, especially from the US and China — a trend present across Europe. Last month, Japan's SoftBank led a $250m investment round into German escooter operator Tier. 
Sifted Newsletters
Up Round
Every Friday
Dive into VC and meet the people holding the purse strings.
The German government's new "future fund" to invest in late-stage startups is attempting to change that, but it's not quite there yet.
"International funds are catching on to the fantastic talent that we have in Germany/Europe, sometimes before local investors do – and they fill the void left by the limited local growth capital Germany has in later rounds," Judith Dada, partner at La Famiglia VC told Sifted. 
The region attracts European and international firms, including US accelerators Y Combinator and Techstars, global early-stage VC Antler and European seed-stage VC fund Seedcamp. 
DACH startups have shown resilience despite Covid's uncertainty
The flow of investment has not benefited all startups: many startups struggle to keep afloat, including German travel unicorns. 
Get Your Guide laid off 90 employees in October, as part of a plan to "reset" the company and Omio cut costs at the business by 60–70% during the crisis and furloughed 90% of its team.
But, the two companies have not lost the trust of investors and still managed to respectively raise €114m in October and $100m in August in convertible note — meaning that the rounds will convert into equity when they next raise a round. 
Overall, DACH startups have shown resilience and some, even have increased their valuation in the past 12 months: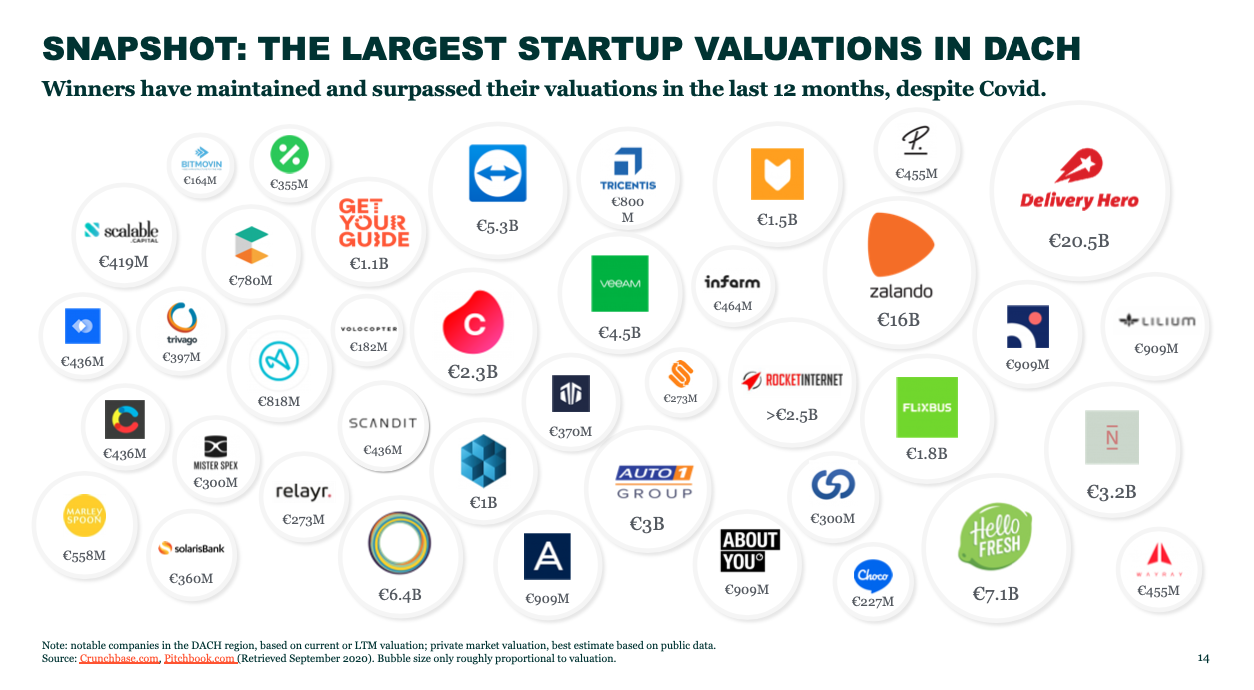 Fintech, healthtech and software are the big winners
Germany's most established tech sectors are mobility and ecommerce, but the report highlights B2B software, healthcare and fintech as "the emerging sectors." In 2019, $1.2bn was invested in fintech and the B2B software sector received $1bn, which is close to what was invested in mobility ($1.3bn). 
In Switzerland, life science and genetics startups account for more than 40% of company counts and are key investment drivers: US-Swiss biotech company Sophia Genetics secured $100m Series F in October and biopharmaceutical company Arvelle Therapeutics landed $222m in May. 
Despite having the smallest ecosystem of the region, Austria landed Europe's largest Series A round in 2020: bitcoin startup Bitpanda raised a $52m Series A led by Peter Thiel's Valar Ventures.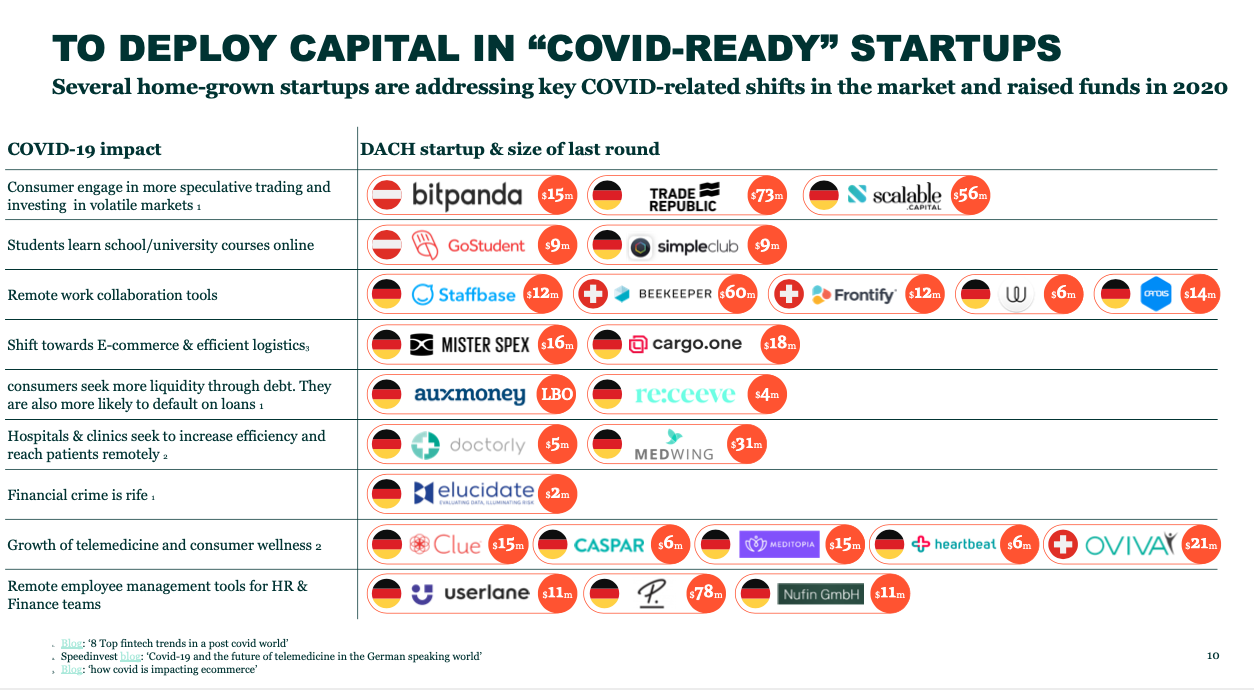 2021 trend: Germany's digital health under watch
Healthtech startups have, unsurprisingly, hit the limelight this year — and in Germany more than anywhere. German biotech startup BioNTech, alongside pharma giant Pfizer, announced the world's first viable vaccine in early November.
Although Switzerland attracted mega-rounds, the report predicts a boom in Germany's healthtech sector. With the largest healthcare system in Europe (and the second largest in the world), it's the continent's strongest economy and is home to 83m people.
What's more, the German government passed a new healthcare law that allows the reimbursement of digital consultations and prescriptions. Since, many entrepreneurs set their eyes on the country, which is now home to 271 healthtech startups, according to EuropeanStartups.
2021 seems like a promising year for Germany's healthtech sector, according to the report that predicts a digital health boom.