Unless you've been living under a rock, you'll know sustainability is the future of any industry or investment strategy.
Now Europe boasts at least 800 climate tech startups with more and more launching each year. Public sentiment for immediate climate action is at an all-time high: a 2020 report conducted by Europa found that 94% of Europeans believe environmental protection is important to them personally.
The impact of sustainability has well and truly hit the European startup ecosystem, and climate techs, greentechs and cleantechs are getting just as mega as the rest.
Arrival, the electric vehicle company, plans to go public soon at a valuation of $13bn. Battery manufacturer Northvolt is rumoured to be next, after recently announcing a huge 10-year partnership with Volkswagen, which made a $14bn battery cell order. It's not just electric vehicle or energy startups, of course — oat milk unicorn Oatly raised $200m last July from Blackstone and celebrities including Oprah Winfrey, Natalie Portman and Jay-Z, valuing the company at $2bn.
But there's a lot more growth to be had — and Sifted's on the case to find out where.
With help from our network, Dealroom data and our own research, we've cherrypicked the best and brightest of the bunch in Europe to form our first-ever sustainability rankings — the Sustain 100. Each startup has got sustainability at the very heart of its mission and messaging  — climate communication is imperative today — while identifying the critical gaps in climate innovation with some fascinating tech.
You've probably heard of refurbished product marketplace Back Market and vertical farming superstar Infarm, which last year raised €110m and $170m respectively — but there are plenty more sustainability startups with high potential out there.
So what does the next generation of sustainability-focused startups look like?
While the full dataset is only available to our members, here's a sneak peek at the 12 companies that launched in the past year — and are already making their mark.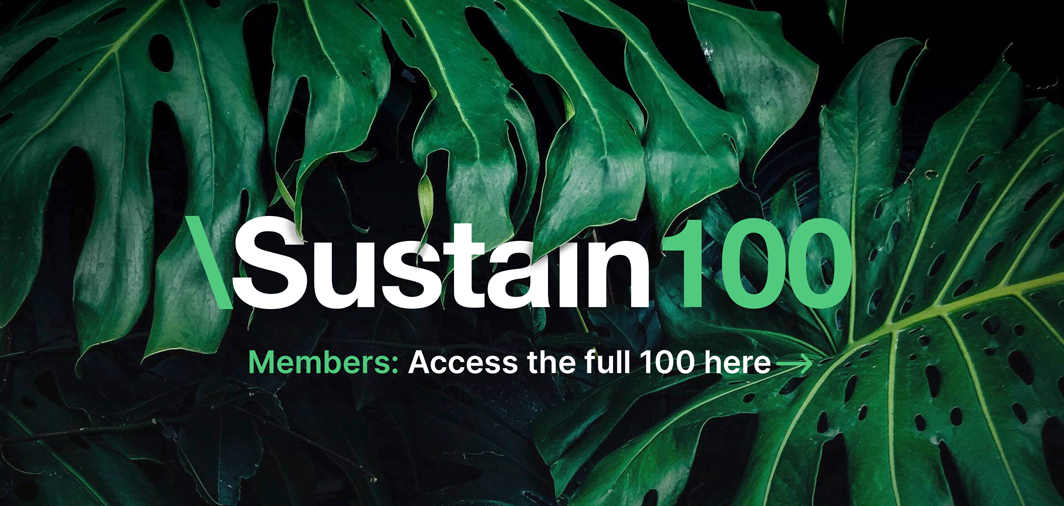 011h
Tagline: New generation building construction company
HQ: Barcelona, Spain
Launched: September 2020
011h is out to to clean up the construction industry — which is responsible for a whopping 39% of global carbon emissions. Through digitisation and constructing high-tech, wooden 'smart' buildings, it's hit a critical niche in the global industry worth 13% of global GDP.
In December 2020, it raised €8m in its first funding round, which including Fundamental, A/O Proptech, Cultivate Capital and angel investor Giuseppe Zocco. It begins its first building project in March 2021 on a housing development just outside Barcelona.
Alpha 311
Tagline: Vertical axis wind turbines
HQ: Kent, UK
Launched: mid-2020
Sure, Alpha 311 is all about local energy production, but it's also changing the face of wind energy.
Instead of those majestic wind turbines atop hillsides and alongside motorways, its vertical axis turbines are blending into lampposts, railway and road signs. Extraordinarily, it produces power even with a slight breeze, but motorways are an ideal spot due to the airstreams created by traffic.
According to the company, one turbine can generate as much power as 24 solar panels.
Notably, AEG is a client — London's O2 Arena (the Millennium Dome) is now the first venue in the world to trial their turbines. 10 will be installed at present, which is enough to power one of the arena's restaurants — but AEG is planning to install the turbines at its arenas worldwide.
beworm
Tagline: Bioneering the future
HQ: Munich, Germany
Launched: 2020
Beworm is brand new but it's got big ambitions — and they involve plastic-eating worms. The worms (as well as fungi and bacteria) are capable of degrading polyethylene — a polymer found in many plastics — which can then be reused for new petrochemical products or plastics.
Though its in its early days — bootstrapped and with a four-person team made up of its four 'bioneer' cofounders. Its goal is to show the world how biotic recycling systems can save us from plastic pollution. While this year it will be scaling up its experiments to achieve a demonstrable process, watch out for 2022 — when it will be looking for its first raise. Currently it's partnered with the Greentech Alliance.
Dryad Networks
Tagline: Provides ultra-early fire detection systems of wildfires
HQ: Eberswalde, Germany
Launched: March 2020
For the past few years, the world's largest forests have been devastated by wildfires — both increasing in frequency due to climate change, and contributing to it too, producing almost 20% of global greenhouse gas emissions in 2019.
Just months after major wildfires in Australia, Dryad Networks launched — and the startup believes there aren't many better ways to use IoT than to predict, prevent and analyse wildfires. The company uses 'Silvanet', a network of sensors that can be used by the public sector to evacuate the public, as it can detect wildfires 60 minutes before they break out — even in super-remote areas where 4G networks aren't available.
In May 2020, it successfully tested its product in Germany, in September it raised €1.8m in seed funding (from Brandenburg Kapital GmbH, STIHL Digital, LEAG and ISAR AG), and in March 2021 it secured an additional €1.6m in funding from state-backed programme ProFIT Brandenburg and the European Regional Development Fund — raising its total capital to €3.4m.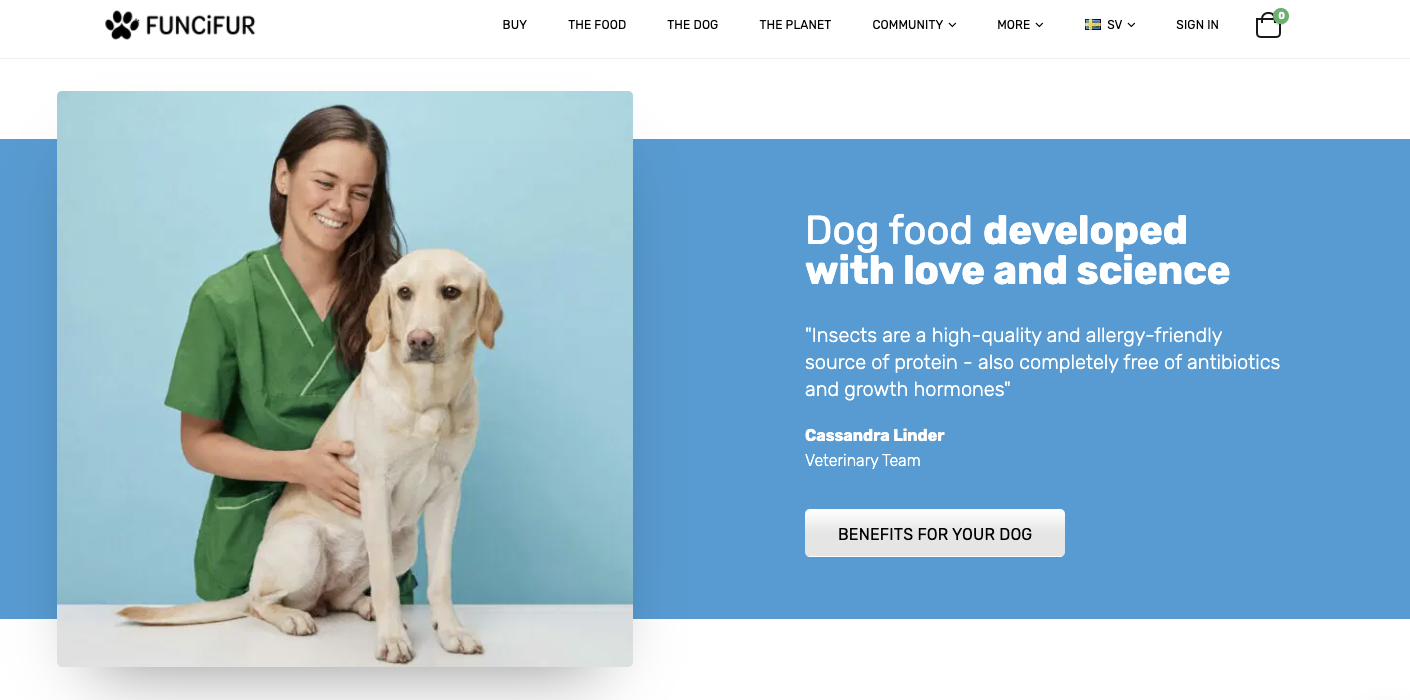 Funcifur
Tagline: Functional food for furry friends
HQ: Stockholm, Sweden
Launched: July 2020
Pets account for a whopping 25% of global meat consumption. Funcifur, which produces pet food using mainly insects, claims to be reducing greenhouse gas emissions by 90% compared to traditional pet food. It's also committed to manufacture all of its products in Europe and use organic ingredients and recyclable materials where possible.
Just this month it had its first raise — a €825k round that included angel investors Noel Abdayem, Jan Carl Adelswärd, Joakim Hartzell and Daniel Skaven Ruben.
Expect to hear more from the promising company — its dog food line is just the first in a range of products it's set to launch.
H2 Green Steel
Tagline: Accelerating the decarbonisation of steel production
HQ: Stockholm, Sweden
Launched: 2020
One-year-old H2 Green Steel is building a gigascale green hydrogen plant in northern Sweden to produce fossil-free 'green' steel — as well as provide 10k jobs. Production will begin by 2024 and by 2030 it plans to produce 5m tonnes of steel.
Steel production is co
nsidered one of the most polluting industries and is responsible for about 7-8% of global carbon emissions every year — 75% of energy used to make steel comes from coal, but H2 Green Steel's hydrogen approach is part of rapid global efforts to set it up as a cost-competitive alternative by 2030.
Well, it's got the faith — Vargas Holding, one of Northvolt's largest shareholders, has backed the company with an undisclosed amount, with chief Carl-Erik Lagercrantz being appointed chairman of its board (he holds the same position at Northvolt too).
Word on the street is a Series A round of about €50m is coming soon, with participation from Spotify cofounder Daniel Ek, Scania and the Imas Foundation.

Helios.do
Tagline: Sustainable bank
HQ: Paris, France
Launched: November 2020
French bank Helios is taking advantage of how startups can change entire industries — and it's a sign of what's to come.
It exclusively finances companies that make genuine contributions to fighting climate change and promises never to finance industries that inhibit that mission: fossil fuel industries, companies reliant on or facilitating intensive farming, or those that use chemical pesticides. Users can see where their investments or Helios' indirect investments go on an in-app dashboard.
It's also hopping on the trend of wooden debit cards, claiming to be able to make 300k cards from a single cherry tree.
Though it's currently only available to French customers, it can be used for free across the Eurozone and boasts 10k users — all of which its gained within less than a year.
Helios has received undisclosed amounts from two seed rounds: angel investor Florian Seroussi in March 2
019, and Plug and Play in August 2020.
Material Mapper
Tagline: A search and forecasting tool that facilitates sustainable property development project planning and construction material reuse
HQ: Oslo, Norway
Launched: March 2020
Partnered with Greentech Alliance and Innovation Norway, amongst others, Material Mapper is also tackling the construction industry.
Using building information datasets, corporate information datasets and a forecasting tool, it aims to reduce construction waste by sharing this information with construction companies — allowing them to share resources that would otherwise be wasted.
It's certainly one to watch — it only launched last March and is currently bootstrapped, but we expect a raise is on the horizon.
  View this post on Instagram   A post shared by Sojo

(@sojo_app)
Sojo
Tagline: The Deliveroo of clothes alterations and repairs
HQ: London, UK
Launched: Late 2020
Founded by two recent graduates, the Sojo app connects its users with a local network of seamsters based on their postcode — supporting not only local business but the emerging movement in fashion to repair clothes and items for lifelong use, reducing waste.
Customers' pieces are returned within five days. Though the app is currently only available in Central London, Brighton and Bristol are next on the list in mid-April once the UK's lockdown lifts. Sojo have released no information on funding at present, but with only two staff members (its cofounders) it's barely started.
Sylvera
Tagline: Provides independent, accurate, regular and affordable monitoring of carbon offsets
HQ: London, UK
Launched: April 2020
Carbon offsets are getting a lot of flack — perhaps fairly in some cases. But Sylvera's web application breaks down the initiatives, their solutions and real-time data on each. Think Which! for carbon offsets.
It's particularly focused on nature-based solutions and land use, and is backed by Seedcamp, Revent Capital and Speedinvest (amounts are currently undisclosed). It's also received support from the UK Research and Innovation council, the National Centre for Earth Observation and the University of Leicester.
Vanilla Steel
Tagline: E-commerce platform facilitating the transaction of excess steel produce between suppliers and buyers
HQ: Berlin, Germany
Launched: June 2020
Steel is one of the most environmentally destructive resources in an industry which is responsible for 39% of global carbon emissions — and Vanilla Steel, though low on its sustainability messaging — is tackling the steel industry head on.
Its e-commerce platform allows suppliers and buyers to sell and buy non-prime steel, or excess steel produce — a market worth €9bn in annual gross merchandising value. Between its launch in June 2020 and October that year, it handled 1k tonnes of steel. Currently bootstrapped, it's primed for some investment this year.
Verkor
Tagline: Industrial company set to amplify battery cell production in Europe
HQ: Grenoble, France
Launched: July 2020
If you measure success by association, Verkor's already big news — the startup's partnered with EIT InnoEnergy and Schneider Electric, and backed by the IDEC Group. It's focused on locally produced, low-carbon batteries to support a move toward electric vehicles in particular.
Verkor's another startup scaling fast — it's announced a gigafactory which is scheduled to start operations in 2023 and requires around €1.6bn in investment. According to Europa, demand in the 2020s for batteries will require two to three gigafactories in France alone.
Last month the company announced a partnership with software company and consultancy Capgemini to create data collection systems to make the factory uber-efficient.