Social media is a great way to connect with all kinds of founders, investors and tech experts in European tech. 
Sifted has already scoped out some of Europe's tech social media kings and queens, including the essential AI Twitterati, the healthtech gurus to know and France's must-follow tech Twitter accounts — and now we turn our attention to Instagram. 
Twitter and LinkedIn tend to be the most dominant social platforms in European tech, but don't be fooled — there are plenty of reasons for founders, investors and tech experts to be on Instagram too.
Andy Davis, angel investor at Atomico and cofounder of the investment fund for black founders 10x10, says that Instagram has proven useful in finding startups to back. He tells Sifted that as a result of the connections he's made on Instagram, he's already invested in six startups "and will invest in seven [more] in the next 6-12 months." 
Sophia Tran, partner at the German startup network Digitalhub.de, sees advantages beyond networking for founders: "You should definitely use Instagram. Now you have the shop feature so it's not only a marketing channel, it's also a sales channel," she says.
Sifted has compiled a list of the European tech Instagrammers to put on your radar. While follower count was considered, our core criteria was the quality and frequency of posts.
In no particular order, check them out here (and don't forgot to also follow Sifted here):
Top 10 musts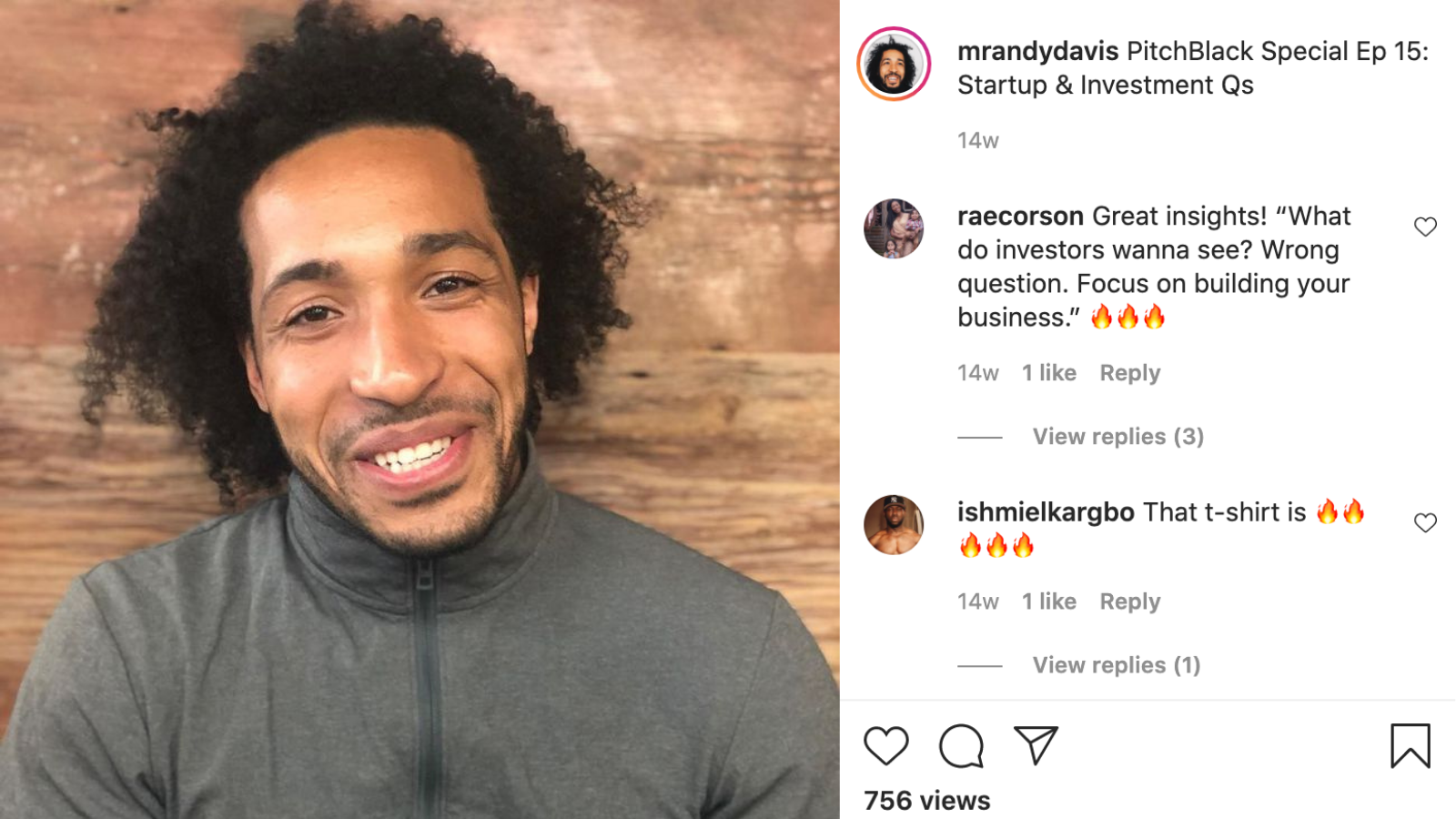 Andy Davis (Atomico, 10x10)
Handle: @mrandydavis

Who?: He's an angel investor for leading VC firm Atomico and cofounder of the investment fund for black founders 10x10. He's also the brains behind The Black Report, the first in-depth look at black founders, black-founded startups and funding in the UK. Previously, he led Backstage's accelerator for underrepresented founders in London. 
Why should you care?: Davis is a well-known advocate for empowering black founders, entrepreneurs and VCs in the UK. If anyone knows a thing or two about raising money as a black founder, it's him. He believes confidence is key when it comes to pitching, and so with 10x10 runs pitch sessions and office hours.
How about those Insta posts?: The angel investor's Instagram page is an absolute go-to if you want to learn heaps about black founders and investors. This year, Davis started an Instagram Live series called PitchBlack, where black founders pitch their businesses and talk about their business journeys. It's worth a watch.
Davis told Sifted that Instagram — as well as the voice-based social media app Clubhouse — has the potential to become "rulers" of networking for startups. 
He prefers Instagram over other social media platforms like LinkedIn due to the more personal connection it offers. "You can see everyone, founders on their personal journeys, their personal stories, what happens in their lives on a weekly basis. I can relate to some of these things, comment, ask questions and maybe they will do the same to me. And it's a lot of love and support I find," he says.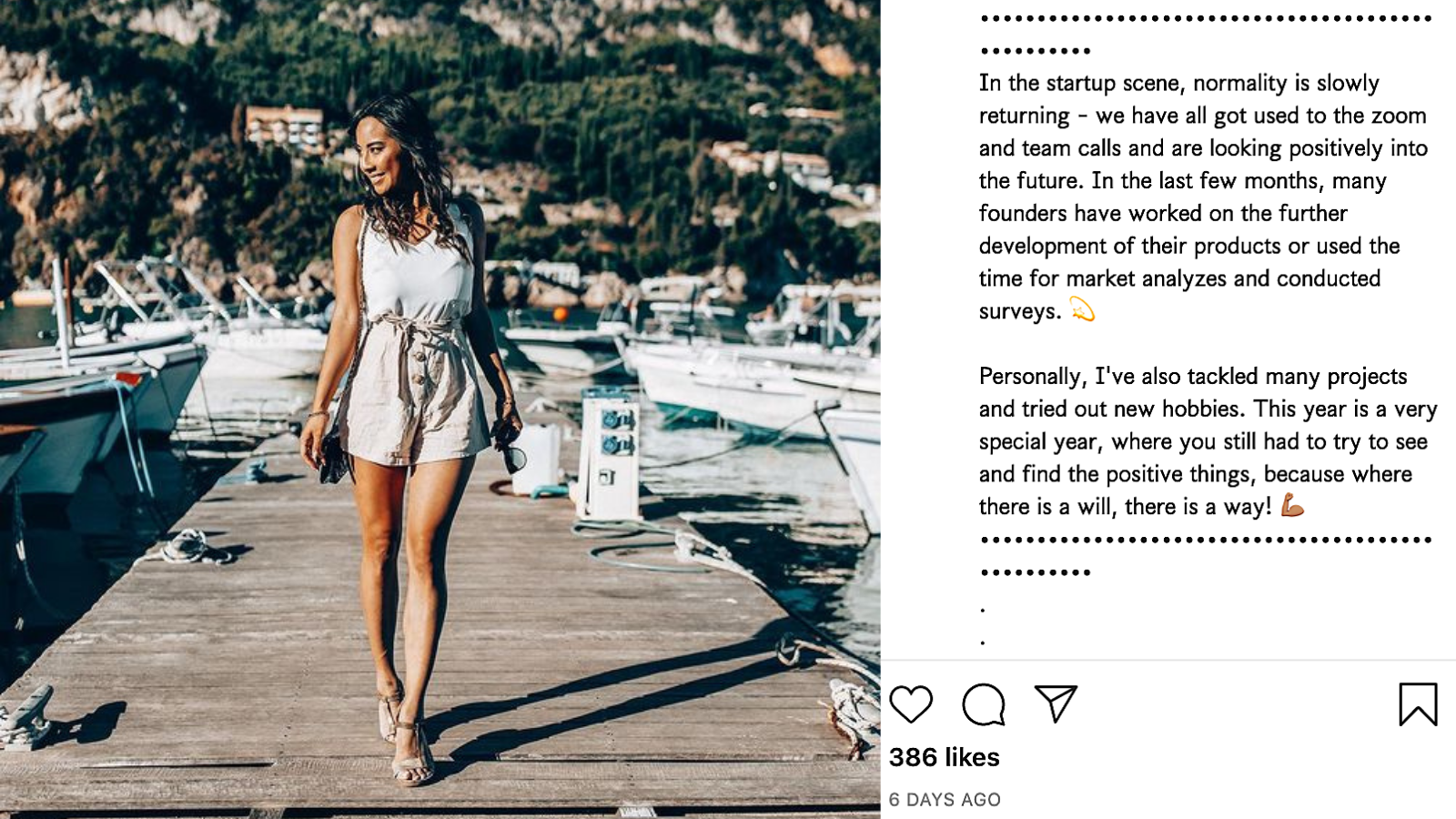 Sophia Tran (Digitalhub.de)
Handle: @sophia_tran
Who?: She is a partner at German startup incubator and accelerator @digitalhub.de, which also has an accelerator programme for early-stage startups.
Why should you care?: Founded in 2016, Digitalhub.de has an impressive bunch of big companies backing it, such as Telekom, DHL and Deutsche Post. Tran has experience of mentoring startups, from the idea conception to the financing opportunities available to them. She's also managed to make a visually compelling Instagram page while keeping the focus on tech and startups, which is hard to come by.
How about those Insta posts?: Tran posts the latest Digitalhub.de updates, while channeling her startup mentoring experience with heaps of tech and startup-themed inspirational quotes. As a bonus, she combines it all with some great photography.
Tran told Sifted that she sees Instagram as a way to show the "behind-the-scenes" of her life as a tech professional. She's also passionate about using her platform to disrupt the stigma of women in tech: "I want to show that I love traveling, fashion, beauty, eating food, I have a pet and I'm also interested in tech stuff: there are other women who like this." She posts in German and English.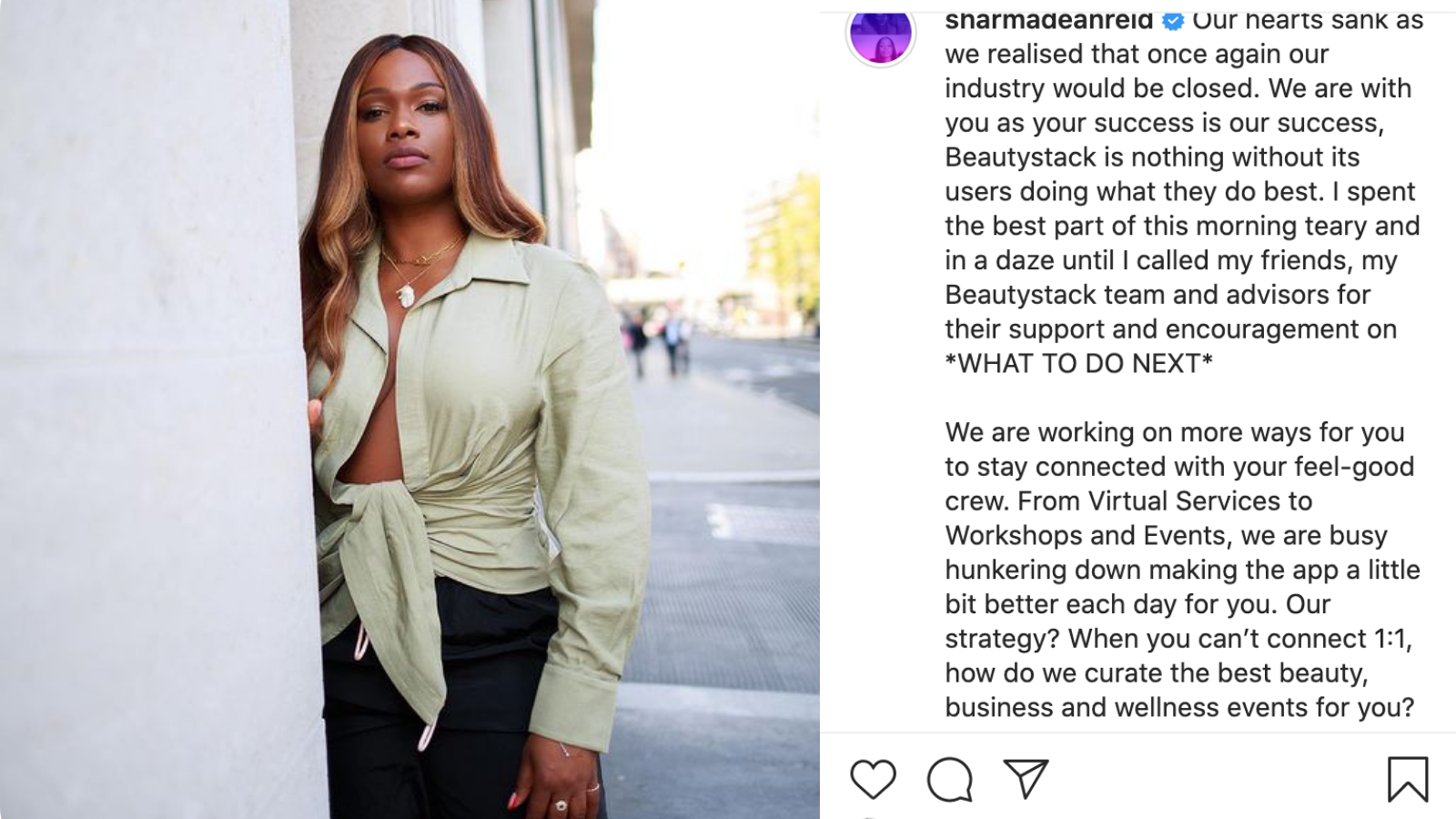 Sharmadean Reid (Beautystack)
Handle: @sharmadeanreid
Who? She's the founder and chief executive of @beautystack, a London-based social commerce network for beauty professionals. 
Why should you care? Reid has been shaking up the beauty industry since launching nail bar phenomenon WAH Nails over a decade ago. Her latest venture Beautystack, which was founded in 2017, helps entrepreneurs sell their beauty treatments all over the world. Throughout her career, Reid has been a well-known advocate for female entrepreneurs, especially women in diverse communities, and this is proudly reflected in her social media channels.
How about those Insta posts? Reid mainly posts about beauty tech and diversity — whether it's updating her audience on the future Beautystack community events to sharing the diversity in tech events that everyone should know about. It's an Instagram feed to keep your eye on.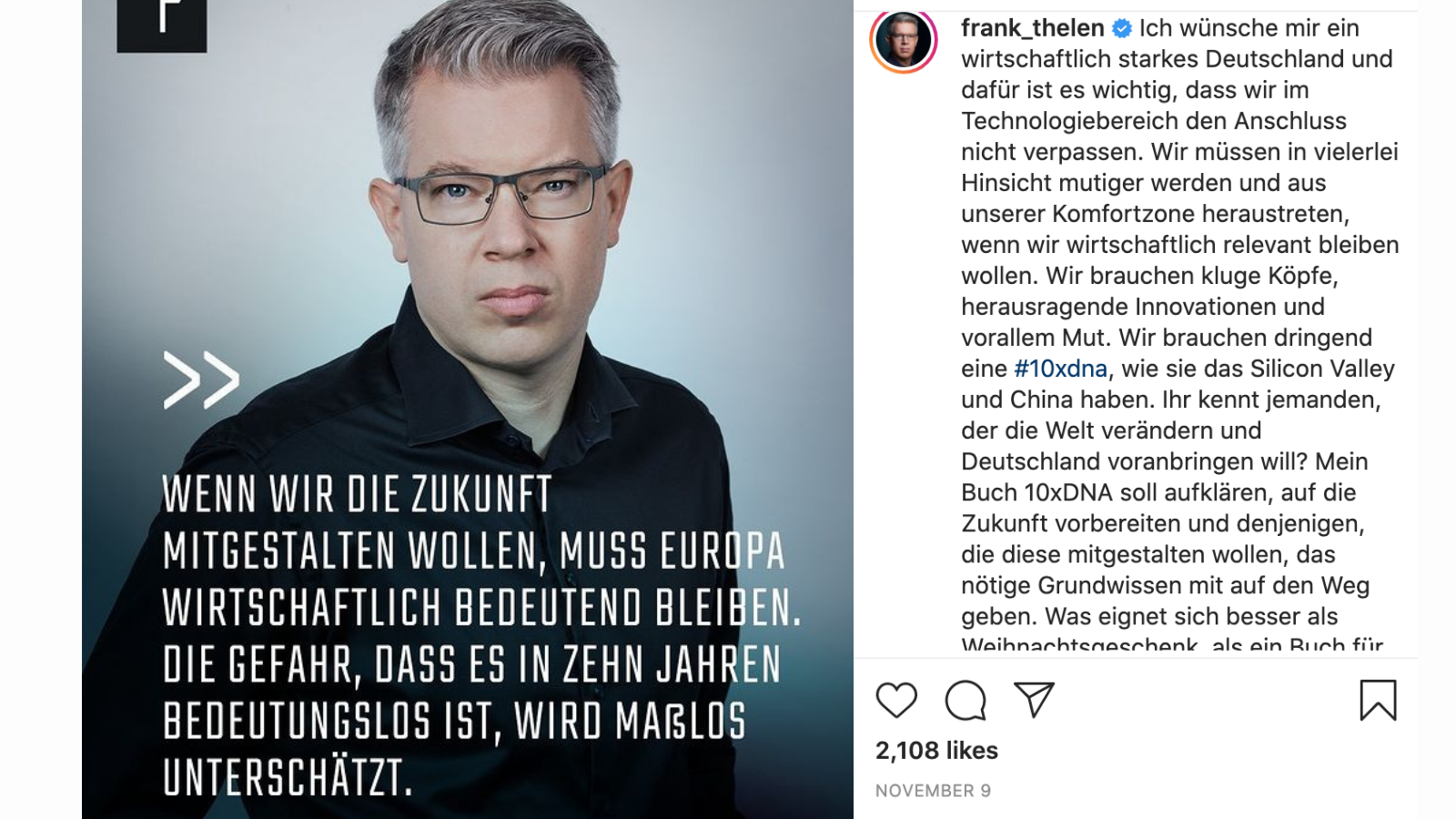 Frank Thelen (Freigeist Capital)
Handle: @frank_thelen
Who?: He's the chief executive of the German VC firm @freigeistcap.
Why should you care?: Thelen is as much of a serial entrepreneur as he is a serial social media influencer. Instagram, Twitter, LinkedIn, TikTok, you name it and he'll be on it. The German investor is a great model of building a digital presence: from promoting his stellar investment portfolios to his book 10xDNA, he's mastered the art of digital self-branding skills.
How about those Insta posts?: Watch him talk about tech trends on IGTV, smile at his funny IG lifestyle reels or catch some great entrepreneurial tips on his posts. (posts in German and English)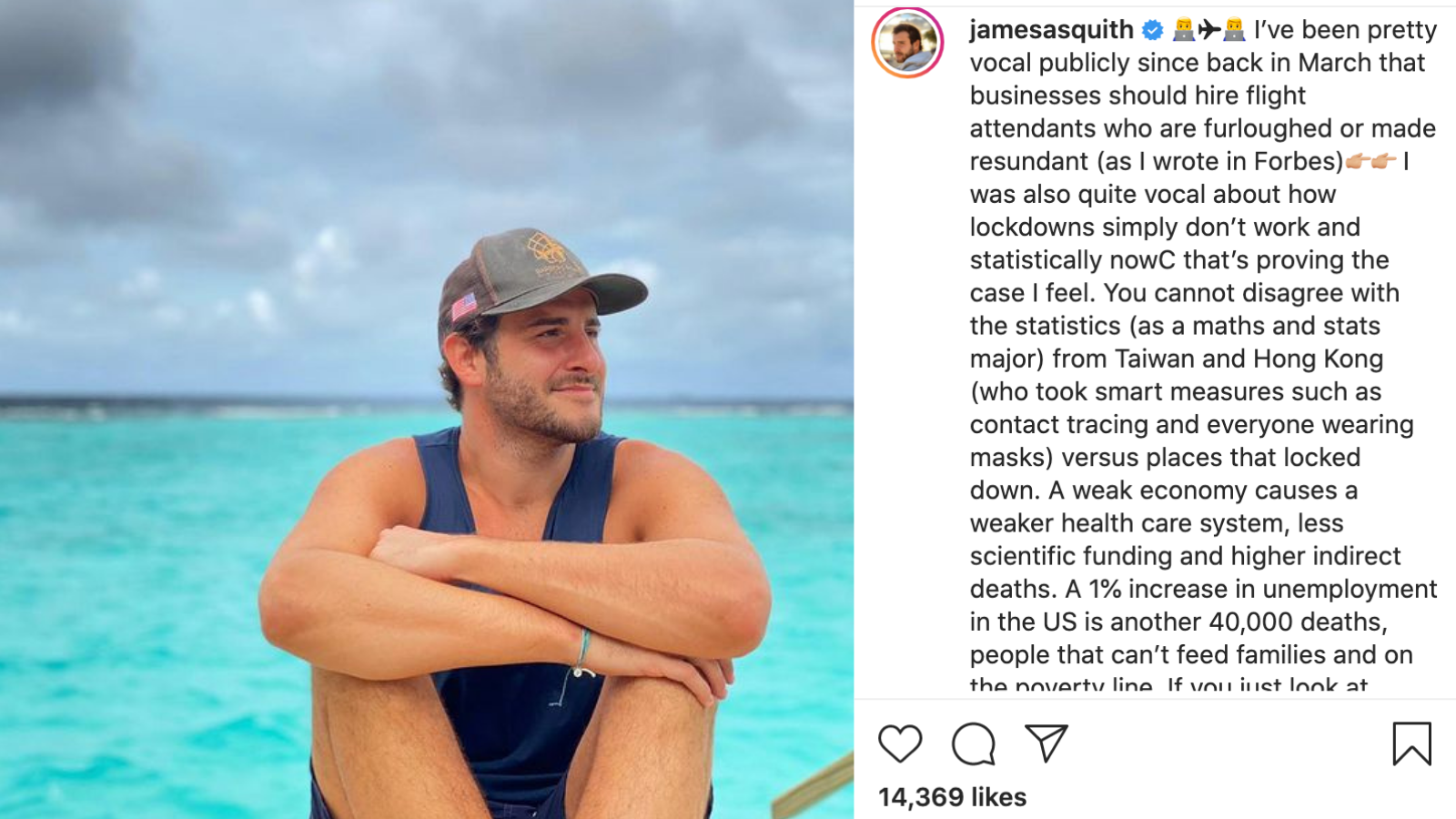 James Asquith (Holiday Swap)
Handle: @jamesasquith
Who?: He's the founder and chief executive of @holidayswap, a global home exchange platform for travellers.
Why should you care?: Asquith has racked up a staggering 1.2m followers to date, while his company's Instagram following sits at an impressive 200k. And it's no wonder as his posts are mainly travel-related — already a hugely popular Instagram genre. He holds the Guiness World Record for being the youngest person to travel to all 196 countries on Earth.

How about those Insta posts?: If you want to see what an (especially glamorous) founder lifestyle looks like, Asquith's account should go on your radar. Expect posts of numerous plane trips to the next business destination and lavish pictures of islands and cities. Also, Asquith does post more business-focused content on his IGTV, sharing his opinion on economics from stock market trends to how the economy can bounce back from the Covid-19 pandemic.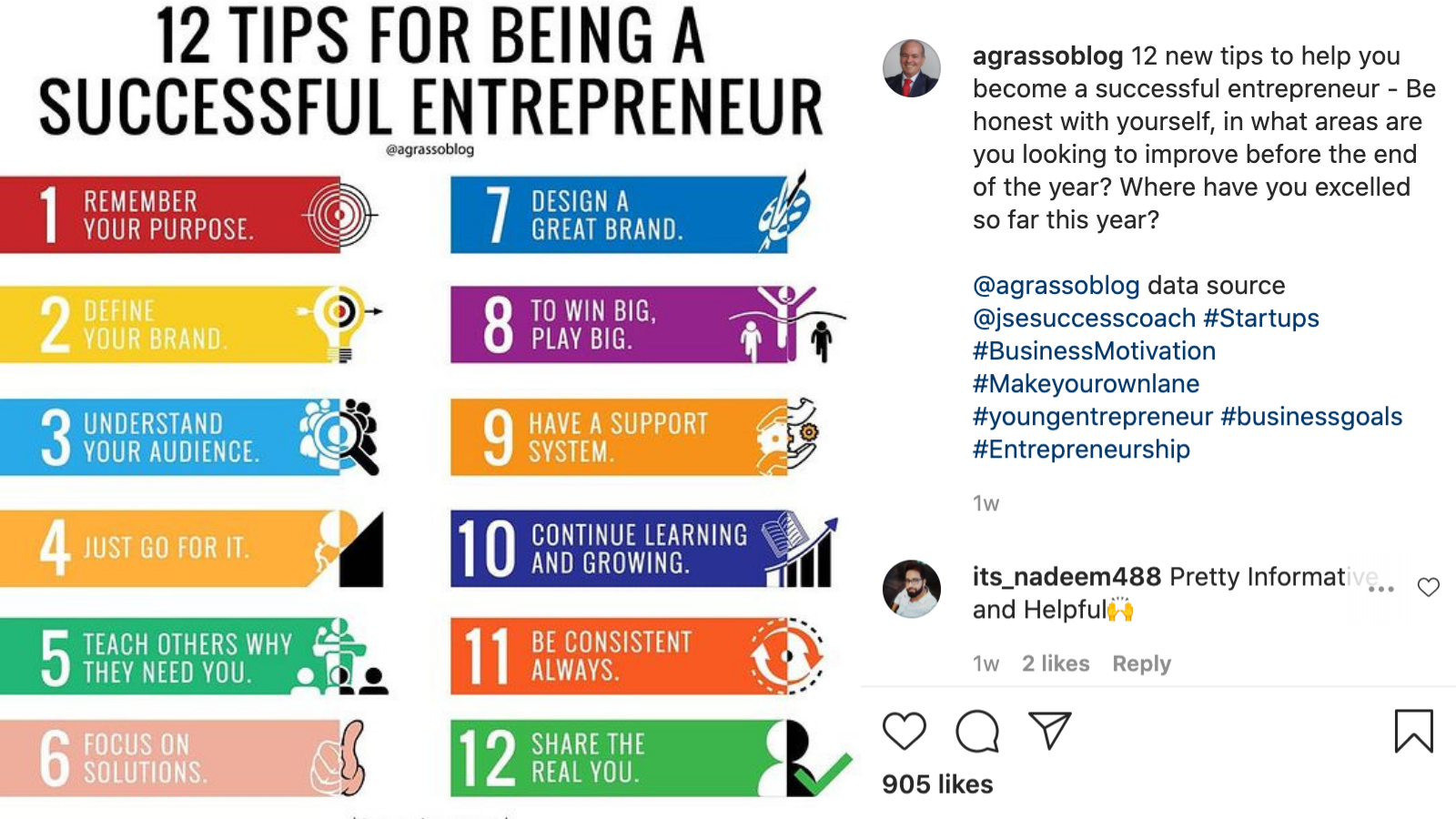 Antonio Grasso (Digital Business Innovation - DBI)
Handle: @agrassoblog
Who?: He's the founder and chief executive of Digital Business Innovation (DBI), a digital business transformation consulting firm. He's got a particular passion for mentoring startups.
Why should you care?: Grasso is a veteran in digital transformation with an impressive 35 years' experience of IT on his back. He's got a particular passion for mentoring startups and has all sorts of expert knowledge on topics like AI, cybersecurity and IoT. Grasso has advised some big names, including French consultancy Atos and German technology conglomerate Siemens.
How about those Insta posts?: Grasso's account is an endless encyclopedia of information which is easy to get lost in. It's bursting with easy-to-read infographics (over 1000 of them) and covers heaps of topics. Which mistakes kill startups? What's an investor's mind like? How do you ace a pitch deck? What are today's needs of customers? How can you deliver top content marketing? That's barely scratching the surface.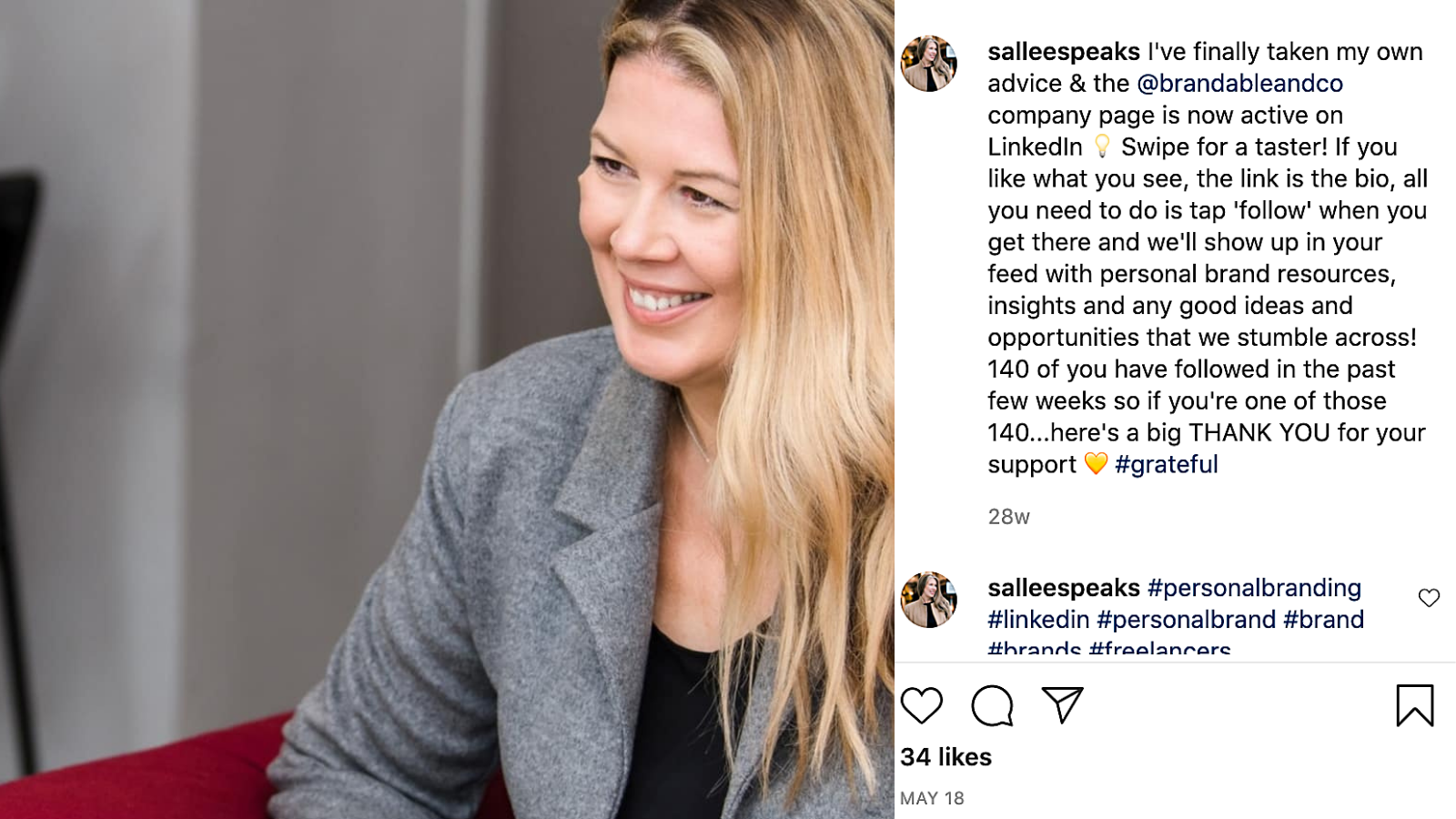 Sallee Poinsette-Nash (Brandable & Co)
Handle: @salleespeaks
Who?: She's the founder of @brandableandco, a London-based brand strategy agency for founders, executives and big corporations.
Why should you care?: Despite founding Brandable & Co just two years ago, Poinsette-Nash has worked with some big names in over 20 countries like Dragons' Den investor James Caan, Deutsche Bank and advertising agency McCann London. Her executive team is solely made up of women and people from diverse communities.

How about those Insta posts?: As a brand strategy expert, it's not surprising that Poinsette-Nash's Instagram account is filled with top branding tips via her brand-building masterclasses, podcasts and more. What's refreshing is that Poinsette-Nash's Instagram feed brings out the human side of working in an early-stage business. An account to relate to for sure.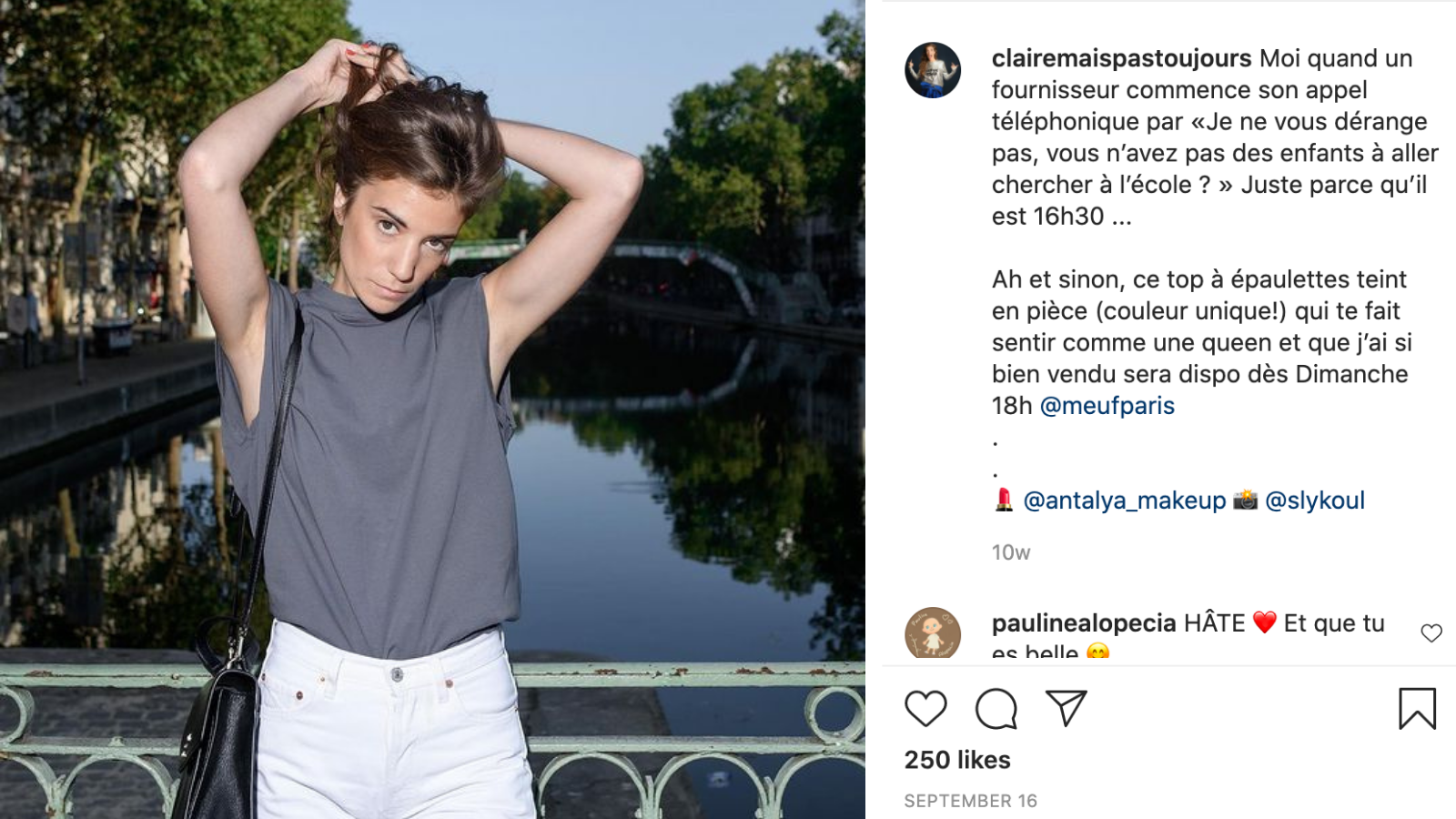 Claire Suco (Meuf Paris)
Handle: @clairemaispastoujours
Who?: She's the founder of French sustainable fashion startup @meufparis.
Why should you care?: Suco's stylish account shares the behind the scenes of being an entrepreneur in Paris. Meuf Paris is the kind of startup that fits perfectly with the visual requirements of Instagram (and it's racked up over 150k followers). If you're a founder looking to build an Instagram presence, she's a great account to follow: Suco has found a good balance between sharing her passions, the founder's lifestyle and Meuf Paris's product placement. 
How about those Insta posts?: Apart from sharing gorgeous photos of her Parisian lifestyle, Suco talks about empowering women through fashion, updates about Meuf Paris' team, new clothing collections and her passion for words (including her own poems). (Posts in French).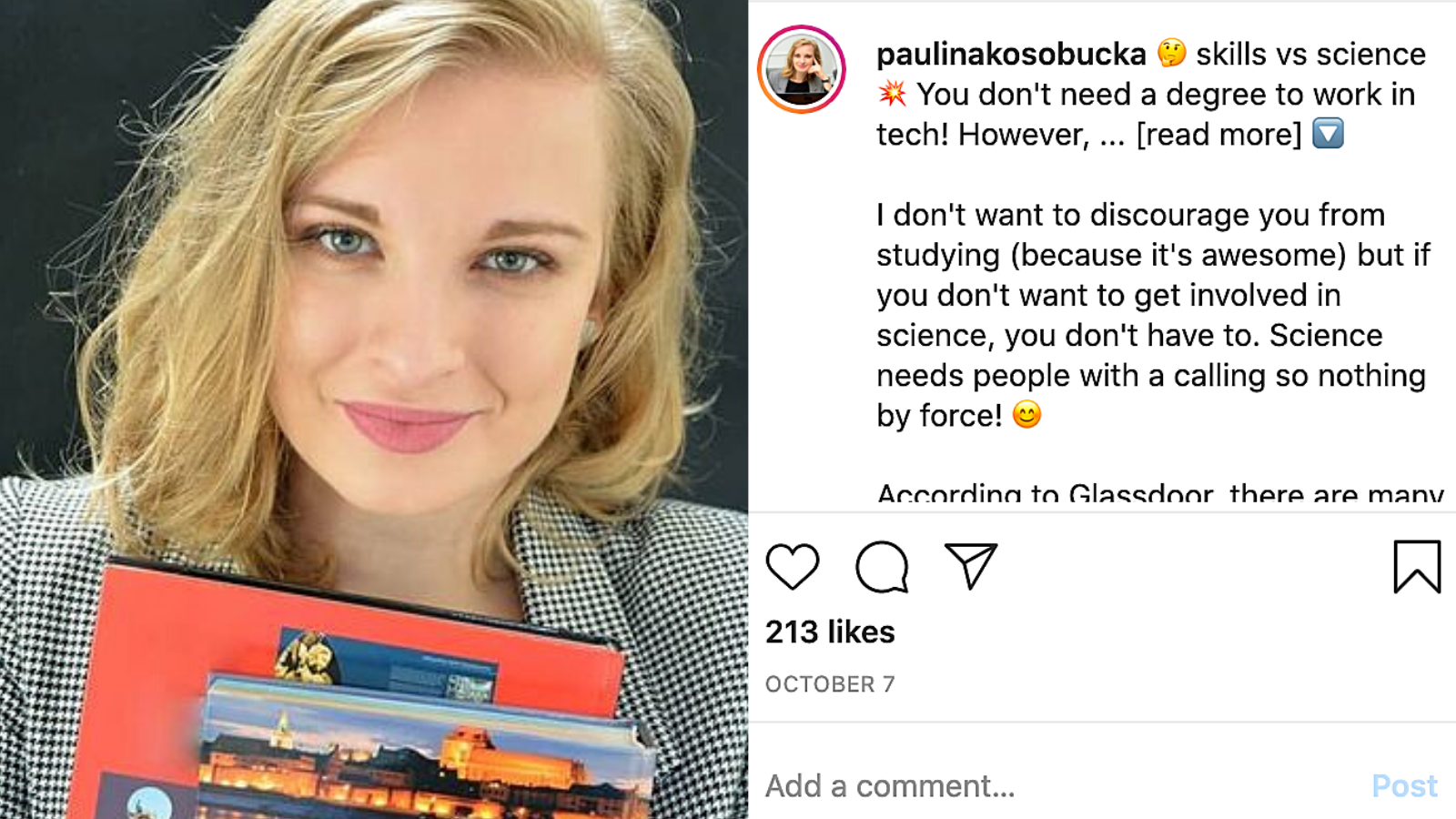 Paulina Kosobucka (WomenTech Network)
Handle: @paulinakosobucka
Who?: She's a data journalist and global ambassador in Poland of WomenTech Network, a global network aiming to build up and empower the female tech startup community. It has a strong presence in Europe.
Why should you care?: WomenTech Network was founded 16-months ago and has already made a name for itself. It has scooped up 4000+ global ambassadors, had 141,000 participants attend its Global Conference 2020 and has partnered with big names like micrimobility startup TIER, food delivery platform Glovo and digital bank N26. Kosobucka's ability to build a strong Instagram tech community has been recognised by the network and has been nominated for the WomenTech Global Awards 2020.
How about those Insta posts?: Kosobucka has quite a broad inventory of content relating to tech on her channel, whether it's empowering women in tech to handy presentations on data analytics.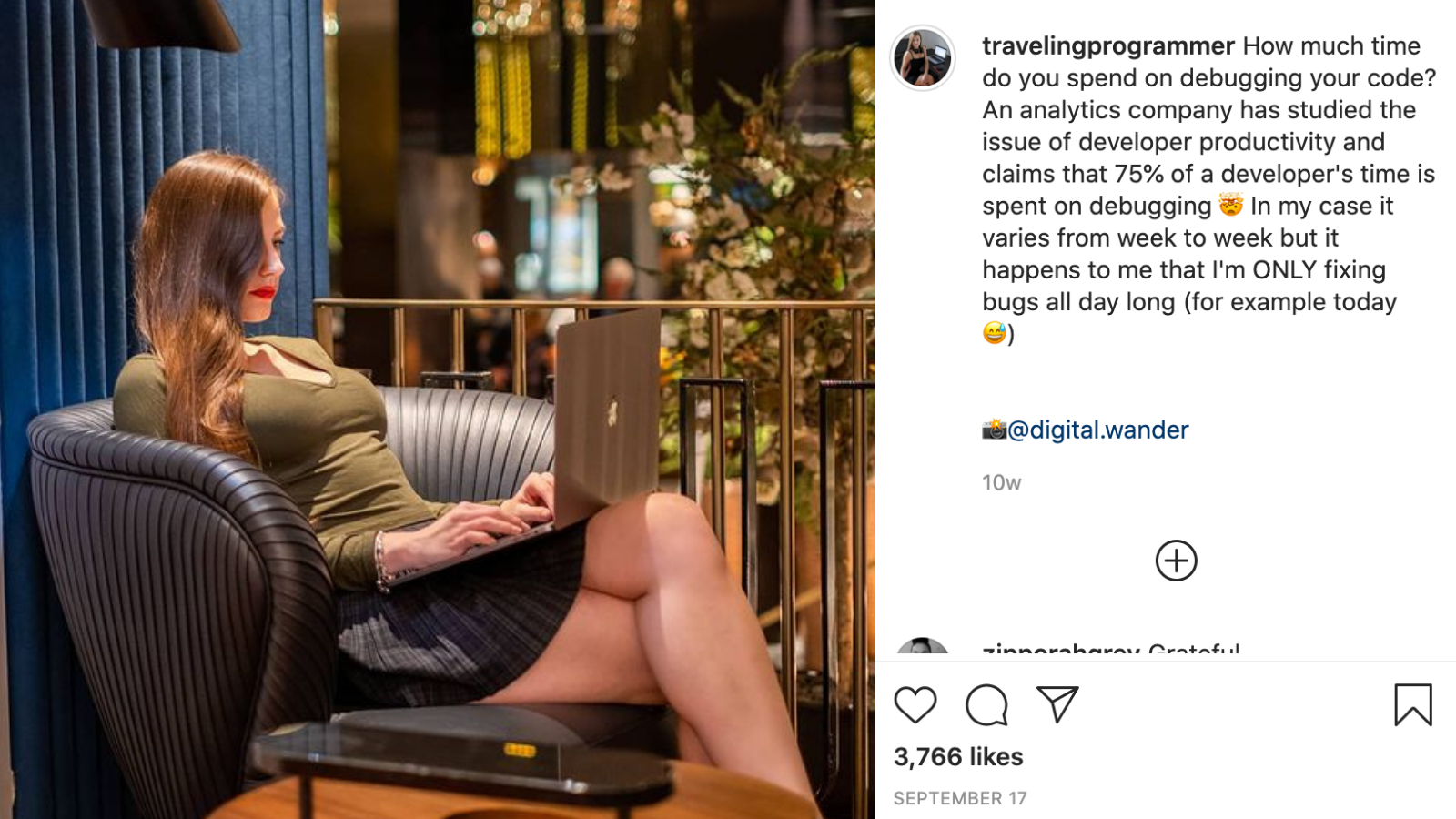 Magda (Data Scientist)
Handle: @travelingprogrammer

Who?: She's a Polish digital nomad working in freelance coding and programming, and is particularly keen on data and AI.
Why should you care?: Pretty much all tech startups need a dev team now. Magda shares her expertise as a coder through more influencer-based methods, sharing heaps of tips, tricks and advice on coding, programming and more.
How about those Insta posts?: How do you get hired as a web developer? What are the first steps to programming? Want a Christmas advent calendar to learn all about coding? This is what to expect in Magda's Instagram feed.
And 10 more to follow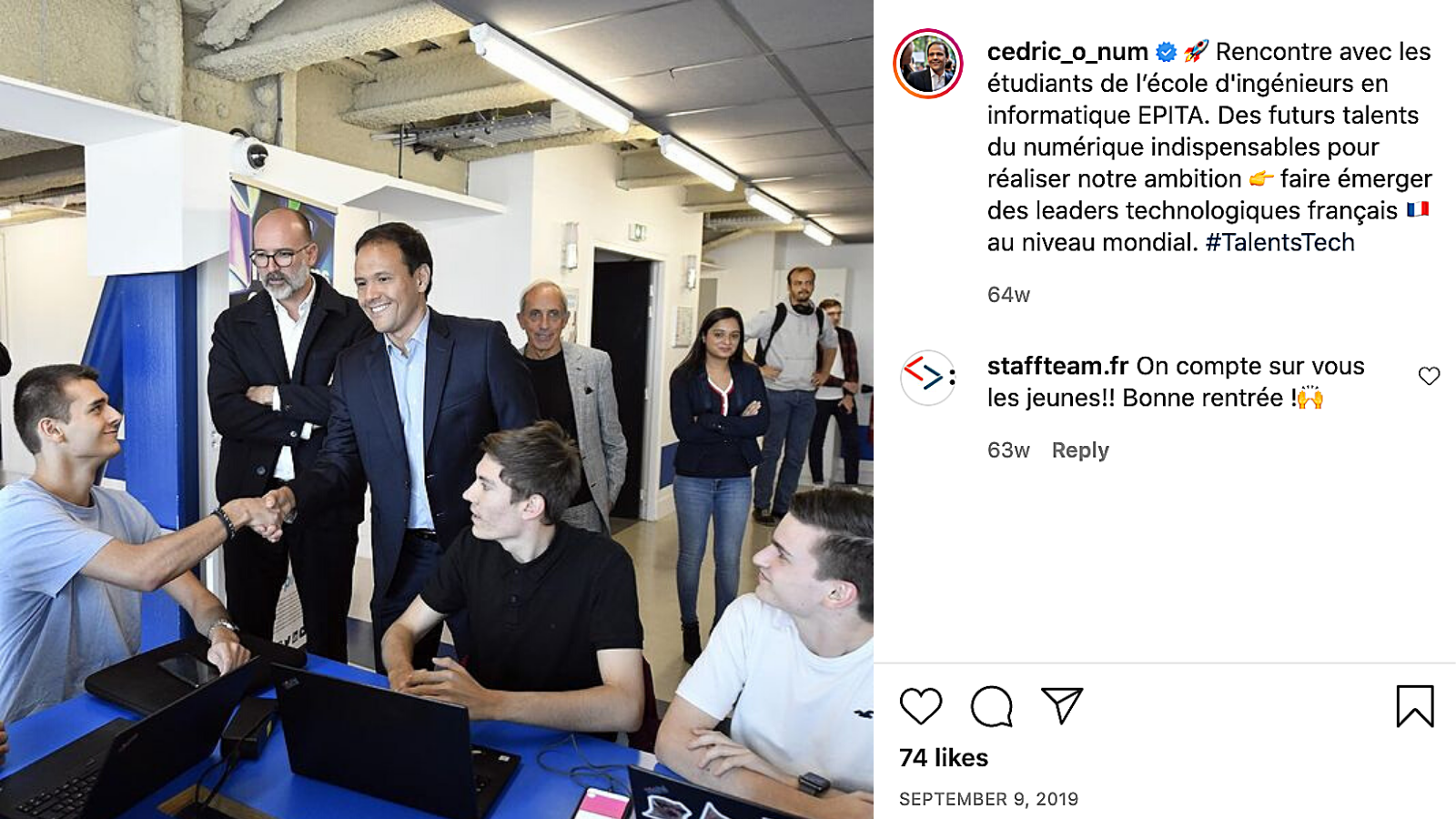 What other influencer lists would you like to see? Email connor@sifted.eu or message us on Instagram.
Connor Bilboe is Sifted's editorial assistant. He tweets from @connorbilboe
Cecile Bussy is Sifted's social media journalist. She tweets from @CecileBussy