Taavet Hinrikus knows a thing or two about running a company.
As the cofounder of TransferWise, the multi-billion dollar fintech, he's easily among Europe's top entrepreneurs, having cut his teeth early on at Skype.
But Hinrikus is also now one of Europe's most active investors. He says he's backed over 100 startups in the last 13 years, with an average ticket size of £250k. According to 2019 filings, he's personally invested over €21m in total.
Today, he dedicates several days a week to his angel portfolio, having stepped back as TransferWise's CEO in 2017. It's a lean operation, with his family office currently employing just two assistants for legal and administrative support.
But speaking from his native Estonia, Hinrikus paints angel investing more like a (lucrative) hobby than a job. 
"I maybe look at it as a way of giving back," Hinrikus tells Sifted in an interview. "[Investing] is a way to be involved and help," he adds, saying he expects some companies to "one day be bigger than Transferwise."
Hinrikus's portfolio boasts several success stories, including three unicorns in Improbable, Bolt and Carta. He backed Carta when it was worth just $320m, and given it's now worth $6.9bn, his stake in this company alone has grown 1900% in value. Not bad.* 
He's also already secured 8 exits — indicated in green below, including Tweetdeck (acquired by Twitter) and Mendeley (bought by Microsoft).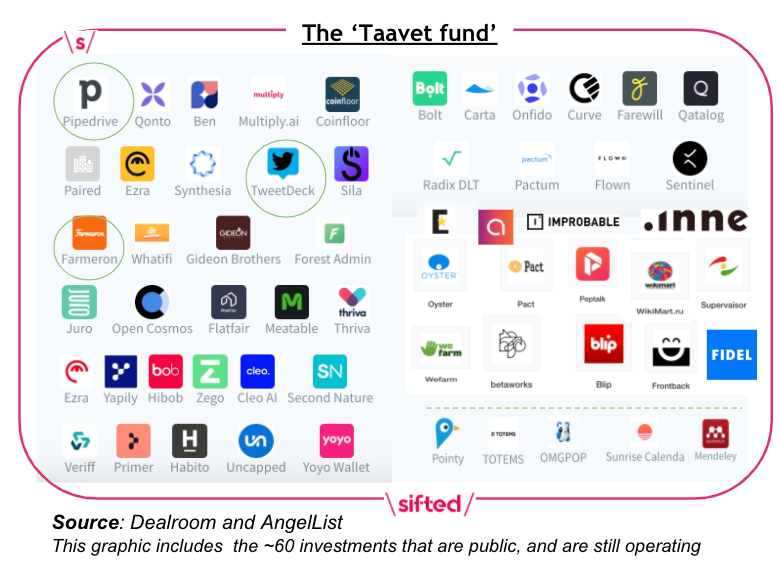 While Hinrikus won't disclose how much he's pocketed so far from his exits, the founder exudes quiet confidence in his investing nose ("I do think I'm good").
At the very least, Hinrikus has shown a strong stomach for risk. His first ever investment from 2006 was in Joost, the internet TV service that went bust in 2012 after raising millions from the likes of Sequoia and Index.
Hinrikus now laughs at the blooper. Investing is "a very long game," he muses.
Interestingly though, his investment appetite is limited to private startups and crypto, revealing he's never bought shares on the public stock market.
The Taavet fund: An analysis

Hinrikus' portfolio has little rhyme or rhythm. It's an eclectic mix of everything from fintech to femtech, from robots to healthtech.
His recent bets include both a political magazine and a 'lovetech' app called Paired, helping couples communicate better (Hinrikus vouches it works).
But Hinrikus argues the portfolio is not entirely random — the common thread is impressive leadership and a global mission.
"I'm founder driven, not theme driven," he tells Sifted. "I look for founder grit...it's a pretty hard job to build a global business."
That thesis has made him ruthlessly selective. 
Even the TransferWise 'mafia' hasn't had an easy ride, with Hinrikus telling Sifted that it's harder to back people "you know," and he's "much more critical" of them as a potential investor.
Equally, despite his own background in fintech, he confirmed the sector only makes up 20% of the portfolio — including Farewill, Qonto and Primer. 
"In terms of making the world a better place, and being mission-driven, [fintech] probably is not that exciting to me personally," he explains, noting that digital banks largely improve user experience, for instance, while buy-now-pay-later apps have their own issues. 
In this vein, Hinrikus explains he leans towards founders that want to 'do good' , and is now especially keen to back startups in sustainability.
Yet despite this focus, there is a stark absence of female founders in his portfolio. Hinrukus says this is something he feels "a duty" to correct, and plans to actively seek out diverse chief executives rather than simply waiting for deal flow.
Looking ahead
Fortunately for founders, the 'Taavet fund' continues to be well oiled.
Hinrikus's personal wealth is estimated to sit at $274m, and he tells Sifted he's willing to invest "infinite" sums into the ecosystem.
Moreover, most of this capital pool will soon be in his pocket, given TransferWise is rumoured to be going public. This will allow Hinrikus to liquidate his remaining equity in the company, having so far relied on secondary sales (he cashed in €13m in 2018, Estonian filings show).  
By extension, he says he sees no need to set up a professional fund, like Peter Thiel and Marc Andressen did.
"I don't need outside capital…[And] I don't need to worry about the pensioners and firemen whose money gets invested," he says. 
External capital would allow Hinrikus to take a larger stake in startups, but he can already write multi-million pound tickets (he confirmed to Sifted that he's invested seven figures into a handful of individual companies).
The 'Taavet fund' also isn't just about the money; founders say Hinrikus brings hands-on help and a giant network to the table too.
"[Having] Taavet on your side is a phenomenal asset.  I have picked up the phone to Taavet many times to discuss a challenge, and he generously made himself available to give advice, which related to his experience and/or connect me with the right people who could help me," says Shachar Bialick, Curve's founder.
In this sense, Hinrikus knows he's a rare breed — few founders invest in Europe as actively as he does.
Part of the issue is that most founders still have their potential wealth locked up in shares, while Klarna boss Sebastian Siemiatkowski says he doesn't have time to worry about angel investments given he's still CEO.
The data also shows founders-turned-investors don't tend to generate particularly impressive returns. 
Still, Hinrikus is intent on firmly bucking that trend.
In doing so, he is building a legacy far beyond TransferWise. Money notwithstanding, he knows that makes him a very rich man indeed.
*Calculating Hinrikus' portfolio
Experts estimate that an early (but heavily diluted) investor like Hinrikus owns 0.5% of Carta. Working off this assumption, that would give him a $35m stake in this one company alone.
In addition, according to a Beauhurst analysis, Hinrikus' holding in 17 UK startups is now worth £5.91m.
**
Isabel Woodford is Sifted's fintech correspondent. She tweets from @i_woodford and coauthors our new fintech-focused newsletter – sign up here!
Editor's note: An original version of this article mistook Joost for Juicero.