When Sifted last checked in with Point Nine Capital, the Berlin-based VC firm had just raised its fifth fund — at the rather eccentric amount of €99,999,999.99.
Point Nine is one of the most active VCs investing in B2B marketplaces and B2B SaaS. The firm counts 147 companies in its portfolio and has backed the likes of Delivery Hero, Revolut and Typeform. It describes itself as 'geography agnostic', with investments that sprawl across Europe, Russia, Turkey, Canada and the US. 
Lately, it's been an exciting time for B2B SaaS. The market is booming, spurred on by large companies rapidly digitalising during Covid-19. In 2020, VCs pumped a record €12bn into the sector, and in February this year, SaaS giant UiPath became one of Europe's most valuable tech companies.
Point Nine has had its share of success too. This month, the firm celebrated its ninth portfolio unicorn: Loom, a video messaging platform based in San Francisco, which raised $130m at a valuation of $1.5bn. 
Now that many of Point Nine's seed investments are maturing, the fund will be on the lookout for its next crop of winners. Sifted sat down with managing partner Christoph Janz to hear his plans.
Point Nine's B2B SaaS landscape
First, here's a little reminder of Point Nine's European portfolio:
The fund has invested in 61 companies in Europe to date and has made the most investments in Germany, the US and France respectively — according to Dealroom data.
It currently boasts three unicorns in its European portfolio, which drive 69% of its portfolio value: Tier, Mambu and Revolut.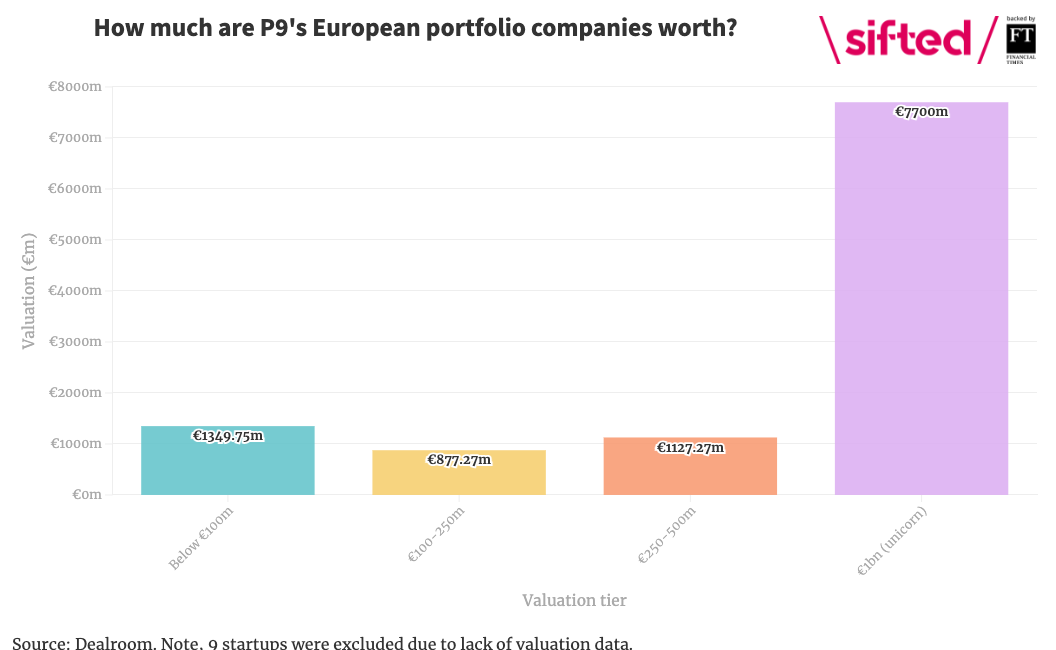 This year, the fund has already announced four investments: Pento, a Danish company which automates payroll for SMEs; MetalsHub, a trading and price intelligent platform based in Düsseldorf; Hamburg logistics startup Xchange; and SodaData, a platform enabling teams to discover and resolve data issues.
Out of P9's portfolio companies, Janz says that Algolia, Contentful and DocPlanner are likely to reach unicorn status in the near future. Sifted speculates that Brainly and Typeform could also hit a $1bn valuation too.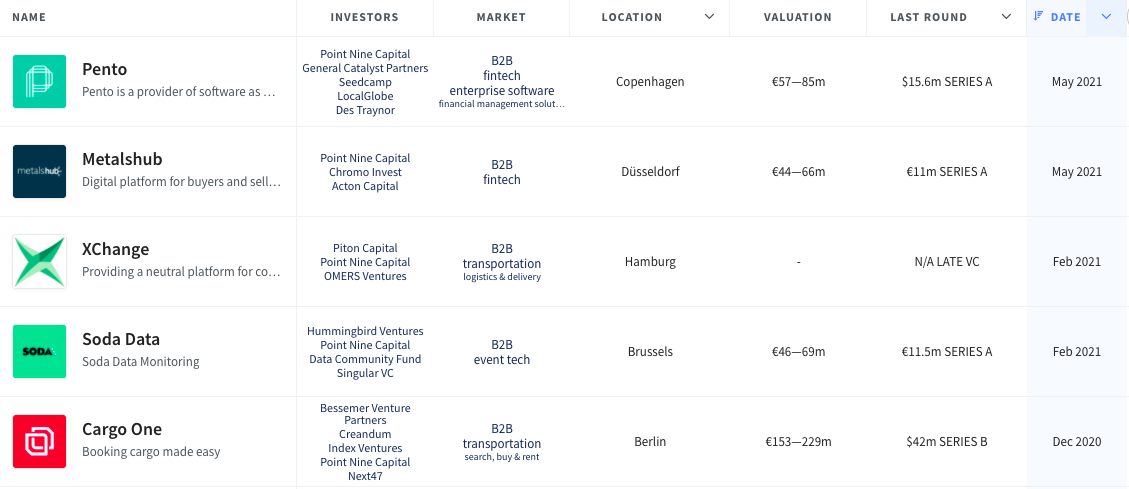 The conversation with Janz is laid out below, and has been condensed for brevity.
What's your thesis when it comes to B2B SaaS?
We've invested in a large variety of different B2B SaaS companies, including startups selling to SMBs (what we like to call 'rabbits' and 'deer'), startups selling to enterprises (what we call 'elephants' and 'whales'), in both horizontal as well as vertical categories.  
One of the important parts of our thesis at Point Nine is user experience. My first investment, back in 2008, was Zendesk — one of the first consumerised enterprise offerings. The company built a beautiful product that was optimised for the user, as opposed to the IT buyer. Essentially, they made it easy for non-enterprise people to use and understand their product.
Nowadays, consumers expect a frictionless experience with the products they use in their private lives — whether that's shopping on Amazon or ordering an Uber — as well as in the workplace. I think user experience is a huge driver of SaaS.
Are there any specific verticals you're interested in right now?
I wouldn't say we're focused on any specific verticals in SaaS; we like to invest in companies across a range of industries. For example, in our portfolio we have Algolia, a company which provides search as a service for websites and apps; and Contentful, which helps companies manage their content across all digital channels. 
We're also interested in companies that are focusing on a function. We let ourselves be surprised by the opportunities founders identify by having some specific knowledge that we don't have.
Remote working tools and collaboration software have clearly been catching investor's eyes recently. Does Point Nine have any interest here?
We do have two portfolio companies — Whereby and Loom — that have seen amazing growth throughout the pandemic. We're fortunate enough to have invested in them early on. As for new investments, Covid-boosted businesses are where everyone wants to invest in at the moment, so I'm not sure it's the right area for us. 
We like to find companies that are not so much in the spotlight at the time when we invest — in industries that are perhaps a bit more obscure. Most of our portfolio unicorns, companies we invested in five to ten years ago, didn't look that shiny at the time.
What's your definition of an 'obscure' industry?
As an example, I would say a pretty obscure industry that we invested in is a B2B SaaS-enabled marketplace called Laserhub — a marketplace and a software solution for companies that need laser-cut metal parts. 
This is not an industry I spent much time thinking about before we heard about the company — but it's gigantic. Think about it: buildings, cars, equipment all require custom-cut metal parts, and it takes a founder with specific expertise to actually build a company around this. 
When it comes to founders, are you only interested in those with a desire to go global?
When it comes to SaaS, the answer is usually yes. There are exceptions like accounting, HR, or payroll, which require a huge amount of localisation. We believe that in these areas you can build a large company by winning a few European countries. In most other areas we think that the playing field is global.
Has your ambition changed over time?
Our ambition level has developed and grown over time. In 2008-2010, we thought mostly about whether a company could become worth a quarter of a billion. Today, we ask ourselves: 'Could this company become worth several billion dollars?'
Point Nine is geo-agnostic, but do you still consider yourself to be a European fund?
We don't have any bias when it comes to geography. We have invested in Canada, the US —  even places as far away as New Zealand and Australia — but most of our investments are in Europe in places like France, the UK, Germany, Spain, Poland and Slovakia.
As for companies in the US, there are a lot of great investors in the Bay Area so competition is high. And, we don't really have the ambition to see every deal. For that, we'd have to have at least 10 people on the ground there, which just isn't realistic. 
Nevertheless, we've spent a lot of time in the US and consider it an important market for us. If we see an opportunity to invest, like we did with Loom, then we take it.
What are the competitive dynamics around term sheets at the moment — especially Series A?
We invest at seed stage, which is not quite as competitive as it is at the Series A level. However, it's definitely more competitive than it was five to ten years ago as there's a lot more capital. 
I think Covid-19 has created more competition as VCs invest across borders now — much more than they did previously. Even US funds have started investing in European companies without ever meeting the founders in person. Things just happen faster and faster.
Have your ticket sizes at seed changed at all? Are you slowly being pulled more into a Series A environment?
Our ticket sizes have increased over time, but we continue to be focused on seed. The availability of capital is trickling down, affecting every stage from seed and Series A all the way up to the late stages and even public companies. Also, the competition encourages funds to invest at an earlier stage than they used to. They have an incentive to invest at the seed stage because they know if they don't, then it'll get very expensive at the Series A stage.
However, we feel like we're still in a good position to convince founders to work with us — especially in the areas we've been specialising in for the last 12 years. 
With round size increasing, is this a positive sign that European tech is maturing?
More money is not always better: it can come with problems, and lead companies to build a burn rate that is not sustainable. But, given the fact that Europe has been underfunded for a long time, it means we're catching up with other parts of the world. A seed round today is probably €2-2.5m, whereas years ago it used to be €500k-€1m.
I think it's good for founders to raise seed rounds in this ballpark. If you have big ambitions and a product and a team to build, this ticket size gives you one to two years of runway. It means that you don't have to keep raising one round after the other just to get through the first couple of years.
There's been a lot of success stories in B2B and SaaS emerging out of Europe lately: like UIPath, Hopin and Klarna. What do you think this says about the European ecosystem?
I'm very happy for these large successes out of Europe because it's so important for the ecosystem to have these big role models that inspire the next generation of founders — that also train a lot of people to start their own companies. That is what was missing for such a long time in Europe.
Speaking of Klarna... Do you have any interest around B2B payments? There's no Klarna or Paypal for B2B yet.
True! We have seen a number of companies tackling B2B payments from different starting points, or with different strategies: it's clearly a very interesting and large opportunity. We haven't invested in any so far, but we're keeping our eyes open.