Having an innovation outpost in Silicon Valley is still one of the main ways that corporations tap into innovation. My analysis has found that 319 out of the Fortune 500/Forbes 2000 companies have some kind of structured presence dedicated to innovation in the Bay Area. Despite talk that Silicon Valley may be past its peak, most companies are still flocking to the area to keep an eye on new trends, and there are 55k+ corporate innovation people currently deployed in Silicon Valley.
"What you have here is tremendous input from so many different companies and smart people inventing new products. You get access to that by being here, by being part of the ecosystem. You can't just fly in and out,"  said Marco Marinucci, head of HELLA Ventures, at the latest Scaleup Summit in San Francisco.
The phenomenon of opening innovation outposts in the San Francisco Bay Area is quite recent (four out of five companies were not present in Silicon Valley before 2010) and growing — every week we have a new corporate entry.
There are 55k+ corporate innovation people deployed in Silicon

Valley
The largest share of these innovation outposts or innovation antennas are by APAC countries (Japan and China in particular, but also India, South Korea and Taiwan). They account for 42%. North America (29%) and Europe (26%, with Germany and France leading the pack) follow.
Why Silicon Valley?
Corporates follow startups and Silicon Valley still has the highest startup density in the world. The Bay Area hosts 7,894 scaleups. Elsewhere, it takes an entire continent or country such as Europe to provide similar figures. Silicon Valley has about 3.5x more scaleups than Israel (the second largest concentration of corporate innovation outposts).
The gap is even wider in terms of investments. Scaleups headquartered in Silicon Valley raised more than $500bn in capital, which is about half of the total capital made available to US tech companies. It's also about double the amount raised by their European counterparts ($250bn) and 6.4x higher than Israel ($77.8bn).
Comparison of global scaleup statistics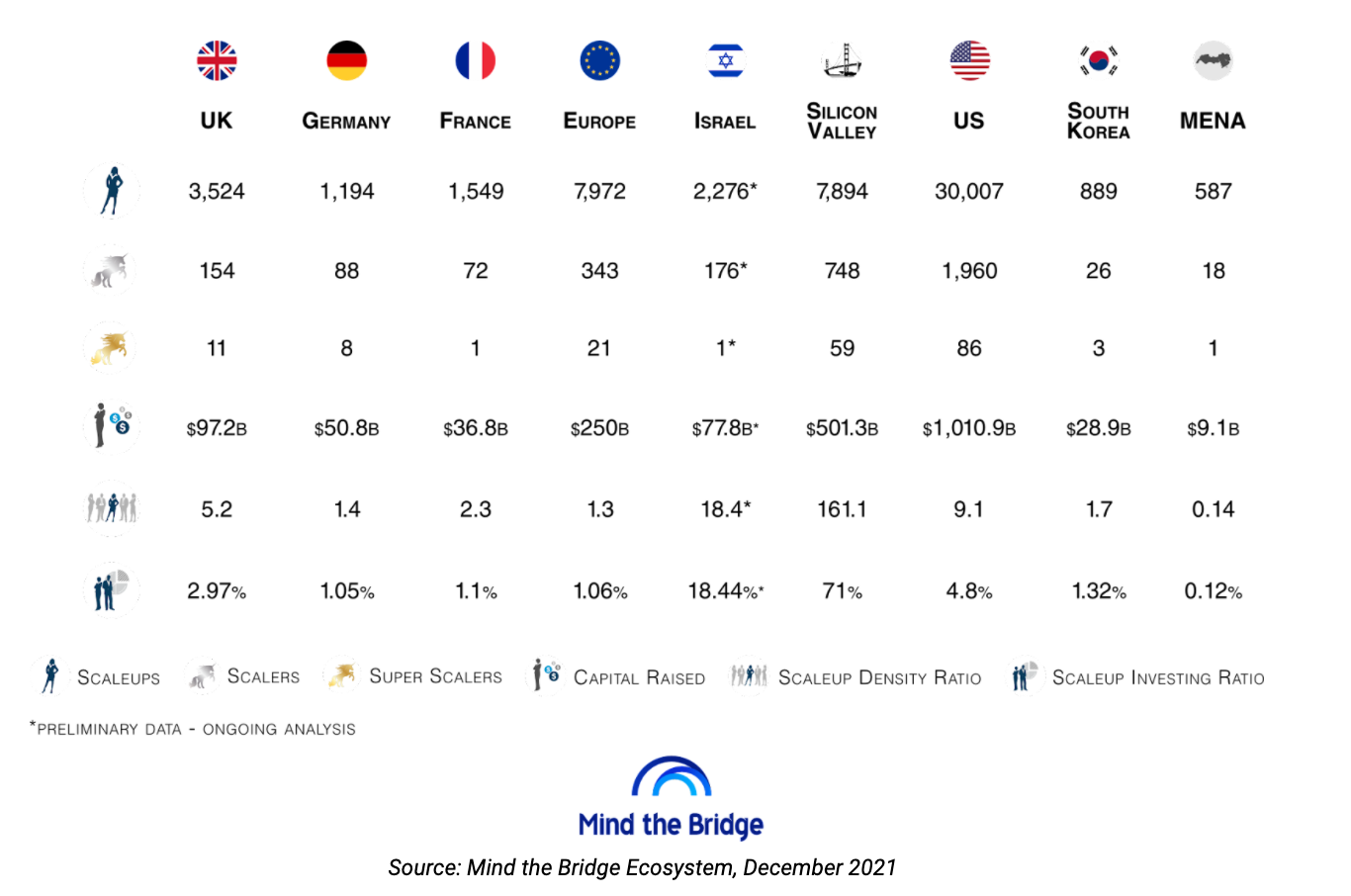 What do they do?
"A level of 'casual contact' in the ecosystem is really important to maintain relationships that might not be ready for a deal yet, but could be ready along the lines in the future", said Sander Cohan, director of US innovation at National Grid Partners.
The aim of an innovation outpost can range from:
Trendspotting and reporting;
Finding early-stage innovations to be co-developed (via Pilots/ POCs) or accelerated;
Building new solutions (venture building);
Procuring or licensing new products and services;
Making investments;
Buying startups.
In the picture below we plot the different approaches global companies have followed in shaping their presence in Silicon Valley. The factors determining the position in the matrix are (i) the dominant goal the corporate aims to reach as well as (ii) the type of establishment(s) they have currently chosen (ranging from Innovation Antenna, Lab, R&D Center and CVC Office). For confidentiality reasons, corporate logos are anonymised. There is a  full list of corporate innovation outposts in Silicon Valley here.
What corporate innovation outposts are doing in Silicon Valley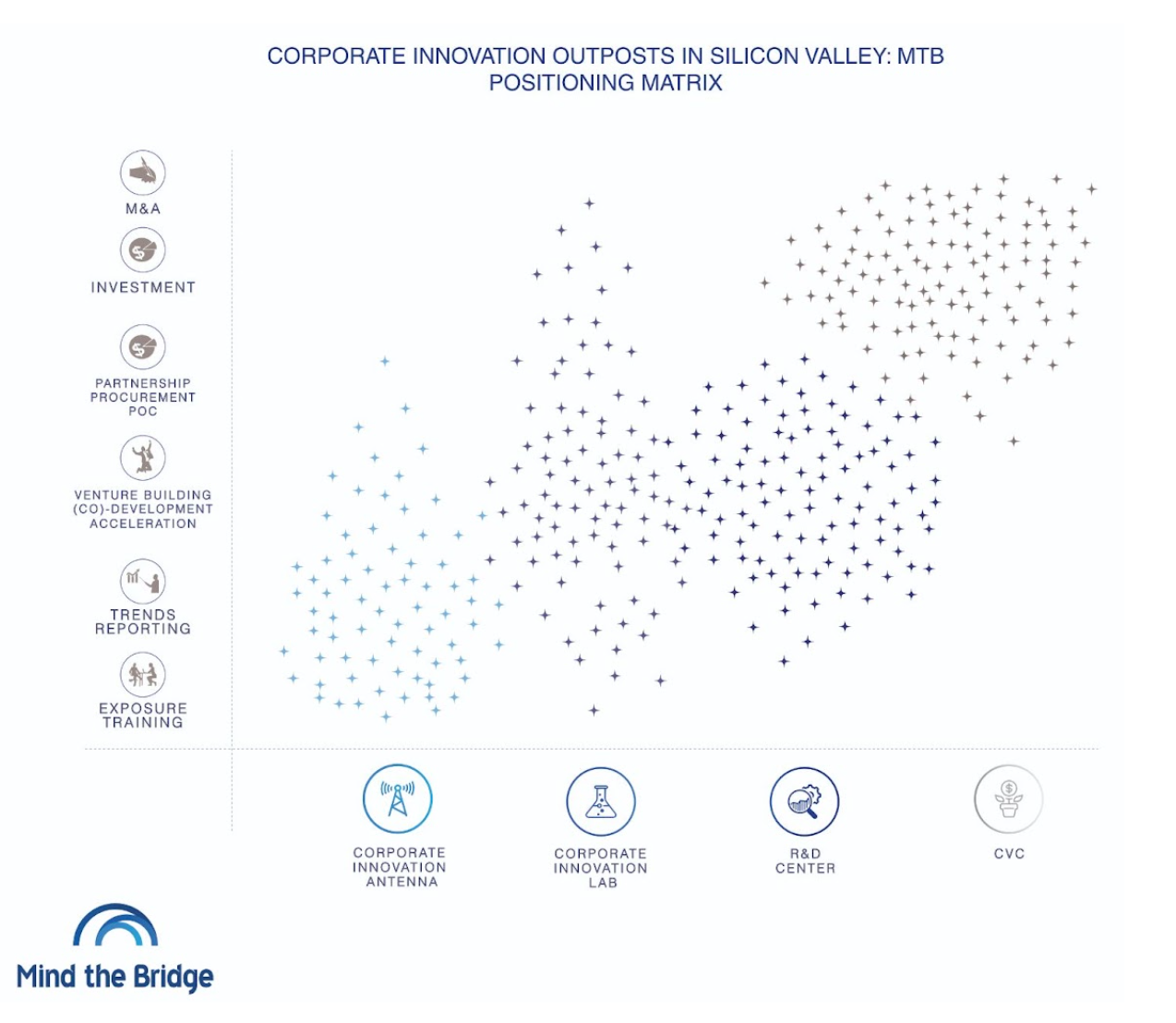 We are noticing an increasing sophistication in the models that corporates are testing to produce measurable results. It's not only the "plain vanilla" CVC or R&D centres but a wide range of options where venture building and new product labs are becoming more prominent, together with innovation antennas (tiny and lean teams with less than five people).
The number of innovation outposts in Silicon Valley has grown dramatically since 2015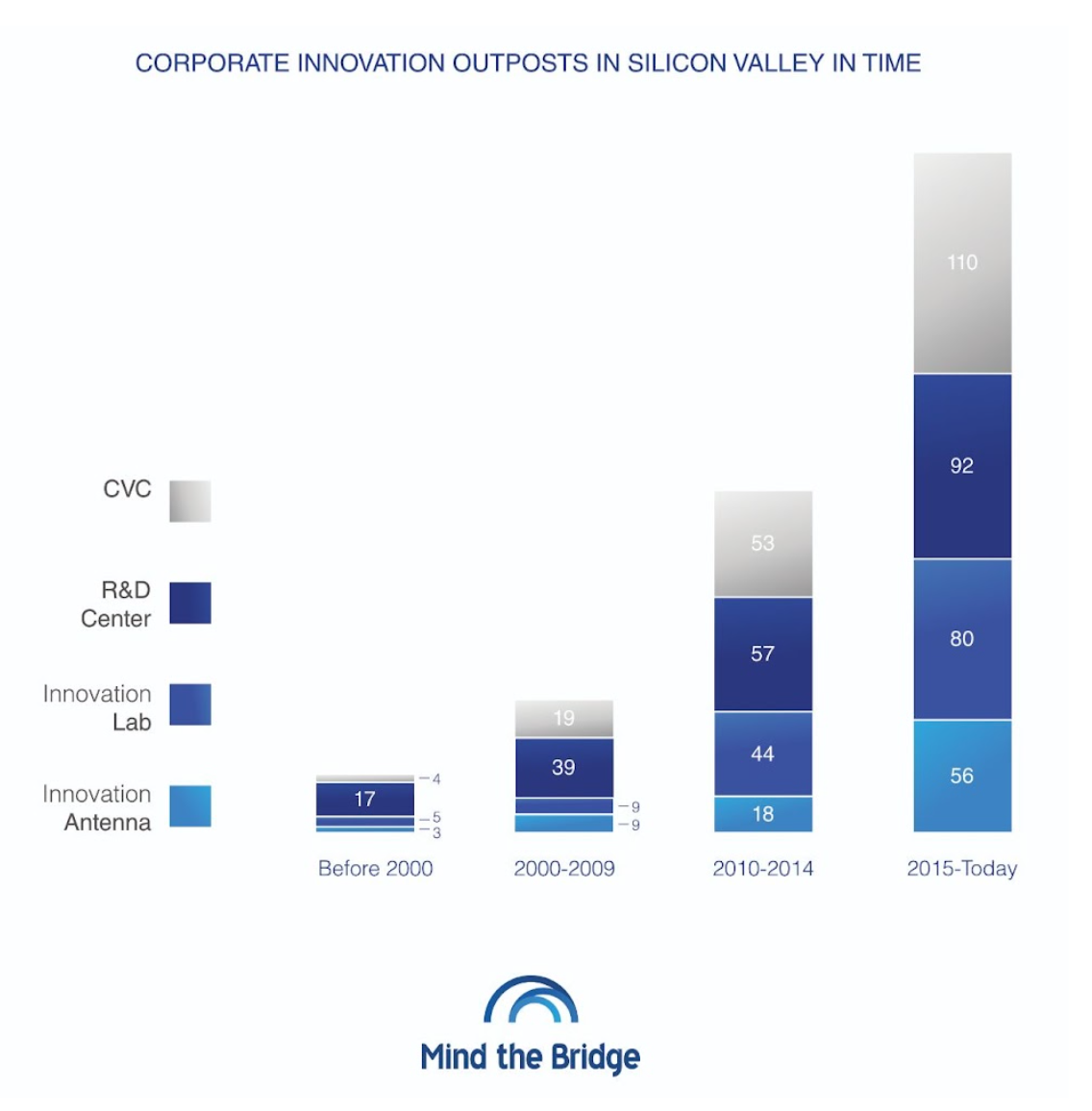 Which industries are there?
"Silicon Valley is a place you need to be for every technology", answered Alessandro Zago, senior director of venture investments at Hyundai Motor Group in Silicon Valley — part of Hyundai's CRADLE global open innovation programme.
The automotive, finance and electronics sectors have the most innovation outposts in Silicon

Valley
Companies from over 20 different sectors have an innovation stronghold in the Bay Area tech cluster. That said, automotive, finance, electronics, IT and software, life sciences and pharma and telecommunications are currently the sectors with the largest presence in the Bay Area.
The sectors that have the highest number of innovation outposts in Silicon Valley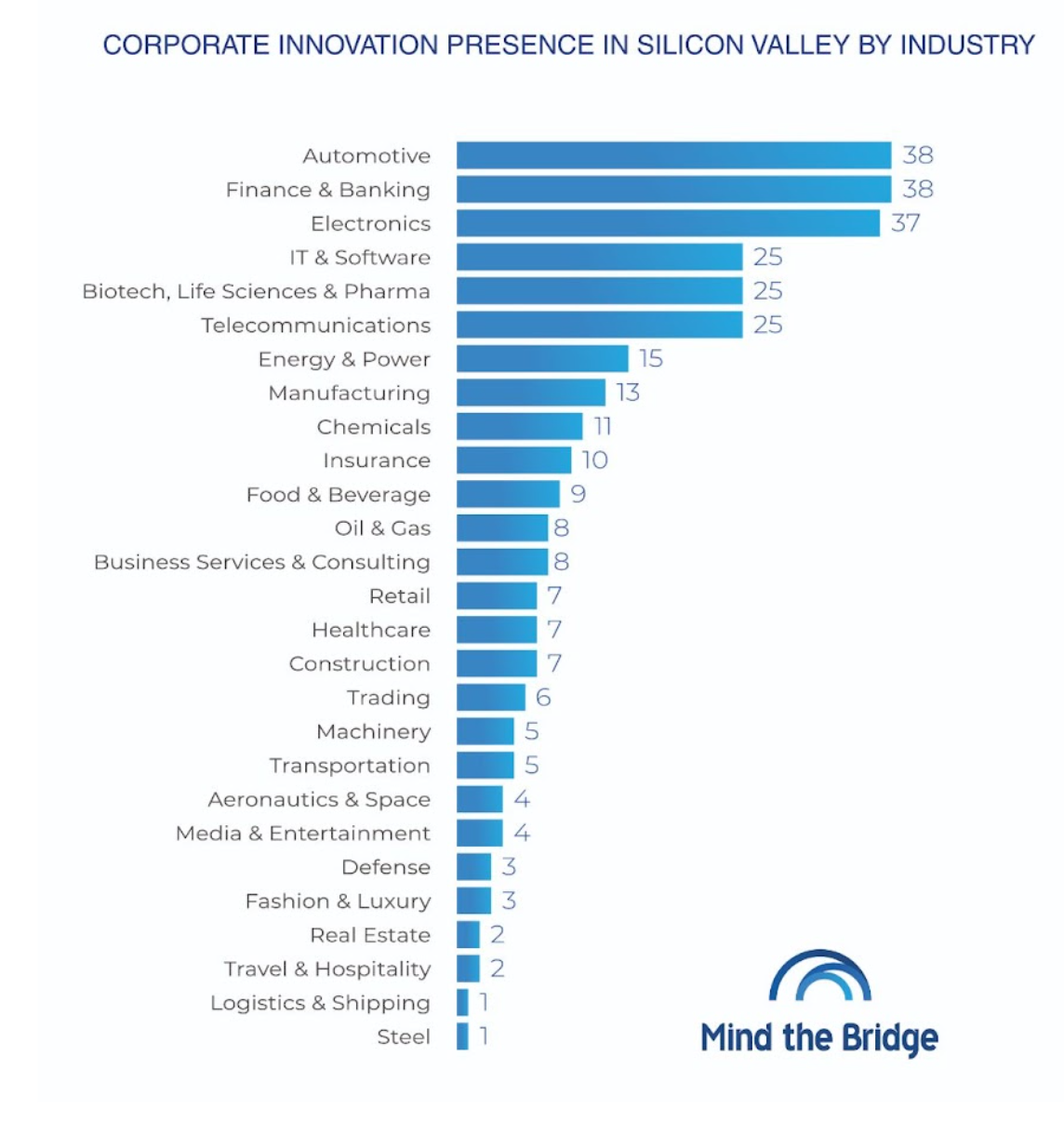 Not only the big companies
Silicon Valley is not only for Fortune 500 companies. Smaller companies operating in niche markets can also  benefit from a presence in the Bay Area. A very recent example is Pelliconi, worldwide leader in bottle caps that just opened its Innovation Antenna in San Francisco. Why?
"'Because we aim at being the industrial partner for any Silicon Valley startup interested in developing and testing innovative solutions applicable in the closures market,'' said Marco Checchi, Pelliconi's CEO.
Do you have to be there?
For those companies that aren't quite ready to send a team over to Silicon Valley, there is another option — you can work with local partners like Silicon Foundry, P&P, 500 Startups (and Mind the Bridge) that can help introduce you to the interesting companies.
"There are two ways to work in Silicon Valley", says Marinucci of Hella Ventures. "Either you build your place here, or you do it remotely, working with local players that allow you to tap into existing networks and showing you the way to those 20% that will otherwise take years to access".
But one way or another, remote or in person, a Silicon Valley presence is still a must-have for corporates.
Alberto Onetti is chairman of Mind the Bridge.