High inflation rates could well be the new normal, and living costs continue to surge across Europe. Though much remains in the hands of central banks and monetary policy, how can startups navigate inflation's impact?
Instead of reacting to market shifts, some startups are taking a more proactive approach to turbulent macroeconomic trends. Just as Covid ushered in flexible working arrangements, the inflation crisis is driving some to reconsider how compensation fits into broader company philosophy.
Sifted spoke to CPOs at Pitch and Printful about what startups can do to build resilience to rising inflation, as well as compensation benchmarking startup Pave about how pay in Europe is changing.
What's changed?
Year on year, startup employees typically see around 5% increase in salaries, according to Katie Rovelstad, compensations operations at Pave, which helps companies plan and communicate employee compensation packages.
Even top-performing employees, Rovelstad says, would see no more than a 10-12% rise in a year.
But from January to May this year, startups have seen levels way above the norm. (The following figures from Pave are annualised; sourced from 14k employees working in Europe for both European and North American startups; with data taken directly from payroll or Human Resource Information Systems (HRIS))
That's especially the case for those at seed, Series A and Series B, according to Pave data. The $0-15m valuation bracket has seen a 20% increase in compensation rates; falling to a 12% rise for both $25m-100m and $100m-500m, and 8% for $100m-500m. 
The same patterns can be seen with team sizes too, as startups with under 25 employees have seen a whopping 25-30% rise; compared to 16% for 50-100 people and 10% for teams over 100.
For earlier-stage startups with smaller teams, retention is absolutely the priority. The market is burgeoning with new startups, so competition is high. But these early-stage startups are also raising more frequent and larger raises — and deals are closed faster. That's given early-stage startups some buffer when it comes to competing with larger companies for talent, especially as we see more layoffs at unicorns.
"With those larger Series As, Bs, Cs and even seed funds, early-stage companies have deeper pockets. It's flipping this notion on the head that early companies pay less than larger or more mature companies," Rovelstad says.
"The deeper pockets of Series A, Series B companies are in fact translating to higher compensation for their employees, to keep them from potentially moving away to either bigger companies with more certainty or larger packages."
For instance, engineering roles across the UK, Ireland, Germany, France and the Netherlands — where Pave sources its European data — have seen a 10-15% salary increase, in contrast to the same positions in the US, which have seen 5-10%.

But it's not all rosy. Rovelstad predicts this trend is unlikely to continue as markets bounce back. "We're likely to see a little bit of a cool off in compensation," Rovelstad tells Sifted. "I don't think we're going to see another four-month period where it's commonplace to have a 15% raise across certain divisions." 
Still, the strong peaks are indicative of a highly turbulent market that startups need to respond to.
If you're using compensation trends from a month ago, or two months ago, you're going to be systematically overpaying people because of the cooling

market
"You're already too late," Rovelstad says, referring to stale benchmarking data. "If you're using compensation trends from a month ago, or two months ago, you're going to be systematically overpaying people because of the cooling market. We saw this in January of this year — people were using compensation data from a year prior in the depths of Covid.
"Companies, to be competitive, need to have a pulse and update their compensation philosophies in accordance with the macroeconomic fluxes of the tech world."

Keeping a finger on the pulse
Over the past few months, Berlin-based presentation software startup Pitch has been developing its first comprehensive compensation package. 
"There's no question that recent inflation rates have influenced our strategy," Vanessa Stock, CPO and cofounder at Pitch, tells Sifted. 

"However, inflation changes quickly over time, and varies widely across markets," she says. "So, as a variable, it's too dynamic for us to use it as a defining factor for compensation packages, especially given that Europe's longer notice periods mean hiring cycles can span several months or more for mid-level or senior roles.
"Instead, we focus on periodically reviewing cost-of-living data in the markets we're active in as an employer, and we adjust our compensation packages accordingly."
But as competition is high, entry-level and principal roles are taking the cut as CPOs focus on retaining the employees most able to look elsewhere — and arguably most vital to operations. Senior individual contributors have seen an astonishing 17% increase in salaries, and managers 15%. That's compared to 7% for directors, and 9% for entry-level positions, analysts or associates.
Redefining compensation
The battle for talent also means salaries alone aren't everything, and that's especially the case as employees have greater negotiating power.
"New employees recognise their worth and we have to compete with other companies in not just salary, but also other benefits, work environment and even company values and beliefs," Santa Rozkalna, CPO at Latvian printing startup Printful, tells Sifted. 
"This is a real challenge since we see the market driving salaries. There are certain competencies with a much smaller talent pool so we have to comply with the market standards in terms of compensation, which in some cases are much higher," Rozkalna notes. 
Printful has decided, however, to hire and train more junior talent. "There will always be certain talent groups and skills you will have to be ready to pay more for," Rozkalna tells Sifted, "it depends on the strategy you, as a company, choose."
Indeed, Pave's European stats indicate recruiting roles themselves have seen a 17% increase in compensation from Q1 to Q2, as opposed to 11-12% for software engineers, who are typically regarded as high in demand, or 12% for product managers. Clearly, retention is increasingly a priority.
Going remote
So what can startups do to build resilience? 
"You should know how the markets are moving," Rovelstad advises. "But unless your philosophy is to always pay what the market is paying, which is a fair philosophy, the better thing you can do is figure out why you want to pay people, insulate yourself or only opt into the market changes that align with your compensation philosophy.
"If I were a Web3 company, I care less if the cash compensation market's been super hot, I'm gonna pay people a normal amount of cash but I'm going to give them tokens and coins." (Europe's fintech talent is flocking to cryptocurrency startups right now.)
Rozkalna agrees. "Compensation has to be viewed from a holistic perspective," she tells Sifted. "Company strategy and business objectives come first, then it translates into company values and culture, and only then compensation that supports all of the above."
Like many companies, Printful embraced the remote-first shift, introducing a work abroad program for employees.
"Remote and hybrid work has opened a lot more opportunities for talent — employees can choose to work from essentially any location worldwide, which impacts compensation expectations. And I'm not sure businesses know how to respond to this trend just yet."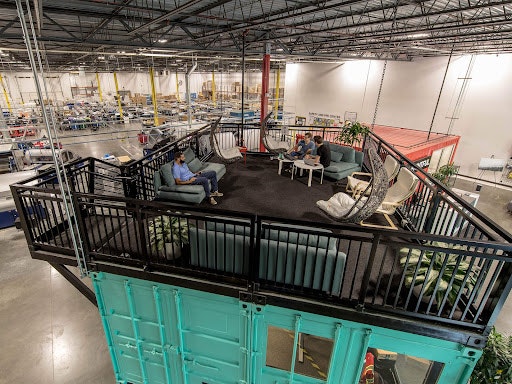 With remote-first policies, some employees are able to somewhat circumvent living costs by moving out of London, Paris and Berlin to Manchester, Lille and Görlitz. But this flexibility hasn't led to more geographically sensitive compensation strategies.
While in North America, there's been an average 25% difference between salary increases between major business hubs, like New York and San Francisco, and more suburban or rural areas, the same can't be said for major European cities. According to Pave data, salary rates did not significantly vary between Paris and other provinces in France; or London and the rest of the UK.
Remote and hybrid work has opened a lot more opportunities for talent — employees can choose to work from essentially any location worldwide, which impacts compensation

expectations
"It has a lot to do with the remote-forward, remote-first work policies that a lot of companies adopted during Covid, without frankly, a corresponding policy for how compensation would change," Rovelstad tells Sifted.
The holistic approach
With inflation rising, will we see companies switch tack and reconfigure compensation across regional differences in living costs?
Rovelstad thinks not: "That ship has sailed." That's because retention remains a key priority, as competition for talent and negotiating power mean employees can still pick and choose based on benefits that overlap with compensation.
This is where startups may be able to lean into increased labour power and rethink company philosophy to better suit their team, all while communicating the total compensation package to each employee.
Over at Pitch, for instance, employees have access to stock options, benefits, full capability for remote work, and "family-friendly working hours", Stock tells Sifted. 
Stock suggests early-stage startups — the very same who are seeing large increases in compensation rates — should lean into their unique ability to develop innovative policies and cultivate holistic compensation packages from the get-go.
"Rather than trying to constantly adapt to economic conditions," Stock says, "startups should adopt their own philosophy early on, and spend their time and resources building up a competitive offering as an employer that spans beyond pure compensation."
If you want to effectively understand the compensation market in Europe, you need real time data. Sign up for Pave's free benchmarking product today, and arm your people leaders to attract and retain top talent, both fairly and accurately.