Which sector is more innovative — banking or textiles?
Well, given the million big financial institutions spend each year on innovation consultants and the frequent bloviating of chief executives about effecting change, you might think it was finance.
But according to a study by RSM International, the professional management company, finance is actually one of the least innovative sectors — behind the apparently-staid textile industry.
RSM surveyed 791 companies in 33 countries across Europe, asking them questions about how the business perceives innovation, how much it is a part of everyone's role and how often it seeks feedback on new initiatives. 
These questions were based on factors that RSM had identified as being important for innovation success. It ranked sectors according to how their responses compared.
The pharmaceuticals industry — which is under pressure to cut ballooning drug development costs and has a fairly established spin-out and corporate investment model — came out at the top in terms of innovation, which was not surprising.
But after that, the results were unexpected. Hospitality comes out as the next leading sector, ahead of technology and healthcare.
Textiles came out as top in some of the categories, with innovation both seen as important to the business and companies being happy with how they were achieving innovation aims — something that even Paul Herring, global chief innovation officer for RSM International, said had taken the team by surprise.
There is, of course, some room for interpretation about what the data in a self-reported survey like this really means. It is easy for companies to say that innovation is important and to be satisfied with how they are doing if their aims are fairly unambitious. 
Sifted Newsletters
Sifted Newsletter
3x a week
We tell you what's happening across startup Europe — and why it matters.
Even so, it seems striking that innovation was clearly identified as important by so many textiles companies while financial services ranked near the bottom for this.
Notably, real estate and property came out pretty close to the bottom in all categories. A lot of scope to improve innovation here.
The other really surprising finding in this study was around how infrequently some companies were seeking feedback from customers. 
Asking customers (or internal users) what they thought of a new product or service was found to be a key success factor by RSM. Companies that did this more often tended to see more success and better returns on their innovation projects.
"This was one of the key takeaways from the study. The frequency with which teams connected with target audiences to get feedback came out as one of the key differentiators," says Herring.
In startups, this seems second nature. Young companies are generally obsessed with customer feedback, maniacally watching their Google analytics numbers and their net promoter scores to see how new products or tweaks to those products are going down with users.
Big companies, on the other hand, don't seem to ask very often.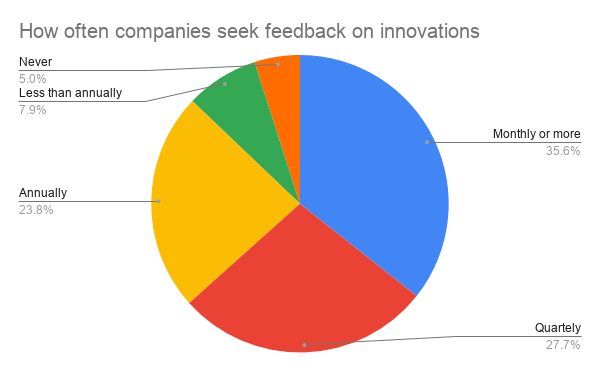 Some 5% of those companies surveyed never ask for feedback, 8% don't even ask once a year. 36% do ask at least monthly — a number that Herrings says he was "pleasantly surprised" by. But, if companies are to get innovation projects really working, it feels like that could be much improved.
Herring admits that some of the study may feel out of date, given that after March, when the wave of coronavirus hit Europe and the United States, many companies had to rethink their businesses much more drastically than before.
"Firms that were on the fence before are now much more incentivised to look at taking advantage of new technology as they struggle to keep the lights on and adjust to the fact that old levels of demand are unlikely to return," says Herring. "If we re-do this study in 12-24 months, it would be fascinating to see which companies have accelerated."