Kibbutz Nir Am in Israel, located just a mile from the Gaza border, has long had an entrepreneurial streak. The collectivist community owns a cutlery factory as well as several farming and tourism businesses.
But today the kibbutz has spied a new opportunity: cashing in on the gold rush in Israeli tech and startups.
The kibbutz's old mess-hall, which stopped serving the communal lunch in 2003 and has been under-utilised for years, has now been turned into new startup offices complete with a bar and a pool table.
One of its first startup tenants Idan Avitan, the chief executive of smart indoors farming startup Growee Technologies, says that while the on-and-off missile barrages from Gaza are a disadvantage, inside it's a slick office space that looks "like a WeWork location."
"When shooting is intensive, we all work from home. You have 15 seconds to run to shelter. You practically can't get anything done."
But basically, it's very nice. There is also a financial upside, says Avitan, as the Israeli government offers funding and tax benefits to businesses operating away from the country's financial centre. "We are an agricultural startup, and many people with relevant domain expertise are only a five-minutes drive away," he says.  
Gold Rush
Nir Am is one of dozens of kibbutzim in Israel which are rolling with the times and moving into the country's booming tech sector, which attracted a record €3.3bn venture capital investment last year, according to Dealroom.
Some are just hosting startups, while others are actually investing, but a growing number are "now boarding the Israeli tech train," says Dagan Levin, a business director at The Kibbutz Movement, a group representing over 250 kibbutzim.
Sifted Newsletters
Sifted Newsletter
3x a week
We tell you what's happening across startup Europe — and why it matters.
Total investments have so far been modest compared to actual venture capital money. Kibbutzim have invested 110 million shekels (€27m) in 34 startup equity deals over the past five years, according to data by The Kibbutz Industries.
But it's still remarkable for a movement that started as a group of agricultural-socialist collectives.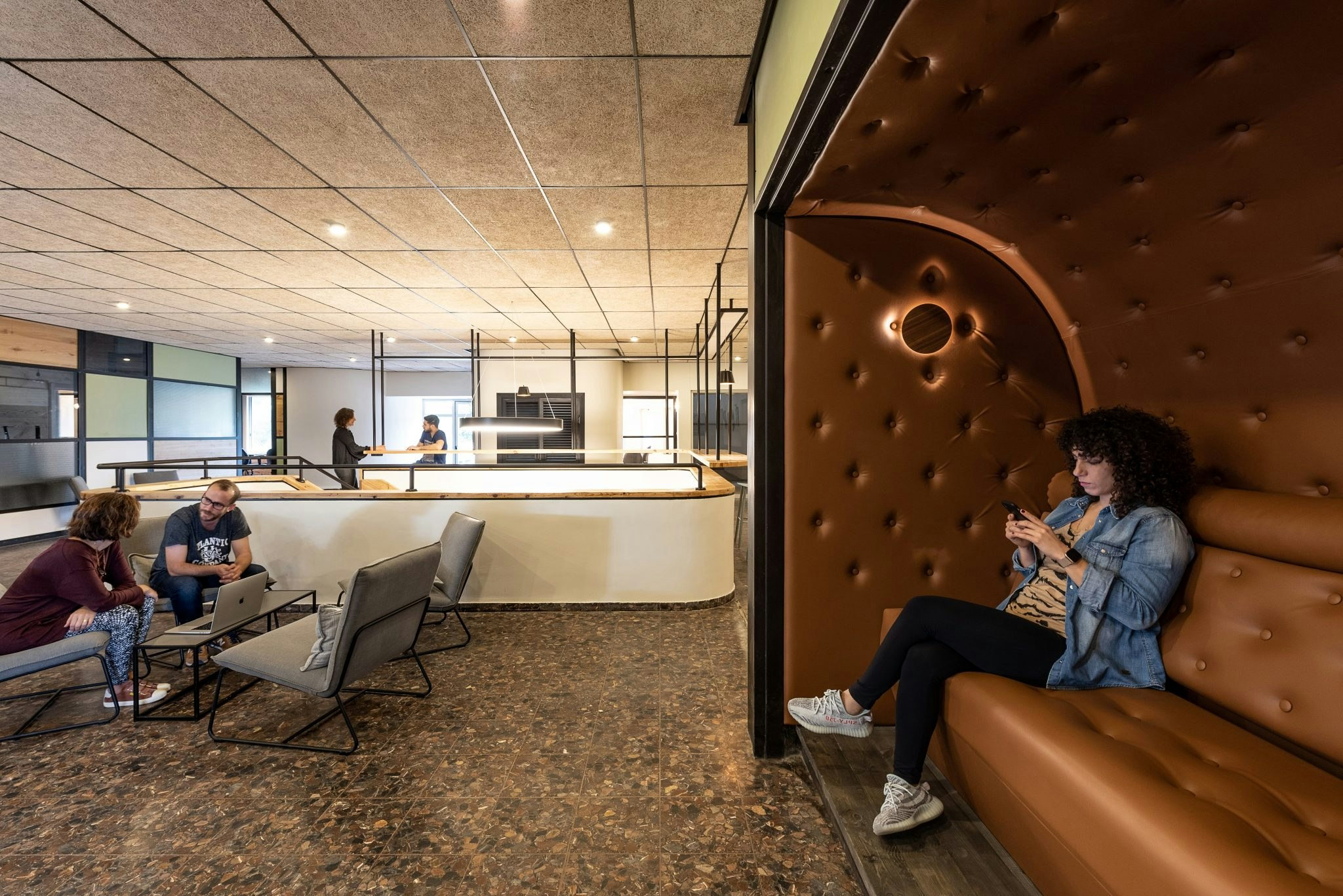 They are looking, like all other investors, to be part of the next startup success story akin to navigation app company Waze, online insurer Lemonade, and messaging app Viber. They are also looking to create more jobs and grow new and existing businesses.
Integration of the kibbutzim movement into the local tech and startup ecosystem remains in its early stages, but initial signs are that the two cultures can work hand in hand.
By pooling resources and talent, kibbutzim can "create structures relevant for tech", says Levin, adding that collaboration in agriculture — a traditional strength of the kibbutzim — is set to be particularly fruitful.
"The kibbutz will foster advanced agricultural technologies which will then be used elsewhere — there's no doubt about that," he says.
A short economic history of kibbutzim
In the first two decades after the formation of the state of Israel in 1948, kibbutzim — with their combination of socialist communal living and Zionism — enjoyed outsized political influence.
The Israeli economy grew in the 1960s and 1970s, and the kibbutzim did too. Wooden mess-halls gave way to modernist concrete creations; kibbutzim took special pride in their open-sky swimming pools, seen by critics as symbols of encroaching decadence. 
Then came the bad times. 
In 1977, political upheaval saw the country's old-guard socialist parties replaced by a right-wing leadership. Fearing state subsidies will stop flowing, many kibbutzim put their money into a then frothy stock market only to see it crash a few years later.
In an eventually successful bid to lower raging inflation, Israel's central bank hiked interest rates, sending Kibbutz debt through the roof. By the time agreements were signed with lenders, debt was already in the billions.
"It got to catastrophic proportions," says Tal Elmaliach, a kibbutz researcher at the Ben Gurion University in the Negev.   
Bogged down by long-term commitments to Israel's biggest banks, many kibbutzim were in a financial rut. 
Nir Am was hit especially hard.
Yair Mana, 59, a business manager at Nir Am then and now describes the kibbutz as "risk-averse, with little in the way of means of production."
"Bad investments, inflation — debt piled. Liquidation requests were filed. As a business manager, there were days I left work at 11pm not knowing if there'll be enough cash to pay the dairy supply truck in the morning."
What happened after is often referred to as privatization, but the term is contested as only a few assets were sold.
"Kibbutzim started to go for differential wages, and business management policies were put in place," says Elmaliach. To hold up communal services, a community tax was levied.
But then, in the 2000s, things started looking up as the wider Israeli economy improved. Kibbutzim started to grow big businesses, drawing foreign investors.
Demographic trends swung around 2005. Now in their 30's and 40's, the younger generation returned with kids, seeking cheaper housing compared to Israel's pricy urban center, and a better work-life balance.
Between 2010 and 2016, the population of the kibbutzim grew over 20%, according to data by the central Israeli government bureau of statistics.
By 2016, Kibbutz industries were churning out over 44bn shekels (€11bn) in sales, according to data by The Kibbutz Movement. Farming produce in the same year was just shy of 30bn (€7bn) shekels. Over 40% of all kibbutzim generated more than 100m (€25m) shekels in operating profits in 2016.
Then, with money in their pockets, in recent years the kibbutzim started to embrace tech as a new route to securing their long-term financial security.
In 2017, Nir Am partnered with technology incubator non-profit SouthUp to set up the new innovation hub. "They have a focus on agritech, and we're a farming community—it made sense," explains Mana.
He wishes to see some kibbutz folks get hired by startups based here but also wants innovation culture to rub off. "We figured we want this in our backyard," he says.
Replacing bees
Some of the most exciting startups that have come from kibbutz are in agriculture, in line with a tick up in the number of agritech companies being founded and intense interest from investors.
One is the startup Edete, a farming automation startup that makes bee-free almond pollination machines.
The company is solving the problem that bees, an integral part of global food production, don't go to work when it is dark, when temperatures fall or in rainy or windy conditions.
To make matter worse, bees are dying the world over.
Keren Mimran, co-founder and chief marketing executive at farming automation startup Edete, says the technology can help growers the world over. "Where bees are missing, like in Spain, we can boost yield,"
Prototypes of Edete's pollination machines are now tested in orchards in Australia and in two Israeli sites. One is Israeli Kibbutz Malkia, located near the Lebanese border.
The machines spray dry pollen powder in close proximity to tree contour. Currently towed, Edete's team aims to give future versions autonomous capabilities and expand to apples, cherries, pears, and apricots.
How kibbutzim invest
The Kibbutz Malkia invested $1m in Edete in 2017, not before the deal was approved in a nearly unanimous vote by kibbutz members.
Around 50 out of 120 members attended a kibbutz meeting, which featured Edete's investors slide deck, according to Yoni Oppenheim, a business manager at Malkia. All kibbutz members now indirectly own equity.
Oppenheim, 35, grew up in Kibbutz Amir, a 20 minutes ride away. After working at an ad agency in Tel Aviv, he returned in 2016, with a family.
Malkia "sees a future in mechanized pollination," he says.
Natural partners
At the other end of Israel, Yotvata, a scenic desert community located around 25 miles north of Red Sea resort town Eilat, is one of the more wealthy kibbutzim as it has built a small dairy empire.
In 2017, Yotvata used some of that money to invest $1.6m in alternative pesticides company EdenShield.
EdenShield develops a plant-based pest repellent made of Achillea fragrantissima, a yellow-flowered desert shrub that grows in these parts.
After establishing a presence in Spain, Italy, Morocco, and Israel, Edenshield sees a great fit for its product in the cannabis market, says Yotam Gadot, up until recently Edenshield's chief executive.
"The cannabis industry has three characteristics that make it especially relevant for Edenshield's products: stricter regulation, an emphasis on using non-toxic pesticides, and lack of attention from some of the bigger pesticide makers," he says.
Yotvata now farms the Achillea fragrantissima plant as part of the partnership, highlighting some of the synergies between kibbutzim and agricultural startups.
"We've been doing desert farming for sixty years," says Yotvata business manager Dubi Goldman, who now sits at Edenshield's board.
The kibbutz is a "natural strategic partner," says Steve Rhodes, chief executive of Jerusalem-based venture firm Trendlines Group, an Edenshield stakeholder.
He now meets with kibbutzim as potential partners regularly, finding value in working with people with a deep understanding of the subject matter. 
It makes a lot of sense for Kibbutzim to invest where they have domain-specific expertise and where they can add value," he says.
Not always easy
Rhodes also sees cultural gaps between the kibbutz and startups, meaning that some deals fall through.
"People coming from operational businesses with tangible sales and assets are now trying to value intellectual property and development­­ — it's not always easy."
In some deals, Trendlines' target valuation was more than three times higher than what kibbutz-representatives went for.
For those previously hit, investing in early-stage ventures can be hard. Goldman says he will always remember the times Yotvata had to tighten the belt during the bad economic times.
"We hope for the best, but startups come with their own set of problems," he says. "The thumb rule: expenditure will top forecasts; sales will fall short."
5 agritech starups tapped by Israeli kibbutzim
Here are 5 agritech starups tapped by Israeli kibbutzim
1.    Abundance Enterprises
Mass production of Spirulina 
Year founded: 2010
Funding: $2.5m