In the 90s, it was the expansion of the internet, in the 2000s, the rise of mobile computing and in the 2010s, the emergence of cloud computing. 
But for the 2020s, it's "deeptech" that's set to drive technological change across the next decade and, according to a new report from the European Startups Project, Europe is investing at a rapid pace.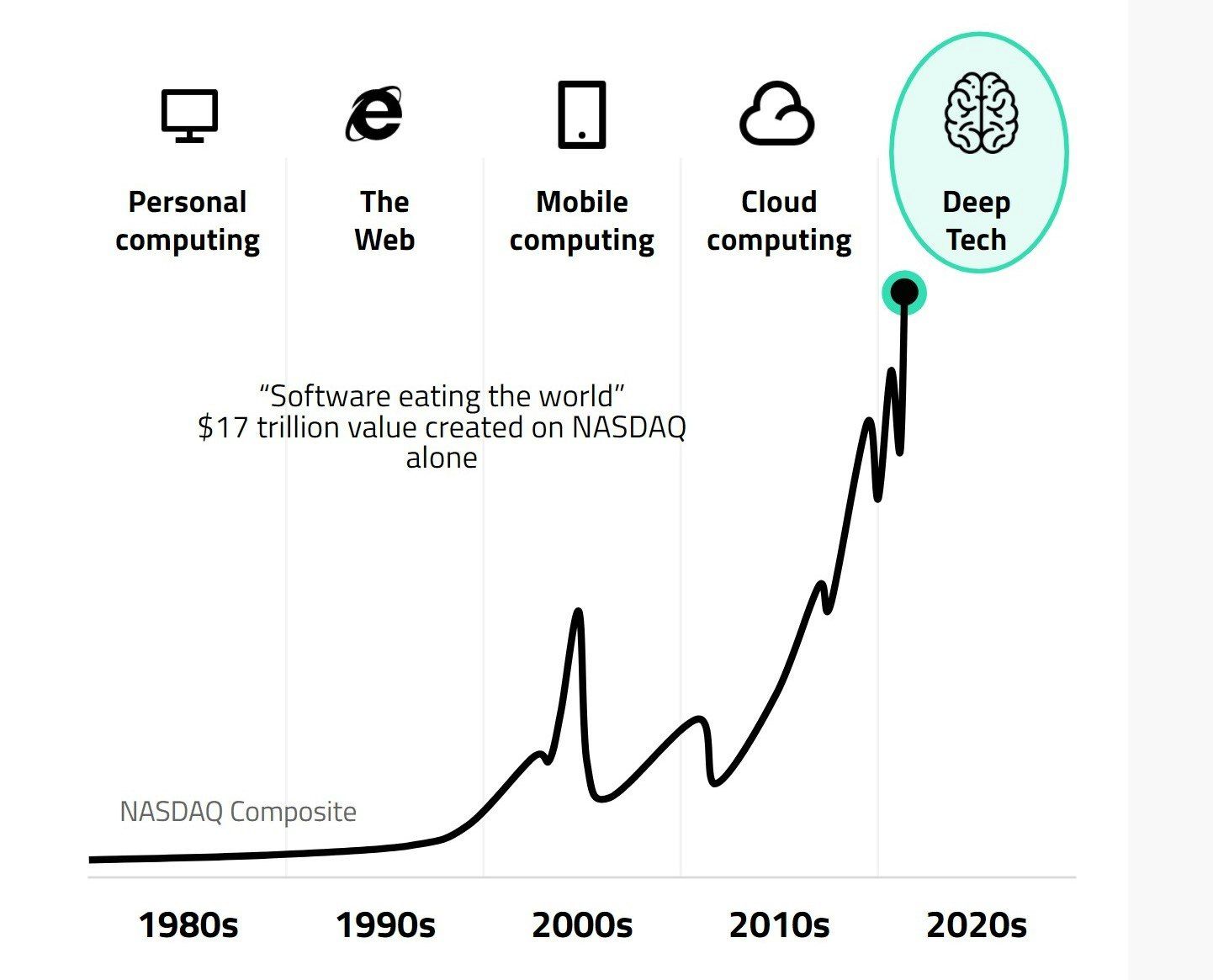 It's a category that's hard to define, but deeptech investor Nathan Benaich from Air Street Capital, has a simple definition. 
"If there is science or engineering risk in getting the idea to actually work, then it's deep tech. If there is no science or engineering risk to making it work, then it is not deep tech."
Deeptech is already hitting the headlines on an increasingly regular basis: from SpaceX's rocket launch to OpenAI's release of GPT-3 — a language model that uses deep learning to produce human-like text — and from Crispr Therapeutics' genome editing techniques to MuZero, which marked another milestone in self-learning AI development.
Deeptech in Europe
In Europe, deeptech makes up roughly a quarter of the startup ecosystem and together, the companies are valued at €150bn, up from €25bn ten years ago. 
And across the last ten years too, VC investment into deep tech companies has increased nearly eleven-fold, reaching €9.5bn invested in 2019. 

Artificial intelligence, semiconductors and VR
Out of European deep tech companies, artificial intelligence continues to be the largest sector within the industry, with European AI companies worth €18.3bn combined. 
Worldwide, it's estimated by McKinsey that AI could become a $13tn industry in the next decade.
Europe's AI companies include UiPath, the Romanian unicorn — worth €9.3bn — which provides a robotic process automation tool. There's also Darktrace, another unicorn, which uses artificial intelligence to provide cybersecurity solutions. 
The second most valuable sector in European deep tech is semiconductors — an essential part of electronic devices. 
Amongst the European companies working in the sector is UK-based Graphcore, which makes semiconductors for AI and machine learning. It raised $200m in 2019, giving it a valuation of $1.7bn. 
In European augmented reality and virtual reality, the continent's third most funded category, there's Improbable, a British company that makes simulation software for video games. 
The UK leads the way
Within Europe, British companies continue to attract the most investment, with €12bn invested in the country across the last five year. The UK's followed by France and Germany.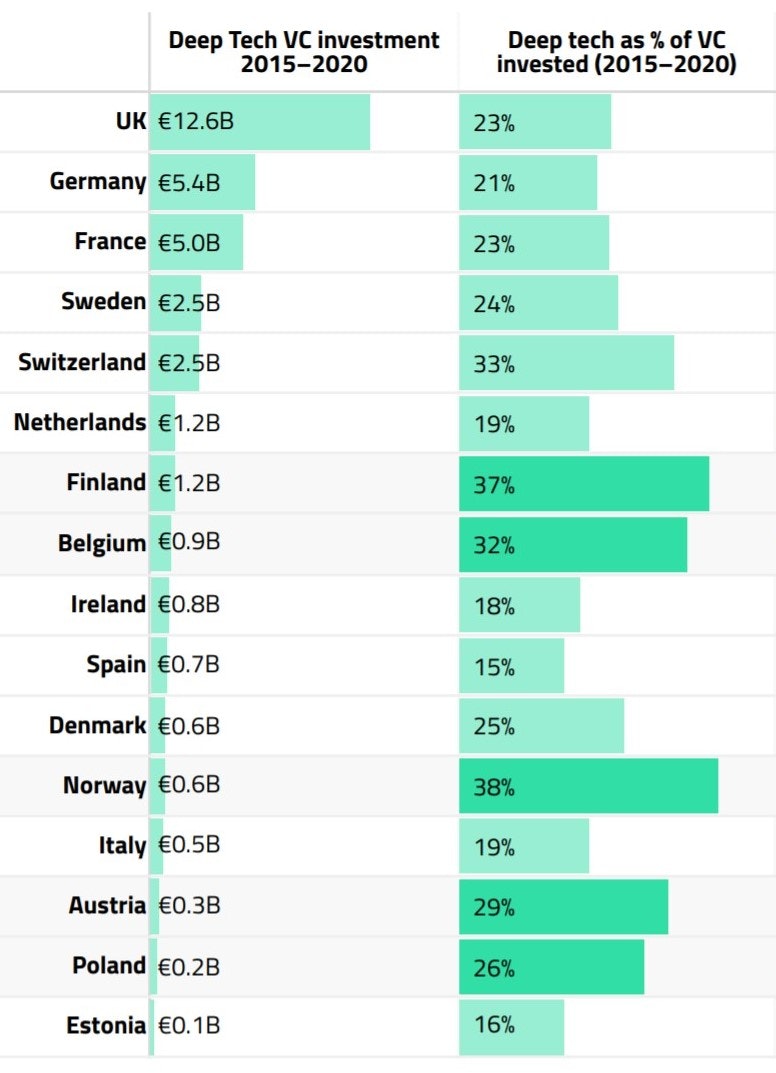 As a percentage of all investment in a country, Finland has the highest percentage given to deep tech companies, with 42% of funding going into the industry. Next is Norway, with 41% and then Austria, with 29%.
Only 24% of funding going into UK startups goes to deeptech, despite the country receiving the most overall funding for deeptech companies. 
A longer path to market
Deeptech startups take longer to come to market, usually undergoing a much longer research and development phase than regular startups. Despite this, in Europe, they have the same chances of becoming unicorns as other startups: roughly a 1 in 100 chance.
Trailing the US
Overall, Europe still trails the US in terms of investment, but it's catching up and, since 2018, has surpassed the levels of investment put into Chinese deeptech companies.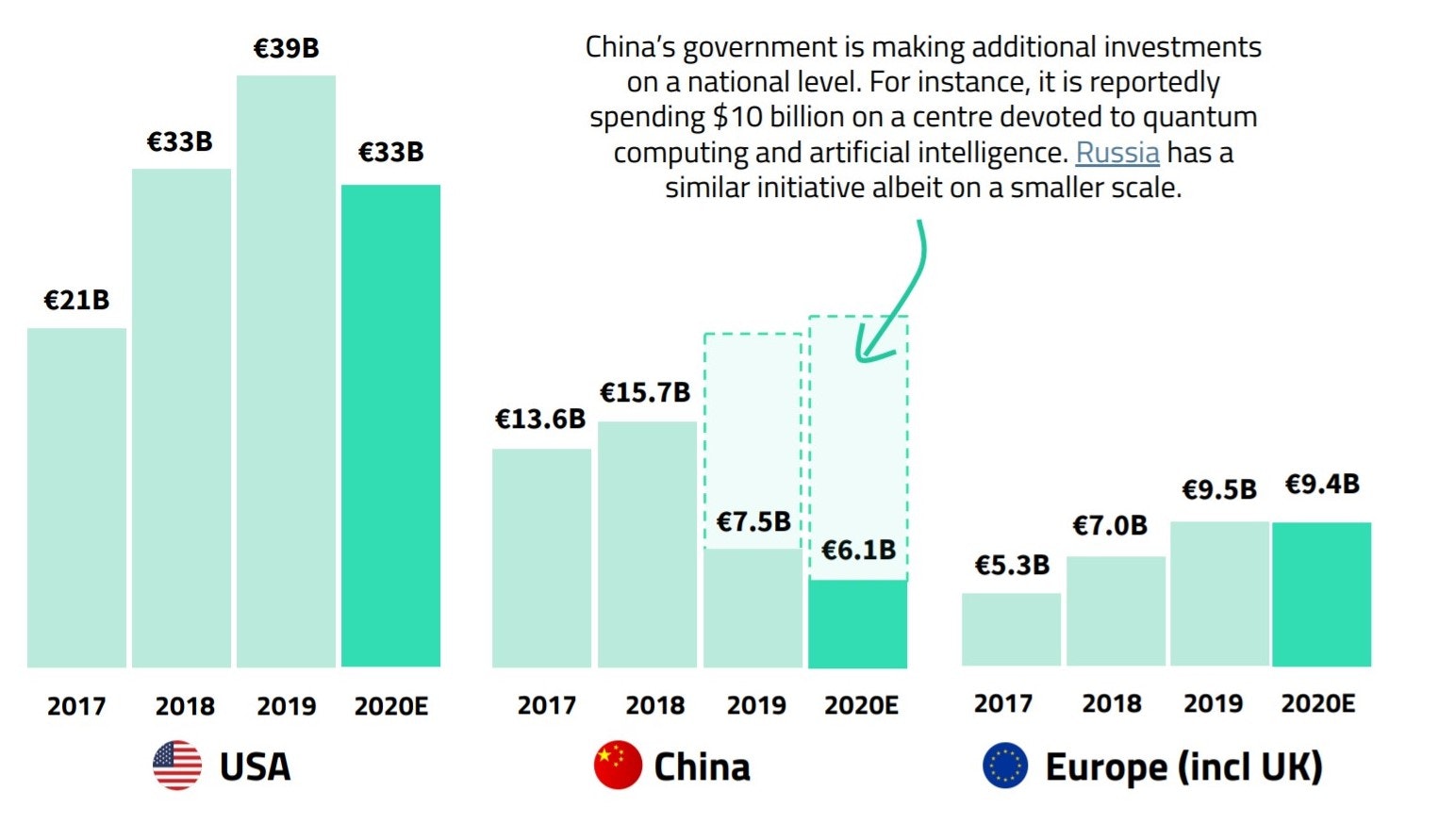 BioNtech: Europe's deeptech poster child
In Europe, there's one particular deeptech company everyone's talking about — BioNtech, which developed the first mRNA vaccine in use: the coronavirus vaccine, in conjunction with Pfizer.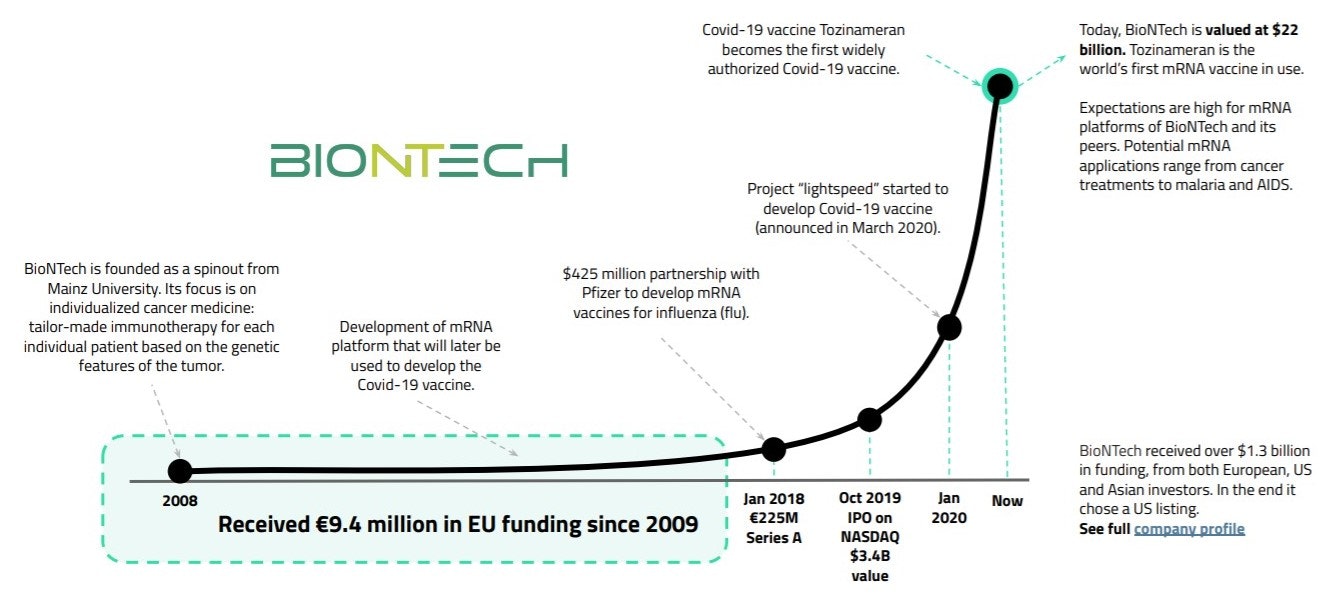 BioNtech demonstrates the possibility of European deeptech, and the richness of innovation opportunities. 
However, the company chose a US listing and was supported by investors from Asia — showing that Europe needs even more investment and government support if it's to truly capitalise off the "era of deeptech."