Updated 12.30pm: Slush have revoked Immigram's award after criticism of the startup's Russian links. Read our story here.
Members of Europe's startup community have blasted a decision to give the top prize in a prestigious pitching competition to a company with Russian founders that helps tech talent relocate to the UK.
As the winner of Slush 100, Immigram will receive a €1m investment from five top VCs: Accel, General Catalyst, Lightspeed Venture Partners, NEA and Northzone. One of the other finalists which pitched to the investors onstage on Friday was a Ukrainian startup called Zeely. 
Critics have called the decision tone-deaf, coming the same week as Russia executing a mass shelling over Ukrainian cities. Many also questioned whether international VCs should invest in Russian founders at all during the ongoing war.
Investors are now doing due diligence on Immigram and looking into the founders' backgrounds — as is common practice after any startup is issued a term sheet — and if anything untoward is revealed as a result, Sifted understands the investment will not go ahead.
Anastasia Mirolyubova, Immigram's cofounder and CEO, says that her startup has gone through an extensive selection process and rightfully won the competition. 
I'm being judged by where I come

from
"It was four or five levels of judgment. We passed from more than 1,000 applications [to a shortlist of] 100, and then 20. And then we won, the business won, the idea and the traction and what we're actually doing. And now I'm being judged by where I come from and where I don't live," she tells Sifted.  
Slush said in a statement: "Slush stands with Ukraine and condemns the Russian invasion of Ukraine. For this reason, we do not partner with Russian companies or funds or accept startup or investor applications from companies based in Russia."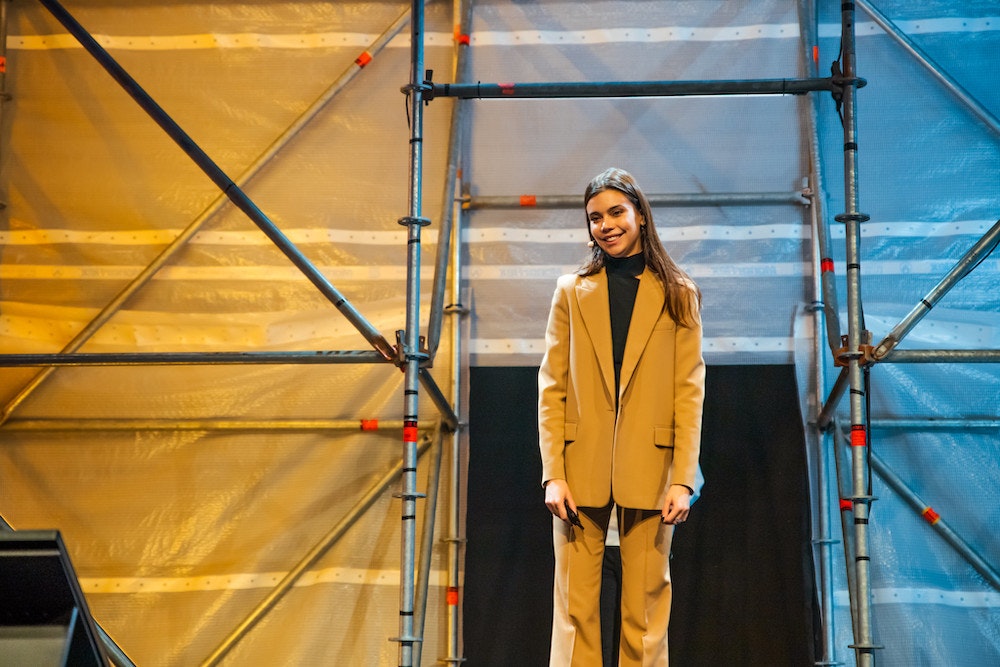 The winner
Immigram was founded in 2019 by two Russians, Mirolyubova and cofounder Mikhail Sharonov, who both relocated to the UK in 2016. It is incorporated in the UK, and helps tech talent from more than 10 countries, including Russia, Ukraine, Belarus, India and the US, apply for the UK's global talent visa. The company says that applicants from eastern Europe make up a minority of its users. 
The cofounders both hold Russian passports, but Mirolyubova has been based in the UK for seven years. Sharonov currently lives in Georgia. 
Mirolyubova said on LinkedIn on Sunday that for the last two days she'd "started getting death threats and wishes, for rightfully winning a startup competition with a wrong colour of the passport".
"The last couple of days have been very, very bumpy and very tough on me. But the majority of comments which I get are from the Ukrainians, who are currently in a very bad position, because of the Russian invasion of Ukraine," Mirolyubova tells Sifted. "I can understand their feelings. But the tendency which is happening is going more into xenophobia and racism."
She tells Sifted that Immigram "doesn't support the Russian invasion on Ukraine". In her LinkedIn post, she also said that Immigram had waived the payments for Ukrainian clients and helped buy an ambulance car for the frontline. She adds that upon receiving the investment, Immigram intends to donate $100k of operational cash to non-profits supporting Ukrainian immigrants and refugees.
The investors
One of the investors confirmed to Sifted that they are now in a due diligence process with Immigram, which should be completed in a week or two. 
It is their understanding that Immigram does not have an entity in Russia, or any employees based there, and has not taken any money from Russian investors — which was also confirmed to Sifted by Immigram. The VC would not go ahead with the investment if due diligence revealed that any of that was not true. 
The outrage began after AIN.Capital, a CEE tech news site, published images from a Russian job site seeming to show Immigram hiring for roles in Moscow. 
Mirolyubova says the company, which has a remote team, hires IT specialists in Russia but only under the condition they relocate to another country, like Georgia, Armenia or the UK. 
Slush said that the jury would thoroughly review the background of the winner, but declined to comment further on the selection criteria used in the competition. Mirolyubova says that this is the regular process and that a jury would "never" find anything that could undermine their decision. 
Sifted reached out for comment from Northzone, Lightspeed, General Catalyst, Accel and NEA over the weekend but received no response by the time of publication. 
Criticisms
The decision to award Immigram has been heavily criticised by the tech community in Ukraine, as well as in neighbouring Poland, which has welcomed millions of Ukrainian refugees since the war started and has put on particularly generous help for the displaced Ukrainian tech community.
"[The choice of winner is] sponsorship of terrorism, support [for the] Kremlin regime and the policy of cruel war in Ukraine by the Russian Federation," says Iryna Supruniuk, communication lead at TechUkraine, a Ukrainian tech group. "The situation is quickly turning into a scandal. It will definitely cause [damage to] the reputation of Slush as well as VC funds in the global tech arena. In these circumstances the organisers should change the jury's decision. I guess that Ukrainian startup Zeely absolutely deserves to be the winner."
Zeely said in a statement that it'd be "inappropriate for them to comment on the jury's decision" but added that their startup stands "in an explicit anti-Russian position". 
"A terrible, bloody war continues in our country, where our citizens are dying and we do not tolerate neutrality. We must all be unanimous. We are against cooperation with Russia in any of its manifestations," it said.
Immigram is helping people move out of Russia, which is

ambiguous
"Before investing in a Russian-associated startup, you need to make sure you are not supporting the regime and that the people you support have a clear reputation and history. Immigram is helping people move out of Russia, which is ambiguous," says Tomasz Swieboda, a partner at Inovo, a Polish VC, claiming that Immigram has been hiring in Russia and has been benefiting from Russian press coverage. "This is too much for the international VC community to support them".
"The news of their [Immigram's] employment in Russia naturally raises the question of why we are supporting the Russian tech scene right now," says Mateusz Zawistowski, managing director at ffVC, a US VC with operations in Poland which started a fund targeted solely at Ukrainian startups. 
"Slush is an event that stands for European technology — and unfortunately, Russia is a direct threat to these values. I feel disappointed in the due diligence made by these high-profile investors, especially given the current escalation of Russian violence in Ukraine, including actions against civilians," he added. (Numerous side events at Slush were held in support of Ukraine.)
"I don't want to judge if it's a good or a bad business," says Borys Musielak, founding partner at SMOK, a Polish VC. "But recognising a Russian startup, which is currently hiring in Moscow, at such a serious event, with the applause of top VCs… it's not only a PR shot in the foot, but most of all, a very real shot in the back of the Ukrainians."