Ibrahim Ouassari is an anomaly in Belgian tech circles — a school dropout and self-taught techie whose life and work is steeped in a side of Brussels that, until recently, many didn't know about.
"I was a real loser in academia, and in most of the jobs I ever had; I failed everywhere and left school at 13. But now I've built the school of my dreams," Ouassari said in an interview.
As cofounder of the coding school and tech incubator MolenGeek — located in the Molenbeek district in Brussels — Ouassari says the positive attention for his hub has been "a nice revenge" for residents of the previously maligned neighbourhood.
Started in 2015, MolenGeek has grown into a small sensation, earning visits and rave reviews from tech luminaries like Alphabet CEO Sundar Pichai, French president Emmanuel Macron, and even the king of Belgium.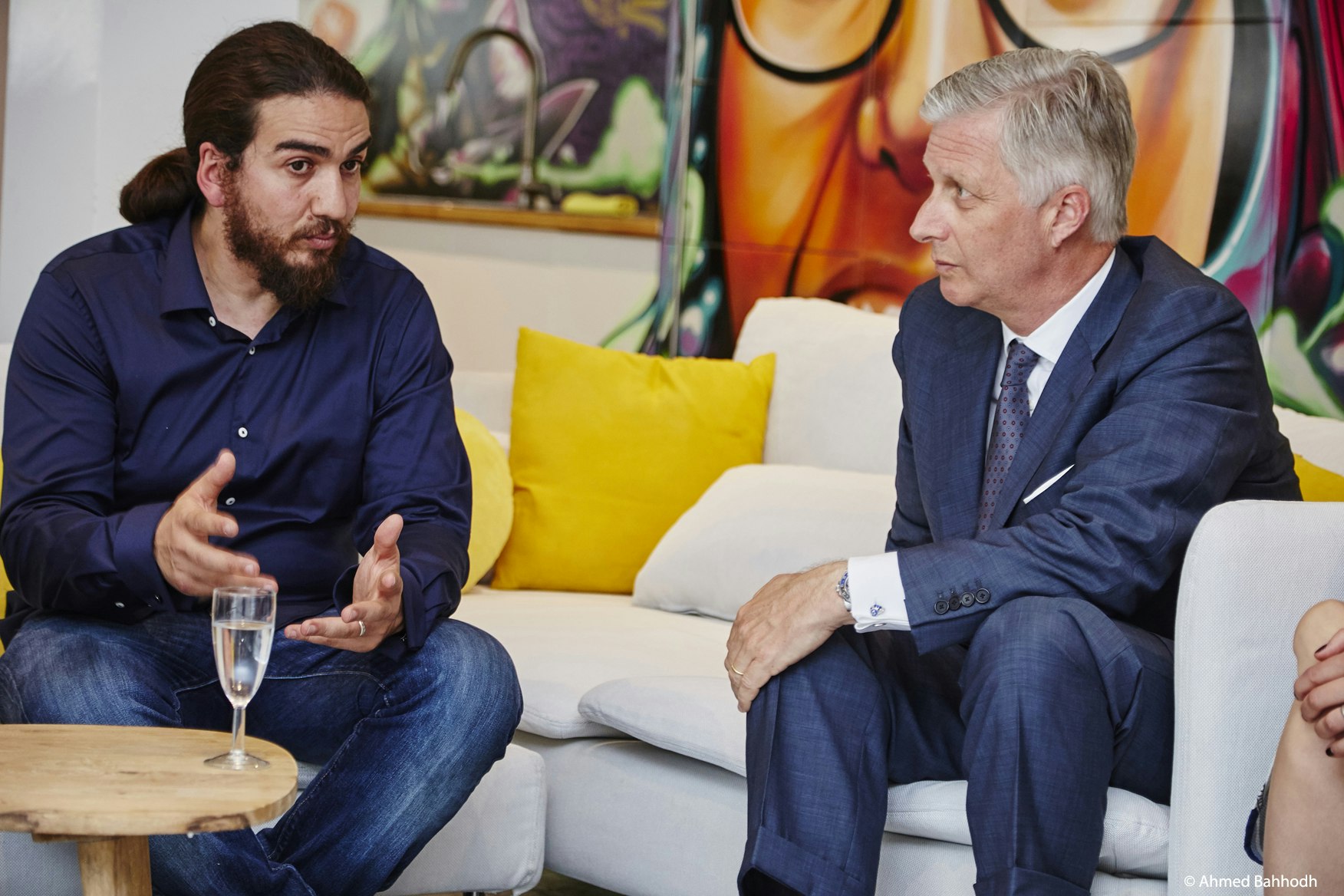 Tech companies have poured money into the centre, and allowed Ouassari, the 42-year-old Belgian-Moroccan entrepreneur, to offer free programming classes to students from the country's poorest backgrounds.
Ouassari's fortunes mirror those of Molenbeek, which has come a long way since 2015. Back then, what felt like every major media outlet in the world descended on the neighbourhood of almost 100k to write about how it was the European capital of jihad.
Some of the deadliest terror attacks in Europe's history had just been carried out in Paris by extremists, many — to the dismay of residents — from Molenbeek. Amid the painful fallout, Belgian people of North African origin reported suffering from stigmatisation and discrimination.
'A nice revenge'
Yet six years on, and the perceived failures of the neighbourhood are no longer obsessed over in the same way.
Sifted Newsletters
Sifted Newsletter
3x a week
We tell you what's happening across startup Europe — and why it matters.
A once-notorious postcode has seen a gentrifying clutch of artists' studios, cafes, youth hostels and retrofitted warehouses move in. Authorities hope the influx of young creative types will, in time, see Molenbeek gain a reputation as a hub of cutting-edge arts.
"I was born here; lived all my life here. We launched our project in April 2015, before the Paris terror attacks. Molenbeek's reputation is not my problem — I don't work for the tourism office — but if I can give this place a better image, that is really cool. This is a side effect, this is not my mission," Ouassari said.
Before, everyone came to see the problem. Now they're coming to see the success," he

said.
"My mission is to stay focused on [disadvantaged] people. And for a lot of people who live in Molenbeek, when you have the CEO of one of the biggest tech companies in the world come here, when you see Emmanuel Macron come here, the king come here, it is a nice revenge."
"Before, everyone came to see the problem. Now they're coming to see the success," he said.
The longhaired Ouassari, who talks with big, enthusiastic gestures, is now one of Belgium's most recognisable tech figures. His journey includes a number of false starts — after brief spells as a mechanic, a bus driver and a hairdresser, he found a steady career in IT engineering, and later working with young people.
His goal in life is to offer an alternative for those who want to get ahead but find the traditional route closed off. "What gives me electricity is when a young person finds a job or starts a company after coming here," he said.
An education buffet
Like the 42 coding school in Paris, founded by tech billionaire Xavier Niel, there are no lectures or teachers per se at MolenGeek, only group projects and coaches. Use of the incubator is free; the only condition is that those who use it volunteer some of their time towards helping others.
School is like a set menu where you have to eat all the food — here it's a buffet, and you get to sample the food you

like.
"We take two problems — a lack of tech and kids with no academic qualifications — and make a solution," said Ouassari. "We like active, collaborative learning. Here you get to do the tech things you really want to do. School is like a set menu where you have to eat all the food — here it's a buffet, and you get to sample the food you like."
Quirky energy runs through MolenGeek. The walls are splashed with graffiti images of Iron Man and South Park's Kenny. A giant image of Yoda holding a smartphone looms over the sink in the kitchen. At least one coach is sporting a Guy Fawkes face covering.
The masks aren't coming off yet — at time of writing, MolenGeek's incubator was still closed. There are still some on-site classes, but the pandemic has shifted much of the hub's work online.
The "real stamp of approval" for MolenGeek came in January 2020, when Alphabet's Pichai came to visit, said Ouassari. "He talked about me [to leaders] in Brussels, in Davos, and wrote about me in Wired. It was incredible." The tech CEO also gifted the hub with a €200k cheque.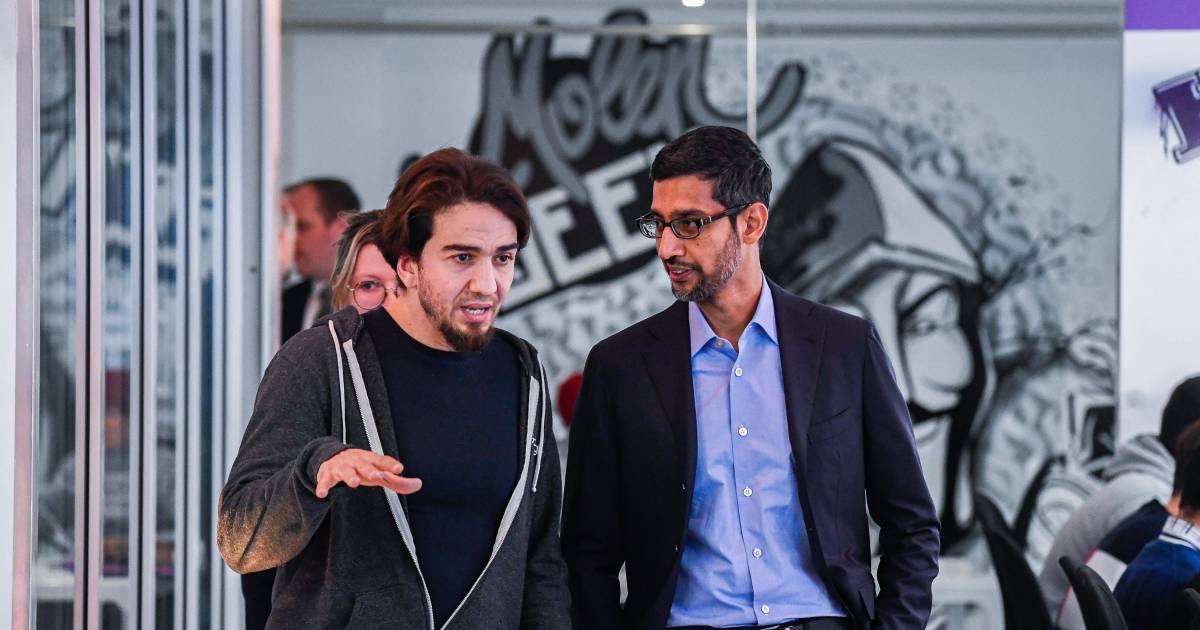 Bigger ambitions
Given the chance, Ouassari would introduce his model to every school in the country. "I'd love to change the system but I know it's a very complicated thing to do. Education is a big ship, whereas MolenGeek is a jet ski."
The economy is changing; education needs to adapt too, he argues. "Companies say there is a big gap between skills and needs. It's why they support us — because we stood up to take responsibility for [an overlooked part of] society," he said.
"In 10 years, you'll have taxi and bus drivers without jobs; we need to retrain these people now. We need to change the school that creates people to work in manufacturing, because some day we will not have many manufacturing jobs."
Existing institutions — many under-resourced — are failing to train students in skills that are in demand, said Ouassari, who points out that many kids couldn't participate in remote learning during the pandemic because they lacked the necessary devices or stable internet.
MonlenGeek coaches promote virtues of entrepreneurship and creative thinking. Students are encouraged to help each other ("Schools would probably call this cheating," said Ouassari).
The MolenGeek methods make kids more innovative and more useful to the Belgian economy, argues Zaki Chairi, one of the hub's digital marketing coaches. Chairi, who previously worked in a school, said coming to MolenGeek helped him "rediscover my love of teaching."
We don't have role models from the business and tech worlds. Around here, we don't have the 3Fs [friends, family and fools] to give people

money.
Diversity fund
Ouassari's next mission is to create a fund to tackle some of the chronic inequalities in the Belgian tech world. While Molenbeek is overcoming many of its negative stereotypes, the quarter is still lacking startup stars, he said.
"We don't have role models from the business and tech worlds. Around here, we don't have the 3Fs [friends, family and fools] to give people money. I want to help black people, Arabs and women get to the Series A round of funding," he said.
Ouassari also vows to develop new MolenGeek clones, including one in the ex-coal and steel city of Charleroi, home to some of the highest unemployment rates in Belgium. "When we see unemployed people, we never see it as a problem. We only see potential."