Marc Andreessen defined an era when he famously declared eight years ago: software is eating the world. But as British entrepreneur Ian Hogarth tucks into his egg, bacon and shiitake mushroom noodles in the Soho eatery Koya, he suggests that the American venture capitalist's mantra needs an update.
"I would say if software is eating the world, then machine learning is going to eat software," says the AI expert, angel investor, and founder of the concert discovery app Songkick. "I think it's going to be the meta-technology that drives everything."
It is worth Sifted readers tuning into what Hogarth thinks. Not only is he the founder of Songkick, which was part-acquired by Warner Music Group in 2017; he is also one of the most active angel investors in the AI sector, having backed some 40 startups. He spends a couple of days a week meeting fellow entrepreneurs and discussing new business applications for AI. "Just hanging out with founders is kind of like they're my people and it just energises me in a way that most other things don't," he says.
The intense and restless entrepreneur has eclectic interests and an unusual career path. After studying AI at Cambridge University, he went off to Beijing to learn Mandarin. After a stint in a management consultancy in Singapore, he founded his own company. Hogarth is also one of the most thoughtful writers around exploring how AI is beginning to impact our politics and societies. His essay AI Nationalism is well worth a read. As a further sign of his expanding academic interests, Hogarth has just become a visiting professor at the Institute for Innovation and Public Purpose, the radical economic school founded by Mariana Mazzucato at University College, London.
Machine learning is entering a new era
The cosy Koya cafe seems a somewhat sleepy venue on a Monday morning as the chefs amble around the open kitchen. But the conversation heats up on our side of the bar as we plunge into the vexed issue of Brexit. Although he voted Remain, Hogarth suggests there is now a real opportunity to shake up the way Britain is run, preparing the country for the disruptive new age to come. He has been spending time with Dominic Cummings, the mercurial strategist behind the Leave campaign, discussing how to reinvent political institutions in the age of AI. "We're this tiny country with some of the most important assets in the world when it comes to frontier technologies," he says. "And we're now in a state of flux when new things are being considered and may be possible."
As I sip my nutty green tea, I ask him about the history of Songkick, which is used by 17m music fans today to track their favourite artists and book concert tickets. (Hogarth's favourites: Outkast, Dizzee Rascal, Mob-D, and Kanye).
Hogarth founded the company in 2007 alongside Pete Smith, his best friend from university, and Michelle You, a fellow Chinese language student in Beijing. Back then there were very few startups in London and even fewer VCs. They started off bootstrapping the business, running down their personal savings, living in a cheap flat, and making sandwiches for lunch. His co-founder You described their approach as "feral entrepreneurship".
But a stint at the Y Combinator programme in Boston accelerated the company's development and helped it raise money. By 2009 Songkick had taken off as increasing numbers of music fans used the site to track their favourite artists and buy tickets to their latest gigs. A 50:50 merger with the CrowdSurge ticketing business in 2015 allowed Songkick to scale quicker and enabled Hogarth to step back from frontline management.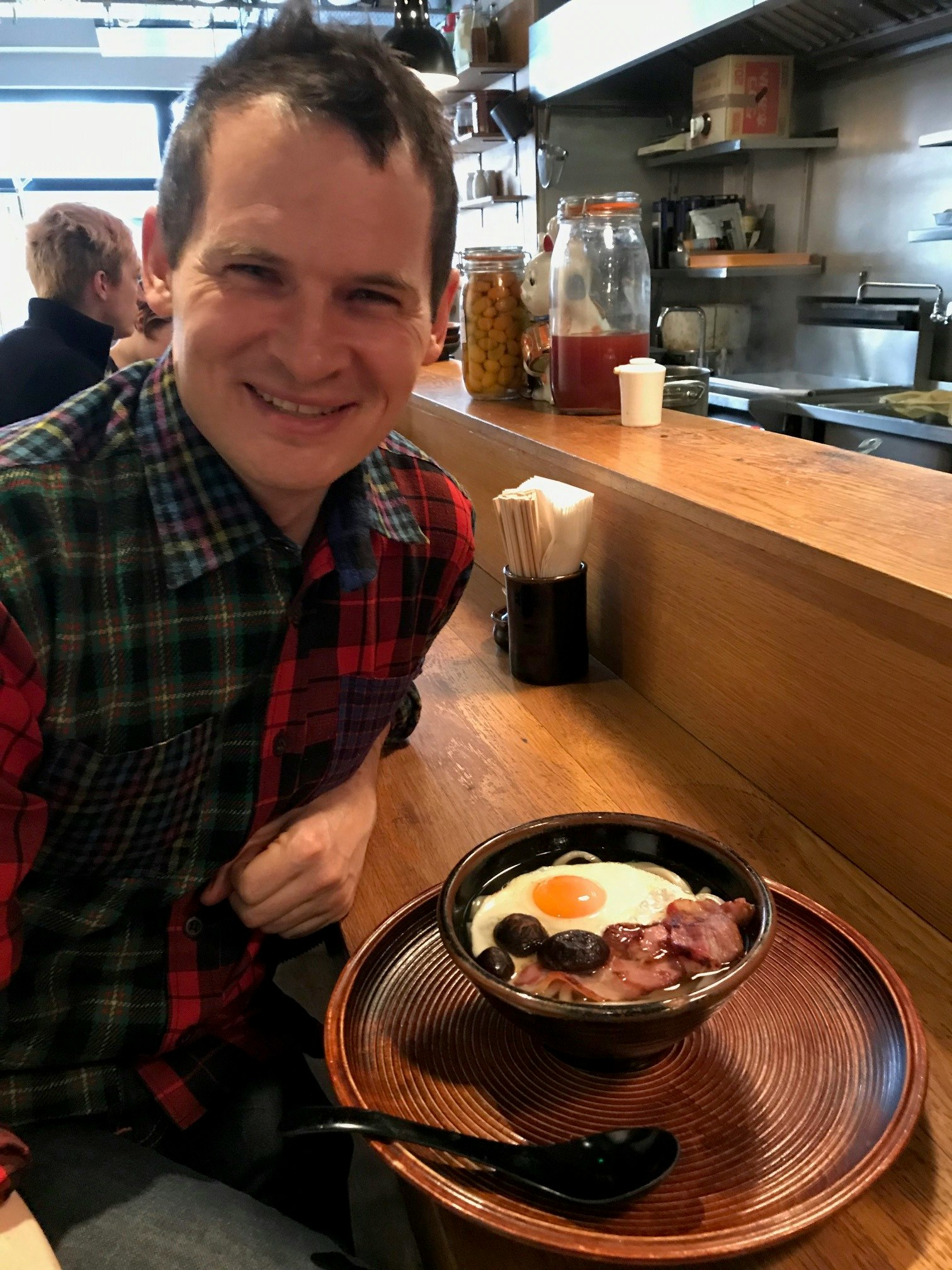 Investing in AI and machine learning for the future
Koya offers an interesting array of fusion brunch-fare, combining Japanese classics with British twists. As a traditionalist, I had opted for the Japanese breakfast (see above). As I struggle to wrestle the flesh off a dry fish with my chopsticks, I ask him what lessons he learned from his startup experience that might benefit other entrepreneurs today.
Ever the technologist, Hogarth says he used to pore over user data to analyse what was happening in the business but learned from You about the importance of talking with real people. "I think the data you get from interviewing a user about your products is incredibly high bandwidth data. It makes the most of the exquisitely subtle pattern recognition that is our brains," he says.
Later, Hogarth was to experience the downsides of entrepreneurial life when Songkick was dragged into a bruising antitrust battle with Ticketmaster in the US, even though he was not directly involved in the business by then. To finance the lawsuit, Songkick sold the app side of its business to Warner Music Group. In January 2018, two weeks before the case was due to go to trial, Ticketmaster settled for a record $130m.
"It's a very hard thing to go through a lawsuit like that where you're being deposed and every single document you ever sent is being scrutinised," he says.
Having stepped back from Songkick, Hogarth has been increasingly looking to invest in AI startups, committing small amounts of money (in the £5,000 to £10,000 range) and offering advice.
He says he is particularly interested in how financial services companies are applying machine learning as they move from the offline into the online world. Good examples of that trend, he says, include Nested in estate agency, Trussle in mortgages, Cleo in personal finance, and Tide in SME banking.
In the US, he is interested in Ovipost, which applies machine learning to increase the productivity of insect farming, and Persephone Biome that is using machine learning to better match microbiome therapeutics with cancer drugs. He has dabbled in robotics too, investing in Avidbots, a Canadian company that makes industrial cleaning robots.
He is also keen on startups that try to address the big environmental challenges of our age such as Fat Llama, the marketplace for renting goods.
As an investor, Hogarth says he is looking for two things: technical expertise and a knowledge of market dynamics. It is vital to understand how much power the incumbents wield and how money moves around a market. "Is there an opportunity to really unlock a lot of value in a big market and capture some of that value?"
"I think the reality is that technology is so global now that if you have a really great idea, you are competing with all the teams in the world going after the same thing."
The political economy of machine learning
Hogarth's tussle with the US legal system also triggered an interest in how politics, economics and technology are intertwined. He says Mazzucato's book, The Entrepreneurial State, upended his entire world view revealing that he was standing on top of an enormous bedrock of knowledge created by the state, led by visionary politicians and researchers. "Mariana has this lovely line where she talks about how industry and government co-create markets, and I think that is a nice way to put it."
In particular, Hogarth is fascinated by the political economy of machine learning, which he sees as the technology transforming our age. "I think it is the ultimate expression of what you can do with a transistor," he says.
"The idea of intelligence becoming abundant is such a transformative idea that I think it will supersede all other aspects of this technological revolution, whether it be blockchain or Internet of Things or the internet in general or genomics."
One way of looking at AI, he says, is to regard it as a global public good, which could massively benefit humanity. He is particularly intrigued by the concept of open source software, such as GitHub, which is as widely used in China as it is in the US or Europe. One project he is working on is to build "something that looks a bit like, for want of a better analogy, the Linux of AI."
"Machine learning does lend itself to very dystopian and utopian potential outcomes, and I think it's incumbent on people who have an understanding of the domain to really push hard on those utopian paths."
Although Hogarth was true to his "demographic", as he puts it, and voted for Remain in the 2016 referendum. But he argues that the referendum result has perhaps created a once-in-100-year opportunity to transform the country's political institutions. The ambition should be to create better mechanisms for stimulating innovation, balancing national and global interests, and distributing more of the economic gains to the edge.
"The optimist in me thinks if we can, as a country, figure out how to transform ourselves for the better Brexit might end up weirdly being seen as a necessary cost of us moving to be a far greater global leader."
It is a cheery thought on which to end our meal and head out into the crisp spring sunshine of Soho.