In late August, mobile gaming developer Huuuge Games announced that it had submitted an IPO prospectus to the Polish financial market regulator. The listing, if and when it happens, could ultimately help to create a new Polish unicorn and further elevate the country's gaming sector, which has seen rapid growth in recent years.
"I could not be more excited [about] what is ahead of us. The next chapter," Anton Gauffin, Huuuge's founder and chief executive, tells Sifted in a recent interview.
Huuuge's potential IPO is just the latest sign of strength for mobile game developers, as well as the Polish gaming industry, which along with Huuuge includes major players like 11 bit studios, Ten Square Games and CD Projekt (the latter having seen its market capitalisation grow by almost 20 times over the last five years, to around $7.63bn).
According to a report by the Polish Agency for Enterprise Development, Poland's video game industry has around 440 studios as of 2019, and almost 10,000 people working in the sector, with combined revenue of just under €480m.
Game developer People Can Fly, which helped make Fortnite, also filed a prospectus earlier this year to list shares on the Warsaw Stock Exchange.
"We benefit greatly from our presence in Poland, which has a deep talent pool and is a global gaming hub," says Gauffin. However, he adds that the company also employs people from over 27 countries "which allows us to create an inclusive and diversified environment".
All mobile, all games
The mobile gaming market is booming, and Huuuge has been riding that wave.
According to game analytics and market research company Newzoo, the global gaming market will generate revenue of $159.3bn in 2020, with mobile gaming accounting for almost half of that ($77.2bn), having grown 13.3% year on year.
Some experts predict that the global mobile gaming market will be bigger than the music market within the next two years, and will be snapping at the heels of the film market in terms of home entertainment and box office.
"I think the big picture is kind of really important," says Gauffin.
"There are 2.9bn people who have a smartphone and some 2.5bn playing free-to-play games," he says. "Gaming has already become such a mass market thing with people around the planet, globally, all the time, spending more time and more money on collectively on enjoying and playing games."
Huuuge now has more than 200m player interactions, as well as 200,000 clubs created by an active network of gamers from 195 countries.
"Our industry has very low barriers to entry, but high barriers to success and there are many small-but-talented game developers around the world hoping to develop the next billion-dollar game, just as we did, all those years ago," he says.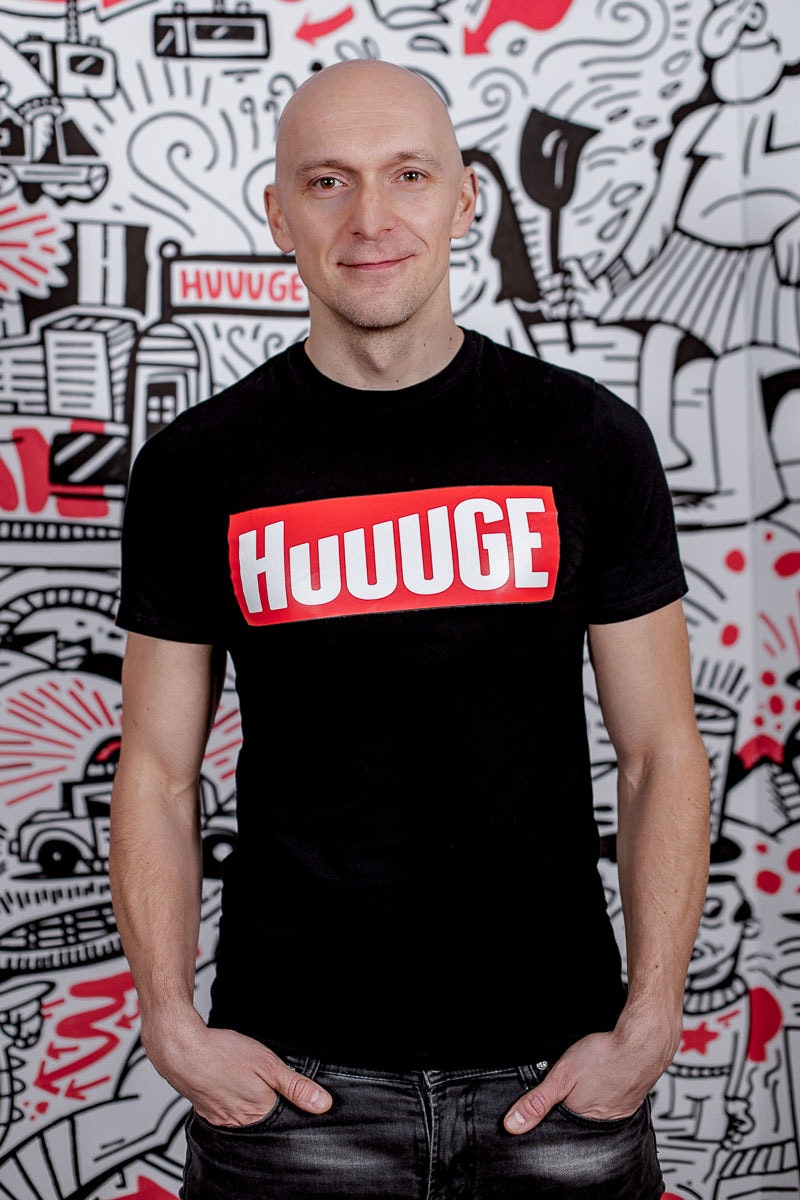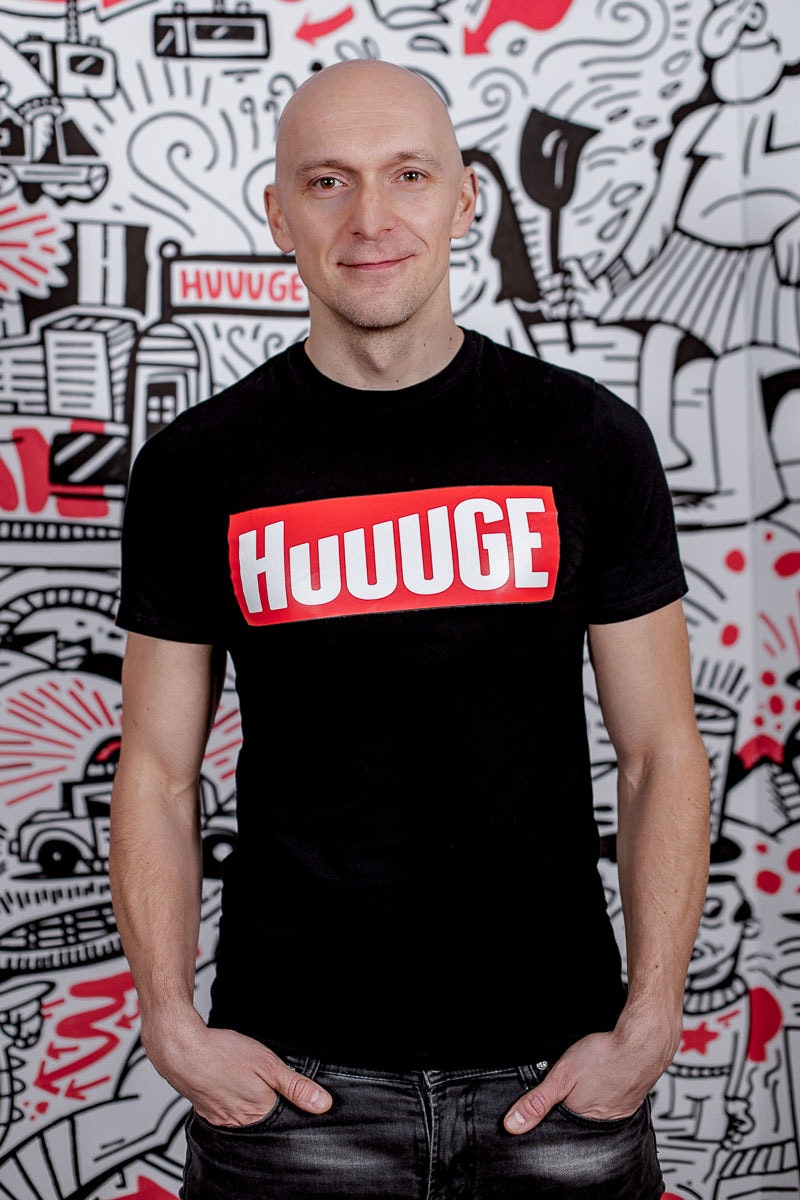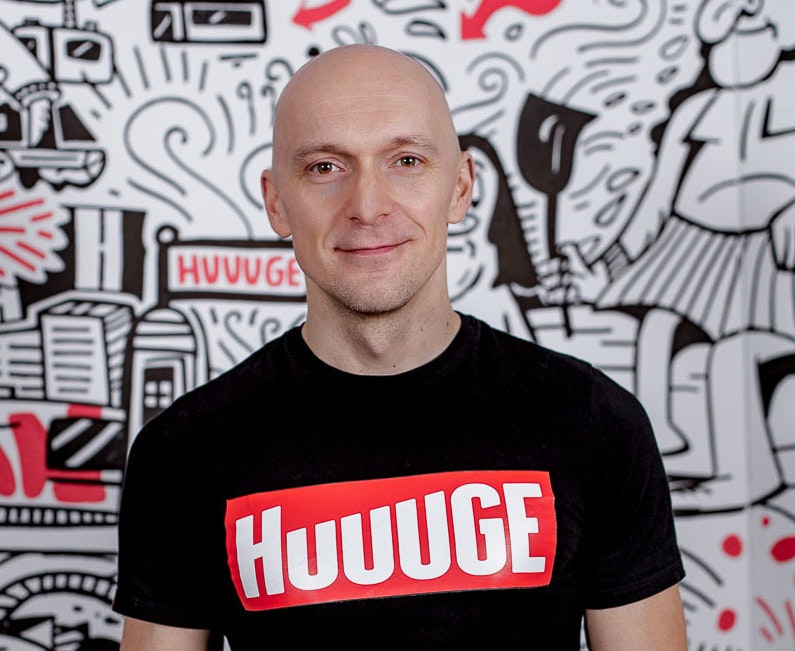 Walking away, and then returning
Huuuge's path has been a convoluted one. Gauffin founded the company, then called Gamelion, back in 2002, but sold his stake in 2007 and took some time off in the US (he's originally from Finland, but moved to Poland in 2005 as he searched for programmers for the company).
However, he says that shortly after making the move it became clear that the challenge was missing. "My competitive nature was ready to tackle something big," he says. Meanwhile, the iPhone had been released, and mobile gaming had begun to explode across the globe.
Gauffin would return to head the company in 2014, at a time when the business was not doing well. "When I came back the company had no money, so I was in an instant fight. I was told I needed to fire half of the team," he says. Instead, he marched in and said the fight was on.
The results were impressive. Huuuge generated revenue of around $260m in 2019, and now employs over 600 people in 12 offices around the world (four of them in Poland).
The pandemic has also helped gaming companies to grow their reach. "Our business has been resilient in the period of the pandemic. Especially during lockdown we have seen the popularity of mobile gaming increase as players spend a greater amount of time on our games and we expect this trend to continue while quarantine restrictions remain in place."
Develop, grow, acquire
Huuuge is not resting on its laurels when it comes to fundraising, nor developing and acquiring new games and talent.
"Today we are at a point where we have a strong pipeline of both internally and externally built games and all this further underlines Huuuge's ambition of becoming one of the biggest social gaming companies in the world," says Gauffin.
The company launched Huuuge Publishing and Coffee Break Games in 2019, to expand into new mobile casual sub-genres, and has already signed agreements for five games in the puzzle, simulation and action role-playing game (RPG) sub-genres.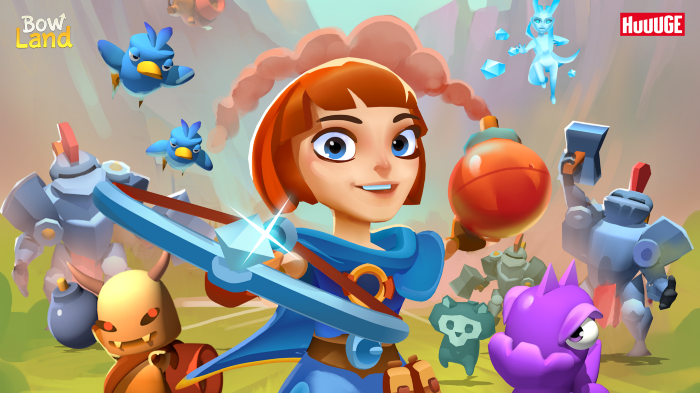 It's also continuing to acquire new titles and studios. This year alone Huuuge has acquired Playable Platform, a Dutch advertising startup that develops interactive and playable ads, and Finnish mobile game developer Double Star. It has signed a publishing deal for Chess Star, the first mobile title powered by Pakistani platform Turbo Labz, as it looks to expand into new markets and sub-genres.
"We aim to focus our merger and acquisition activity on mobile free-to-play games or developers and targets with additive competencies in technology or user acquisition domains," says Gauffin, adding that there are different rationales for each purchase but a lot of it is about the team and alignment with what they do and where they want to go.
New technologies
Gauffin is bullish on new technologies in the gaming space, though he doesn't think that mobile gaming will be knocked off its perch any time soon.
"I don't think there's anything coming too fast that will take the crown from mobile devices, because I think that continues to be more and more the central device of our lives," he says. "But there might be complementary interfaces, VR and that sort of stuff, and that's super exciting."
"Virtual reality, it's like the hype curve, maybe we had too high expectations as an industry about VR, but the ultimate promise of VR is very compelling," he adds. "So far if you just look at the absolute stats the install base has been built too niche, so it wouldn't have made sense for us to put too much of our focus on these new and upcoming things, but I think it's super important for us to be awake all the time."
To IPO or not to IPO
Regarding the potential IPO, Gauffin says that as an entrepreneur it's been part of his life goals. "I was doing day trading in stocks in 2000. In those days I kind of learned IPOs, and I thought that an IPO was super exciting. Back then I could only hope for that one day I would have the chance to do something like that."
However, he adds that an IPO is only one strategic possibility that Huuuge and its shareholders are considering. "We filed the prospectus, but no final decision about whether to undertake an IPO has yet been taken." He adds that people shouldn't pay too much attention to market speculation.
Whatever they do next, Gauffin's optimistic about the future.
"We have a great team and have never been better positioned to swing for the fences and accomplish the exceptional. We are very excited about the future."