Back in August, Sifted launched our very first interactive map, the UK Startup Explorer, which lets you virtually 'travel' around 21 of the biggest startup hubs in England, Scotland, Northern Ireland and Wales.
Using data from Dealroom and Tech Nation, and created in partnership with Microsoft for Startups, this map dives deep into useful things like funding, regional resources such as universities and accelerators, local financial support and even quality of life. 
There's also a breakdown of diversity and access to VC funding across the UK using data from Extend Ventures, a not-for-profit organisation with the goal of helping diverse entrepreneurs turn their ideas and visions into successful companies.
You might have seen it, and wondered what it is, how to use it or if it's relevant for you. Or maybe you haven't seen it at all yet, in which case, here it is.
These are just a few ways you can use it:
VCs looking for the next big thing
London has long held the crown of the UK's investment capital — and for good reason. You can't swing a stick without hitting any number of startup HQs, international talent, accelerators and universities. 
But London's not the only city catching investors' hearts — and wallets. Cambridge, Bristol, Edinburgh and Oxford are amongst Europe's top cities for investment, and Manchester is Europe's fastest-growing tech city.
As you enter the map overview, you can hover over each region to see how much tech investment each received in 2020, according to Dealroom. Using the toolbar on the left, you can also see this broken down by sectors — such as fintech, climate tech or robotics — and compare up to three regions at once.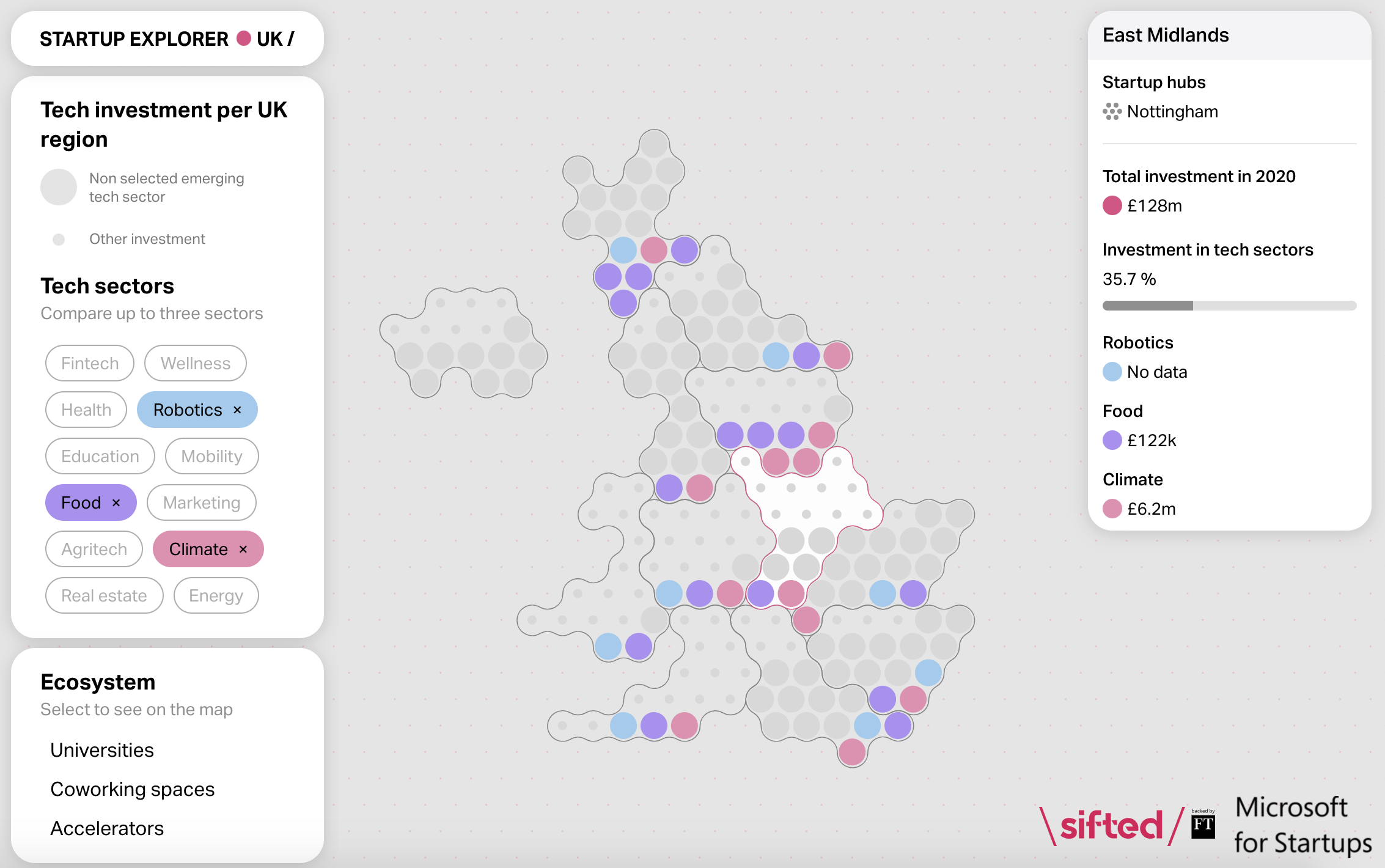 Want more? If you click into a particular region, such as Scotland, you're then able to see not only the same tech sector comparison on a city level but also a historic breakdown of investment per tech sector in the region over the past five years.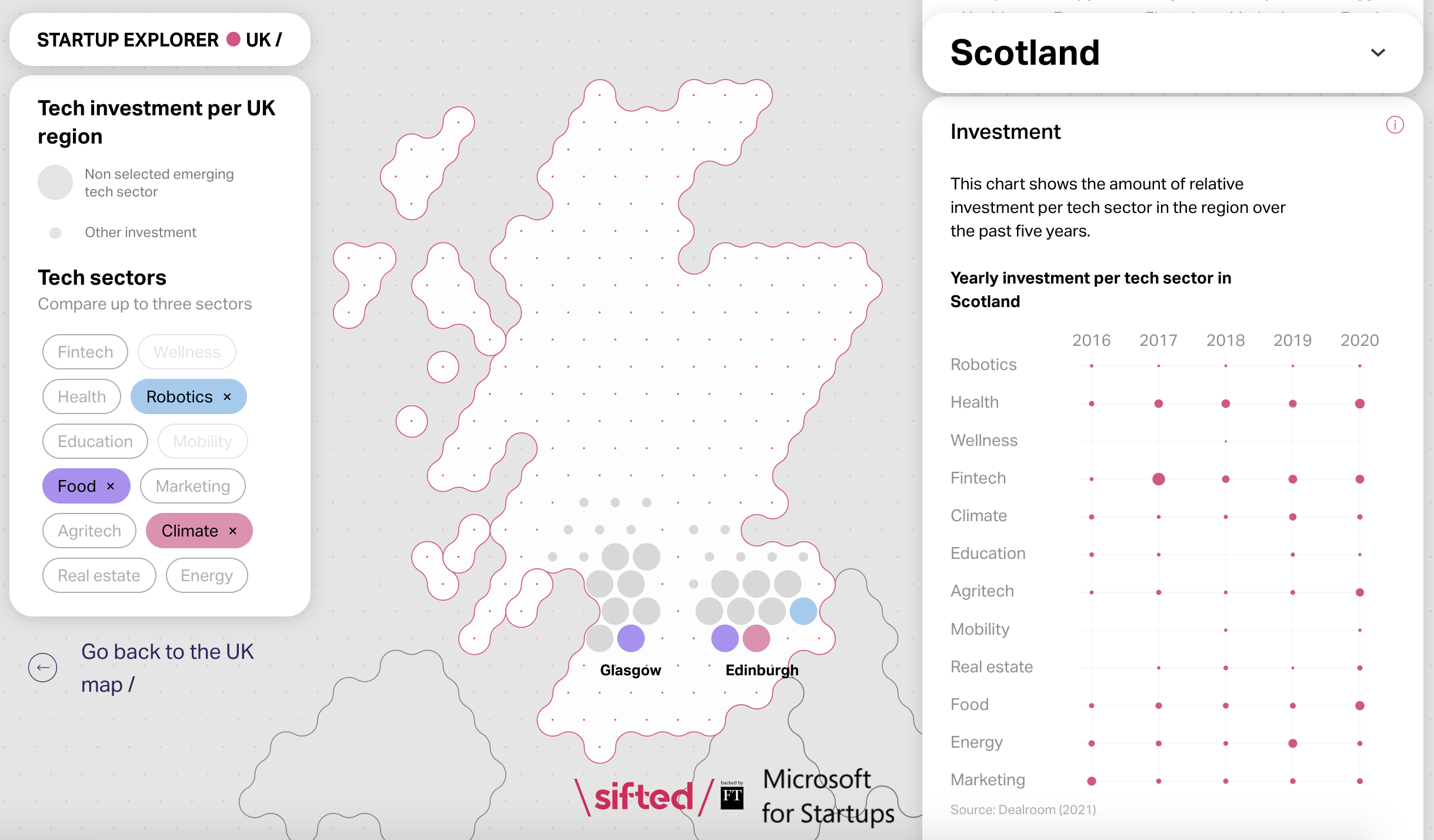 If you'd like to know more about sector hot spots in terms of the number of regional active companies, you can see an overview on the homepage, as well as each region's top five sectors in the regional panel.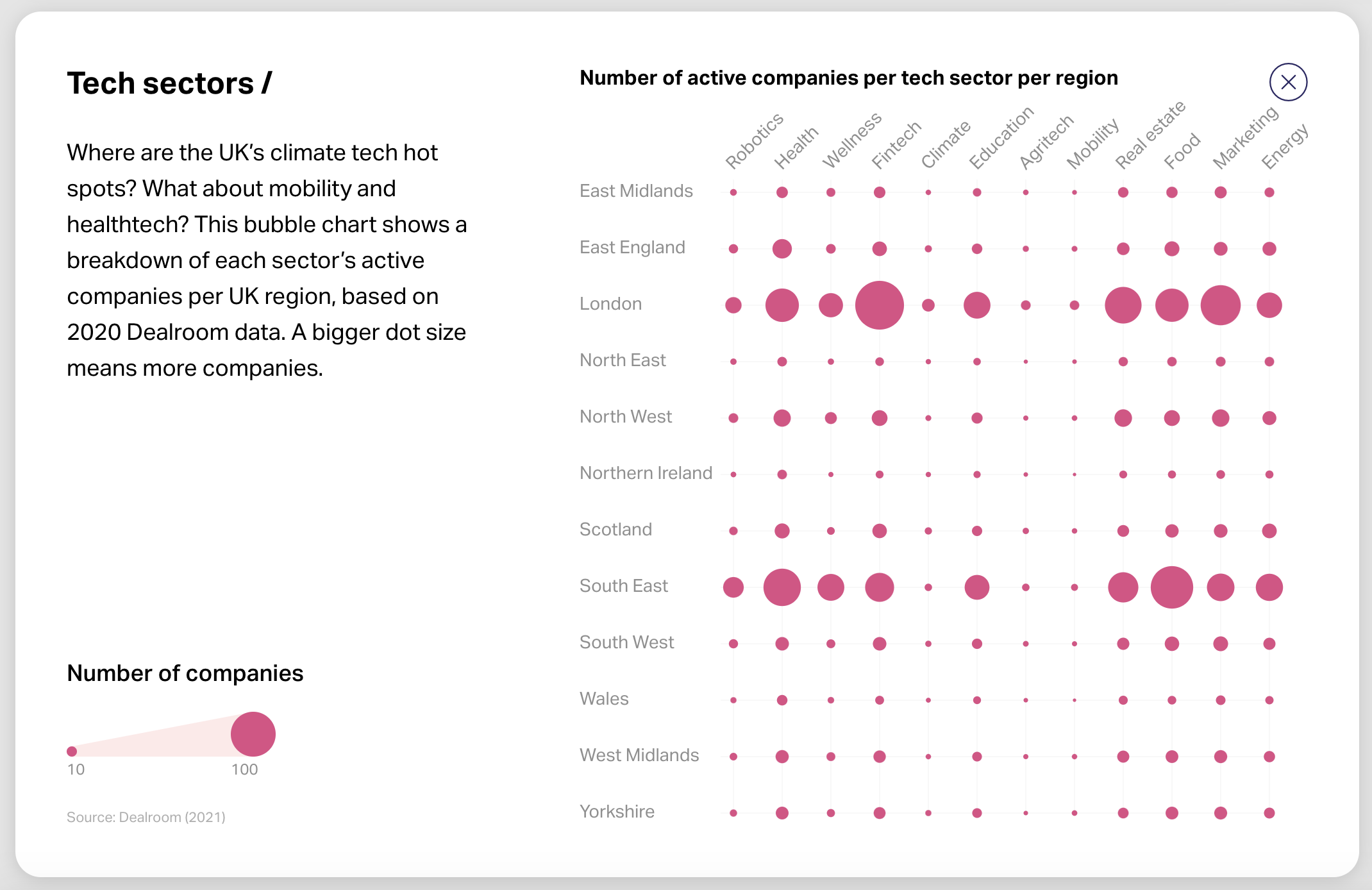 Cool right? It also works on mobile, so you can play around with it while pretending to work.
Founders looking for local resources
For founders based out of capital cities, it can be difficult to find a centralised point of information about local support, resources and networks. Throw in a pandemic, and you've got yourself a real challenge.
Clicking around the map, you'll find resources like events, organisations and local investors and financial support.
To bring the data to life, we also hosted the UK Ecosystem Assembly, a day of panels all about the most pressing challenges today's startups face featuring founders from Belfast to Bristol.
Panel topics include navigating local government support during times of crisis, what resources underrepresented founders really need and how to set up a social enterprise. Each talk is embedded in the regional panels.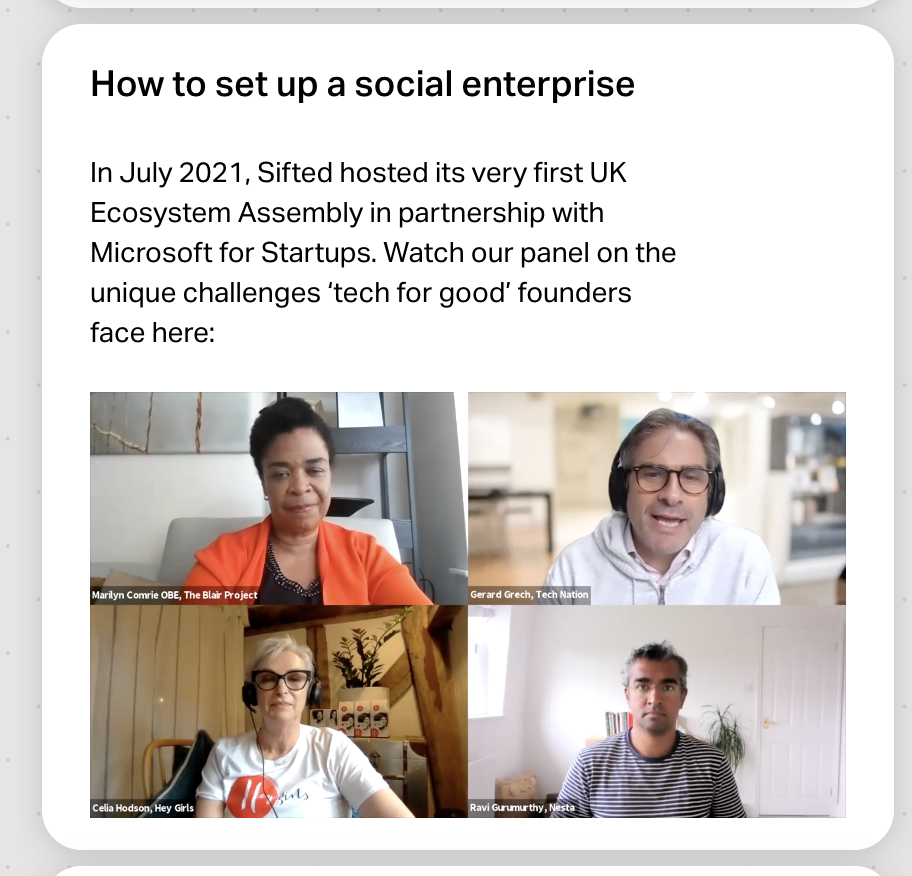 For founders looking to relocate to areas with more tech talent, we've also gathered data on each region's universities, research centres and science parks.
Talent looking to relocate
Whether you're early in your career or want to make a mid-career change, things like salary, cost of living and local green space can make a difference.
That's why we've developed a quality of life radar chart that lets you compare regional factors such as monthly rent, the cost of a meal for two and CO2 emissions at a glance.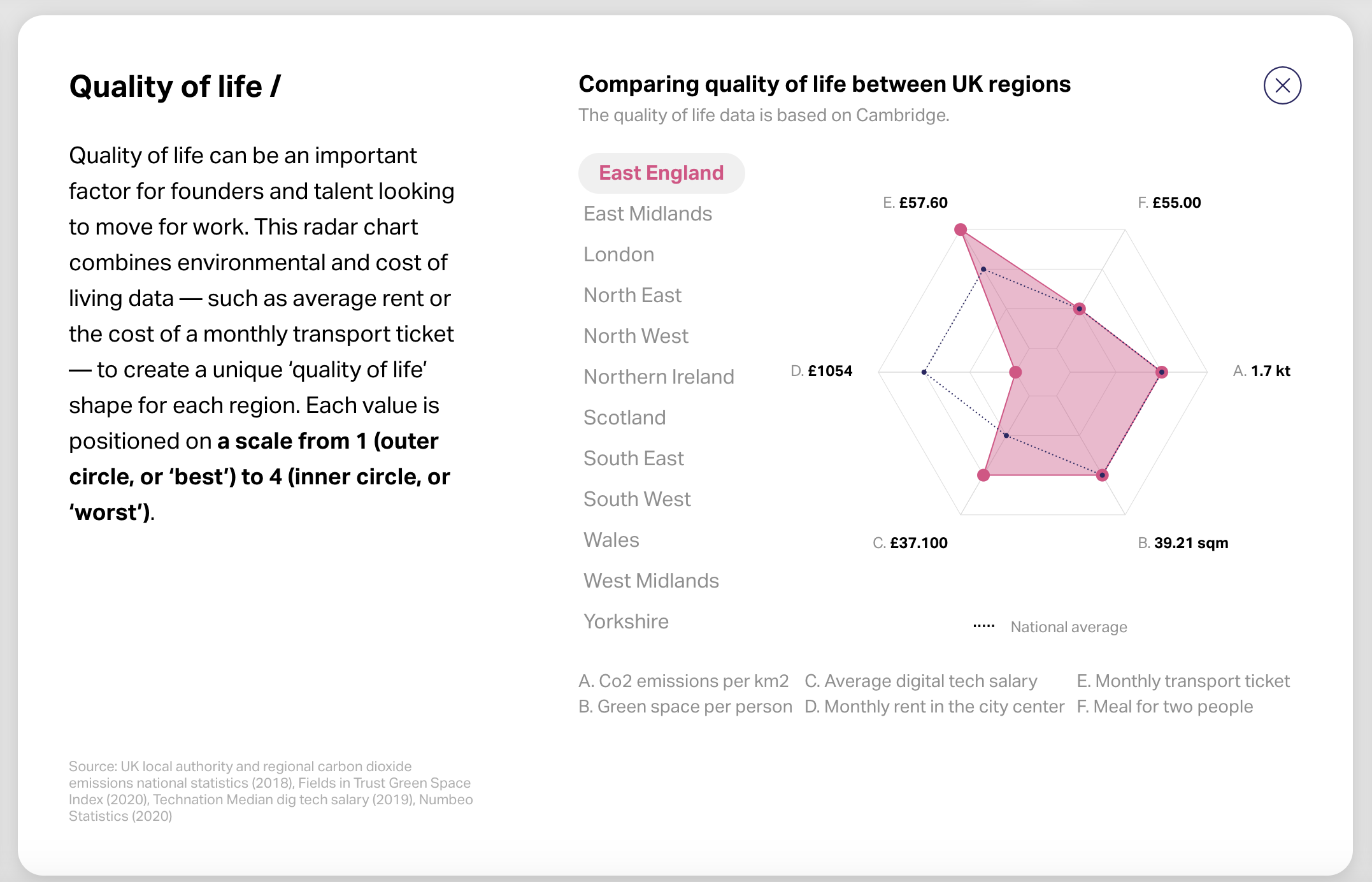 Each region also has a breakdown of average salary for tech roles like data scientists, devs and business analysts.
Where should we map next?
This map was our very first, and we want to make many more.
Help us choose where to go next; if you have a burning desire to see a map like this for other countries or UK regions, leave a comment below or email georgina@sifted.eu.