Heavy-hitting Finnish investor Inka Mero is battling to raise money for her new fund focusing on deep tech. She has raised €40m of the planned €50m fund, but the last €10m is proving a challenge.
"I have raised capital for two of my startups when I was heavily pregnant and that was terrible," says the entrepreneur turned venture capitalist from a cafe in Stockholm.  "But this is tougher… raising money for a startup is easier."
But Mero says that even if LPs (investors in venture capital funds) are proving shy for now she is confident for one key reason: European investments into science-focused startups is more and more the place to be in venture capital.
The last Atomico report on the State of European tech found that €4.6bn was raised for deep tech startups in Europe in 2018, up from just €700m five years before, in a massive transformation for a once quiet sector.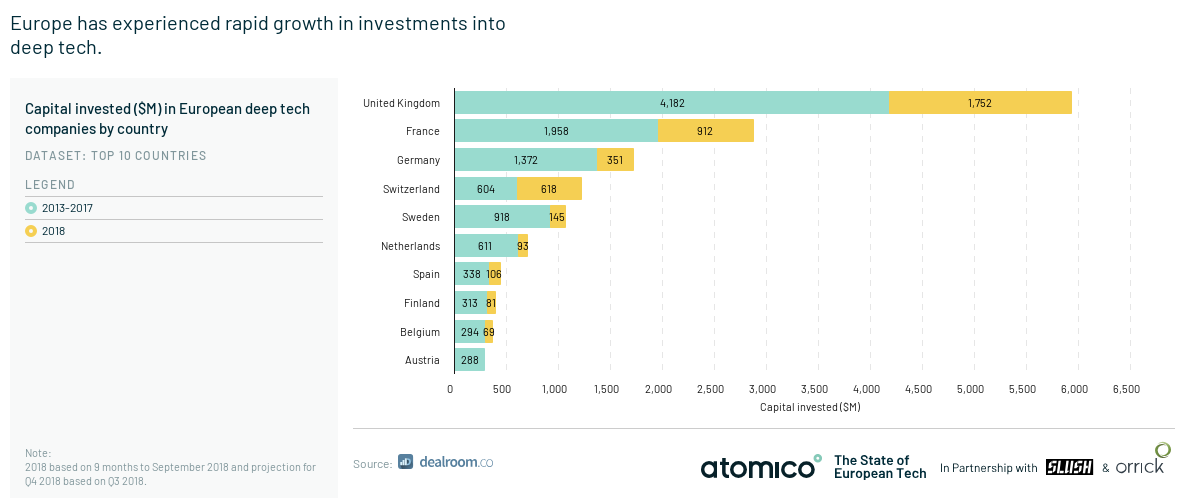 There are also more big investors on the scene, with High-Tech Gründerfonds, Local Globe, Amadeus Capital Partners, Enterprise Ireland, Bpifrance, Kima Ventures and Octopus Venture all making big plays in the sector.
The biggest reason for the great increase in deep tech investments is AI, artificial intelligence. And whilst the big hype of AI continues, there are other parts of deep tech, often based on science projects, that Mero wants to focus on.
I have raised capital for two of my startups when I was heavily pregnant and that was terrible. But this is

tougher.
The Swiss biopharmaceutical company, Roivant Sciences, is an early example of a science-based startup. The company raised $1.1bn from Softbank and Founders Fund in 2017. The Swedish smart showers by Orbital Systems, developed within a project at Nasa, has raised around €26m from Atomico's Niklas Zennström among others. Later examples are Swedish cleantech company Climeon raising $12,5m from Bill Gates' Breakthrough Energy Ventures.
According to Mero, it is not only the European deep-tech startups that gather pace, but the Nordic region is having a moment as well. Sweden and Finland were both in the top 10 for deep tech investment in 2018 and growing fast, according to Atomico.
There are hundreds of deep tech companies in the Nordics. And although AI is still the winner in terms of hype and quantity, tech startups based on science projects are popping up, especially within life science and climate control.
Mero's five deep tech companies to keep an eye on:
Solar Foods
- has developed a process to create food protein out of water, air and energy.
Sulapac
- created an ocean-friendly straw that is microplastic-free, marine degradable and possible to mass produce.
Paptic
- developed a new material to be used where paper and plastic is used today.
Carbo Culture
- a bioengineering company that takes the carbon out of our atmosphere and into the ground for agriculture use.
Klevu
- AI tool that generates sales.
Mero is hoping to cash in on this wave, launching one of the only tech funds in the Nordics solely focussed on deep tech.
What does Mero have?
Mero is one of the best know people in the Finnish startup ecosystem. She has co-founded seven startups and invested in more than 20 startups as an angel investor in the past ten years.
Already by the age of 24, she has even tried out the world of corporate venture capital when she managed the investments of the telecom company Sonera in Tel Aviv.
"At the time, Telecom was really booming and everyone was either working for Nokia or Ericsson. Young people were given huge opportunities similarly to today's opportunities in startups," Mero says.
We need scientific entrepreneurship to become a value choice in

society.
Her first venture capital fund, which she has raised with her cofounder Mikko Kumpulainen, closed its first €40m from VTT Technical Research Centre of Finland and from the European investment fund (EIF). The management of the VTT investment portfolio, with a number of deep tech spin-offs, will be managed by Voima Ventures going forward.
"VTT has actually spun out around 17 companies. And these are companies in the field of areas where Finland is strong like optics and electronics, biomaterials, new materials, nanotechnologies and medical technologies," Mero says.
And to manage the spin-offs of VTT suits Voima well. The fund will focus solely on deep tech companies, even though the exits in these companies usually take longer than in consumer products.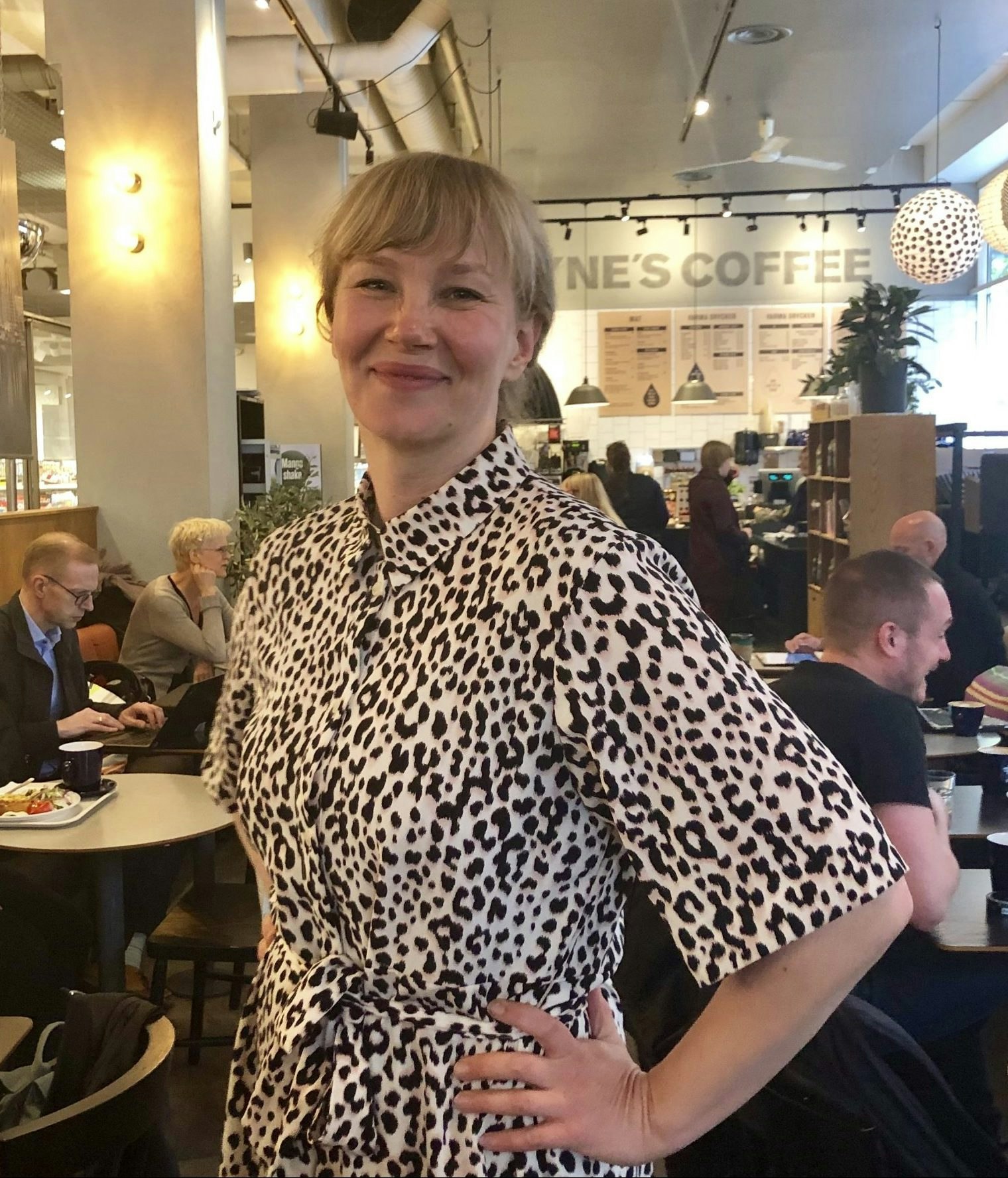 Why deep tech?
According to Mero, she can point to three trends for deciding on focusing on this area.
For one, she sees an exponential tech development in all sectors, not just software related to overcome digital solutions but also in material and nanomaterials, hardware and process-oriented innovation.
For the second reason, she sees a growing number of people open to a startup career.
"Generations from x to z, all of them have a strong entrepreneurial drive. I think this works to our benefit because most people are actually looking for things with a bigger purpose instead of just developing yet another ecomap," Mero says.
This is also where she sees a need to connect the people with an entrepreneurial drive with the science projects going on all over the Nordics.
Mero is a great admirer of the MIT Engine fund, an influential deep tech investor, and sees the need for building hype around deep tech founders in the Nordics and a platform to match experienced entrepreneurs with science.
Most people are actually looking for things with a bigger purpose instead of just developing yet another

app.
"How do we become a platform where actually great talent from the rest of the Nordics or the Baltics can come to us looking for the next big thing, and being showed the most potential science projects?" she asks.
"We need scientific entrepreneurship to become a value choice in society, I think impact entrepreneurship already is, but within the scientific community, it's not always considered a viable path."