It's a sunny Tuesday afternoon — quite unusual for September in Tallinn — and, along with two startup founders, I'm going into the woods. 
Nature is a luxury for inhabitants of many European cities, but for the people in this northern capital, escaping to a forest is a pretty normal thing. Estonians hike, walk their dogs, pick up mushrooms and berries, and breathe some of the cleanest air in Europe. In my case, they also go on a forest ramble to speak to journalists. 
But, like in many other central eastern European countries, the local regulation has been weakened over the years, allowing logging to threaten the lush trees that make up half of Estonia's territory — and a core part of the northern European nation's spiritual and cultural traditions. 
This is where the country's startups have decided to step in. In the homeland of Skype, Bolt and Wise, more and more startups are trying to make business out of saving the trees, at home and elsewhere. The startup founders who have ventured into the woods with me are trying to use capitalism to battle capitalism — and save nature's future. 
"Forests are probably the closest thing to religion we have," says Lisett Luik, a founder of Arbonics, one of these startups. "If you think of central European fairytales, forests are dark places where bad things happen; in Estonia, forest is where you go for safety."
Into the woods
"In 2019, we had a huge debate in Estonia: 'Are we taking down too much of our forest?'," explains Merit Valdsalu, one of the entrepreneurs who has spirited me 20 minutes out of Tallinn centre to Pääsküla bog, a nine square kilometre forest on the city's outskirts. 
According to the country's ministry of climate, an average of 1,500 hectares of land has been deforested each year across the country over the past decade, driven by looser logging restrictions. 
When Estonia's tech community organised a hackathon on the future of wood to find a solution, Valdsalu signed up. But she was disappointed that many of the other participants were building things like wooden saunas or foldable summerhouses. 
"They were creating value out of wood, but they were still looking at wood as a raw material," she says. "We were there saying that maybe we should start valuing wood for more than that. It's not just raw material. There's something more. And then we started looking into the carbon concepts."
Valdsalu and her cofounder Andrus Aaslaid won the hackathon with an idea that is now the climate tech company Single.Earth. 
The startup raised a seed round in 2021 from Swedish EQT Ventures (an early backer of unicorns such as Wolt and Einride) to build an online platform that allows landowners to measure the value of their forests — how much carbon is sequestered, how much biodiversity it preserves — and represent it as a token that can be traded on blockchain. It's a similar principle to carbon offsets, which are equivalent to a tonne of carbon emissions avoided or removed from the atmosphere. They're used by businesses to compensate for their emissions, something Single.Earth says its token can also be used for.   
Valdsalu says that when they started, the idea of carbon offsets was pretty new and the company benefitted from the hype in 2021 in attracting investor interest — but also that they quickly realised that assessing the forests' value only through carbon sequestration isn't telling the full story.  
"We took carbon as the first aspect that we started measuring in forests, then started adding other components as well, such as biodiversity, ecosystem integrity."
With the help of satellite images and AI, the company created a digital twin of the entire planet — which helps them remotely assess forests all around the world.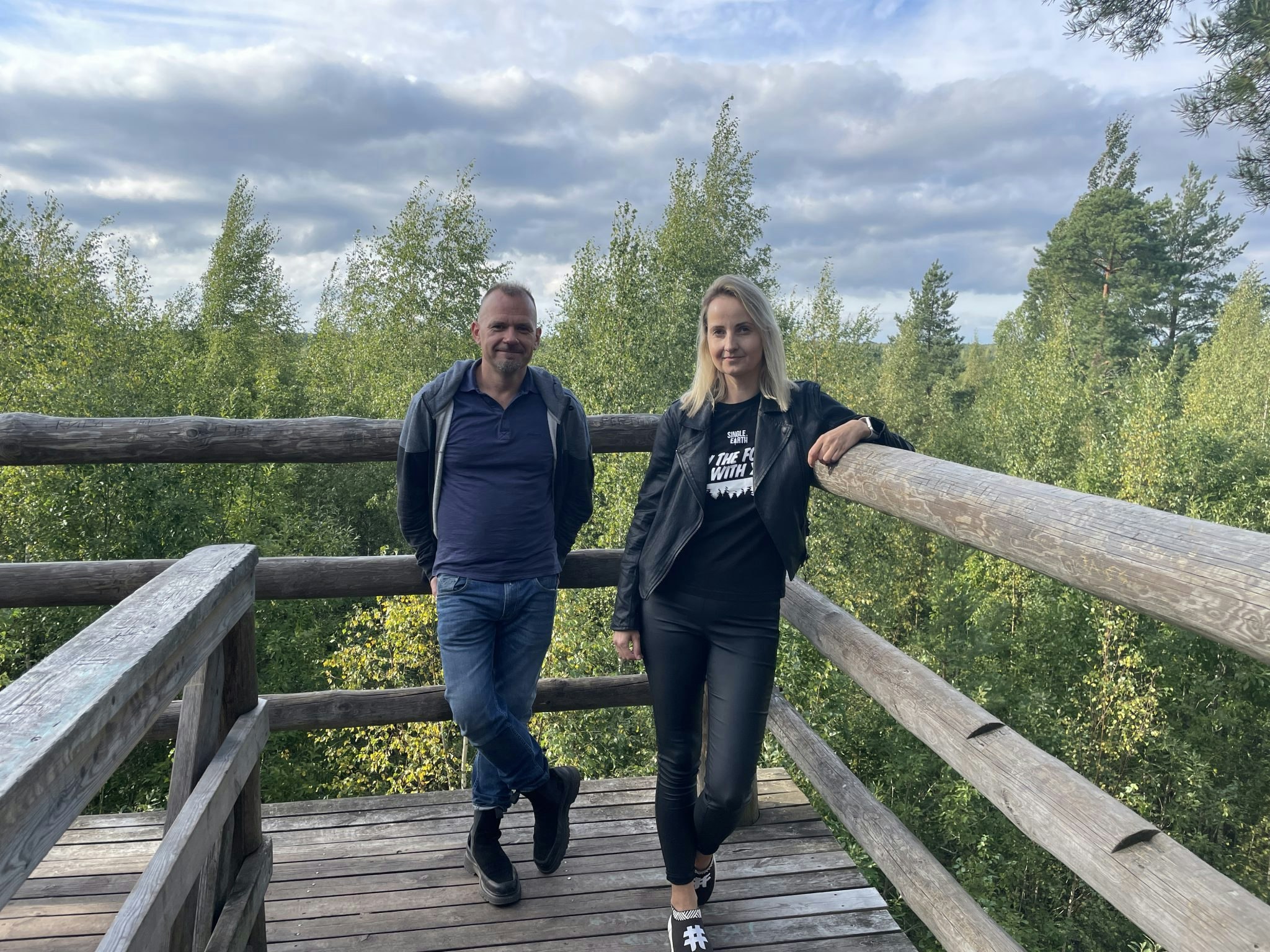 'Trillion dollar question'
Valdsalu is certain that her venture is needed — but she admits that who will pay for these offsets en masse is a "trillion dollar question". 
"The market still hasn't formed," she says. "We do have a few customers here and there, but we don't feel like we're there yet." 
Valdsalu had to lay off some of her employees — she now employs around 20 people — and says she's trying to figure out who's her best customer.  
"The past two years have been really, really sobering," she says. "The investors two years ago were like: 'Let's build a new world. Let's find new intriguing things.' They were investing into the future, they wanted to do something cool. Today, investors are looking for businesses that are working: you have to be profitable, you have to have all the things in place. But if you're building something for the future, for a market that is only at the very, very beginning, then it's really, really difficult," she says.
She hopes upcoming EU regulation — which will push big companies, including big investors, to disclose their carbon footprint — might help.   
"That is actually already showing the first effects — there are companies that are forced, by their investors, to do something good," she says. "It's actually a very clever system. There's a good chance that it will actually work if we do this through money. Because that's the only thing that will actually make people do something or not: it's money."
More solutions
Arbonics is another Estonian startup tapping into the carbon-offset market to save trees. It wants to make money from big companies eager to reach sustainability targets and with the resources to pay for balancing their carbon emissions. 
Unlike Single.Earth, Arbonics connects any landowner who wants to plant trees, on as little as one hectare of land, with businesses willing to pay for it. The startup only focuses on carbon offsets for now, but also plans to add biodiversity aspects in the future. It already operates in four European markets and is planning further expansion in Europe. 
"We founded the company last March… and we are planting thousands of hectares of land already this year," says Kristjan Lepik, who founded the startup together with Luik. 
Another Estonian startup, Timbeter makes a digital platform for the timber industry to improve workflow efficiency and prevent illegal logging. The startup is now also betting that new EU rules about to come into force — regulation on timber traceability — will also bring in new clients to the business. 
"Illegal logging is still a big issue, especially in America and Southeast Asia," says Anna-Greta Tsahkna, the startup's founder, stressing that her tech helps to reveal the bad actors operating in the timber market. "We incentivise private companies to use technologies which are good for the operation, but at the same time, it makes it easier to do the reporting. You also give the technology to the ones who are doing the control, so they are much more efficient. And you, step-by-step, make this market more transparent and get the bad guys out of the market."
Forest lab
Ragnar Sass, the cofounder of Estonian unicorn Pipedrive, and one of the country's most active angel investors, says he's a big fan of both Arbonics and Single.Earth (in which he also invested) — but he says more action is needed to make a change. 
"We need 10x companies like that, maybe even 100x more because we know many of those experiments will fail," he says. 
That's why he set up his own "forest lab" on 1,000 hectares of forest he purchased an hour-and-a-half drive from Tallinn. Here, he has built a summerhouse (which he rents out on Airbnb) and allows entrepreneurs to test and develop their ideas relating to forestry and agritech on the rest of the land. 
He says startupers are looking into planting trees — how to make this more economical and sustainable — and into growing mushrooms and breeding insects. 
He stresses that the ventures don't have to have economic value for now. "Crazy, that's what we want," he adds. If there's a good business idea, he's ready to invest in a startup and connect its founders with other leading climate tech investors.
"I think we are sick and tired of all the talk. That's the government level: many meetings, nothing happens, right? We think that the private market is awesome because a change can happen quickly," says Arbonics's Lepik.