Automation — setting up robots to do repetitive tasks according to programmed rules — and AI — guiding computers to solve problems — are both disrupting the way we work.
Automating operations from checkouts to deliveries is increasingly common practice, and we may be witnessing history's first large-scale automation of white-collar work due to recent developments in AI. 
In our latest Sifted Talks, we asked the experts how startups can prepare for automation and AI in the workplace. Our panellists were:
Darin Patterson, VP of product at Make, a visual platform for automation
Jennifer Neundorfer, cofounder of January Ventures, a VC firm focused on angel and pre-seed investments
Ana Mitrasevic, SVP people and sustainability at Delivery Hero, an online food delivery service
Here's what we learnt.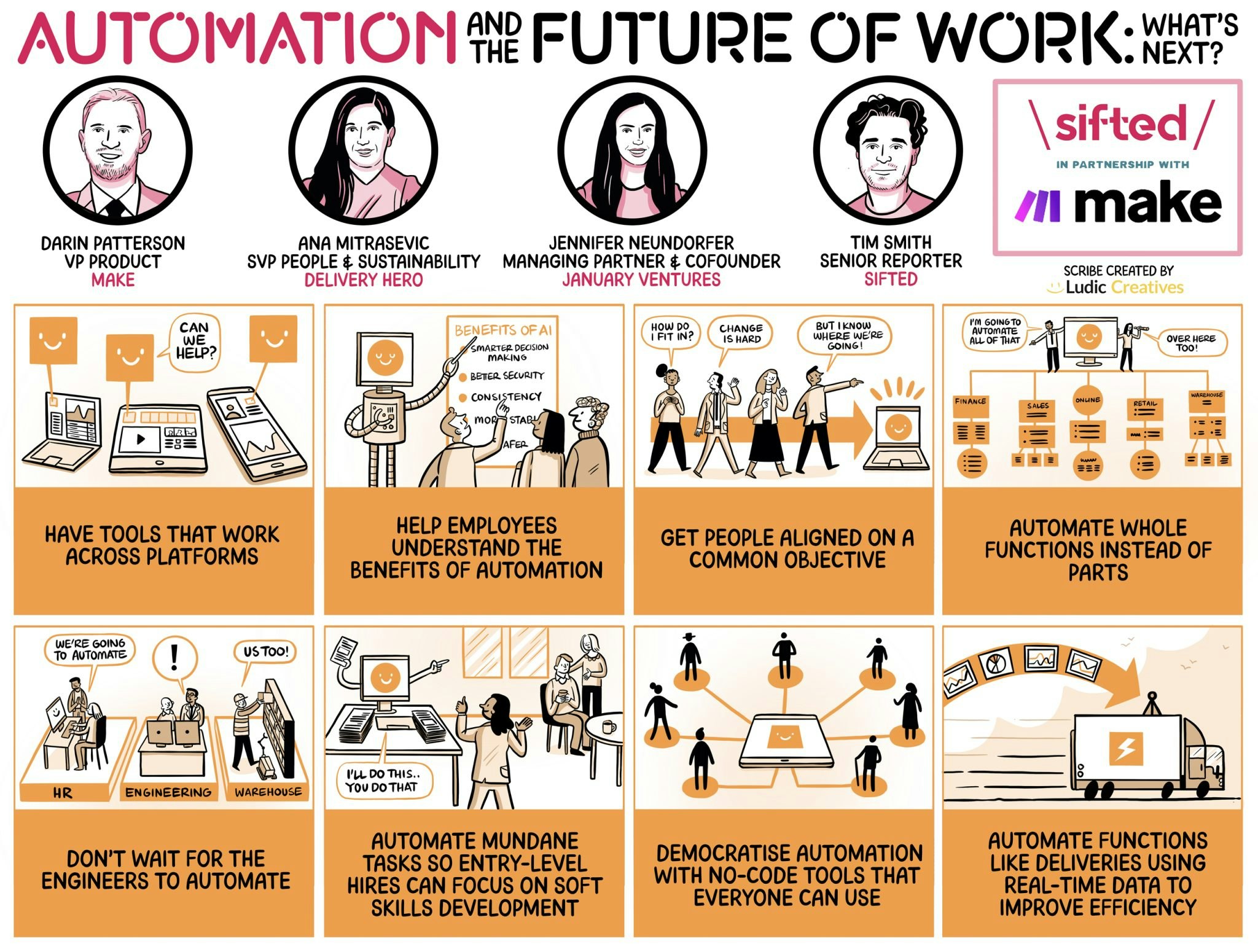 1/ Automation is being embraced — fast 
In 2020, the business process automation market was valued at about $10bn — and it's projected to be at least $20bn by 2026, said Neundorfer. 
"This is changing both how we think about new investments, but also how we think about guiding our current portfolio in how they build business process automation and leverage AI to make their products better, their customers happier and go to market in a more efficient and effective way," she added.
While automation can give businesses the winning edge, automating across different cultures, processes and departments in a company can be tricky. 
For this, Patterson said that Make built "a platform that enables you to approach many different industries, functions and departments" with the ability to integrate with various SaaS applications across different departments and use cases.
"One of the core facets of automation, particularly in the explosion of SaaS that we've seen over the last 20 years, is the ability to integrate with so many different business applications" — Darin Patterson, VP of product at

Make
2/ Help employees understand the benefits of automation
Bringing employees into the conversation about automation can be a challenge for companies, especially larger ones, because they may fear losing jobs or responsibilities. 
Sifted Newsletters
Startup Life
Every Wednesday
How (and how not) to run a startup.
Mitrasevic said that if done right, automation could improve employee experience, and there are some parts of the automation experience that employees were especially excited about. "We invite them through our quarterly meetings to share their pain points and to speak about those areas that we may not be tapping into, that would exponentially improve their experience," she added.
An example of a suggestion from an employee at Delivery Hero was to automate a customised learning experience — which could be done by directly linking recommendations from the employee's manager with a learning platform to create a customised package.
"We're looking at how automation can help reduce waste; we're looking at data-driven decision making, transparency, consistency in the organisation, increased productivity, and better security as well" — Ana Mitrasevic, SVP people and sustainability at Delivery

Hero

3/ Get people aligned on a common objective
Explaining the shift to automation or AI to external stakeholders in the business, who might be less digitally oriented, such as the mail service or restaurants, can be a challenge for companies. 
For Patterson, it all comes down to change management and "bringing people along for the ride" to automation. He said that with the use of soft skills, this shouldn't be too hard because it's never been easier to connect technologies to different processes, and work across teams and applications.
Mitrasevic said that it was key to help external stakeholders understand why this change was happening. She added that along with this, it's crucial to hire the right people to use the automation tools internally because AI will "fundamentally change our society and organisations… No matter how savvy or digitally educated and comfortable people within and outside the organisations are, we're all going on a journey — we have a different road ahead of us".
"The hard part is change management and bringing somebody into a process because, we all know, change is hard… It continues to be one of the most challenging things and probably the most powerful skill set to really focus on how you can get people aligned on a common objective" —

Patterson
4/ Automate whole functions instead of parts
Automation and AI will affect every part of a company, and "as one group begins to shift and mould, the whole organisation will shift and mould", Neundorfer said. This highlights the need for leaders to think of AI more holistically for their organisations to make the most of it.
She gave the example of Statusphere, one of their portfolio companies automating word-of-mouth marketing by connecting brands with influencers — and more importantly, with individuals and consumers who have most influence within their networks. The experts agreed that this kind of complete automation of a function is most effective.
"Where we've seen AI not work is when it's a fringe part of a product, or a product automating 20% of someone's job — and where we're really seeing the stickiness is when someone's coming in and saying 'I'm going to automate a large part of what you do in a way that fundamentally redefines your work, your job, this department'" — Jennifer Neundorfer, cofounder of January

Ventures
5/ Don't wait for the engineers to automate
The panellists agreed that automation was more of a cross-functional process today, rather than one limited to the engineering team.
Neundorfer said that while a few years ago automation meant a battle for engineering resources, now specific teams such as human resources (HR) might prefer to automate their own processes using no-code tools available in the market.
To this, Patterson added that engineers didn't always understand the nuances of all the different functions within a business such as HR — so having someone within the HR team who can take care of automation is worth more than just the resource constraint because they'll also be able to continually improve their team's work without having to rely on someone else.
"The beauty of automation is that people don't need to have a very analytical mindset or come from an engineering background, in the same way that at one point, we switched to computation from manual records of data — so it's actually a lot less imposing and a lot more enabling" —

Neundorfer