When Johnny Boufarhat heard that his startup has only raised the fourth largest European Series B round of 2020, he was not happy. 
"Who are the others?" he asked. And then added, quickly: "What's their valuation?" 
His company, online event platform Hopin, has just raised a $125m Series B round, at a $2.1bn+ valuation. It only launched eight months ago, has now raised $170m in total — making it arguably the fastest-growing startup in Europe. 
Still, the fact that three companies have raised bigger Series B rounds this year (eight-year-old marketing company SendinBlue, $162m; eight-year-old payments startup Checkout.com, $150m; and 12-year-old biotech company Immunocore, $130m) has clearly miffed Boufarhat. 
"That's why he is incredible and we backed him within 20 minutes of meeting him: Johnny is tireless in his quest to be the best!" says Tom Wilson, partner at VC firm Seedcamp, which led Hopin's seed round in October last year and has also participated in this round.
"We wanted to be the fastest-growing company in the world — and we don't want to ever stop doing that, at any stage," says Boufarhat. 
Hold onto your hats, folks. 
Quite some hockey stick
It's not just Boufarhat's competitive streak which is making an impression on investors. Hopin's growth this year, fuelled by the pandemic, has been astronomical. 
It already claims 3.5m users, has worked with 50,000 organisations — including the United Nations, NATO, the Atlantic, UCLA and Miro — and grown from a team of 23 people in April to 215 now. Its annual recurring revenue (ARR) is, according to Boufarhat, already $20m. 
Hopin is the fastest-growing company we have seen at this stage." — Jules Maltz,

IVP
"Hopin is the fastest-growing company we have seen at this stage and meaningfully exceeded its plan since our last investment in June," said Jules Maltz, general partner at US investment firm IVP, which has led this latest round. (Other investors include new backers Tiger Global, Coatue and DFJ Growth, and existing investors Accel, Northzone, Seedcamp and Salesforce Ventures.)
That's no small claim: IVP has also backed the likes of Slack, Snap, Twitter, UiPath and TransferWise. "Hopin is one of those rare companies with a similar growth trajectory — they have built an extremely customer-centric organisation, with an ambitious innovative roadmap that they have the ability to scale quickly — a sure recipe for success."
"[This is the] most insane deal ever in European VC," one outside investor told Sifted. "I'm mind-boggled. From going to launch, to price today. The price… is mad."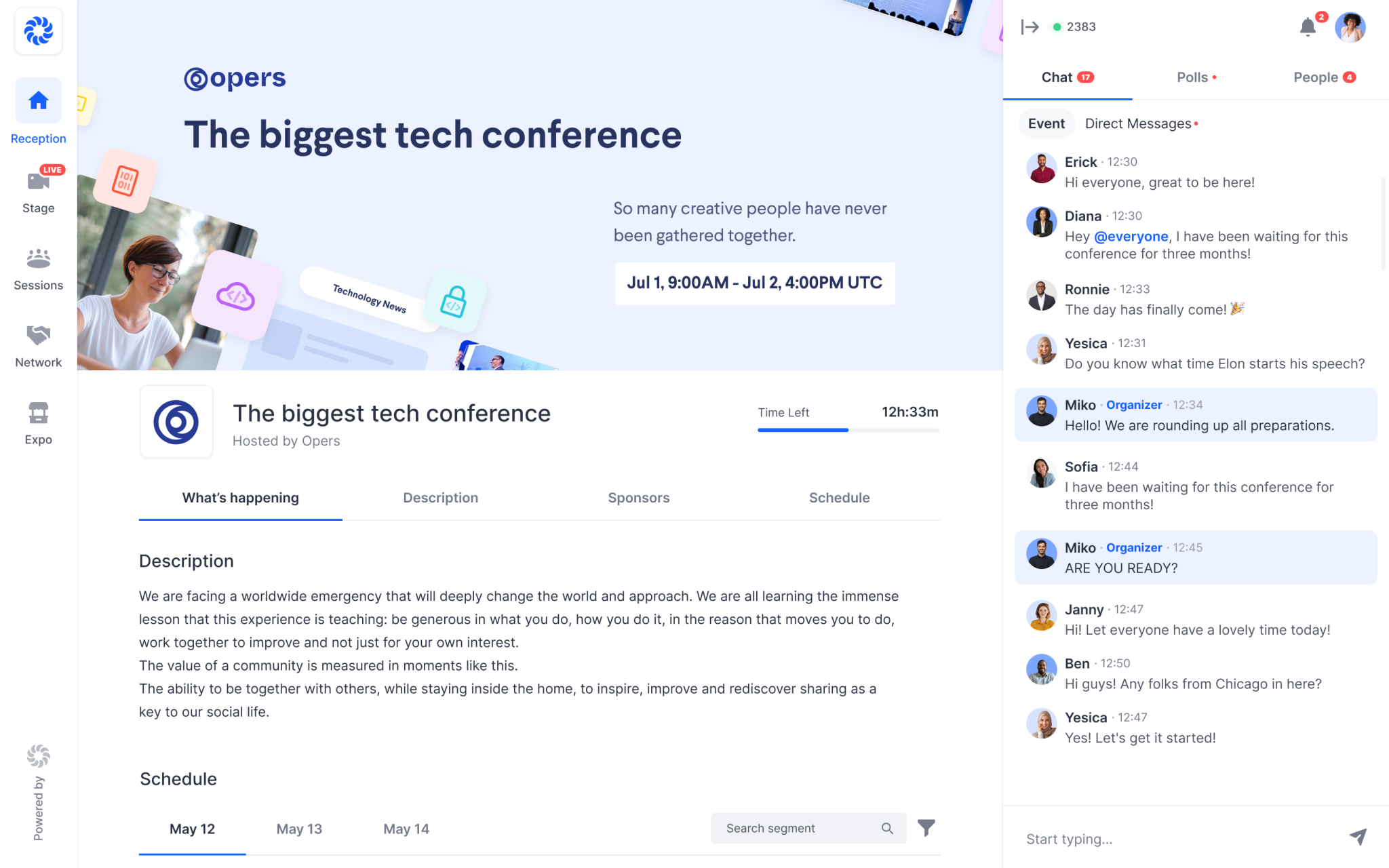 Scaling at super speed
Growing quite so fast has been made humanly possible by the fact that Hopin is a remote-first workplace, and has been from the beginning. 
It has added almost 200 people to its team in the past six months, and plans to hire 150 more before the year is out.
"Being remote allows you to do more things with more people; there's a ton of talent across the world," says Boufarhat, who is based in London. "If someone has a three month notice period, that's a huge problem for us — that's like they'll join in three years from now. [Being remote] we can hire from the US, where sometimes people have no notice period, and a lot of the time people are hired as contractors. Remote is a huge advantage." 
I don't think we'd have been able to grow this fast without

remote.
Hopin can also avoid some of the logistical challenges fast-growing startups usually run into. "[If we had a physical workplace] I would've had to change offices four times, had to play musical chairs one million times," adds Boufarhat. "Remote gets rid of all this complexity — you just add [new joiners] to Slack, Notion, GitHub to get them onboarded. It's super simple; there's no, 'Oh my god, we have to move the kids and find them a school'." 
"I don't think we'd have been able to grow this fast without remote." 
Still, it can't be easy to have so many new people joining all the time. "Things do break — but our culture has been built for remote, so we can go faster," says Boufarhat. "The number one thing we look for is for people to be proactive — and to have no ego. They need to pick up after other people, and be accepting of doing that, no 'Look at me covering up your shit'." 
In practice, Hopin has an "extensive" buddy system which pairs new joiners with someone working in a similar or relevant role to help them get stuck in. The team also carefully documents processes and resources: "We have a Notion that's more like a 200-page booklet now of where to find things."
It's easier, in some ways, for new joiners to get the help they need, add Boufarhat. There's no need to worry about who would be the right person to ask a question; there's a Slack channel for that. "We have a super proactive Slack so you can ask any question you want and within seconds get a response." 
Hopin economy
Also driving Hopin's growth is, of course, the fact that the global events industry has been tipped upside down by lockdowns. 
Many organisers have turned to Hopin to run conferences, comedy shows, trade fairs and media events online — and many events producers and technicians have skilled up as freelance Hopin specialists. 
"If you search Hopin on LinkedIn, a tonne of people who don't work for the company come up," says Boufarhat. Freelancers are hawking their services as 'Hopin Event Technical Support' or 'Hopin Virtual Event Consultant'; a mini-economy is springing up. "It's amazing to see that. For us, it's like, how do we get more and more people that want to do it." 

Eventually however, some events will start taking place in real life again — particularly if the Pfizer/BioNTech vaccine announced on Monday works as well as people hope —  but Hopin says it is ready for that.
"The world's moving hybrid," says Boufarhat, who expects that events too will have a mixture of online and offline elements — and attendees — in the future. "The majority are going to be online, or online-focused, with a smaller part purely offline," he predicts; as a result, Hopin's looking at ways to connect online and offline attendees and enable them to share an experience.
It's also launching a marketplace, 'Explore', for people to discover events. The idea is that it will be far more personalised than Eventbrite, because Hopin gathers data from 'inside' an event, rather than just from its listing. 
So, for example, someone who has attended a conference on Hopin — say SaaStock — and watched a session moderated by a Sifted journalist, would be recommended other events featuring that journalist, or on the topic they had discussed.
Also on the roadmap are app integrations and ways to customise and build on top of the platform.
The valuation is just a number; what's key is making customers happy and people enjoying the

product.
"We want to build products that feel good to use," says Boufarhat. "The valuation is just a number; what's key is making customers happy and people enjoying the product. That's all we focus on." 
That — and, presumably, raising the biggest Series C Europe has ever seen, sometime in the not too distant future.