Unicorns are more likely to have a senior leader with no degree than companies that are not as highly valued, according to a new report from the venture fund Notion Capital.
This research highlights the value of having different perspectives in a leadership team and implies that companies should think carefully about the value they place on higher education.
The study found that while unicorn companies often hire leadership from top-tier universities, they are also far more likely to have at least one senior leader with no degree at all. 78% of the unicorns in the study had a leader with no degree, compared to 44% for non-unicorns. 
The report, carried out by Notion Capital, studied 50 unicorns and 50 non-unicorn software companies that had raised similar amounts in order to suss out how the early-stage leadership hiring practices differed between the two.
It collected data on all members of the senior leadership team for the companies, which meant C-Suite and presidential roles, including vice presidents. The companies were based in Europe and the US.
"People that haven't come up through university have had to be far smarter and work far harder, which means that by the time they get to president level they are world-class," said Maddy Cross, who led the research. 
The two biggest routes into leadership for people without a degree were sales and technical positions, with a common thread being those who had taught themselves how to code.
But the category of leaders without degrees also includes those who — like Mark Zuckerberg and many others — dropped out of university before finishing their course.
Sifted Newsletters
Sifted Newsletter
3x a week
We tell you what's happening across startup Europe — and why it matters.
One European entrepreneur who followed this route is David Helgason, cofounder of Unity Technologies, the maker of one of the world's biggest game engines. "Failing to get any degree at all, I studied physics, Arabic and Middle Eastern studies, and psychology, picking up what intrigued and inspired me while doing software projects on the side," he says on his Linkedin profile.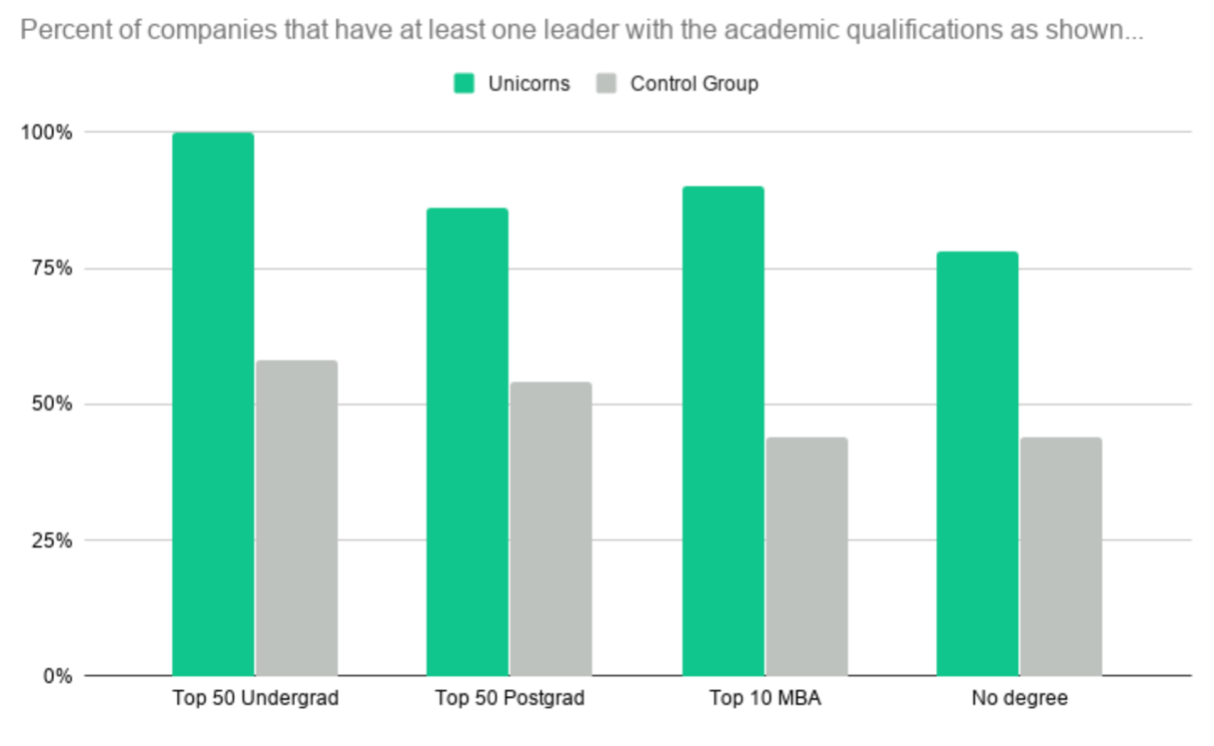 While unicorns have more senior hires with no degree they also have more senior hires from top-end universities, implying that diversity is the key. 
Every single one of the unicorns in the study had at least one leader in "top-tier" education, which is defined as one of the top 50 universities according to either the Times or QS rankings. This compares to 58% of the non-unicorns in the study.
For more details on how unicorns hire, read the full report.
In addition to diversity in university backgrounds, leadership teams at unicorns also had greater variation in the number of years of experience their leaders had. The difference in experience between the most and least experienced member of the leadership team was 23 years at the unicorn companies, compared to 13 at non-unicorns. 
"At these unicorns you often have the combination of younger people who might be in their first-ever leadership role alongside people who have had a career in SaaS [software as a service] their whole life," said Cross.