As an early-stage startup, tight budgets, limited resources and unestablished processes can make knowing how — and when — to best make crucial first hires a mystery for founders. 
In our latest Sifted Talks, we discussed how early-stage startups can grow from a team of just five people to 50, including initial steps, what to look for in potential candidates and how to prioritise hiring.
Our speakers were:
Matt Monette, country lead and head of expansion UK and Ireland at Deel
Daniel Illes, VP people at Vinted
Elena Pantazi, head of talent and portfolio development at Northzone
Vanessa Stock, cofounder and chief people officer of Pitch
Here are the key takeaways from the panel: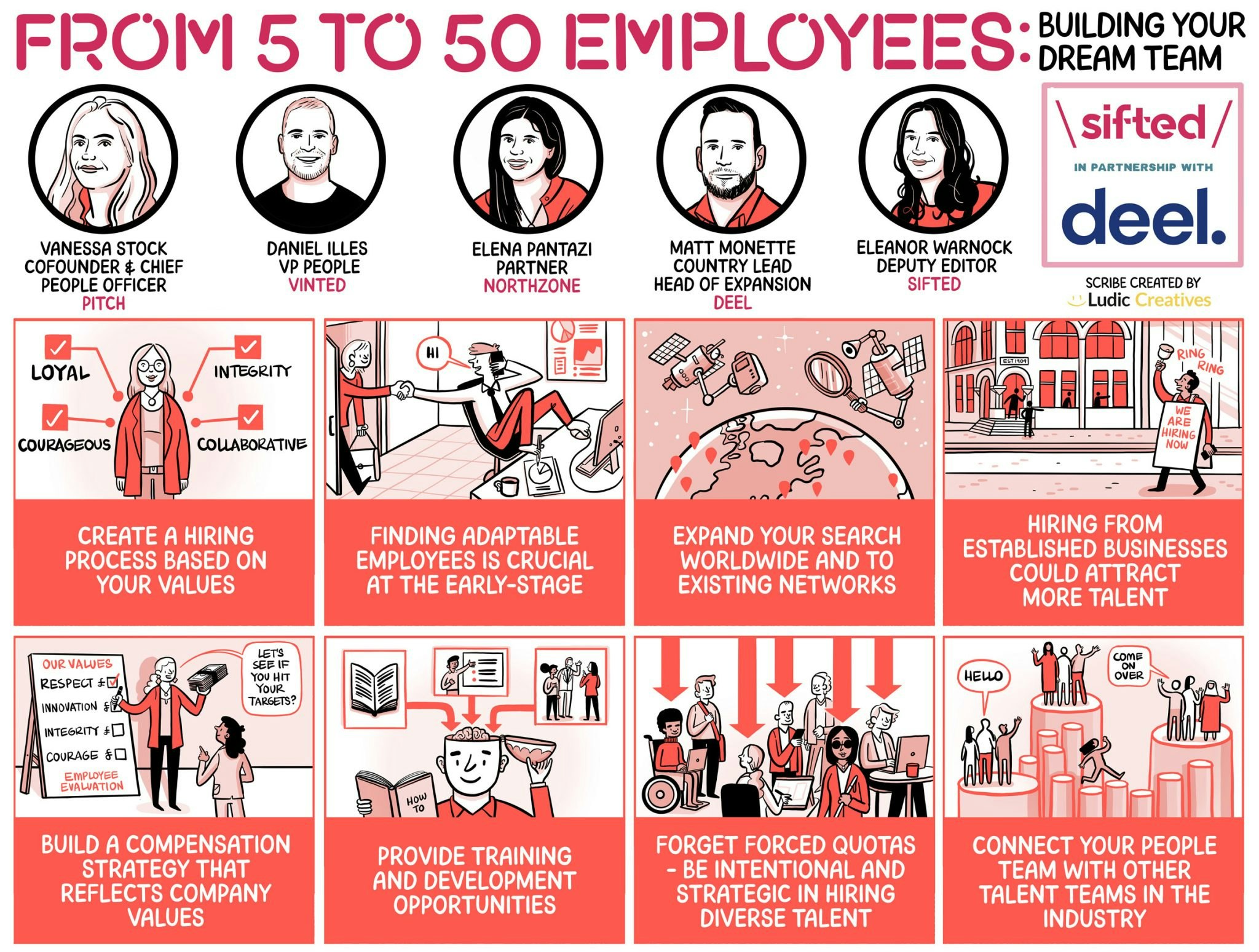 1/ Create a hiring process based on your values
When starting to hire, Stock argued that it was important to look for people who really connected with the vision of the company — the product, how the business works and how to amplify the product.
"Those first 20 or 30 people will help you hire the rest of the team, set the process with you and talk to the rest of the team about how you do things," she said. 
👉 Read more: Scaling your team from 5 to 50 employees
Illes agreed, emphasising the importance of creating a hiring process anchored on the company's values and mission but also has ample room for discovery to see whether a candidate's values align.
Illes said at Vinted, the final interview stage for a leadership role is called "the try-out". For example, they could ask a candidate to interview staff to learn about the business and then, based on what they learn, share how they see the next year unfolding. 
"Our values are part of our toolkit that we believe will get us to our mission. We really need people who are willing to operate and can operate with those behaviours, so we look for this and evidence of it in our candidates" — Daniel Illes,

Vinted
2/ Finding adaptable employees is crucial at the early-stage
Stock said that finding hires that are adaptable and can work with the evolution of the company is important — from the early years of uncertainty to growing with the business as it matures.
Illes cited tolerance for ambiguity as essential for all startup hires. He used recent shifts tech companies have experienced, such as the pandemic and GenAI, as examples of why startup employees must be adaptable.
"You need to be more creative in terms of the hiring scope that you have at the beginning in order to estimate if the person will succeed in the first years" — Vanessa Stock,

Pitch
3/ Expand your search worldwide and to existing networks
When Monette was looking to build out the Deel UK team with its first 50 people, he looked for talent from around the world, not just the UK.
He noted how a lot of businesses built post-Covid had leaned into remote working and attracting global talent to create the best teams possible — and how making hires through existing networks had also been key. "With the ability to attract talent anywhere, a lot of the people that we wanted to hire were found by word of mouth [from current Deel employees]," he said.
"I wasn't necessarily looking for someone that was in London — I was looking for the best individual for that job" — Matt Monette,

Deel
4/ Hiring from established businesses could attract more talent
Pantazi believes that the backgrounds of potential candidates should be a consideration in the hiring process.
She said that a candidate applying from a big tech company doesn't automatically make them a good potential hire, but if they have other key positives, such a profile could help attract other top talent who may otherwise be hesitant to leave their roles at established businesses.
Monette agreed: "The brand name aspect brings you credibility to the market depending on the maturation point your business and product is in.
"If you bring in someone fairly senior from Salesforce, for example, they're going to bring that market reputation — but at the same time, what kind of problems did that individual solve?"
"The first hires you make set the tone in terms of quality. If you can [find someone] that combines the qualitative characteristics of adaptability, openness to change and a stellar background — and it doesn't need to be at big tech — this also attracts more talent" — Elena Pantazi,

Northzone
5/ Build a compensation strategy that reflects company values
Balancing benefits, mission and compensation is critical to a job offer. Pantazi said founders often ask Northzone how to build remote teams with this in mind, but she said there's no one solution that suits everyone and can depend on the working style of the founding team.
"The more remote you are, the better talent you can attract and the more creative you can be with your compensation structures," said Pantazi. "But [this is different] if you're a founder who gets energy from having people in the same room." 
"The connection aspect of remote work is important to Pitch. We think about how our benefits help our team stay connected to the company even though they are not here in Berlin throughout the year" —

Stock