Ozempic was still being sold on the website of healthtech Manual more than a week after a UK government deadline to end sales of the drug for the treatment of weight loss.
Sifted was able to reach an order page of Ozempic for weight loss via Manual on Thursday October 26. In July, clinicians and pharmacies were instructed to stop prescribing it for off-label use "as soon as possible and not later" than October 18.
The UK Department of Health and Social Care (DHSC) issued the patient safety notice in July, over concerns that burgeoning demand for Ozempic as a weight loss drug was leading to global shortages. That surge in demand has meant there's a real risk that diabetics — the group Ozempic was originally designed to treat — would be unable to access the drug. 
Sifted approached Manual for comment on Thursday and by Friday morning the option of Ozempic as a weight loss treatment was no longer available.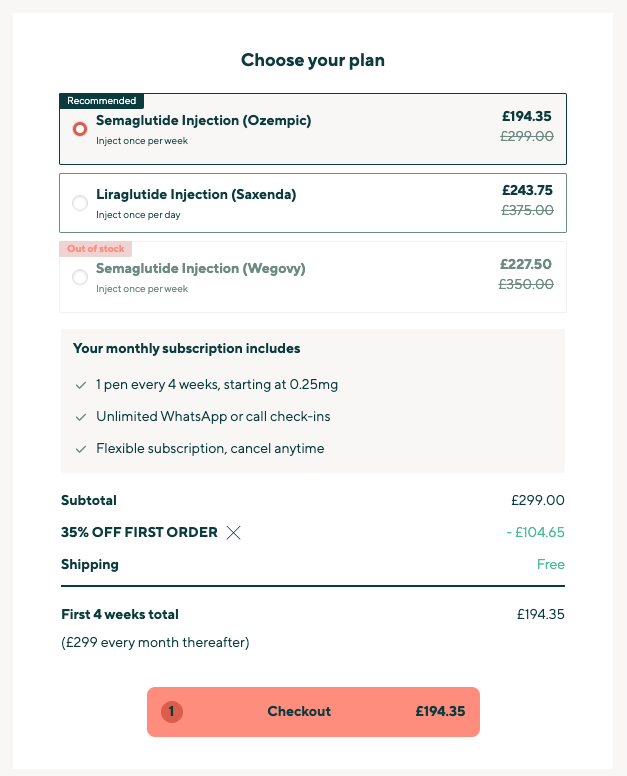 Manual is an online pharmacy, which sells treatments for erectile dysfunction, hair loss and weight loss. It last raised in a $30m round from VCs including Cherry Ventures and Felix Capital in 2021. 
Manual did not answer questions about selling Ozempic beyond the Department of Health and Social Care's deadline. 
"Patient safety is our paramount consideration and Manual complies with laws and regulation in the supply of its products, including those sourced internationally. We use trusted, MHRA-licensed suppliers and work closely with all relevant healthcare regulators," a Manual spokesperson tells Sifted.
Pharmacy regulator General Pharmaceutical Council and DHSC have both been approached for comment.
Shortages
Led by a number of celebrity endorsements, including Elon Musk and ex-UK Prime Minister Boris Johnson, treatments for weight loss using semaglutide — the drug sold under brand names like Ozempic and Wegovy — have taken the US and Europe by storm. 
But in Europe, demand has outstripped supply. The UK government has said shortages of semaglutide-based medicines will run until at least mid-2024 and Novo Nordisk — the Danish manufacturer of Ozempic and Wegovy — has warned of shortfalls of the drug into 2025. 
Wegovy is not included in the DHSC's patient safety notice, and a number of UK companies like Numan and Manual (although it's listed as out of stock on the website) sell the drug. 
In August, two European startups offering semaglutide-based treatments for weight loss picked up VC cash, as Denmark's Embla raised €10m and Sweden's Yazen landed €3.1m. They told Sifted that semaglutide isn't in short supply in their respective countries.