A little-known startup called HealthHero has become what it claims is the largest telemedicine provider in Europe after acquiring the much larger Doctorlink.
The London-based company, which is just one year old, says that it now has 20m people covered by their services after the Doctorlink deal announced last week. With a consolidated number of 1.5m consultations to date, HealthHero is close behind Babylon Health with over 2m consultations and Kry with over 1.8m.
These numbers highlight the remarkable growth for a young company thanks to an acquisition-heavy approach mopping up several rivals with financing from investment house Marcol.
According to the company, which provides online consultations through corporates and insurance providers, it now serves 8m individuals in the UK alone, 1,000 businesses and boasts approximately 2,540 clinicians, including GPs, counsellors, therapists and psychologists.
CEO Ranjan Singh tells Sifted that HealthHero is betting big on the growth of digital health — and especially online consultations.
"This is where we see a massive potential," he says.
Sign of consolidation era
There are dozens of telemedicine startups in Europe, many of which have seen growing interest from customers and investors thanks to the coronavirus pandemic.
Even before that, VCs saw this as a long-term trend. The largest funding rounds in the last couple of years were in UK-based Babylon Health ($550m), French Doctolib (€150m) and in Swedish Kry (€140m).
According to the data site European Startups, 66 telemedicine startups have raised capital since 2016. 24 of those have so far raised capital in 2020.
Sifted Newsletters
Sifted Newsletter
3x a week
We tell you what's happening across startup Europe — and why it matters.
There is no existing big behemoth in this area which I need to contend with — I'm not competing with let's say, Google or Facebook or

Amazon
Singh says more growth is to come, arguing that of the 4bn doctor-patient consultations that happen in Europe annually, 70-80% of those could be done remotely without compromising patient outcome.
Prior to the coronavirus crisis, only 1% of consultations were done digitally, he says.
"With Covid, the increased adoption has been super exciting because this shows us that headroom for growth," says Singh "What makes that excitement into a tangible business opportunity is that there is no existing big behemoth in this area which I need to contend with — I'm not competing with let's say, Google or Facebook or Amazon. We want to be the dominant player in Europe."
So how did a health company founded get such lofty ambitions?
The London-based investment house Marcol is the answer.
The investment house Marcol
Apart from being the CEO of HealthHero, Singh is also a managing director of digital health for Marcol, a mid-market London based private equity firm.
HealthHero is really a collaboration between Marcol — which already owned a number of health assets including Medical Solutions — and the entrepreneur Singh.
Singh is CEO while Marcol provides the financing. HealthHero took a big step forward in August this year after Marcol financed its acquisition of Berlin-based telemedicine company Fernarzt.
Through those positions, we get the track record, credibility and

expertise
Being a private company, Marcol doesn't have the same fund structure as a venture capital firm, and is focusing on typical buyouts and growth investments, but also real estate and private equity co-investment and mergers and acquisitions.
According to Singh, it can be compared to an evergreen fund, with no need for an exit. This also means that Singh has deep pockets to go to in case other companies look interesting for the HealthHero portfolio.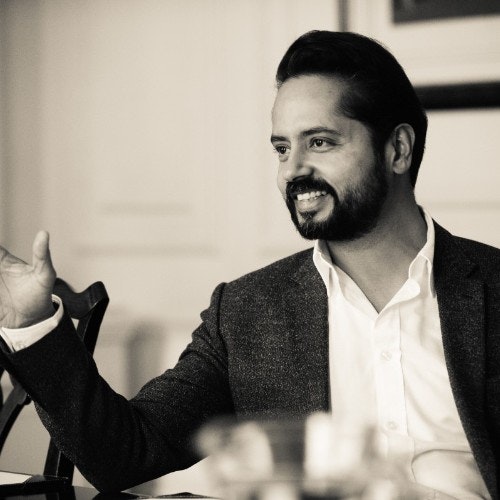 He says that HealthHero's strategy is built on three pillars — a holistic proposition, different market verticals and taking the company to different countries.
When entering into new markets as well as into areas of market verticals, like specialised care and mental health, Singh believes acquisitions is the right way to go.
"An acquisition in a new market gives us the expertise and go-to-market and speed. When you look at clinical specialities like mental health, it's not possible to develop an expertise in a few months' time, so that's where strategic acquisitions come in, but GP services we are scaling up on our own."
Apart from Medical Solutions, HealthHero also consists of the mental health company Validium and the German telemedicine startup for niche diseases Fernarzt. With the acquisition of Fernarzt at the beginning of August 2020, HealthHero launched as a brand.
Now, HealthHero has also acquired Doctorlink, founded in 2016 by the UK-based investment company Eight Roads.
Acquisition of Doctorlink
Doctorlink focused on three areas: digital triage (software that supports clinicians to make decisions or tell patients the next step in their care pathway), video consultations and phone consultations. It has, like many others, seen a growing demand for its services during Covid-19.
It has seen its active user base increase more than 250% over the last nine months, while the number of GP clinics using the platform has tripled, according to the company. Doctorlink says it provides care for over 12m patients in the UK across more than 1,500 GP surgeries in the NHS.
Now HealthHero owns all that.
"Through those positions, we get the track record, credibility and expertise, and we bring our organic innovation capabilities and management expertise to then scale up and innovate on that business. In that way we are getting that unique combination of a scale and agility," says Singh.
Consolidation of healthcare startups done in this way is pretty rare and is a sign that the sector is growing quickly.
Comparison to payments
The story of HealthHero suggests that the healthtech sector is following a similar path to the payments sector a few years ago.
Back in 2015 the Swedish payments company Bambora was created thanks to the acquisitions made by the private equity company Nordic Capital. By buying a bank's international card payment platform as well as payment companies Euroline, DK Online and Keycorp och MPS, Bambora could launch.
The aim was to create a leading player within the payment services sector through a carefully crafted acquisition strategy and significant investment in products, capability and the organisational framework.
Two years later, the French-based Ingenico Group agreed to acquire Bambora for €1.3bn. By that time Bambora had annual transactions of close to €50bn and provided payment solutions to 450,000 merchants in Europe, North America and Asia-Pacific region
HealthHero has a similar game plan to Bambora — but also similar challenges ahead.
Acquisitions challenges
Acquiring companies and fitting them into the culture of a younger company is not easy. There is a risk of a clash of working styles, a mismatch of goals and incentives.
But according to HealthHero's chief executive, the companies being acquired are so far fitting snugly into HealthHero.
"We are making acquisitions which are more like bolt-ons, so they fit a nice gap in our offerings so it doesn't radically change anything. It just sits above all the markets and all the sectors all the more countries that we operate in. So there's a nice complementary fit."
"Having said that, there is obviously an effort to harmonise and culturally bring them together and make it one HealthHero. It helps that almost all acquisitions are 100% owned by us," Singh continues.
We are making acquisitions which are more like bolt-ons, so they fit a nice gap in our offerings so it doesn't radically change

anything
In the case of Fernarzt, the founder has stayed on and is leading the affiliate business and is part of the leadership team. In another case, the founders wanted to retire and HealthHero took over the management.
"It is like horses for courses – you have to adapt depending on company situations," Singh says.
With the first four acquisitions done, Singh believes that the core building blocks of the business are in place and the focus will be on those for the next 12 months.
"The focus for next year is scaling the business and building on these building blocks, but we will also look at other European markets selectively where we are not present," he says.