It's tempting to avoid accounting, VAT and compliance — especially in favour of product development, building company culture or fundraising. But the reality is operations will make or break a startup.
Nine in ten European startups fail to exit or transition to scaleups, and amid the economic downturn ensuring operations are cost-efficient, reliable and sustainable has never been more important.
Sifted spoke to Marko Korkiakoski, a partner at PwC Finland and an EMEA Startup/Scaleup Network leader, who argues the most successful startups see the "boring" stuff as opportunities for building the company roadmap and, more broadly, a supportive startup ecosystem.
So among all the red tape, where exactly are these opportunities — and when do they emerge?
1. Getting your hiring priorities right — from day one
As startups grow, the "boring" stuff will be delegated from the founder to a steady operational team. But in a highly competitive market, it's critical to invest in this team earlier. 
"The decision of who to hire next depends on the type of business, there's lots of variation. But starting too late… that's a common problem we see," Korkiakoski tells Sifted.
Chief financial officers are an obvious choice, he adds. "The company should have somebody who really knows, understands and owns their figures throughout the year." 
But, he argues, COOs should also come at an early stage to "set up clear responsibility areas in your company". While all startups can expect a high turnover rate, for these roles it's critical you hire someone reliable, knowledgeable and someone you could see yourself working with for years to come. 
The trick is to dedicate time envisioning your roadmap a lot further into the future than you think you need, and then materialising this future faster with everyday actions. 
"For instance, quite often, corporate governance is perceived as an issue for very large and established companies. We are observing more and more that companies start thinking about corporate governance procedures from the very beginning, so they know how to work with boards, directors, and shareholders," Korkiakoski says. 
If you fail in corporate culture, your company image could be lost quite easily. If you fail in financial reporting, you don't get funding. If you fail in diversity, you don't recruit. These are the fundamentals. You cannot be in startup mode

forever
As the theory goes: act as if you are already meeting with potential investors; already a scaleup; already planning to go public or pursue a SPAC, and you're more likely to end up in that position. 
You're also more likely to be resilient against compounding failures.
"How do you ensure you stay big and are sustainable?" says Korkiakoski. "If you fail in corporate culture, your company image could be lost quite easily. If you fail in financial reporting, you don't get funding. If you fail in diversity, you don't recruit. These are the fundamentals. You cannot be in startup mode forever."
2. The audit is a practice run for tricky investor questions
Audits, disclosure and reporting are particularly good opportunities to receive external feedback before meeting investors. Key lessons often pertain to the treatment of costs and assets; their impact to net profit; distinguishing between cash flow and annual financial statements; and understanding when and how revenue is recognised. 
"The bigger the company is, the internal controls become also a topic highlighted during the audit," Korkiakoski tells Sifted. "Auditors may suggest improvements to the internal controls environment and these should be taken seriously by the management and board. Financial audits will also result in recommendations to taxation and overall risk management issues."
This information can be incredibly valuable to get a handle on, especially before meeting with investors, so keep on top of these key areas at all times:
Orderly contract management;
Updated board minutes and agreements;
Cash flow estimates and/or business plan; for at least the next 12 months;
Being able to discuss going concern, cash position, burn rate and runway with auditors.
Doing so will not only prepare you for audits, but enable you to run diagnostics on company health, identify problems before they arise and build a detailed working knowledge of how your company has developed — which is vital when communicating your roadmap to investors.
"Successful startups have their books and reports in place every day, every week, so that when an investor comes in they don't have to start from scratch," Korkiakoski tells Sifted. "You don't have too many chances before you meet a client or investor… Readiness is key."
With relevance in mind, it's important to tailor your operations to your roadmap and future. 
Successful startups have their books and reports in place every day, every week, so that when an investor comes in they don't have to start from

scratch
"If you go too far into reporting, risk management, that affects your agility and costs. There's a fine balance," he says. "But investors know what good companies look like, and VCs are looking at more and more early-stage companies. They will challenge you — so if you don't meet their expectations, you won't succeed. The whole industry of 'boring' stuff is increasing in relevance.
"The roadmap from start to IPO is getting faster and faster. You don't get to IPO without sorting the boring stuff. It comes so fast, and requires so much money and effort, but the speed of accelerating companies is so fast. It requires the boring stuff to come faster and faster, as well."
3. Operations improve internal comms
Clearly, good professional accounting — whether internal or external — is a priority. But it is also connected to how well a team functions.
"There is a strong correlation between a company's financial reporting being in good shape and how much less effort the audit will require," says Korkiakoski. 
That means startups must prioritise teamwork and internal communication - not just finance, VAT and taxation but across operations — including all legal agreements and local legal frameworks. 
"When I see serial entrepreneurs plan operations, they clearly demonstrate relevance in an everyday context," he says. "They can build it from the start, and understand the blocks that need to be in place. You don't have to change the language to make the boring exciting, it's just about understanding that you need certain blocks in place to be successful."
When the operations team keeps founders and other relevant employees in the loop, they are also helping to build a working knowledge of critical technical matters, ensuring the business remains agile in periods of high turnover, or indeed, economic downturn.
But even in fairly stable conditions, ideally startups will be working on how to avert operational problems by planning together. This can be achieved if a startup values HR, particularly career development.
"As a team, pause to think about what you want in the future," says Korkiakoski. "Who is leading? What are the roles? That will help to solve problems in the near future when new or additional investors come in. A lot of fights come from not stopping to reflect."
4. Operations-as-networking
In accelerators and growth programs, such as PwC's Raise and Scale, founders and C-suite can find peer-to-peer support and knowledge-sharing to navigate designing and adapting often complex roadmaps, which require complex governance.
In Raise and Scale, "they meet not just us but their peers, similar startups that can learn from each other. At the same time, given the international nature of the network, we can address challenges in accessing other markets, including the initial introductions to clients," says Korkiakoski. "It's all about relationships. You need to know what you don't know, and look for those who do."
The programme also has an alumni scheme: "We see huge value in this peer-to-peer communication because they quite often share the same pain points and challenges," he says.  
It's all about relationships. You need to know what you don't know, and look for those who

do
"If you want to be sustainable in the long run, you have to collaborate with others who bring in competencies. You can get a synergetic effect by collaborating with bigger corporates, for instance."
5. How to navigate the law as you expand
Startups wishing to grow beyond their founding country into Europe or international markets have to navigate a whole host of complex, variable legal arrangements. There's no one-size-fits-all approach.
"Startups could get support from advisers (like PwC) who have local market expertise and international network to help with any type of the legal environment or jurisdiction. A founder doesn't have capabilities and expertise to stay up to date on all the legal changes or extra resources to hire a legal team in every location where the company operates," Korkiakoski tells Sifted.
"For example, one of the costly mistakes related to tax — failure to register for VAT purposes (following then of course failure to report) is typically heavily sanctioned. Also accidentally having such a presence in a country that you qualify for tax presence from a corporate tax point of view is very costly, especially if it goes on for several years before being noted."
It's not all grey skies and red tape. "Besides compliance with the law, and long term effects on businesses, understanding changing legal contexts might open up game changing opportunities in, for example, deregulation in certain industries or immigration," he adds. 
For instance, privacy may be a particular area of concern for startups, who could therefore benefit from a "privacy by design" approach. 
"Founders can leverage existing international standards like ISO/IEC 27701 to build their privacy information management from the beginning and implement the standard accordingly to seek certification when needed," Korkiakoski tells Sifted.
Another element to consider is the recruitment of talent, as there is a lot of competition and growth companies typically use share based incentives to attract global talent.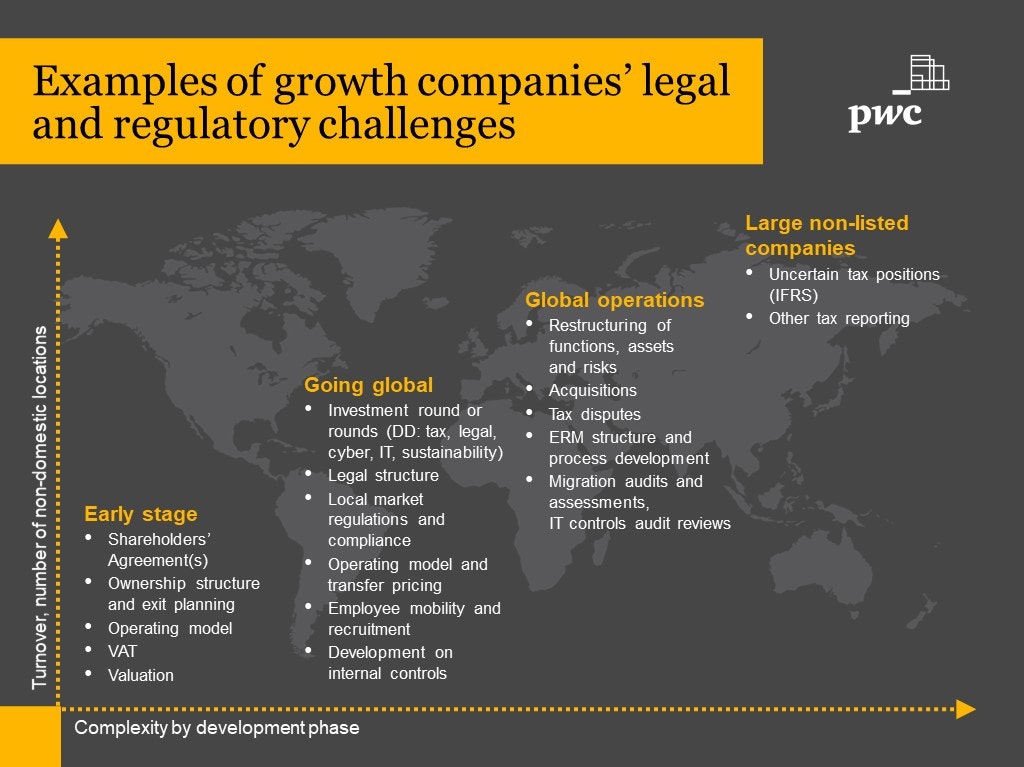 6. And find partners elsewhere to build your own support network
It's also important, especially in the early days, to "really think about who you want as your investors, advisory board and external advisers — and put them to work for you," says Korkiakoski.
In his experience, Korkiakoski says the most successful startups leverage their existing relationships with investors, corporate partners and accelerators early on. "They're not reinventing the wheel, but they really try to leverage those people at the early stage so those relationships resonate with the vision and needs of the company."
For instance, "startups can't navigate or keep up with the changing [legal and macroeconomic] environment on their own. The regulatory landscape is changing fast and also guidelines issued by authorities change very quickly."
Korkiakoski says that startups "need to team up with a partner that has access to local knowledge. And also, you enter a country one by one, all have their own share of challenges you need to tackle — so you cannot think that you have one standard way of entering a new market."
Simply put, founders can't give their all to each critical block of a business, and they need to hire or outsource expertise elsewhere — whether that's peers in the industry or external advice. "We understand the importance of each block," says Korkiakoski.
Overall, when it comes to the boring stuff, "founders should think about sustainable growth models and plan for a long-term journey instead of growth at all costs".