Graphcore, the Bristol-based startup, is taking on Nvidia in the battle for dominance in the AI chip market.
Graphcore on Wednesday released a chip that — at least in benchmark tests — performs 16 times faster than chips from Nvidia, the US semiconductor company whose chips currently dominate the market.
"With this new product, Graphcore may now be first in line to challenge Nvidia for data centre AI, at least for large scale training," says Karl Freund, senior analyst at Moor Insights.
One of the biggest problems in developing AI systems is that they need a huge amount of processing power and electricity to train.
OpenAI, a Californian research company, for example, estimates that the computer power used to train big AI models has risen 300,000-fold between 2012 and 2018. The electricity alone can cost millions of dollars.
This has meant growing interest in developing chips that are specifically designed to handle large AI computations more efficiently. Graphcore, for example, has thousands of individual cores on its chips to speed up the parallel processing requirements of AI. The new chip packs some 1472 cores onto a single silicon wafer. The company also makes proprietary software that can speed up parallel processing further. Combined, these developments make the new Graphcore chip about eight times more powerful than the previous iteration.
The upshot is a saving in money and time for companies running AI. One Graphcore system, a pizza box-sized data centre blade, comes at a price of $32,450 — but this is modest compared to rival systems.
In one benchmark test, it took four of the new Graphcore chip clusters and $259,000 to train an EfficientNet-B4 image classification model, compared with 16 clusters and an estimated $3m from Nvidia.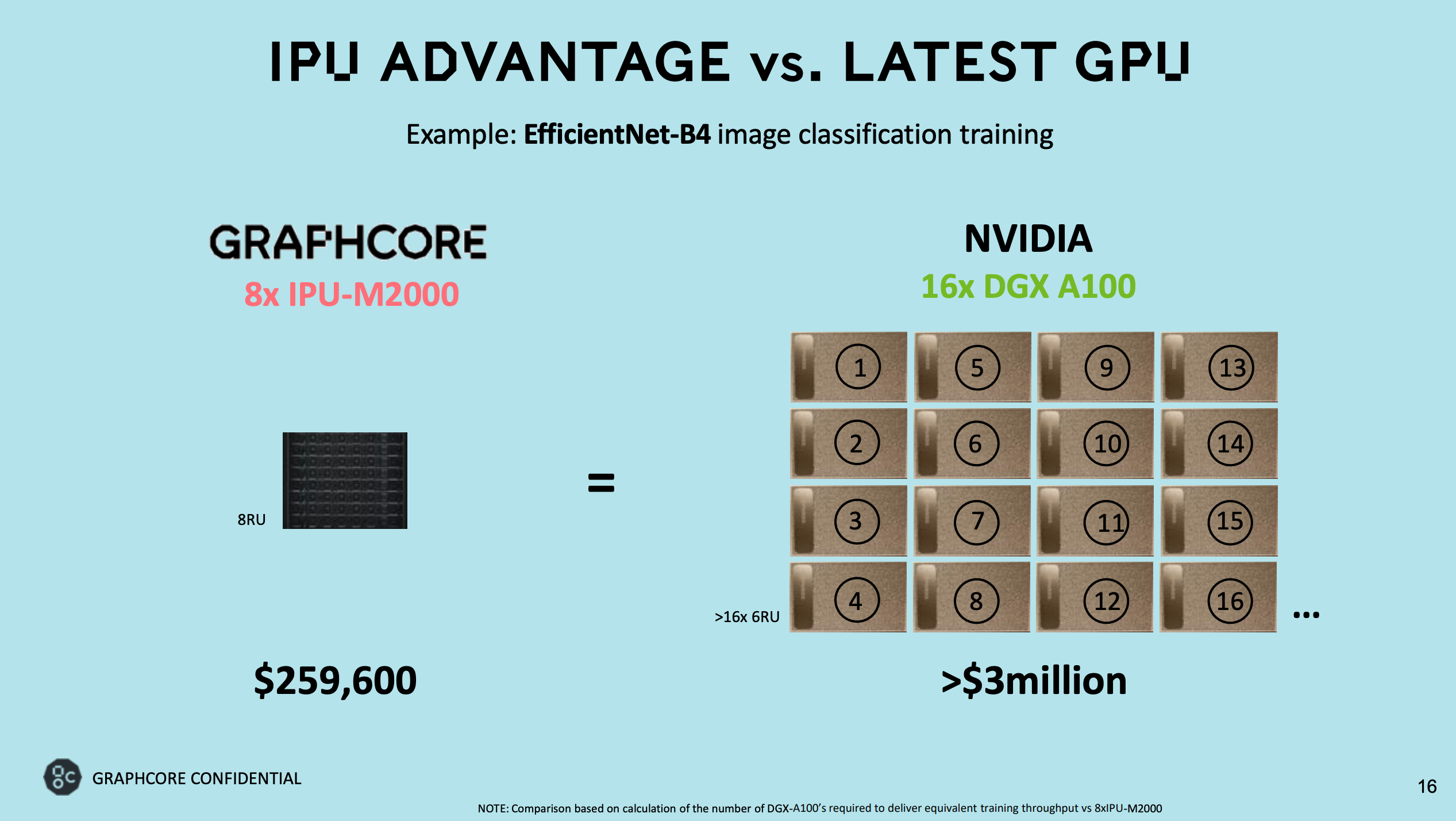 Graphcore's chips are already used by Microsoft's Azure data centres, the DNA sequencing company Oxford Nanopore and by a number of banks and hedge funds. JP Morgan is evaluating the technology.
There is a race by the big chipmakers to acquire new AI chip capabilities. Last year, for example, Intel acquired Israel's Habana Labs, while Nvidia bought Mellanox, a company that makes software that coordinates chip clusters.
Graphcore is backed by Amadeus Capital Partners, Baillie Gifford and Ahren Innovation Capital among others, and has raised more than $418m in funding to date.