Ukrainian founder Maksym Petruk knows he wouldn't make much of a soldier — so his way of aiding his country's defence against Russia involves selling a bundle of NFTs, the digital answer to collectibles. 
"We decided to join the war by Web3 means," Petruk told invitees to an immersive online event recently. 
The audience had gathered to hear about the launch of the Crypto Cossacks Club, a collection of NFTs now selling for around €330 a pop to crypto enthusiasts. 
Half of the proceeds made on this art will go to the war effort, including paying to de-mine the country. "We're probably the most mined country in the world right now," says Petruk, who is also CEO and founder of software company WeSoftYou. 
The digital drawings, which depict various characters, are deliberately patriotic. "They're fearless warriors fused with tech geeks — or Ukrainians, in other words," Petruk explained. His personal NFT shows a character holding a kobza, a musical instrument that looks a bit like a lute (Petruk used to play in a punk band).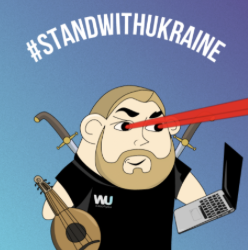 The artist behind the Crypto Cossacks, Ukrainian developer Yana Mitlitska, says she wanted the images to be "bright, brave and progressive". 
The collection will grow over time to include "Russian antagonists", says Petruk. "We're thinking of having some drunk Russian bears."
The Zelensky gambit
Crypto makes up a small fraction — some $60m — of aid received by Ukraine to date. The government, in need of fast cash and unconcerned by the channel it comes through or the identity of the person sending it, is accepting donations of bitcoin, ether and over 10 other coins. 
Petruk isn't the first person to dream up an NFT project to raise emergency funds. In March, UkraineDAO, a "crypto collective" based in London, auctioned a digital Ukrainian flag for $6.5m worth of ether. The DAO has promised to spend the money on humanitarian aid.
It's difficult to predict how the Crypto Cossacks will fare, amid signs that the initial NFT euphoria is wearing off and demand is flatlining. In this highly speculative sector, which is rife with gimmickry and scams, the collectibles could wind up as another in a long line of duds.
And yet Petruk's team feels it has an ace up its sleeve: they've made 50 images to give away to super famous people like Ukrainian president Volodymyr Zelensky and billionaire Elon Musk (plus Dude, Where's My Car? actor Ashton Kutcher for good measure). 
Because NFTs are a market that lives and dies on hype, if any of these influential people mention the Cossacks online, the project could soar.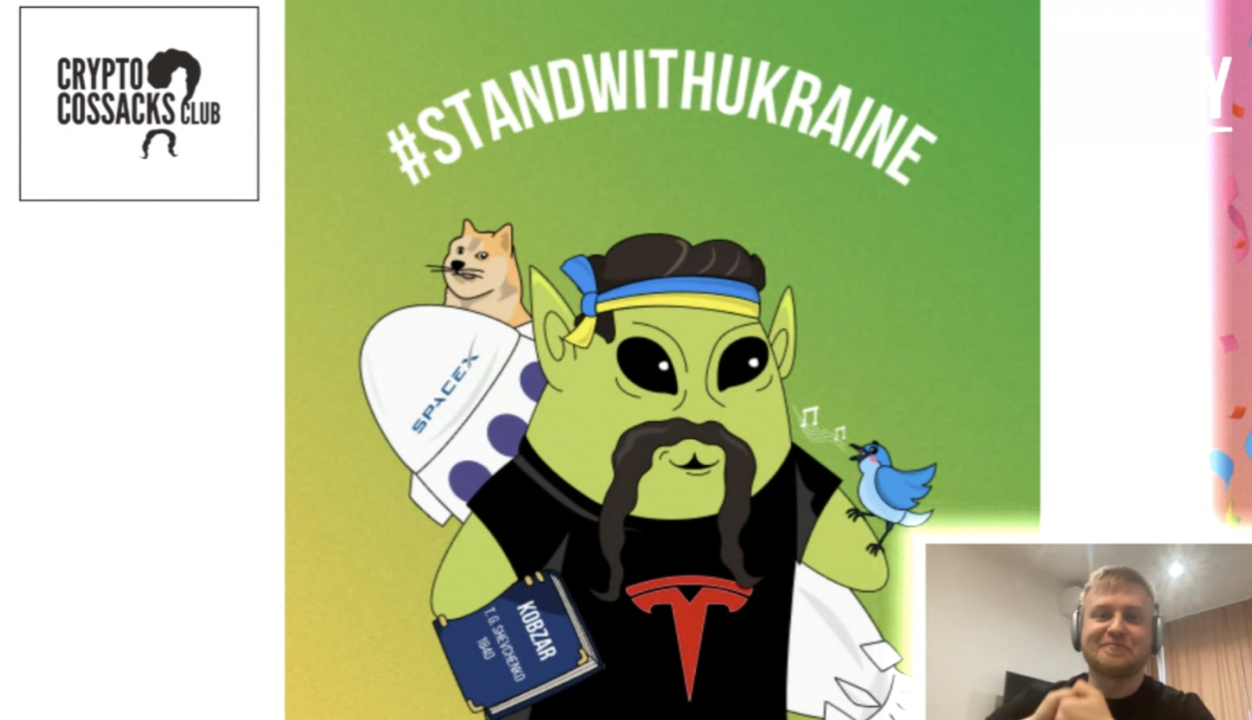 The Musk NFT has some telltale features: Twitter's mascot bird, a Doge resting on his shoulder [Musk is a big fan of dogecoin, the cryptocurrency] and a SpaceX rocket. NFT Musk also has some alien features. "People are still guessing if he's human or not," says Petruk. 
Everybody into the metaverse! (sort of)
On the night of his NFT launch two weeks ago, Petruk was grinning sheepishly onscreen before about 60 invitees. "This is really weird," he said.
The event, which transported participants to a slick-looking club, was organised by Ukrainian virtual party platform Party.Space. 
The platform's founder, Yurii Filipchuk, spent eight days in a row in February in his basement, which is 10km from Bucha, a suburb of Kyiv where retreating Russian soldiers left behind dozens of dead civilians. As bombs fell near by, he tried desperately to keep his business alive. 
"Now we're running more and more events every week," says Filipchuk, who has since relocated to a quieter part of the country. "We're allowing NFT collectors to show their art in a meaningful way. People are fed up with hanging out on Discord and Zoom."
While the metaverse doesn't truly exist yet — forget the marketing spin, it's an idea still being manifested piece by piece — Party.Space is an immersive world builder that has successfully exploited recent metaverse buzz (the company sometimes says that it creates "microverse experiences").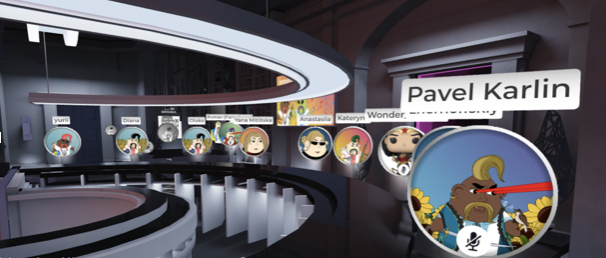 Along with his team, Filipchuk has created 15 microverses so far (the most popular is Dogetemple, described as "a freaking awesome microverse devoted to Doge", the meme star), which can be rented for conferences, end-of-year parties, team-building events and workshops. 
Event housekeeping is a bit different in the metaverse/microverse, where the host had to give guests tips on how to move around, how to sit on chairs and sofas and how to network. 
"You need to click on the couch so you can sit there," Petruk advised his guests at one point. This being the metaverse-lite, it's also a kind environment for people who like to vanish from a party without saying a word. One click, or the slam of your laptop, and you've left. 
'We're going to rebuild'
Out in the real world, things feel a little more optimistic in the country than they did a month ago. The army has resisted the Russian assault in key cities, allowing some Ukrainians to think about returning to their homes.
Still, few see a quick end to the invasion. "It might be a frozen or stagnating war for years which is not good for the economy. And still, we'll live beside [millions of] super-brainwashed people [living in Russia]," says Petruk.
Longer term, he's more positive on the outcome. "We're going to rebuild everything. Ukraine will become the capital of freedom and creative people from all over the world will want to build something here." 
Eanna Kelly is a contributing editor at Sifted. He tweets from @EannaKelly1