For a 26 year old who, in the past year, has taken his company from 100 to 800 employees, expanded its reach from 14 to 75 cities, and set his team the ambitious goal to become the app that people use to order just about everything, Glovo founder Oscar Pierre appears remarkably zen — or incredibly naive.
'The last 12 months have been pretty intense,' he admits. Not all that long ago, Pierre was struggling to raise money for Glovo, the Barcelona-based on-demand delivery app he founded in 2015. 'I'm kind of known as the person who has received a record number of nos from VCs,' he says. 'I had 117 nos for our Series B. It was very, very challenging, and we were very close to shutting down.'
Today, it is a different story. On the streets of Barcelona Glovo couriers and their trademark bright-yellow satchels and delivery boxes are everywhere; parking their mopeds outside restaurants to pick up takeaways, or leaning their bikes against park benches to rest between orders. In July this year, it raised another €115m, bringing total funding to €152m.
Unlike the other couriers that ride these streets — namely those working for UK-based Deliveroo and US-based UberEats — Glovo couriers don't just pick up food for customers of the app. They'll also buy you a particular dress in a size 12 from Zara, or grab some painkillers from a pharmacy. And, if Pierre's big vision works out, in the not-too-distant future they'll also ferry laundry, cash, packed lunches, tickets and even people.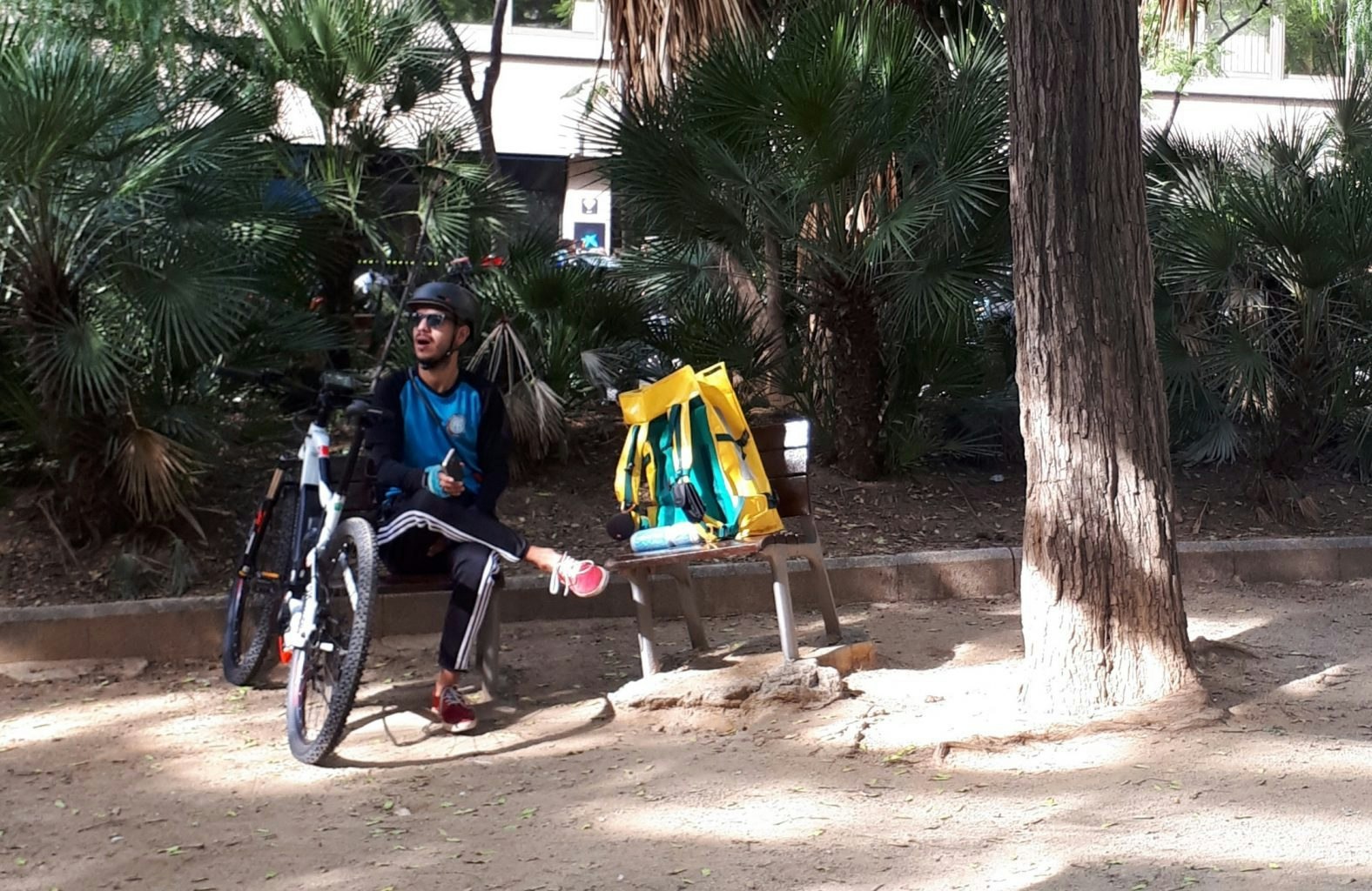 More immediately, though, Glovo's focus is on expanding into around 20 more countries, opening more 'dark' kitchens and supermarkets (customer-free sites, set up solely to fulfil delivery orders), and boosting its tech team. For Pierre, there's also the minor distraction of meeting with all the investors who are rumoured to be jumping on flights to Spain to visit him. 'I tell my girlfriend it's going to be 18 months of craziness,' he says, grinning.
Winning food delivery
'Our playbook is really simple: be the fastest-growing food delivery company in every market,' says Pierre. Around the time Deliveroo launched in Spain, Glovo dramatically shifted focus: Pierre recalls his new CMO telling him, 'We need to win in food delivery.' Today, 85% of Glovo's orders in Europe are for food. (Interestingly, in Latin America, it's 65% — people are apparently much more used to offline delivery, for just about anything. 'Everyone has a cousin or a little brother or an employee that has a bike that can deliver to you,' says Pierre.)
Getting the timing right is crucial — Glovo won't enter a country where there are already two dominant players (which is the case in Mexico, Colombia and the UK). 'If we went to the UK today it would be super tough or impossible to become one of the main food delivery companies. It's a snowball effect; as you don't have the volume, you don't reach to the top chains or restaurants which doesn't give you the growth.'
'There's good space for two players [in

any market]'
In Spain, bringing chains such as McDonald's and KFC onto the app led to 'massive growth'. At the time, competitors like Deliveroo weren't willing to meet these big companies' demands. 'We literally built anything they wanted,' says Pierre. Glovo is now the biggest food delivery service in Spain (where it is profitable, and takes around one million orders per month) and Italy (which is 'about to get there').
Sifted Newsletters
Sifted Newsletter
3x a week
We tell you what's happening across startup Europe — and why it matters.
'Every single city needs between six to nine months to reach operational break-even,' adds Pierre. In the past 12 months, Glovo has jumped from operating in just two countries to 20, including nine in Latin America. 'Structure-wise, it's been super interesting,' says Pierre. 'You have to delocalise — otherwise the company stops. You need to find super strong regional teams. In Buenos Aires, we have a very senior team, with almost a CEO and CMO, and they take all of the decisions.'
The school of launchers
To staff these offices, Glovo has stolen a page from Uber's expansion playbook: it's started a 'school of launchers'. It recruits people with two to three years experience in banking or consulting, who have 'big energy and are willing to travel', and puts them through a two month training programme at Glovo. They're then shipped off to set up Glovo in a new market — and given two months to do so. 'They do everything; they arrive alone, they build the team, set up the business — everything. And then they move to another city.'
So far, the school has six graduates. Pierre reckons each can open three countries before burning out — but doesn't see this as a problem. 'These guys and girls end up being the smartest in the company, so they end up becoming regional managers, or coming back to HQ and taking senior roles.'
The next regional office Glovo will open will be in Nairobi, Kenya, this month. It will serve as the regional hub for sub-Saharan Africa. 'Nobody's going to notice, nobody will suffer,' says Pierre. 'There is a machine that is already working.'
SuperGlovo
Pierre already seems bored of international expansion though; he wants to talk about Glovo's first 'dark supermarket', which he's just returned from visiting in Madrid. It's hardly an Amazon warehouse — Glovo's first 'SuperGlovo' is the size of a garage, and stocks 700 SKUs — but items are delivered in 20 minutes.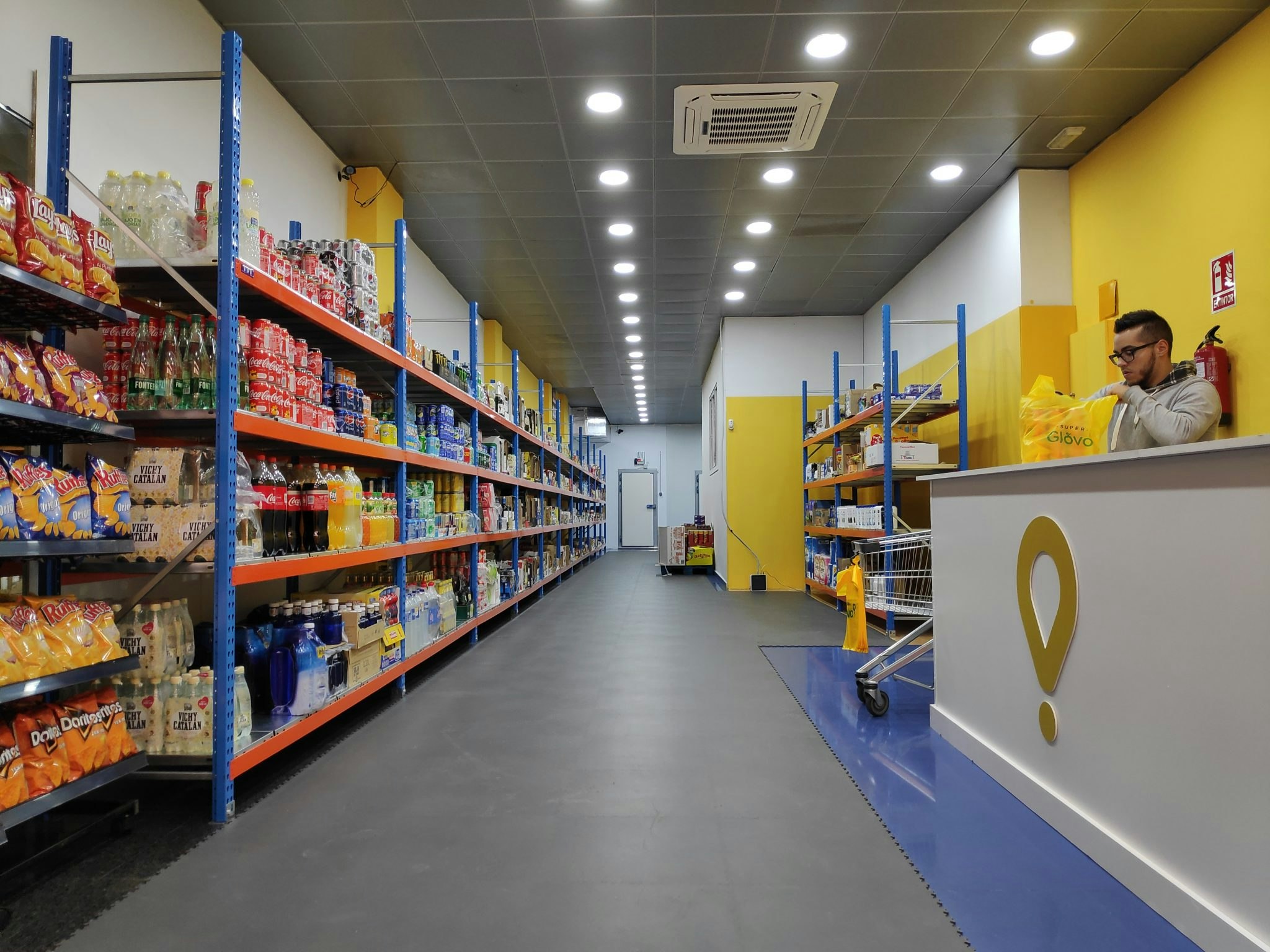 The service launched just three weeks ago, but its distinction from Amazon already seems clear. Customers are ordering convenience groceries — drinks, snacks, toilet roll — that they want almost immediately. 'Delivering in 20 minutes is what makes people decide between going to the 7–11 in the street, which is an average of about 500m away, [or ordering on Glovo]. [It works] when the pricing sensitivity is very low: they don't care if they're paying 80 cents for a coke, or 95 cents. But that's a very big margin for us.'
This being Glovo, Pierre hopes to roll out at least three more dark stores in Madrid soon, to ensure that the 20 minute window can be met for all orders. He's also toying with the idea of producing own brand groceries, to further improve his margins. Glovo had been trying to partner with existing supermarkets in Spain (and is still running a 'painful' trial with some in Barcelona) but grew frustrated with the pace and bureaucracy. 'We were like, fuck it, we're going to do it ourselves,' says Pierre.
Glovo sushi
It's not just grocery Glovo plans to take on; it's also following the Deliveroo 'dark kitchen' model, running three of its own food-delivery kitchens. Sceptics may say that customers simply won't order food made by a courier company, but Pierre sees things differently.
People already order food from restaurants they've never seen in real life, he argues. Beyond the top 20 or so brands on any food delivery app, there are hundreds of unknown restaurants which customers are occasionally willing to try, without setting foot inside their sites. 'We could actually start doing these restaurants,' says Pierre. 'It's a bit complex, because then you start competing against your own partners, but I'm sure there's a fair way to start doing it, as much as Amazon sells basics, and sells other electronics.'
Pierre would like to see Glovo Sushi (although that wouldn't be what it would be called — 'it would be Pepé, or whatever') become a reality in the next year. His investors, however, are not so sure.
'When I talk to investors about becoming this everything app, they say, execution-wise, there's a high risk, because we're going through geographic expansion, that is very aggressive. But then we're also doing this vertical expansion.'
If Glovo's not quick though, Pierre worries it'll miss out. 'I think there's going to be an everything app in every city, in the next few years — basically an app that connects people to the city for everything you need or want. I think we're going to have an app for mobility, an app for taxis, an app for scooters, an app for food, an app for groceries, an app for any home service or even ticketing or reservations. Anything that connects you with the city. And I think we're very well positioned.'
'When I talk to investors about becoming this everything app, they say, execution-wise, there's a

high risk'
The winner of the 'everything app' market will, Pierre thinks, be one currently in food, or mobility, because we need to eat and get around every day. More niche services are already struggling because operational costs are high and customer order frequency is low; several laundry startups in the US have shut down, while UK market-leader Laundrapp's plans to expand to 15 countries internationally (announced a year ago) have yet to materialise. Pierre says he wouldn't rule out acquiring these kinds of services to integrate into Glovo. Even Deliveroo is finding it difficult to make more than the tiniest margin with its current model, without making order costs prohibitively high for customers, according to one source close to the company.
A happy fleet
Adding on more and more services will also keep Glovo's couriers happy. They'll be able to earn more per week and, more importantly, have far less downtime. In Spain, Glovo experiences a massive spike in orders at 9pm every evening ('it's nuts') but couriers want work between lunchtime and this dinner rush. Enter Glovo Business; a B2B delivery service, launched last month, which is mostly used in those in-between times. 'The main benefit of this is a happy fleet,' says Pierre.
Glovo has not been immune to the 'gig economy' debate; however, in September, a Spanish court ruled that it did not have an employer relationship with its couriers. It considers that Deliveroo does. One key distinction is flexibility; Glovo couriers can quit a job midway through.
Pierre's notably frustrated by the issue. 'In Spain, there's no interest in having a conversation,' he says. Politicians, he thinks, are sticking to their message on the subject rather than exploring it. 'The government's not getting it.'
'What's going to be the future of labour? It's not going to be what we have today. New generations want flexibility.'
Other countries in Europe like France and the UK are much further ahead, he says, referring to President Macron's proposal for legal 'charters' between tech platforms and freelance workers, which would both preserve flexibility while outlining some workers benefits. 'I think there needs to be a very ad hoc solution. Hybrid solutions where courier that work 50 hours per week should be covered in all senses; they should have holidays, they should have a retirement plan. But most of our couriers, no. Most are students, or people who need to make some extra money — these guys shouldn't have as many benefits as the others.'
Right now though, Pierre says that if Glovo makes any moves towards offering benefits to its couriers, it can be read as a step towards an employment relationship, which would put the company on wobbly legal grounds. 'It makes no sense.'
Inside Glovo
At HQ, a two-storey building in Barcelona's 22 district (an old industrial area now taken over by startups), full-time staff seem more than happy with their lot. It's the typical tech company scene — yellow Glovo merchandise is dotted around the desk, there's free fruit and fancy coffee, several employees are (voluntarily) sporting Glovo t-shirts, and the company's goals are shared on posters on the walls.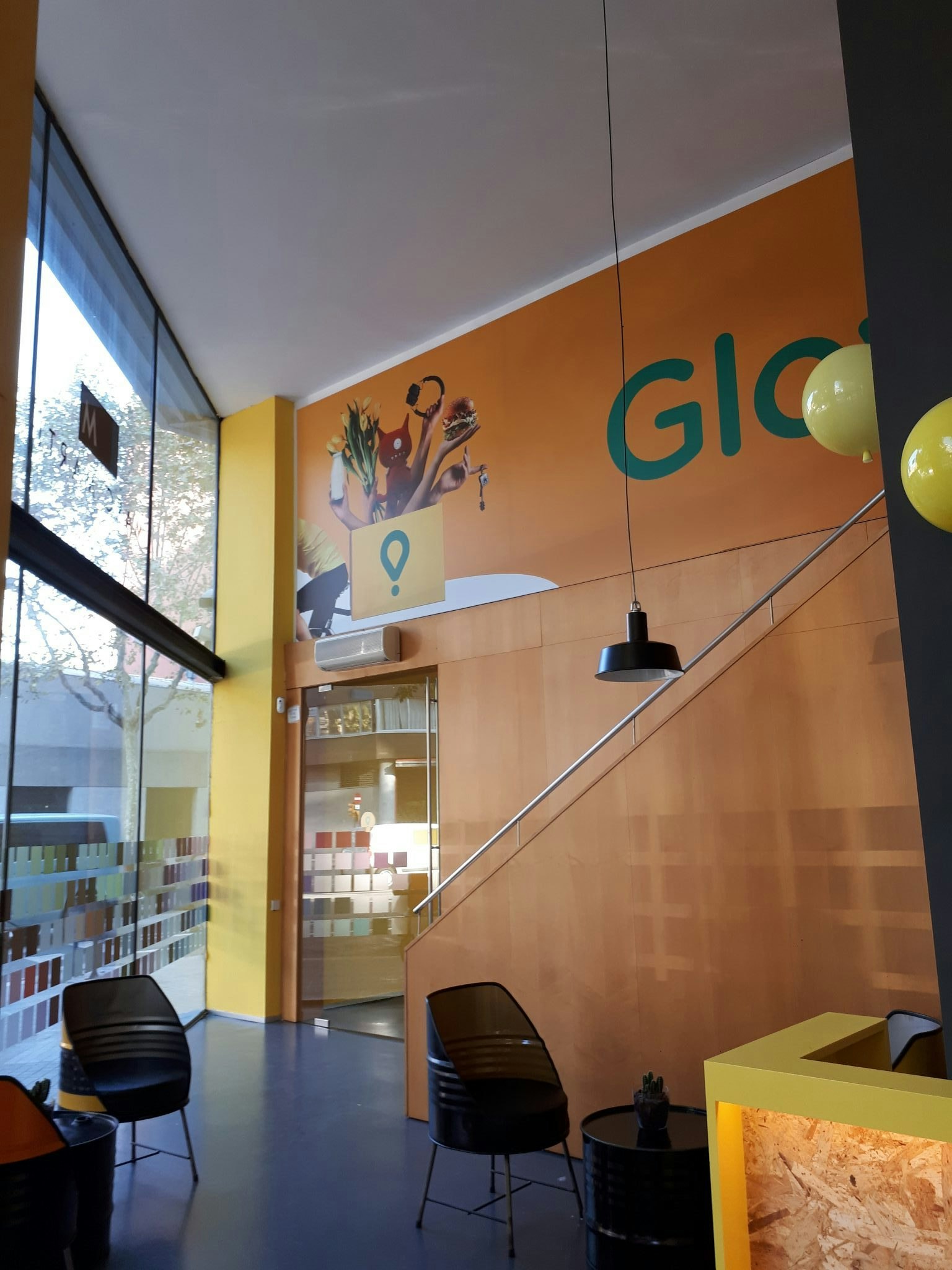 Number two on the list is 'Growth' (no surprises there). Number one is more intriguing: 'Make Glovo a Tech-first company.'
'Our tech team is tiny,' Pierre explains. 'I think 4% of our employees are in tech, and usually a healthy company like ours should have at least 20% tech employees.' He says it's probably been his biggest mistake to date — 'there are a lot of people with ideas and new processes in mind, and too little people [to implement them], so the tech team burns out'. If he were to start again, he says he'd be offering the highest developer salaries in the city from the beginning.
To boost the technical team now, Glovo is on a recruitment drive. It's employing a familiar tech company tactic, running regular tech talks to attract talent and improve its employer branding. One started just after I finished speaking to Pierre, in a large room that looked like it once sheltered lorries. Just outside the packed talk was a table covered in job ads.
Employees milled around the office after hours, grabbed pizza and drinks and spilled out onto the street outside. It's not that anyone works crazy hours though, one Dutch employee told me; they just work flexible hours. He'd taken a pay cut to join Glovo, but said he was sold on the Spanish work-life balance.
That's not to say Glovo employees seemed to be taking it easy — rather, it feels like they're willing to give most things a go. Pierre thinks the nine month struggle to raise Glovo's Series B has shaped the company's culture forever. 'We went through it together,' he says; back then the team numbered about 100. 'Everyone was very aware of the cash situation, and of all the VCs we were talking to. We became very conscious that we had to take good care of the company's money, and we become very scrappy. It was a great experience.'
'I have to say, I don't know if it was a very rational

investment'
Is he surprised, looking at the Glovo empire today, that raising that round was so hard? (Eventually Rakuten, a Japanese company which has invested heavily in mobility startups such as Lyft and Cabify, led a €30m round in October 2017.)
No, says Pierre. 'It was quite understandable; we were a Spanish-based company fundraising €25m — which is something you have to go outside of Spain to raise — in the most competitive space, and our international track record was minimal.'
'I have to say, I don't know if it was a very rational investment at that moment — when you have over 100 smart investors saying no, it might mean something.'
So is he zen, or naive, or something else? According to Pierre, he's humble. 'Our most important core value is humbleness. I tell it to the team a lot. I've seen companies go bust through lack of humbleness.'
'Every time I go to the board, I'm like, "Oscar man, if you're not taking big steps you're not going to be the best CEO for this company." So I just keep that in my mind all the time.'
Which other fast-growing companies around Europe would you like us to profile? Let me know: amy@sifted.eu