As I mentioned in part one of this series, last October, GitLab Inc. (Nasdaq: GTLB) went public and became the first company to publicly livestream the entire end-to-end listing day at Nasdaq. 
For part two in this three-part series, I'll focus on how we livestreamed the occasion to make it inclusive for all team members.
In the US, companies generally partner with the New York Stock Exchange (NYSE) or Nasdaq for listing. After much consideration, we chose Nasdaq because it was the best exchange for GitLab. Engaging with Nasdaq enabled us to livestream the entire event to our team members tuning in worldwide, and allowed us to showcase our team members and the wider community on the Nasdaq tower in Times Square — more than 200 photos were submitted to appear on the tower.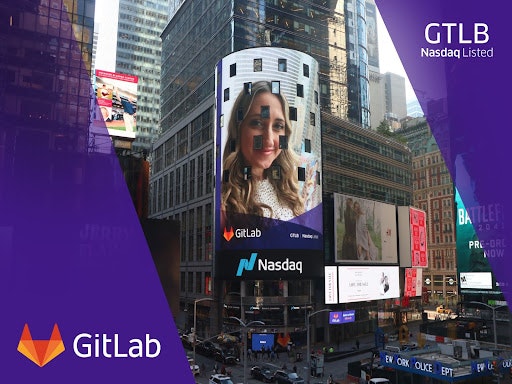 The live broadcast created five hours of television, and we accomplished this with the innovation and passion of our team members. As a result, we experienced a huge uptick in awareness, including 19K views across all streams and an increase in user visits to our website of 80%.
The importance of sharing
Sharing the livestream not only boosted brand awareness, but it reinforced our transparency value by enabling the entire world to see what is often only shown to company employees and major stakeholders — that includes the bell ringing, viewing the first trade in real time, onsite team members taking photos in Times Square next to the Nasdaq tower and live commentary of the IPO process.
As an all-remote company, this remote-first listing day approach enabled GitLab team members in more than 65 countries to participate live. This was a way for family and friends to witness a historic milestone, to attract great talent to join GitLab, for investors to watch and to live our values in front of the wider community and customers. Team members contributed stories and messages of gratitude in 11 languages. And people who were not yet part of our team — like Jack Andrews, now our VP of investor relations — tuned in and were inspired to later join the company. 
Executing the livestream
When planning the livestream, we had to take into consideration how to be inclusive to team members in 65 countries. This day was for them and for the contributors, customers, partners and others who contributed to the success of GitLab. We made the livestream a top priority for the company, pulling together a team of 30 people to work full time on the project for approximately three weeks leading up to listing day.
We viewed the day as a true celebration and created activities to keep the party going in every time zone, from the bell ringing until the APAC team woke up the next day. From a technology standpoint, we achieved this with constant live communication with Nasdaq Master Control during the entire run-of-show to oversee content, quality and respond to needs on the fly. The livestream featured three layers of redundancy to safeguard against downtime. All livestream feeds were monitored through live communication with Intrado (app and stream encoder). Stream analytics were securely transmitted live via Zoom. 
Shipping celebration swag
We shipped more than 1,450 swag boxes to 65 countries. The boxes included a bell for ringing, a confetti popper, branded water bottles, shoes, hat, jacket and socks. Ensuring arrival by listing day was no small feat, given the complications introduced by shipping across so many borders. We trusted our team members to keep the secret until they were permitted to share, because we knew they would comply with our guidelines to keep the news confidential. We also designed custom listing day emojis, mosaics, Zoom backgrounds, photobooth assets and design assets that team members could use throughout the day.


Celebrating worldwide
The listing day unleashed an explosion of energy for our teams across the world. Wherever the team member was located, there was a way to celebrate — and they did. Team members loved their swag boxes and rang their bells along with the opening bell. On listing day, I hosted an all-company Zoom call while at Nasdaq to connect with team members who were watching the live stream. I was thrilled to see our team members cheering and ringing their bells. Moved by the moment, I shouted: "more cowbell!" and team members responded with a wave of bell ringing and a flurry of emojis.
We were able to honor GitLab Heroes and team members by featuring them in the livestream and in Times Square.
The excitement continued even after the closing bell, with the GitLab team participating in our DJ Graffiti virtual afterparty and onsite in NYC. 
Most importantly, the livestream allowed our team members to feel connected, appreciated and included in a celebration that is usually only reserved for select senior members of the company along with members of the board.
In the final part of this three-part series, I'll cover pricing and allocating the IPO shares.
Sid Sijbrandij is cofounder and CEO of GitLab.