I wrote some of my favourite tech stories as a reporter when I was expecting my eldest daughter Leila, including one about a new UK government-backed programme to create computer coding clubs for girls.
This was back in 2006, when less than 14% of IT professionals in the UK were women. The programme, called CC4G, was an attempt to close the rather alarming gender gap in the tech industry.
I had hoped that such initiatives would mean my daughter's era would be different.
Women now make up 21.5% of workers in digital jobs across Europe —  hardly a

revolution.
Fast forward a dozen years, and the needle hasn't moved all that much . Women now make up 19% of UK IT professionals and represent 21.5% of workers in digital jobs across Europe —  hardly a revolution.
The CC4G programme has long-since petered out due to patchy support and my daughter, like many 12-year-old schoolgirls, has decided that "tech is boring". My own enthusiasm for tech has utterly failed to inspire her (in fact, I suspect it may have contributed to turning her off).
I wasn't particularly hopeful, therefore, when her secondary school suggested she take part in a one-day DigiGirlz experience at Microsoft teaching young girls about technology.
After the demise of the government-supported girls' coding clubs, most of the efforts to get girls interested in science, technology, engineering and math (stem) subjects have come from big corporates or social enterprises such as Stemettes.
I was worried DigiGirlz was simply a tick-box exercise to allow a big company to earn social responsibility kudos. We were both pleasantly surprised.
This is what my daughter thought of the day:
The DigiGirlz trip was not something I usually would do because I thought it would just be full of nerdy people, but my friend was going so I decided it would be ok. Eight girls from my school went in total.
Sifted Newsletters
Sifted Newsletter
3x a week
We tell you what's happening across startup Europe — and why it matters.
I liked the Microsoft offices, which were really nice, with big glass windows and fancy decor items, it looked very neat and modern. There were a lot of other girls there from other schools - maybe a 100 or so.  We each got a bag, a pen and a bright green top that we had to change into in the toilets.
The CEO from Microsoft UK told us about women in technology and how DigiGirlz was trying to get more women into tech. We were divided into groups of four and given a task to create something that would help someone with a disability. We were given a computer, a microbit, scissors, glue and pipe cleaners and other miscellaneous craft items.
We decided to make a watch that would help blind people tell the

time.
We decided to make a watch that would help blind people tell the time. We made it with beeps - one note for the hour and another for minutes. We had to programme it and think of how to present it to the CEO. It was a good idea, but really hard to make.
We had lunch — a buffet — and after lunch there were more talks with people explaining, for example,  how the cloud works and the fourth industrial revolution. Later a postgraduate student, an intern and apprentice talked about working at Microsoft. I asked a question because they were giving out chocolate if you asked something.
I can't now really remember exactly what they said, but I did realise that not all the jobs at Microsoft are about programming — and not everyone working there had taken computing at GCSE, A-level or university.
At the end of the day, we had to present our prototypes. The judges liked the fact that we had named our device the Homer Watch — because Homer was blind — but we didn't win. The other team from our school won most beneficial product. They got a mug and some other cool stuff.
It did change my view of technology. One of the presentations was about creating a bracelet that cancels out the tremors people get when they had Parkinson's' disease. I'd always thought of technology as nerdy, but that was cool. We watched a video about a woman who loved drawing but couldn't do it anymore because of Parkinson's. With the bracelet, she was able to draw again and it was amazing to see how much the technology improved her life.
I don't think I want to work in technology — I have a lot of other things I have my eye on. But I do think more positively about tech now."
by Leila Palmer
[/box]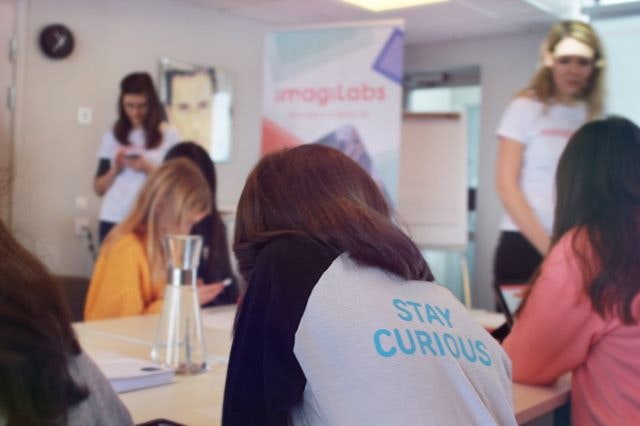 It is clear that the day made my daughter see tech in a new way. The idea that computer programming could be applied to a purpose like healthcare, clearly resonated.
Dora Palfi, cofounder Imagilabs, which is creating tech programming tools for teenage girls, has noted the same. "I don't think we should even use the word 'programming'. That can turn girls off, they are not interested in learning coding for the sake of coding. But if we talk about making something that gets their interest."
ImagiLabs is planning to bring out a small programmable accessory, linked to a mobile phone, that girls can customise, learning a bit of the coding language — almost without noticing — as they do so. It is a teaching tool that isn't meant to feel like a teaching tool.
Schools, perhaps, should consider teaching tech skills in a different way. Teaching coding is compulsory in schools in many European countries, but it hasn't necessarily been presented as appealing for girls. 
We need to link coding to different subjects in the curriculum like art and

music.
"I worry that if programming is heavily linked to maths — where girls can already be marginalised — then it will just widen the tech gender gap further. We need to link coding to different subjects in the curriculum like art and music," Palfi says.
If programmes like DigiGirlz really are working at changing girls minds, we need more of them. Stemettes has reached just under 40,000 young people in the UK and Ireland to date, but this is a tiny fraction of total students.
And this contact with the tech industry needs to be longer-term. Clearly, a single day at Microsoft, though eye-opening, was not enough to convince my daughter about a career in tech.