Correction: The Sifted Newsletter on Friday July 21 stated that Getir had pulled out of France and Germany, but ought to have said that they've exited France and Spain. Getir are still active in Germany.
The British arm of Turkish speedy grocery company Getir has been auctioning off bikes, helmets and fridges as it attempts to tame major cashflow issues. It's also been asking for volunteers from its London office to go door-knocking with discounts and free merch in an effort to increase sales.

The auction, managed by commercial property agent Sanderson Weatherall, took place on Thursday morning. Customers had the opportunity to buy refrigeration units, as well as scooters, helmets and insulated bike boxes in Getir's recognisable purple and yellow.
The sale comes after Sifted reported that office staff were being asked to clear out a number of soon-to-close dark stores — the inner-city warehouses that stock Getir's products. This may be partly down to the fact that Getir acquired its rival Gorillas in December 2022, leading to having more than one dark store covering the same area.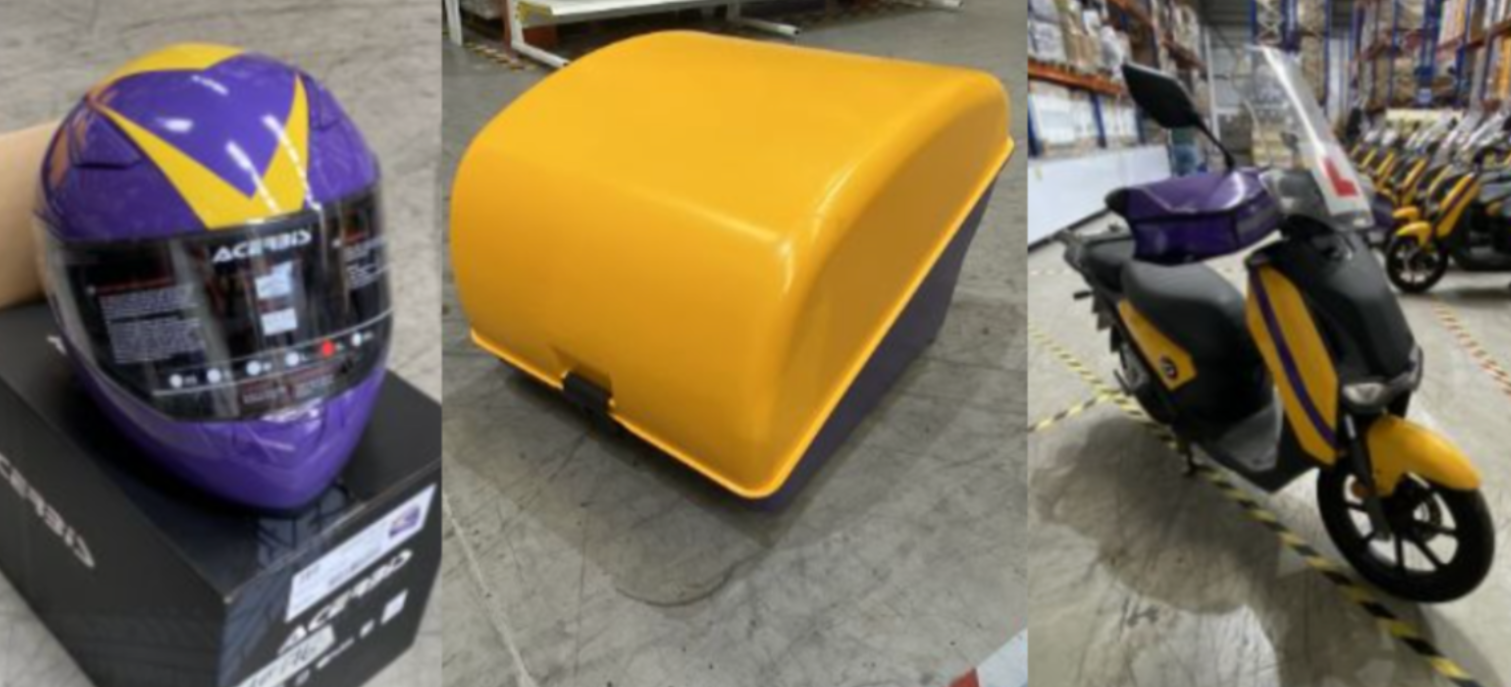 Getir, the remaining leader of Europe's once-hyped speedy grocery sector, has raised $1.8bn in venture funding to date from investors including Tiger Global, Sequoia and Mubadala, but has been struggling to make its business model add up and has pulled out of several key markets in recent months.
A spokesperson for Getir told Sifted that: "it is normal to sell excess inventory and go door to door to promote our brand to customers."
Call for volunteers
The company is trying a number of strategies to fill the hole on its balance sheet. This week, a marketing executive asked for volunteers from the UK office to go knocking on doors in four London neighbourhoods in an effort to increase orders, according to a leaked message seen by Sifted.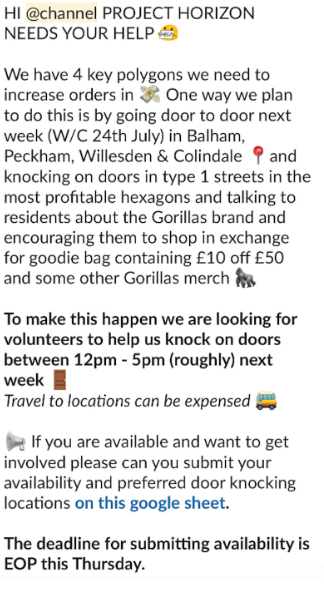 The message, sent to Getir staff this week in the "Getir all UK" Slack channel, calls on volunteers to visit Peckham, Balham, Willesden and Colindale to talk to residents about Gorillas. 
Staff were encouraged to offer potential customers vouchers and Gorillas merchandise. 
The push for sales comes as Getir is reportedly seeking to raise $500m from the Abu Dhabi sovereign wealth fund Mubadala (an existing investor in the company), according to The Grocer.
Leaving markets
The scramble to cut costs and increase sales in Getir's UK division comes after the company withdrew from the Spanish and French markets earlier this month. German newspaper Handelsblatt this week reported that the company could also exit the Netherlands and Italy.
The speedy grocery sector — of which Getir is the largest European player — has taken a hit over the past 18 months, as inflation and high interest rates have seen consumer spending power and VC funding decline.