Many tech founders come from surprising backgrounds. But one rare profile, even by tech's eclectic standards, is the soldier-turned-entrepreneur.
Marc Wietfeld, a German officer based at the Munich army base, is one of them. He began working on a robotics project in 2021 to assist soldiers while on the battlefield or with training. His robotic vehicles are designed to help soldiers deceive enemy teams by imitating gun sounds, creating smoke or distracting them with laser beams.
Last year he officially incorporated the project as ARX Landsysteme and has recently brought former German army officer turned tech executive Stefan Röbel on as cofounder. Röbel was formerly head of global operations at German consumer tech unicorn Grover. ARX has already raised pre-seed funding from angels with roots in defence tech, though it won't say how much. 
Europe has not been friendly to defence innovation in recent decades, in contrast to the US. But with rising geopolitical tensions and the war in Ukraine, a new generation of defence tech startups is emerging. Nato announced a €1bn investment fund in September backed by 22 of the military alliance's member states, and more VCs are committing capital.
👉 Read: Learn more about Europe's early-stage defence tech space with our Pro Briefing
'Army intrapreneur'
Wietfeld started developing his robots, called Gereon, as a side hustle while studying at the university for the armed forces in Munich. The university bankrolled his project and allowed him to use resources and personnel from the mechanical engineering department to build his robots. 
Currently, the company has three prototypes, one of which is already patented. The next step is demonstrating the product to potential customers — hence why Röbel was brought on. Already, one of the products has "quite a lot of traction within the army," says Röbel, and the company is hoping to get the first purchase order in the next couple of weeks.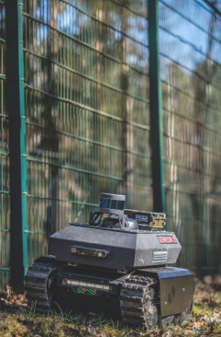 Röbel thinks highly of the German army's encouragement of "army intrapreneurs", who are in many ways the people best positioned to build this tech. First, as soldiers themselves they actually understand customer problems. 
Secondly, sales cycles for defence and dual-use equipment are typically very long, so having soldiers develop tech within the university speeds up the process of getting products to market. 
"When you think about governments, they're always super slow. But now there's more momentum, and they're supporting people in founding businesses," says Röbel. 
Confronting taboos
One of the challenges that defence companies typically face is getting funded by VCs. The sector has traditionally been off-limits for VC firms — not only because defence is considered taboo, but also because the traditional 10-year fund cycle is normally too short for a startup to successfully commercialise its tech and exit. 
There are some exceptions to this rule: German AI startup Helsing has raised over €100m and is one of Europe's most valuable defence startups. The drone company Quantum Systems, which has raised approximately €80m, has also been attracting attention after Ukrainian multi-millionaires placed an order with the company last April.
ARX says it's considering raising further funding. But it might not be necessary if it secures the first purchase order from the army, which would fund the project without the company having to give out further equity.
Getting 'educated'
ARX has already piqued the interest of VCs, who Röbel says were in part attracted to the stealth mode status of the company. But he thinks that VCs in general need to be more discerning about the difference between defence and dual-use technologies.
He explains that the company's robots that "are not weapons and are all simulation", and can be used outside of army training, such as in "anti-piracy operations" aboard commercial vessels. The robot could simulate that you have guns on boards to deter intruders from entering the ship. 
The company has also developed robots with sensors that pick up when an unknown person is trying to enter a ship: it triggers an "escalation process" where a light and loud noise comes on and a video camera is activated. 
"The main purpose is to buy people time and increase people's safety," says Röbel. "And that's something that people need to be educated on, because when you say this is a product in the defence sector with the German armed forces as our first customer, they don't want to touch it."
Some "bias" against defence tech still exists in the government too, which is why Röbel is still on tenterhooks about whether the purchasing contract will go through. 
"Nothing is safe until the ink is dry," says Röbel. "You can be excited as hell, but if (the documents) land on the desk of someone who doesn't understand the product or thinks it's not relevant then…
"Also, governments are always slow. Getting a contract always takes much longer than you think it does."