Twitter is one of several playgrounds for investors to share some of their tech wisdom and scout startups.
From startup-building tips to thought-provoking comments, some German investors have nailed the Twitter game — and are actively engaging with local and global tech communities on a regular basis.
If you're tired of Linkedin's business etiquette and are looking for a casual way to connect with investors, we curated this list of VC and angel investors based in Germany, out of the data pulled by Atitlan.co, a Twitter growth startup, and our Twitter community.
Who? Dada is the general partner at early-stage VC La Famiglia, focusing on the future of work and sustainability.
Why should you care? In 2016 Dada partnered with Jeannette zu Fürstenberg — member of an industrial business dynasty in Germany — to launch La Famiglia, a Berlin-based VC firm that has invested into health subscription app Asana Rebel, digital freight platform onTRUCK and visual data collaboration platform Graphy. 
How about those tweets? She shares about European tech news, diversity and VC life. 
 Followers: 514 
Twitter lists: 0 
Our favourite tweet: 
Philipp Moehring — @pmoe 
Who? Moehring works for AngelList and take care of all things Europe. That mostly means working with investors on raising funds, managing investments for European syndicate investments, and building infrastructure for venture funds. He also invests in startups as an angel investor. 
Why should you care? Moehring is one of the best connected people in the European tech scene. He has been involved with hundreds of startups and prior to AngelList, he spent time at Seedcamp, where he built the accelerator program and international network.
How about those Tweets? Moehring Tweets often and with panache about global tech trends, tech news and impact
Sifted Newsletters
Up Round
Every Friday
Dive into VC and meet the people holding the purse strings.
Followers: 15.2k
Twitter lists: 2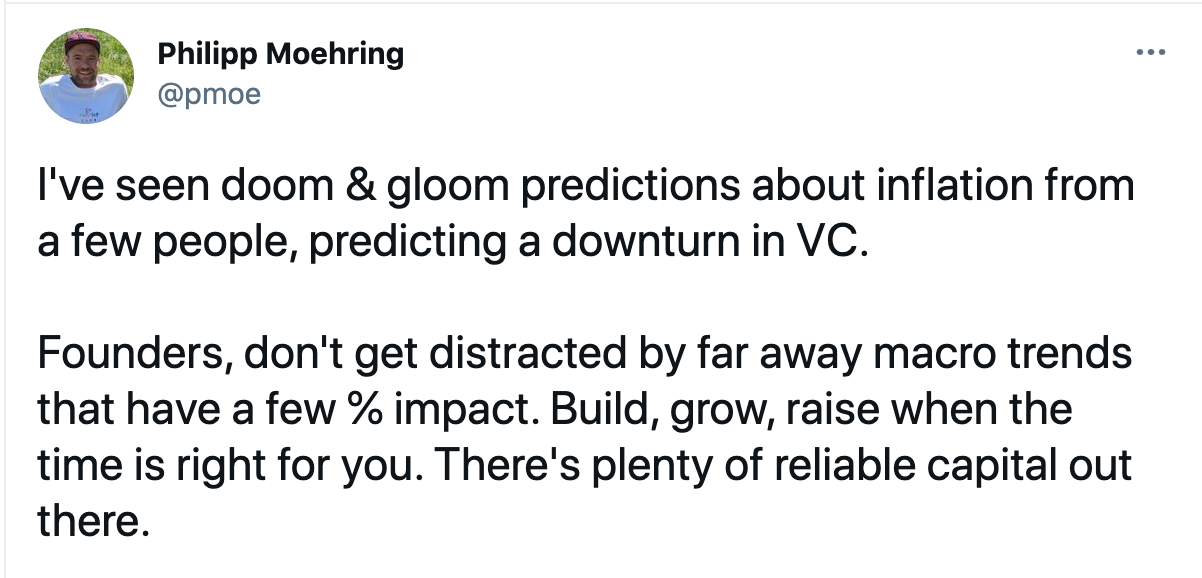 Christoph Janz — @chrija

Who? Janz is cofounder and partner at seed-stage VC Point Nine
Why should you care? Christoph Janz is a founder turned investor: in 1997 he co-founded DealPilot.com (acquired by Shopping.com) and in 2005 he co-founded Pageflakes (acquired by LiveUniverse).
He then cofounded Point Nine Capital, an early-stage VC focused on SaaS and digital marketplaces in 2018. It has invested in online learning platform Brainly, content management system Contentful and Cargo.one, which compares an air freight comparative platform. 
How about those tweets? From the ups and downs of a VC investor's life to software startup & global tech news, Janz's feed is informative, entertaining and recommended by many from the German tech community on Twitter. 
Followers: 32.1k
Twitter lists: 10 
Our favourite tweet: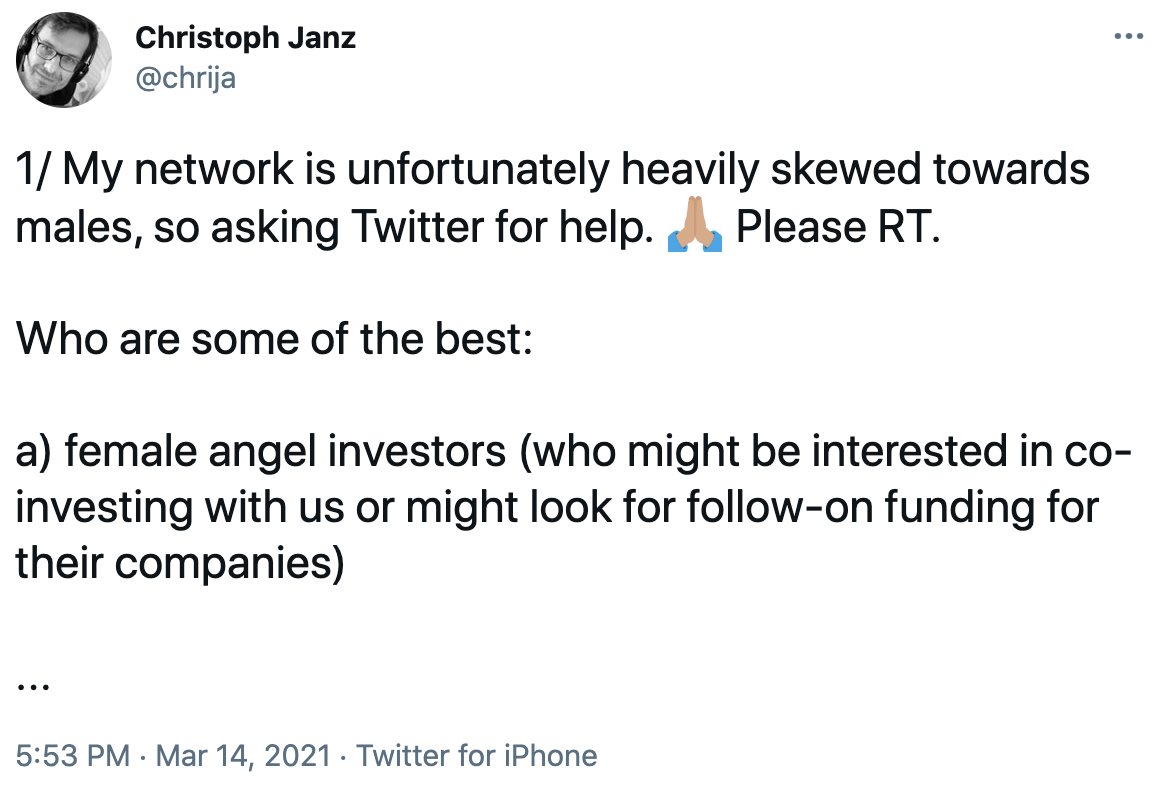 Who? Angermayer is the owner of Apeiron Investment Group, his family office which invests in startups across Europe and the world.
Why should you care? Angermayer has been building companies since he was 19 and has in recent years found a particular niche as a leading figure in the business of psychedelic drugs for mental health. But he also does investments in fintech, space, crypto and other areas as well. Read a full interview with him here.
How about those tweets? He tweets about his various passions in life and business, but always with wit and style. 
Followers: 9.5k  
Our favourite tweet: 

Who? Piroozram is general partner and founder of InsurTech VC, which invests in European insurtech.
Why should you care? In the mid-1990s, Piroozram founded content management company Pironet, which went public on the German stock exchange in 2000. He switched to angel investing in 2003 — primarily into app-store driven businesses.
In 2014 he founded InsurTech VC, which is a leading seed investor for startups from the Insurtech space throughout Europe.
How about those tweets? Mehrdad tweets about the latest news & trends in insurtech, angel investing tips and business tips. 
Followers: 4.3k
Twitter lists: 6 
Our favourite tweet:

Who? Murphy is a venture partner at entrepreneur network Techstars as well as being an angel investor and CEO of networking app Bridge.
Why should you care? With a background in computer science and management consulting, Murphy was the managing director of SAP.iO Foundry, an accelerator powered by Techstars focusing on machine learning & B2B SaaS startups. 
Since 2019, he supports startups around the world as Techstars' managing director. 
His angel portfolio includes freelance marketing hiring platform Advisable, customer service automation platform ultimate.ai, and talent analytics platform Teamscope. 
How about those tweets? Murphy curates tweets about the latest tech trends and tips from tech influencers. His personal posts focus on investment and startup tips. 
Followers: 10.2k
Twitter lists: 16 
Our favourite tweet: 


Christian Miele — @miele  
Who? Miele is a partner at global VC firm e.ventures and president of German Startups Association
Why should you care? Christian Miele wears a double hat, investing into startups but also advocating for them as the head of the German Startups Association — which campaigns for startup-friendly legislation.
He joined e.ventures in 2015 and has invested in software and consumer platforms like crypto-powered football gaming app Sorare, cloud-based SaaS for real estate projects PlanRadar and personal data assistant Mine. 
How about those tweets? He considers his Twitter feed as "a reflection of who he is as a human being and business partner" and uses it to engage and debate with people. He shares about German and European politics and tech (in German and in English). 
Followers: 9k
Twitter lists: 2
Our favourite tweet: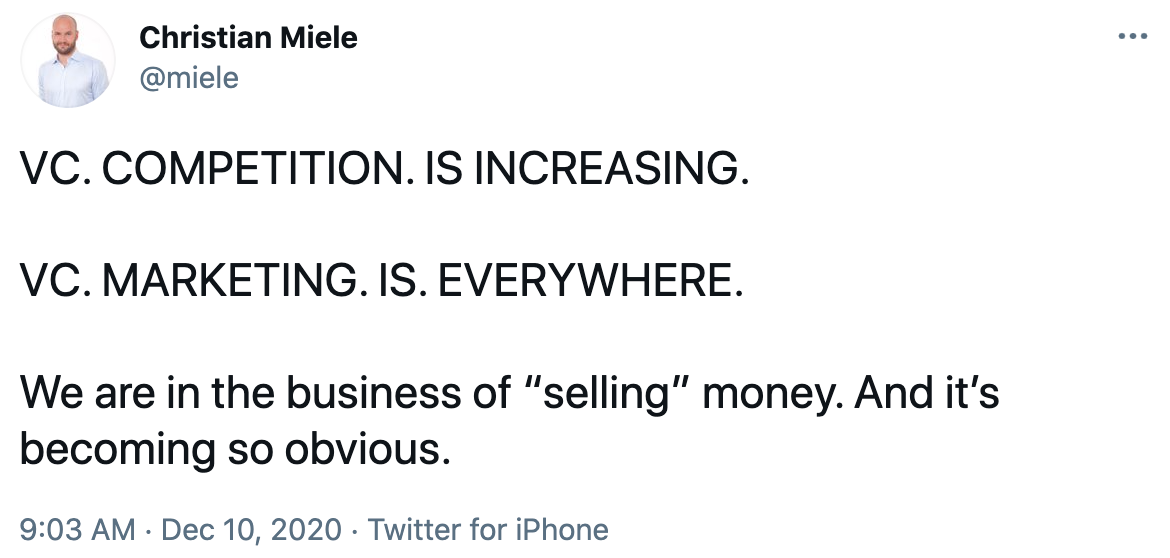 Pawel Chudzinski — @pawell
Who? Chudzinski is an investor and cofounder at Point Nine Capital investing in seed-stage B2Bs, SaaS and the B2B marketplace.
Why should you care? Chudzinski's career has been all about investment: he's started his career in M&A at US investment bank Greenhill and then launched the startup incubator Team Europe.
Point Nine, which was originally spun out of the incubator, started in 2008 led by Christoph Janz and Team Europe's Pawel Chudzinski, Lukasz Gadowski and Kolja Hebenstreit. When Point Nine raised its second €40m fund in 2013, the management team split, leaving Janz and Chudzinski at its head. Since it's raised three other funds — the latest is worth €99,999,999.99. 
How about those tweets? He shares tech investment trends, VC analysis and startup news.
Followers: 10.8k  
Twitter lists: 5 
Our favourite tweet: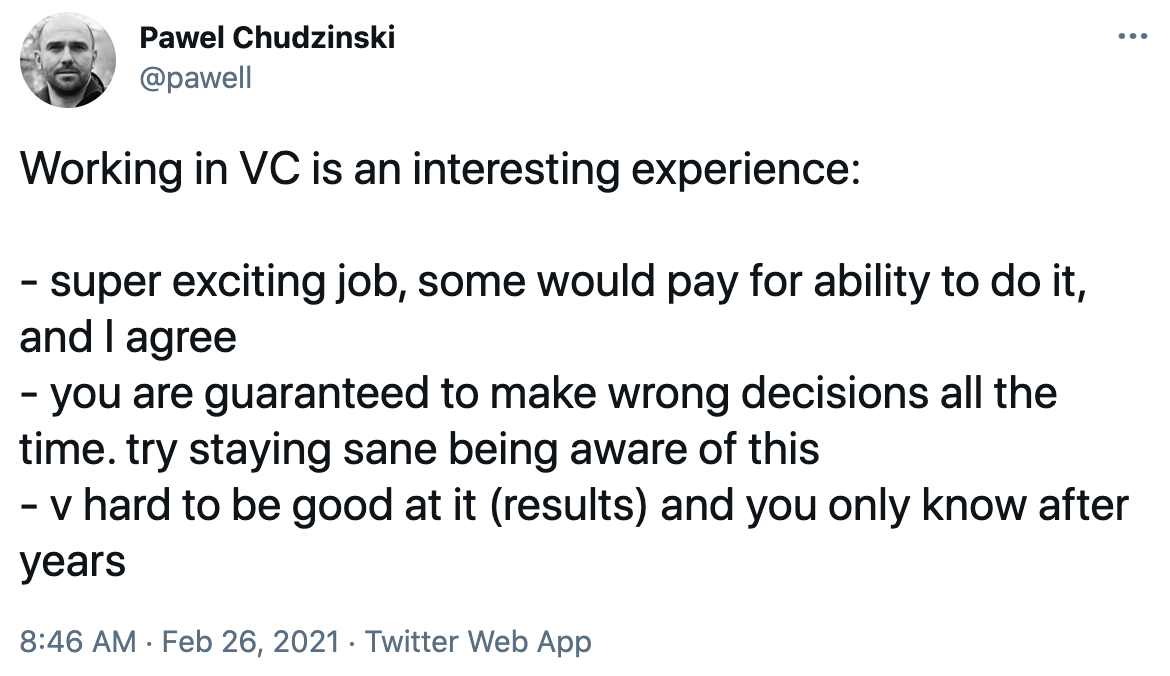 Who? Angel investor cofounder of Earlybird VC which focuses on early-stage growth European tech companies
Why should you care? Mathies is the cofounder of Earlybird VC, one of Germany's prominant VC firms, which has backed success stories such as neobank N26, crypto bank Bitwala and Romania's UiPath. Rolf describes his role as akin to "raising kids: [startups] need help to grow but they have to grow on their own." 
He's also backed 116 startups, including 24 which have exited, according to Angellist. His angel portfolio of European startups includes indoor air quality monitoring AirCare, automated translation Localize and cybersecurity startup Snyk. 
How about those tweets? Mathies tweets about European, US and Chinese tech news (especially AI, software and healthtech) — as well as startup tips. He mostly tweets in English and sometimes in German. 
Followers: 1k
Twitter lists: 0 
Our favourite tweet: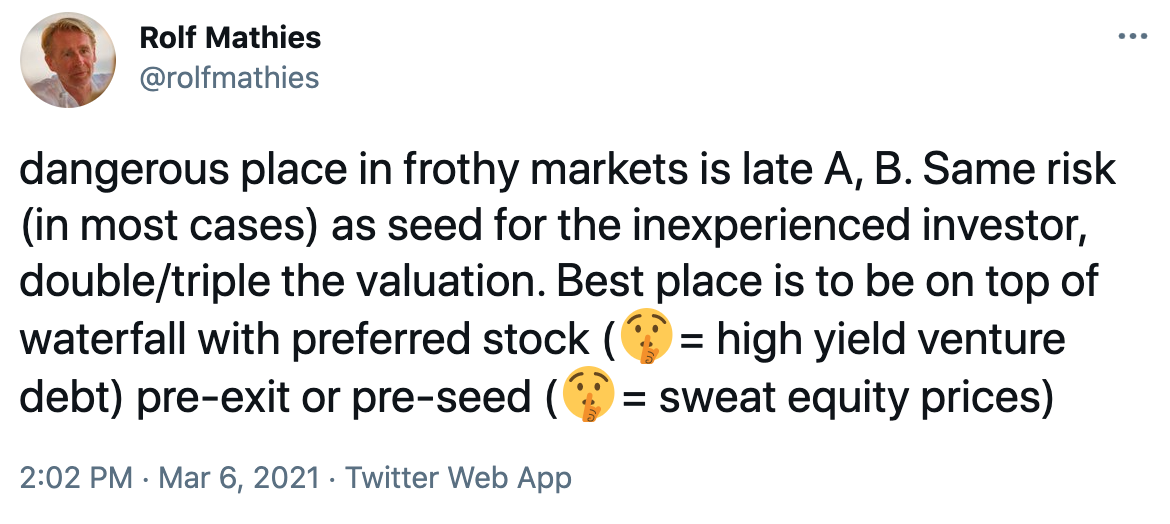 Who? Founder and general partner at early-stage VC Blueyard Capital
Why should you care? Ciarán O'Leary has climbed the VC ladder from analyst at asset management firm Lazard to a partner position at European tech-focused Early-Bird VC, before becoming GP at BlueYard Capital. 
Founded in 2016, BlueYard Capital focuses on decentralised markets and impact — and has invested in crypto startup Filecoin,  energy startup Marvel Fusion, and health diagnosis startup Biofidelity. 
How about those tweets? He tweets about global market trends, startup news, growth opportunities for startups. 
Followers: 10.2k 

Twitter lists: 0
Our favourite tweet: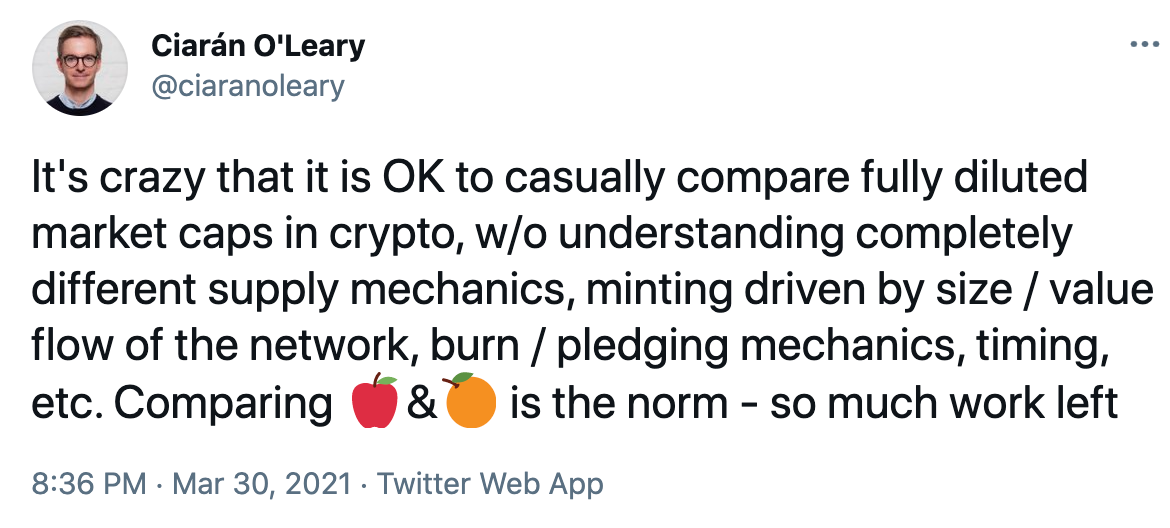 Who? Specht is a principal at Creandum VC, which invests in early-stage and fast-growing tech companies 
Why should you care? After a brief time at Rocket Internet and Google, Peter launched his investing career at PE Bain & Company, before joining the Berlin office of Swedish VC Creandum as a principal. He focuses on scouting startups in the DACH region and Western Europe.  
He's invested in mobility startups such as escooter Voi and air cargo booking platform cargo.one; impact tech startups like wellness app 8fit; and TWAICE, which improves the durability of batteries.
How about those tweets? He tweets about VC investment trends, startup analysis and tips. 
Followers: 2.4k  
Twitter lists: 0 
Our favourite tweet: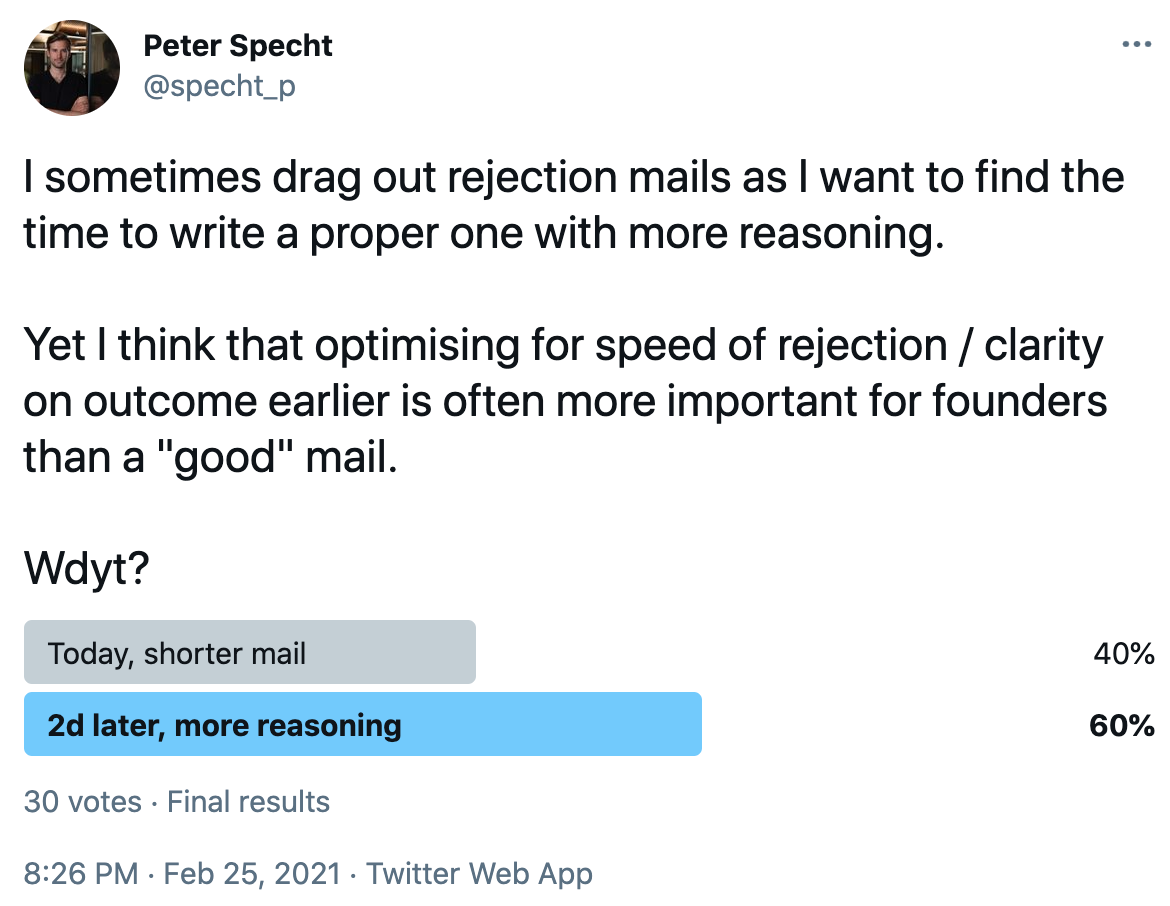 11 other valuable investors to follow: 
Olaf Jacobi @olafjacobi — investor at Capnamic, an early stage VC based in Berlin and Cologne
Tweets about: startup news and tips, German and global tech trends (in English and German)
Followers: 8.2k Twitter lists: 3 
Markus Grundmann @markusgrundmann — partner at B2B SaaS focused Senovo VC
Tweets about: B2B startup tips and news
Followers: 1.7k Twitter lists: 4
Ines Streimelweger @ines_stre — investor at European early-stage VC Creandum
Tweets about: climate tech, diversity in tech, VC life
Followers: 670 Twitter lists: 12 
Mathias Ockenfels @ockenrock — general partner at Speedinvest Network Effects, a €50M pre-seed and seed VC fund under the umbrella of pan-european VC Speedinvest
Tweets about: market and investment trends, German tech (in English and German)
Followers: 4k  Twitter lists: 5 
Uwe Horstmann @uwehorstmann — general partner of European tech-focused VC Project A Ventures
Tweets about: German tech and politics, tech trends (in German and English)
Followers: 6.9k Twitter lists: 10 
Ricardo Sequerra @ric0seq — partner at Point Nine Capital
Tweets about: business tips, European and Portuguese tech news and SaaS
Followers: 3.1k Twitter lists: 3 
Aline Vedder @AlineVedder — investment manager at impact VC Ananda
Tweets about: impact tech, diversity and investment trends
Followers: 1.5k Twitter lists: 6 
Björn Loose @bjolo — principal at Berlin-based early-stage fund Calvary Ventures
Tweets about: investment trends, tech products and personal opinions on anything newsy
Followers: 198 Twitter lists: 1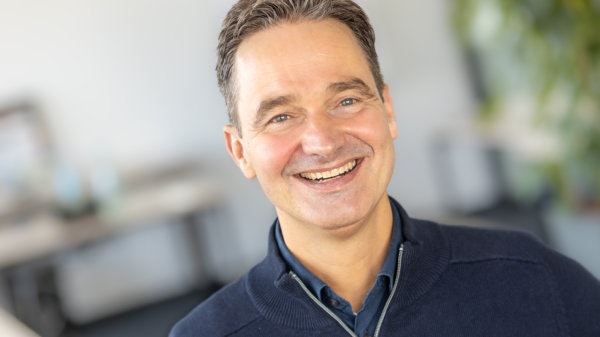 Alexander Kölpin @AlexKoelpin — managing director at Seed and Speed, a Berlin-based VC investing in early stage software startups.
Tweets about: VC investment trends and German startup news (in German and English)
Followers: 4.7k Twitter lists: 1 
Catherine Treyz — @catherinetreyz  — Head of communications & platform at early stage VC firm Cherry Ventures. Tweets about: German startup news and articles sharing founders' tips.  Followers: 1.6k Twitter lists: 11 
This article is part two of our European tech influencers series, which features the most active and valuable European tech professionals to follow on Twitter. Part one listed UK VC investors.
Have we missed any? Please comment below or email

cecile@sifted.eu