One of Germany's best-known entrepreneurs is calling on the German government to create an investment fund for scale-up businesses similar to the €5bn fund announced by France last month.
Frank Thelen, chief executive of venture capital fund Freigeist Capital and television personality, says that the country's tech sector is held back by the inability of startups to raise late-stage capital from local institutions.
"We don't have enough capital. If you want to have a €100m cheque it is not available today, as far as I know, from any venture capital fund," he told Sifted. "We can only get backing from Chinese investors or SoftBank's Vision Fund."
Thelen said Germany should be imitating France's €5bn public-private investment fund. France's aim is to have at least 25 tech unicorns (companies valued at more than €1bn) by 2025.
"We need this in Germany. I am talking to Peter Altmaier [Germany's minister for economic affairs] and other people to get this done," says Thelen.
It is not that German companies can't raise €100m. A number of scaleups, including N26, Signavio, Adjust, WeFox and Raisin have raised rounds in excess of that amount this year.
But they can't raise these sums from German investors. Only N26 and Signavio have German investors in their most recent rounds.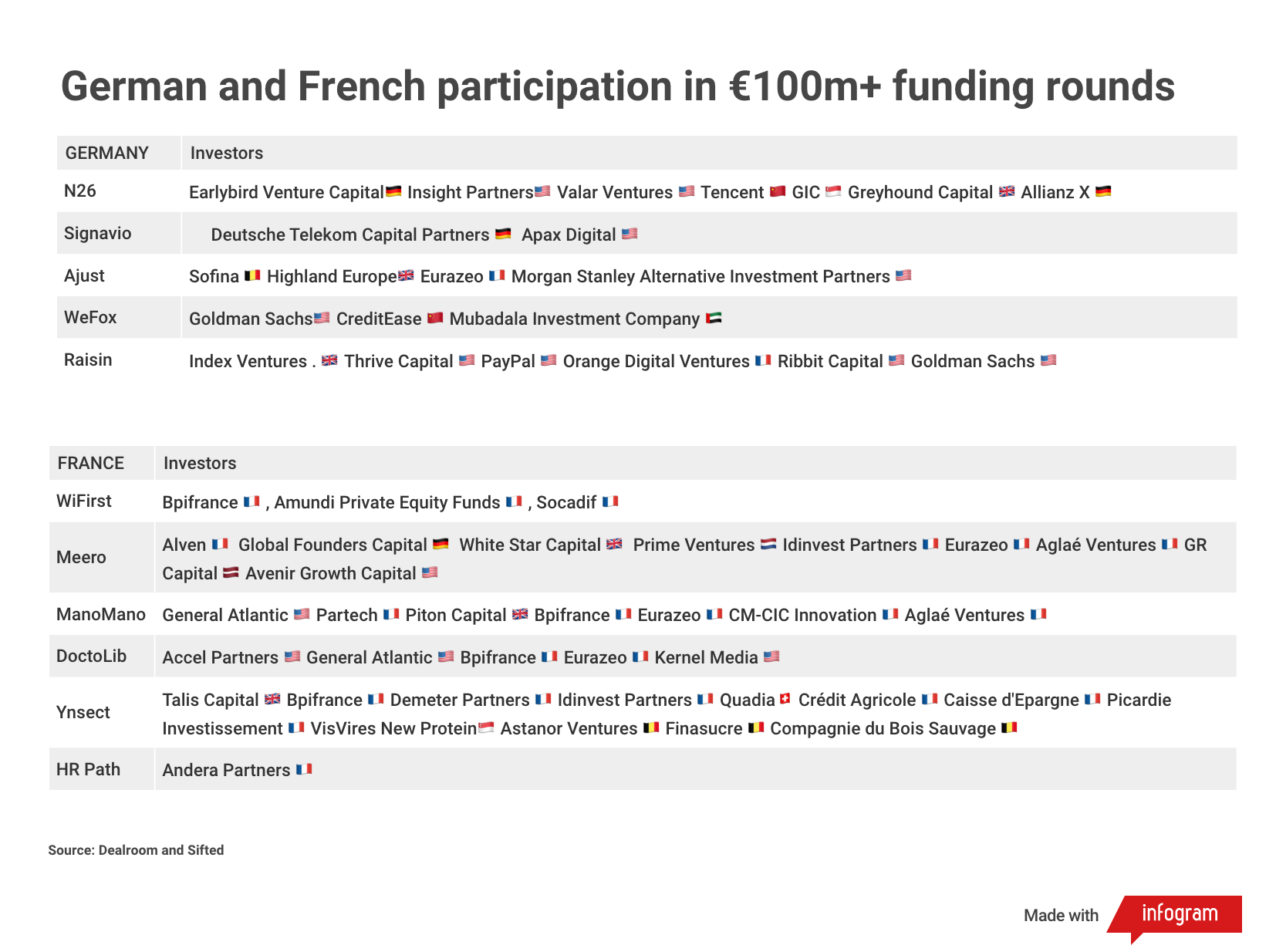 This is in dramatic contrast to the biggest French funding rounds this year, which all have at least one French investor, and in some cases — telecoms provider WiFirst, for example — have an all-French cap table.
Thelen's frustration with a lack of funding was echoed by other investors and entrepreneurs at the Bits & Pretzels tech conference in Munich earlier this month.
Klaus Hommels, founder of venture capital fund Lakestar, whose portfolio includes a number of German investments, told the Bits & Pretzels audience that German startups would lose out to rivals in Asia who have greater funding.
He pointed out that Asian companies such as Grab and Gojek were able to sustain losses of hundreds of millions of dollars as they built national platforms ranging from ride-hailing to banking thanks to the deep pockets of investors such as SoftBank, Tencent and Google.
"If we want to fight back we need substantial money. Macron did this. I don't think it is that is difficult to do," he said, ending his presentation with a callout to lawmakers and fading words on his final slide to reveal the letters "WTF".
Thelen, whose own investments include Lilium, the air taxi company, and MyTaxi (sold to Daimler) does have the ear of German politicians. As well as appearing on the country's version of the Dragon's Den-style TV show, called Die Höhle der Löwen, he leads the German Innovation Council at the Federal Chancellery, together with Dorothee Bar, German state minister for digitisation. But he is pessimistic about getting results.
"I don't believe that enough of current politicians understand the challenges," Thelen says.
Many of the attendees at Bits & Pretzels noted that, while the tech conference opened with a keynote from Barack Obama, the former US president, the attendance of German politicians was relatively slim. Judith Gerlach, Bavarian state minister for digital affairs was one of the few German politicians to speak at the event.