This is the final part of our 3-part series profiling 12 companies that show us the future of the car.   
Read the whole series here: 
Part 1: Sustainable cars — beyond just an EV battery
Part 2: Connected cars — beyond just traffic updates (and the distant dream autonomous driving)
Part 3: Cars that fly and change shape  — and are available to buy from next year
"We wanted flying cars, instead we got 140 characters," Peter Thiel, the billionaire venture capitalist famously lamented some ten years ago, disappointed that tech developments had focused on software and apps rather than hardware and deep tech.
But Thiel only needed a little patience. Flying cars are actually on the cusp of arriving — not just the electric taxi jets being developed by Lilium and Joby, but cars that can drive on regular roads as well as taking to the air. The first of these from Pal-V in the Netherlands is road and air certified.
These three startups we're featuring all promise to have a product for sale next

year.
Other strange form-factors are coming too: for example, morphing cars that can get skinnier to get around traffic and solar-powered cars that take away the dependency on electric charging stations.
So while the concept cars at auto industry events still look pretty tame and familiar, startups are creating a range of functionalities and form factors that will entirely change our idea of what a car looks like and what it can do. And these are not distant pipe dreams. These three startups we're featuring all promise to have a product for sale next year.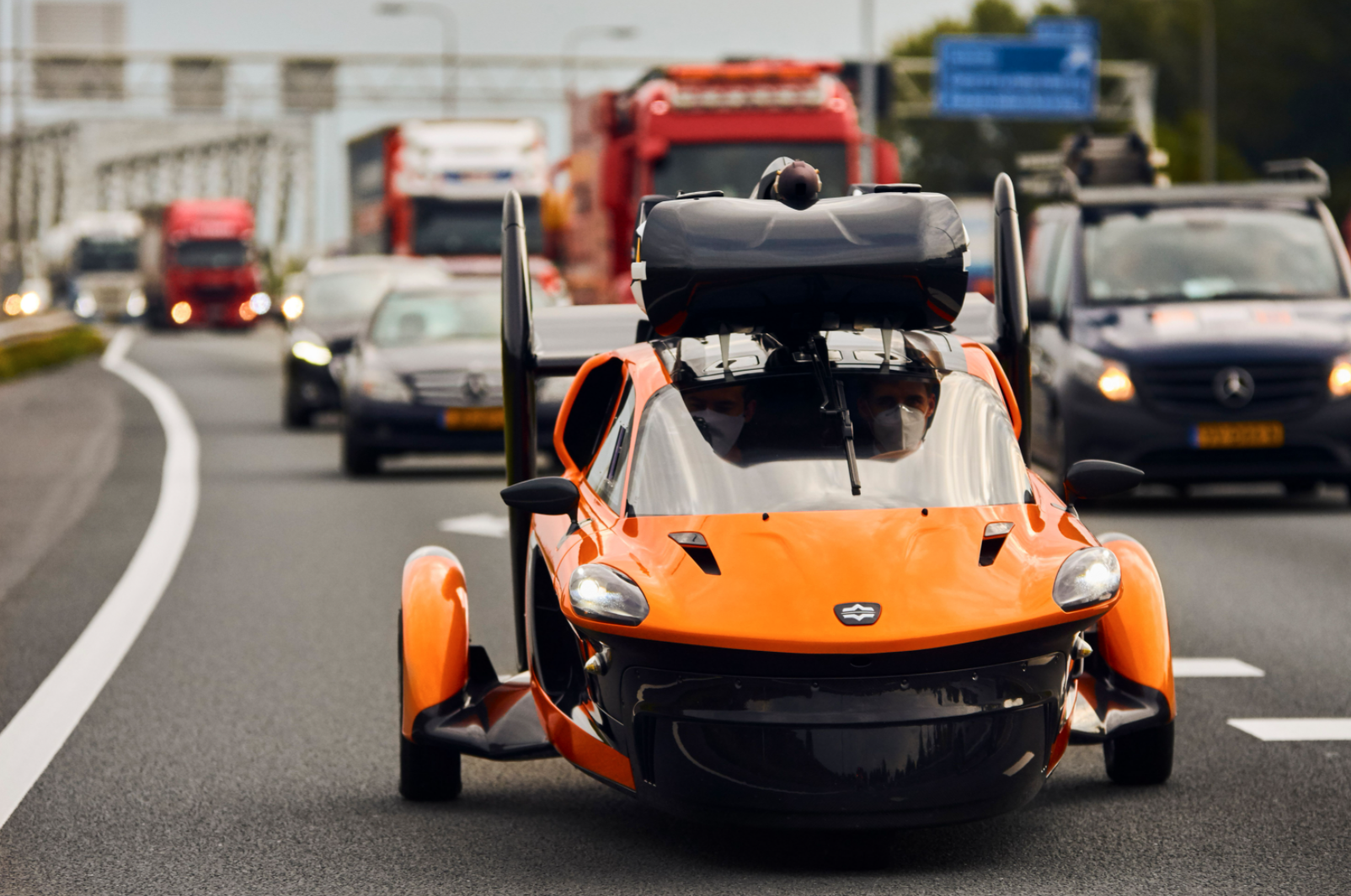 Pal-V: cars that fly and drive
People often talk about "flying cars" when referring to new types of light electric aircraft such as Volocopter and Lilium. But these are not really flying cars — you can't drive them down a public road.
But cars that can morph from a real road vehicle into an aircraft and back are being developed — albeit with much less fanfare and funding — and the first of them will be available for customers to buy from next year.
The Liberty, made by Dutch startup Pal-V, is a two-person, three-wheel vehicle with giant gyrocopter blades on its roof. When it is driving mode these fold down and tuck onto the roof of the car, turning into a vehicle that is just 4m long and 1.7m high, the size of a normal car. It runs on ordinary E95 fuel, available from any petrol station — so you truly can fly it and then drive it home from the airfield, filling it up at the local service station before parking it in a domestic garage.
With this vehicle, you can go from any door to any

door.
"The idea of fly-drive cars was to take away the hassle of air travel," says Robert Dingemanse, cofounder and CEO. When you fly you always spend a lot of time having to get to and from the airport, he points out. "With this vehicle, you can go from any door to any door."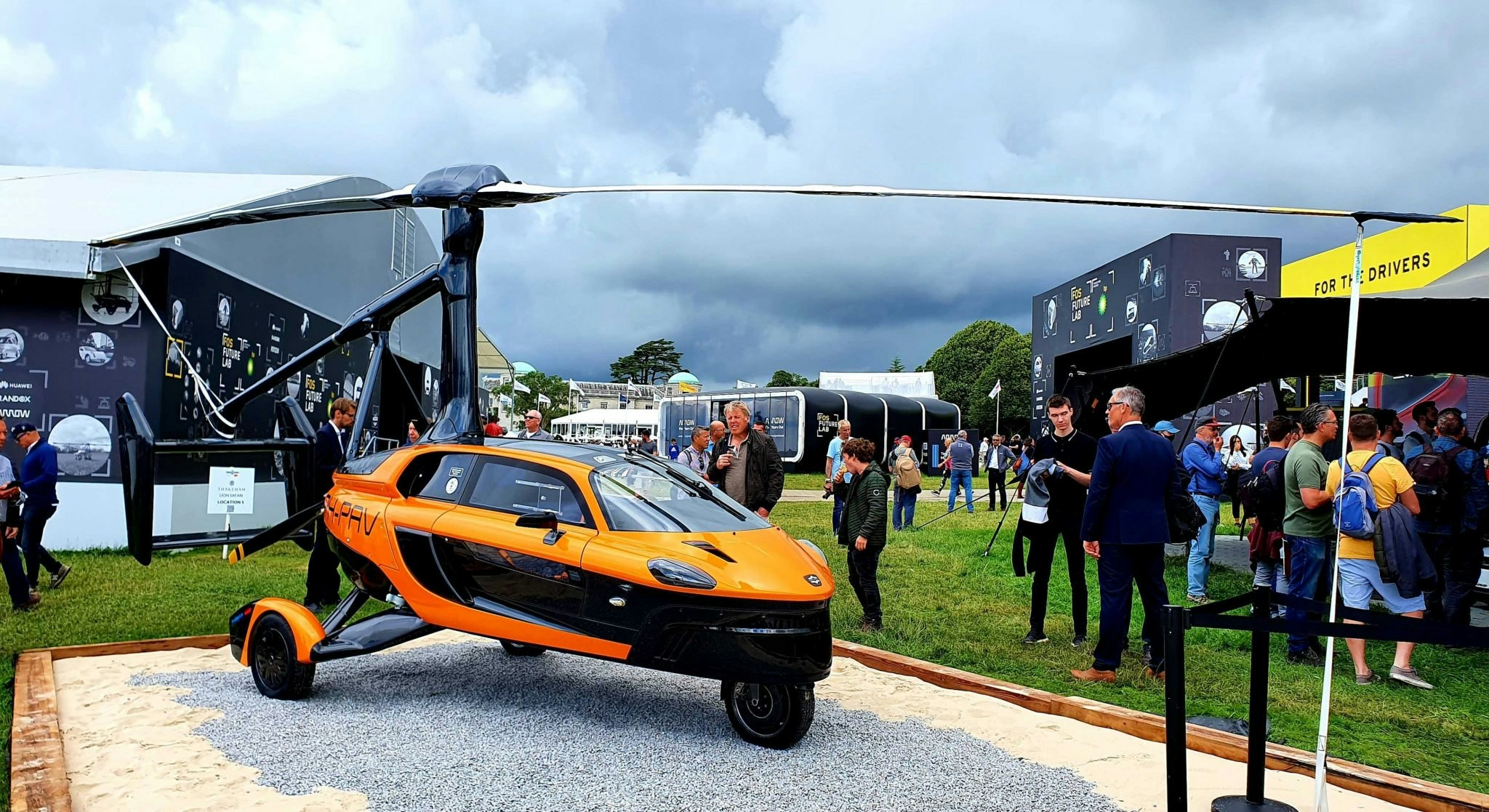 There are a few other startups working on similar concepts, but their fortunes have been mixed.  In June, AirCar, a prototype car made by Slovakian entrepreneur and inventor Stefan Klein, completed a 35-minute flight between Nitra and Bratislava. But this was flying on an experimental licence that allows people to fly aircraft that they have built themselves. It is still a long way from receiving a licence for commercial use.
Meanwhile, in the US, Terrafugia, which has been working on a flying car design since 2006, has struggled to produce any aircraft. It was bought by Chinese carmaker Geely in 2017 but has recently shut down most of its US operations.
Both AirCar and Terragia have designs involving wings that fold out from the sides of the car — a design that Dingemanse says can be much more difficult to get right than the top-mounted gyroscope route that Pal-V chose.
Pal-V is the first to jump through all the hoops with both road and air regulators. It received road certification for its Liberty aircar last year and is on the last stage of getting certification from the European Union Aviation Safety Agency (EASA). But even for Pal-V the road has been long, says Dingemanse — the company has been working on the vehicle since 2007.
"There is a lot of underestimation of the certification process. It takes even the big companies like Bell and Airbus 10 years to certify a new vehicle. To get a car certified you need five or six tests. For air certification we had to get 1500 test reports signed off before we could do our first manned flight," says Dingemanse.
The Pal-V Liberty will be priced between €300,000 and

€500,000.
Orders for the Liberty are starting to come in at a steady pace. Priced at somewhere between €300,000 and €500,000 it won't be cheap — and buyers will also need to invest money and time in getting a pilot's licence (around 45 hours of flying). Nevertheless, Dingemanse says the company is getting around one order a week, and the team has been surprised by the strength of demand. It is not just coming from rich people looking for a new toy, he adds, there has also been interest from the Dutch police and emergency services.
Pal-V is now looking to raise additional funding from investors to help expand to meet demand.
Just how much demand there will be for flying cars remains to be seen. Morgan Stanley has forecast that the urban aviation market overall will be worth $1tn by 2040 — although most of that is likely to be taxi-like services like the ones being built by Volocopter and Lilium, rather than privately-owned vehicles. Still, there is a sizeable market for light aircraft and if flying cars can carve out part of this, they could have a viable business.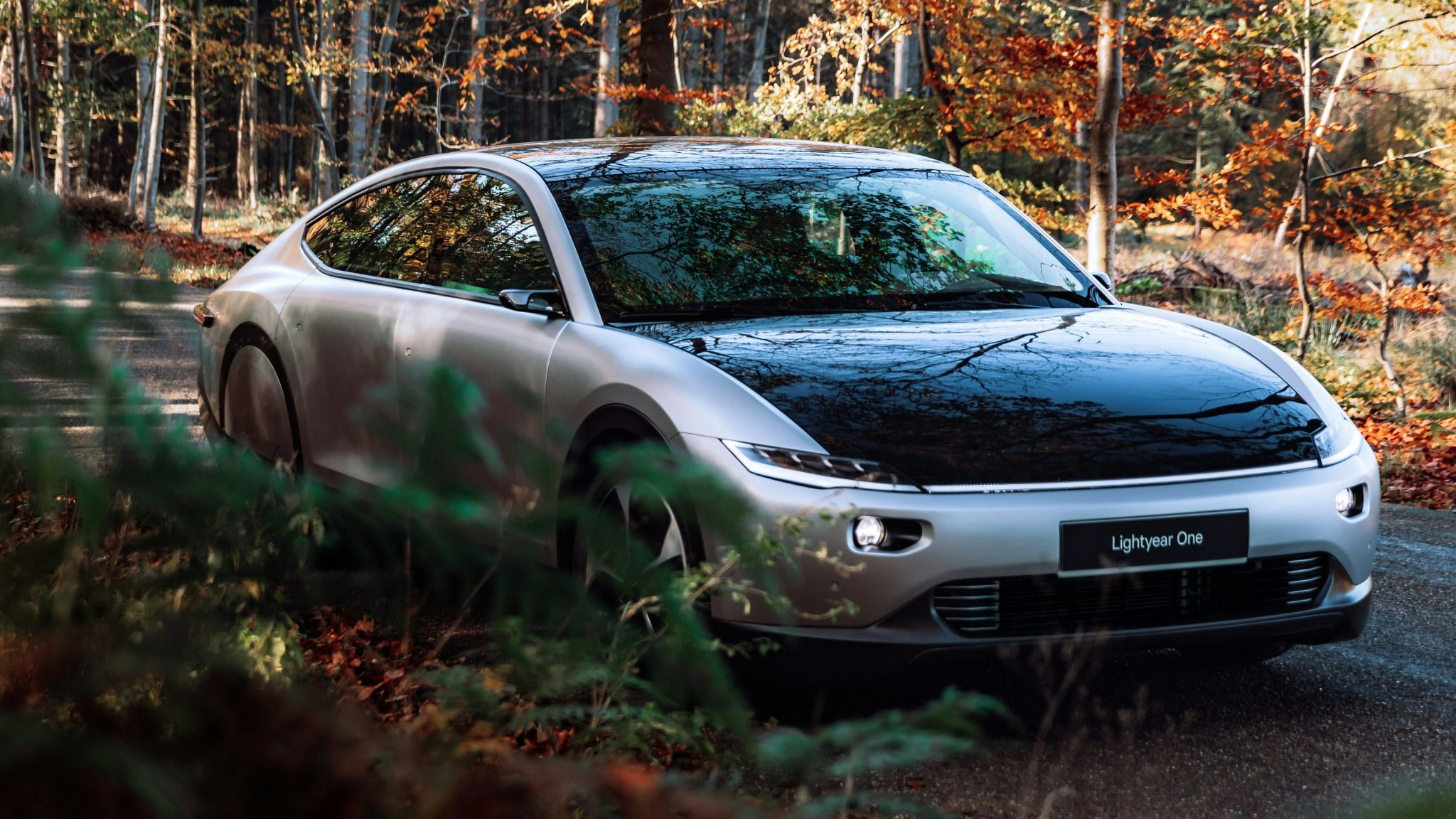 Lightyear: cars powered by the sun
In 2013, Martijn Lammers and his soon-to-be cofounders took part in the first World Solar Challenge, a 3,000km race through the Australian outback in solar-powered vehicles. Most of the cars taking part were small, single-seater racing cars; theirs was a four-seater family sized car.
"There were lots of cars with two seats, but we were the first to make a four-seater," explains Lammers, "and with that car, we won the race."
From there, Lammers and his team formed Lightyear with the aim of bringing solar-powered cars to market and, eventually, make them as affordable as a standard car.
The cars are fitted with solar cells across the roof and front of the vehicle. Part of the challenge, Lammers explains, is about making the car as efficient as possible so the battery can power it for longer.
40% of people never have to charge their

cars.
The car's motors are located within each wheel, eliminating axles and other components that create friction and take up energy. "There's very few moving parts, just the wheels that are directly driven by the motors. That efficiency enables you to go further with less energy so your battery can be smaller," says Lammers.
Lightyear's cars can currently run for 725km, with 70km of that coming from solar and the rest from electric charging. If someone drives less than 70km, their journey will be entirely powered by solar. "In the end, many of the drivers go way less than 70km a day, so you'll see your battery filling out because you're not using that energy every day."
Lammers estimates that it'll mean 40% of people never have to charge their cars.
It does depend on geographical location, however. Northern Europe will get about 6-7,000km of solar-powered driving a year, but sunnier places like California or Southern Europe could get double that.
The goal is "energy autonomy" — freeing up electric vehicles from having to stop and charge regularly. The lack of charging points is often cited as a roadblock to consumers investing in electric vehicles.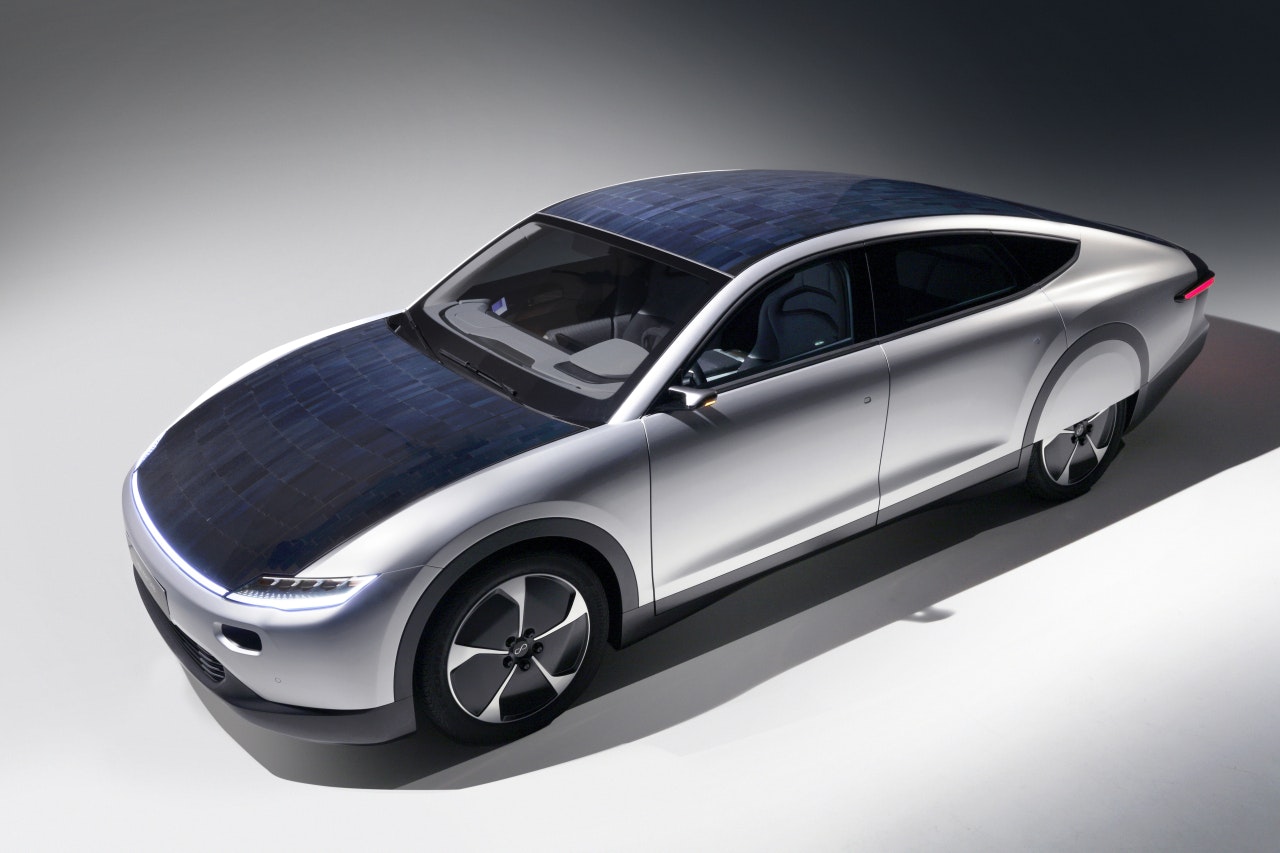 The cars will cost €150k

each.
Next year, Lightyear's first car, the Lightyear One, will come to market, with a batch of 946 cars delivered to customers (they've chosen 946 because a light-year is 9.46k trillion km.) The cars are being manufactured in Finland and will cost €150k each.
Then in 2024, Lightyear plans to bring out a more mass-market model.
"We expect to be able to launch a much more affordable version which is very much price wise comparable with what you'd pay for an average car at the moment," says Lammers. "We really want to get to the point where people don't have to think about whether they can afford an electric vehicle."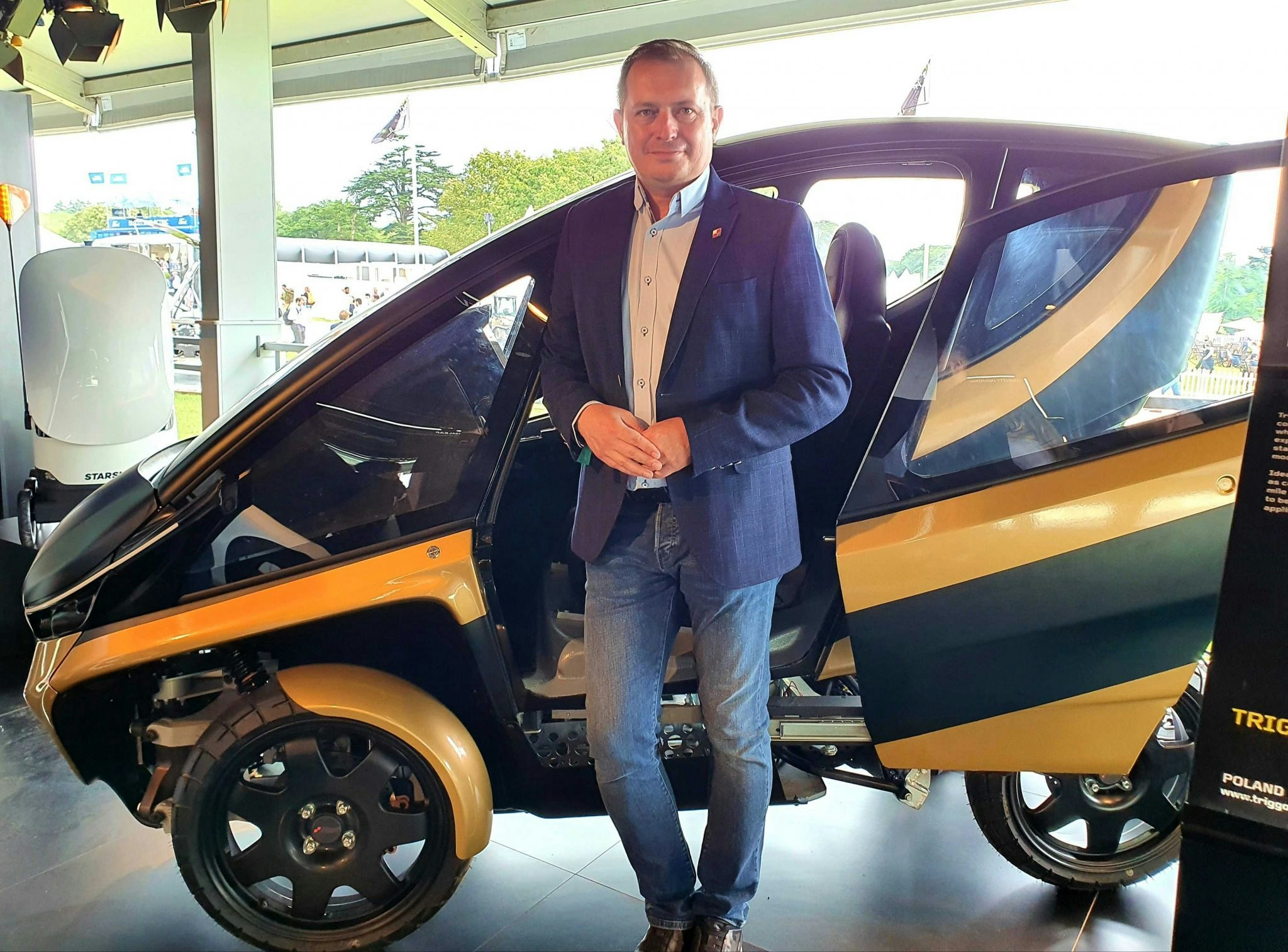 Triggo: the car that changes width to be (almost) as skinny as a motorcycle
Getting around in congested cities and finding a parking space are the big headaches of urban mobility. A number of car manufacturers are responding with much smaller vehicles, but Polish startup Triggo goes one step further, making a morphing electric car, with a wheel-base that squeezes in to become almost as narrow as a motorbike.
I wanted to create a vehicle that was as efficient as a motorcycle, but as comfortable and safe as a

car.
As a motorcyclist, founder Rafal Budweil always enjoyed the agility of nipping in between traffic but knew many people found two-wheeled driving risky.
"I wanted to create a vehicle that was as efficient as a motorcycle, but as comfortable and safe as a car," he says.
The 2-seater Triggo can go from 'cruising mode' where its wheelbase is 148cm wide and it can drive at 90km per hour to 'manoeuvring mode', where the wheels squeeze to just 86cm wide, allowing it to nip around city traffic jams. In this mode, the top speed is limited to just 35km per hour.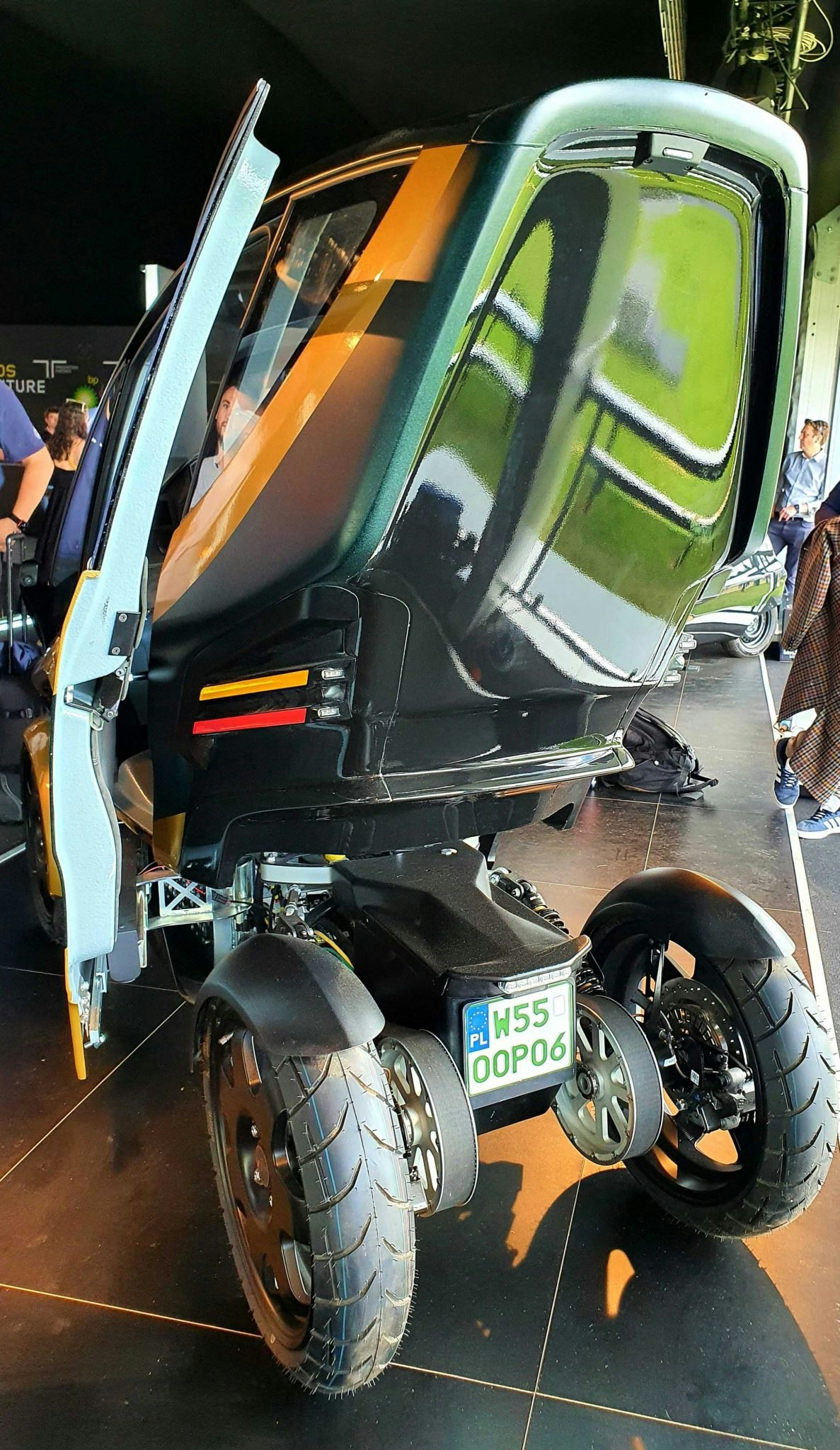 Budweil started developing the first prototype in 2015 and says getting the vehicle to be stable was the first and hardest hurdle. The next challenge was to manufacture it as simply as possible to make it something that could be produced in large volumes.
The electric car has been road-tested over the last year, and the first commercial vehicles are expected to be out in the second half of last year, a little later than the company originally planned.
The car is designed to be a city vehicle, with its limited speeds, and Budweil isn't planning to sell the vehicle to individual owners, but to create fleets of 500 to 1000 for a shared-mobility service in cities like London or Paris. There is also interest from Asian countries, he told Sited.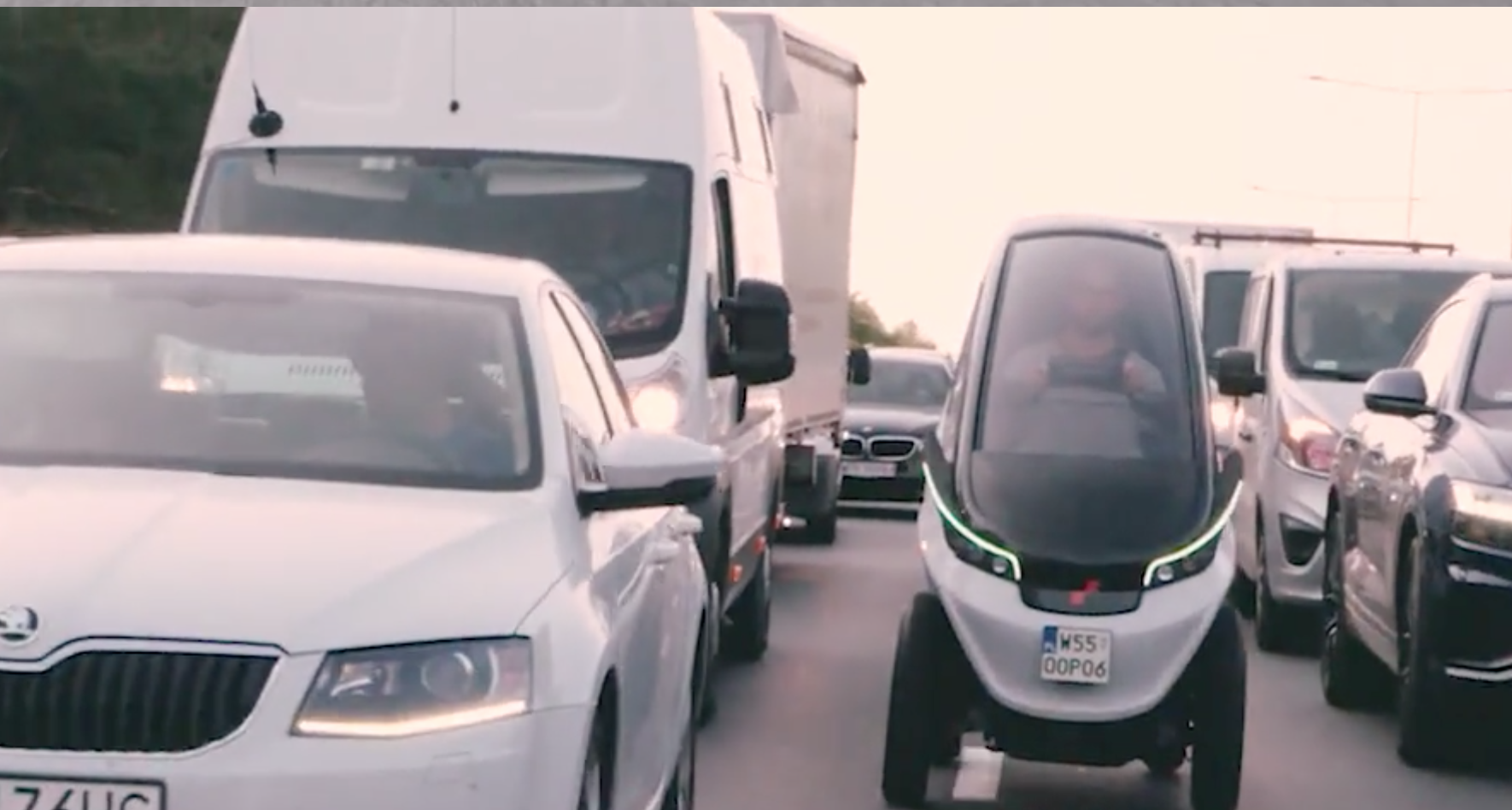 Car-sharing has been a difficult business for many companies. Companies like Car2Go had to pull back from several markets and Autolib had its contract with the city of Paris terminated early. High running costs and competition from ride-hailing services like Uber were partly to blame. But Budweil believes the superslim design of the Triggo can help overcome some of the challenges.
"User in car-sharing schemes are afraid they won't find parking spaces, so the ease of parking a Triggo will be an advantage," he told Sifted. The vehicle is only about ⅕ the size of a normal car.
In addition to being nippy in traffic, the Triggo has other interesting features, such as a swappable battery so you don't have to spend long periods of time charging the EV. It can also be driven remotely — at very low speeds — in order to return the vehicles to a parking hub. This, again, could help get rid of one of the main car-sharing headaches — how to get the car back to its designated spot.
There are also plans for a 'stretch' version, which would be able to fit three people inside.
Turning the Triggo into a mobility service would help attract more investors, adds Budweil. Investors tend to be nervous about hardware companies but like the recurring revenues of a service model.
Budweil is looking for new investors as the company gets closer to commercial production. So far Triggo has been funded by EU public funds and private investors. Budweil says the company is still considering whether to build its own facility for building the Triggo — something which would need a lot more investment — or whether to subcontract the work.
New shapes and functions
These are just the tip of the iceberg in terms of new forms coming out from car sector startups.
None of these vehicles — solar, morphing or flying — will come cheap to start off with. At half a million euros the Pal-V Liberty isn't likely to be a mass-market vehicle. Even the Lightyear, at €150,000 will be firmly in the luxury bracket.
But these startups are pushing the boundaries of what we understand a car to be, and they are doing the groundwork with road and air regulators that will pave the way for others to come after them. They will be a good testing ground for consumer appetite.
Within the decade at least some of these may have become the norm. Car companies should be keeping a close eye on developments.
This is the final part of our 3-part series profiling 12 companies that show us the future of the car.   
Read the whole series here: 
Part 1: Sustainable cars — beyond just an EV battery
Part 2: Connected cars — beyond just traffic updates (and the distant dream autonomous driving)
Part 3: Cars that fly and change shape  — and are available to buy from next year