The first set of data about the diversity of the applicants to the UK's Future Fund has been released today — and it appears far better than the VC industry average. 50% of companies that have been approved for funding have mixed ethnicity management teams, and 79% have mixed gender management teams.
However, all female and all BAME management teams are few and far between.  
It's also worth noting that this data applies to the 'senior management team' — not just the founders — which has likely led to some slightly more favourable headline statistics for the government.
Of the 252 companies that have been approved for funding from the government, 176 have mixed gender management teams. 66 have all-male management teams — and just three have all-female management teams. By comparison, in 2017, 4% of startups which received VC funding in the UK had all-female founding teams and 15% had mixed-gender founding teams. 
When it comes to ethnicity, 113 companies' management teams are of mixed ethnicity, 109 are all-white and only 12 are all-BAME.
Before the Future Fund's launch on 20 May, many investors, founders and diversity advocates raised concerns about who, exactly, would benefit the most from the scheme. Organisations, including diversity in tech community YSYS, called on the government to publish demographic data on the founders receiving funding — which it agreed to do. The statistics published today are the result.
Deborah Okenla, founder of YSYS, said: "It's a positive start to see The Treasury commit to collecting and publishing the data. We can see from the data that we still have a long way to go. And we need to understand what the data shows for specific groups, such as black founders within the BAME categorisation, and move beyond binary gender."
Total applications
To date, 623 startups have applied for funding. 252 convertible loan notes have been approved, at a value of £236.2m. 
The British Business Bank, which is running the scheme for the government, is now approving loans at a rate of around 100 per week. Last week, on 16 June, 155 companies had been approved for funding. On 9 June, 53 companies had been approved.
Sifted Newsletters
Sifted Newsletter
3x a week
We tell you what's happening across startup Europe — and why it matters.
Meanwhile, after an initial flurry of applications, the number of startups applying each week has tailed off. Just 46 startups applied for funding between 14 June and 21 June. 
Detailed demographics
The majority (68%) of companies approved for funding are headquartered in London or the South East, and will collectively receive £173m from the government (73% of the total funding committed so far).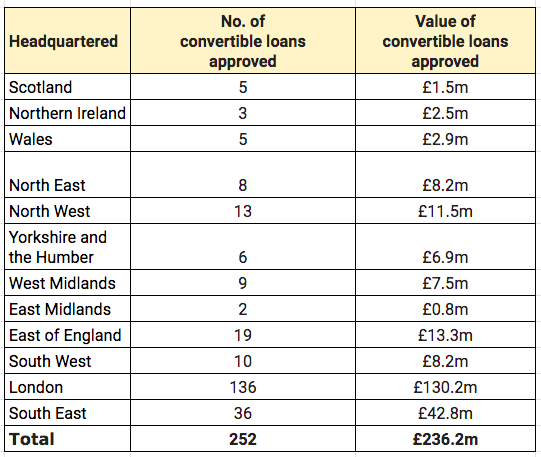 Startups were asked to submit data on the gender and ethnicity of their 'senior management team' — which could mean that these figures refer to founders plus other members of their C-suite or even the board. That could make the positive statistics look a little less positive, and the negative statistics look a little less negative.
Priya Guha, venture partner at Merian Ventures, said: "Whilst the self-reported stats for management teams are encouraging, using this as the measure for diversity data could be misleading. I would encourage the British Business Bank to publish the figures showing the percentage of BAME and female founders who were successful which will give a truer picture of the the diversity of the Future Fund."


Who are the lucky startups?
Startups are able to apply for £125,000 to £5m from the government, so long as they have investors who will commit to match those funds. 
Companies which have been told they will receive funding so far include software startup Metis Labs and data startup Hazy. Another, deeptech startup LGN, has been told it will receive £220,000 from the Future Fund, matched by VC firm Luminous Ventures; founder Daniel Warner says he hopes it will go on to be part of a much larger round.
Zeelo, a shared transport provider, got its application in early (at number six) and has been successful. The startup had commitments from investors for £1.55m in funding — and this will now be matched by the Future Fund. The cash is expected to hit the bank "any day now". 
Companies with female founders include digital health startup Arthronica (an Imperial College spin-out and Entrepreneur First alumnus which applied for £270,000) and data startup Regulaition. 
Who are the lucky VCs?
Notably, the investors who campaigned hardest for the Future Fund have seen several of their portfolio companies receive funding. 
Two companies from Founders Factory — the incubator run by Brent Hoberman — have been successful so far, and are waiting to receive the funding. Two others are waiting to hear back from the Future Fund.
Six portfolio companies from AI Seed, an investment firm, have also been successfully approved for convertible loan notes. AI Seed is run by John Spindler, another vocal supporter (and initiator) of the scheme. 
Other seed-stage investors, including well-respected VC firms Seedcamp and Connect Ventures, saw very few of their portfolio companies apply. Just one of Connect's portfolio companies considered applying. 
Time will tell whether the concerns raised by some — that the government would end up backing 'non-breakout' companies — were valid. Chancellor Rishi Sunak, meanwhile, will be hoping for at least a few of those '10x' returns most VCs are hunting for.