Most people think of the Nordics as a region where men and women are treated pretty equally.
Well, that view is not reflected in a new report put together by Unconventional Ventures based on Dealroom data. It shows that all-female startup founding teams received just 1.3% of the available capital in 2019.
The large majority, 93%, was picked up by all-male teams.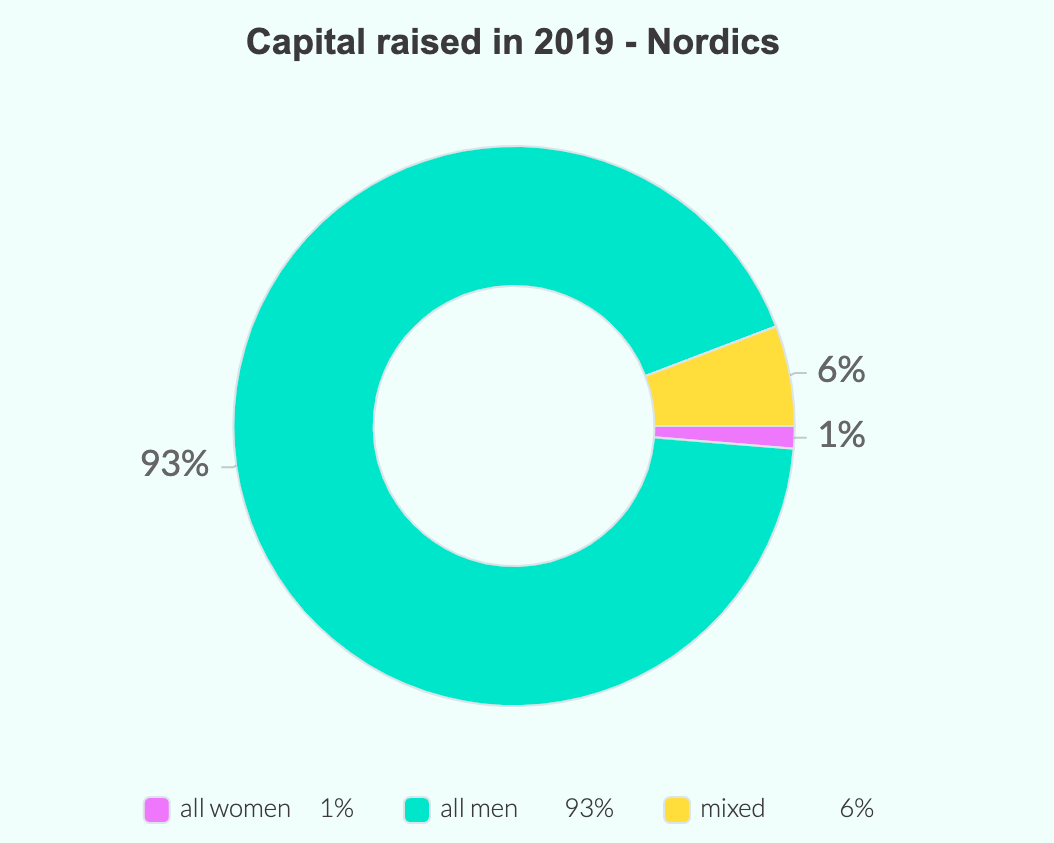 On the plus side, 2019 was a good year for investment into Nordic startups in general. Unconventional VC, a Danish venture capital company, found investments in startups and scaleups in total added up to €3.2bn.
It was also a year which saw a great number of local events focused on female founders as well as statements of venture capital companies promoting female entrepreneurs and investors.
This just did not translate into more money going to female founding teams.
Digging deeper
These figures above reflect the share of the total capital raised, not the number of startups raising. All male teams made up 83% of the startups but they raised 93% of total funding, which means that they raised larger sums.
For all-female teams, the opposite was true. On top of the female-founded startups finding it difficult to raise any money at all, the 6% of startups that did, only received 1.3% of the funding.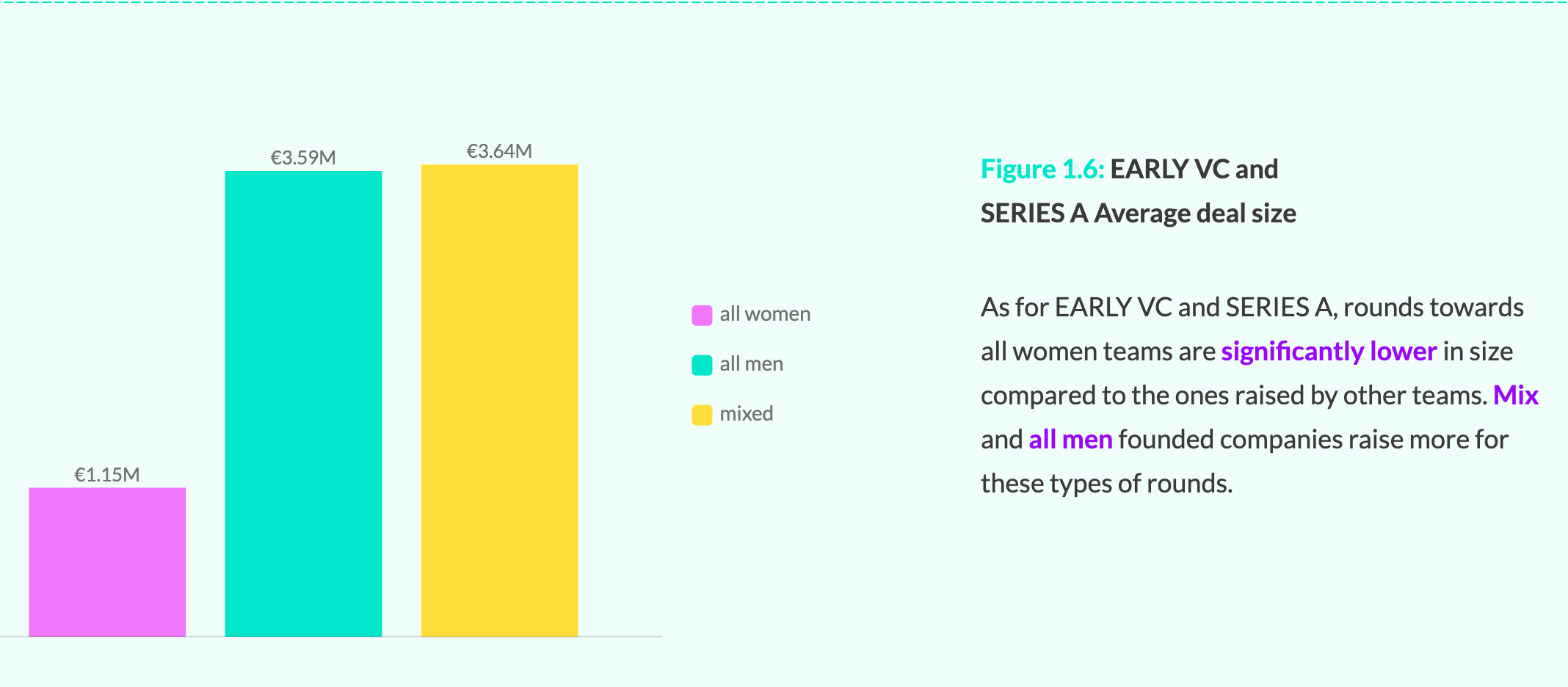 The situation has not changed a lot in the last few years. According to reports by the Swedish tech site Di Digital, the proportion of investments in Swedish female-founded startups has not changed since 2018. Female founders are still receiving approximately 1% of the capital.
That female entrepreneurs receive a smaller proportion of the capital is also be linked to the type of investors who normally back them. Female founders are more likely to get funded via crowdfunding, governments and family offices — investors which typically invest in smaller ticket sizes than venture capital firms.
According to Nora Bavey, General Partner at Unconventional Venture, this is important to understanding how to change the ecosystem in the Nordics and elsewhere.
Sifted Newsletters
Up Round
Every Friday
Dive into VC and meet the people holding the purse strings.
"This data clearly shows that the more women who have the power to decide who to invest in – the more women entrepreneurs will be invested in. This is something that so far has mostly been a feeling and theory but thanks to this report we now can prove it. With this insight, we now have fantastic opportunities to increase the pace towards a more equal distribution of capital," she says in a statement.

Looking at the Nordic countries individually, Iceland has the largest proportion of funding going to startups with female founders or mixed teams. Perhaps the female-led Icelandic investment firm Crowberry Capital is a good example of how the ecosystem is doing better than, for example, Finland, which got its first female venture capital partner in 2019 when Ekaterina Gianelli was promoted at Inventure.
Focus on revenue
According to the report, female-founded companies that did receive funding performed 45% better than male-founded companies when looking at revenue to funding ratio. This could be a sign that women are more inclined to focus on revenue but it could also mean that female-founded startups had to show higher revenue than mixed- and male teams to get the funding from the start.

"As depressing as these numbers might seem, what they represent is a huge investment opportunity in the Nordics. We know diversity outperforms in all aspects of business life, this is also the case for the Nordics tech scene," says Thea Messel, general partner at Unconventional Ventures.
For the first quarter of 2020, the data looks promising, especially for mixed teams. Companies with at least one female founder reached 18% of the total capital invested in the first three months of this year, according to the report. And the Nordic countries are seeing a number of powerful female angel investors leading the way, as with the investment in Grace Health (main photo by Grace Health/Carl Lemon).
"We are a few who have been on the mission for some time now, and with these numbers being revealed we will hopefully also see more traditional and institutional investors take part in this potential," Messel says.